Review: R&R Taqueria
With its original location next to a gas station in Elkridge, the taco spot expands to Baltimore.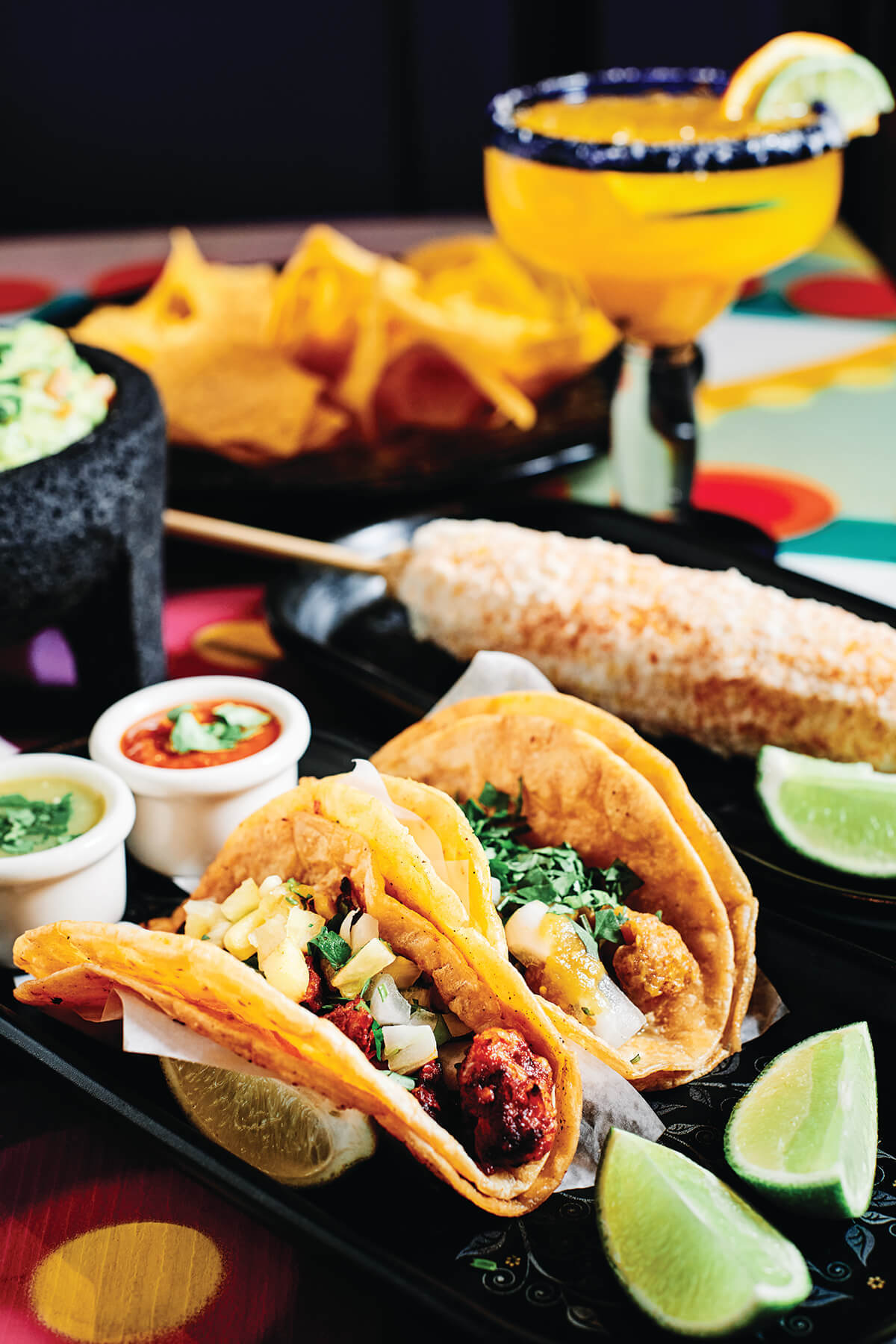 Rodrigo Albarran is making the most of his star turn. Chef Rod, a Mexico City native whose original outpost is adjacent to an Elkridge gas station and was showcased on Guy Fieri's Diners, Drive-Ins, and Dives, recently opened his third R&R Taqueria. Unlike the first two strip-mall shops, Albarran's newest incarnation—a colorful multi-level space at the corner of Charles and Lombard that features original murals, custom-crafted tabletops, and a hodgepodge of modern, eye-catching seating—aspires to transcend Fieri's triple-D designation. That's not to say that it hides its high-profile pedigree.
On the front window, there's a giant red Food Network logo that makes you think the place is actually named after cable's culinary colossus (until you notice the inconspicuous R&R emblem beside it). Scattered throughout the extensive menu are miniature versions of the logo, strategically positioned next to offerings that co-starred with Albarran on the small screen.
But don't let the preoccupation with fame fool you—notorious or not, chef Rod's creations generally hit their mark.
For starters, the house-made guacamole was a perfect blend of creamy and chunky and came with warm tortilla chips that couldn't have been more than minutes old. (Having lived in Mexico and L.A., guac is my go-to litmus test.)
We paired that with elote (grilled corn) that was tender and well-seasoned. Both that and the sopa de tortilla bursting with pulled chicken were tastefully presented on black ceramic dishes that featured an intricate vine pattern and helped give our Mexican street fare an upscale feel. The expertly mixed margarita didn't hurt, either.
This being a taqueria, I didn't overthink the main course. Although the two mainstream tacos that we sampled (steak and shrimp) were solid, it was their specialty siblings that stood out: The al pastor with diced pork and pineapple had just enough kick to make my nose run, while the chicharrón en salsa verde, with its crispy/tangy combo, somehow made me feel good about ingesting fried pork rinds.
My wife went all gringo and ordered the fajitas (instead of, say, a huarache), but as she typically does whenever we dine out, she nailed it—the sizzling cast-iron skillet was filled with ample amounts of zesty chicken, sautéed onions, and multicolored peppers that made for a winning sensory experience.
The churros we shared for dessert disappointed (the burnt finish overshadowed the unique apple filling), but at least they arrived quickly, considering how dysfunctional the restaurant seemed on this particular Saturday night. From the sluggish service (27 minutes to get two waters) to the short staff (our server was actually the bartender, pressed into double-duty) to the broken baño (the men's room was out of order), it was clear that after seven months in business, chef Rod's newest joint still has some kinks to work out.
But as far as TV dinners go, you could do a whole lot worse.
---
›› R&R TAQUERIA 2 E. Lombard St., 410-244- 7260. Mon.-Fri. 8-9:30 p.m., Sat. 10-a.m.-9:30 p.m., Sun. 11 a.m.-7:30 p.m.