Pretty in Pink
Inveterate travelers polish off the Brass Elephant.
When Linda Brown Rivelis and Steve Rivelis got married at the Brass Elephant in 1986, Steve recalls, "We spent 30 minutes in the second-floor lounge over mimosas, took 15 minutes to say our vows and exchange rings that were engraved with, 'It's a deal,' then we danced our heads off downstairs." Thirty years later, the entrepreneurs have made a new deal as the proprietors of The Elephant. And three decades after tying the knot here, they're still glowing.
While the Brass Elephant (which closed in 2009) held a special place in their hearts, it was also important to the duo to bring the old-world charm of the past into the present and create a place that would welcome a new generation of dedicated diners. With that goal in mind, over the course of a year-and-half-long renovation, the original 32-foot marble bar was restored, the upstairs lounge was updated with contemporary pieces like white leather sofas and ottomans, and the first-floor dining rooms were painted a pale, seashell pink, inspired by a set of vintage dessert plates purchased on a sojourn to Savannah, Georgia.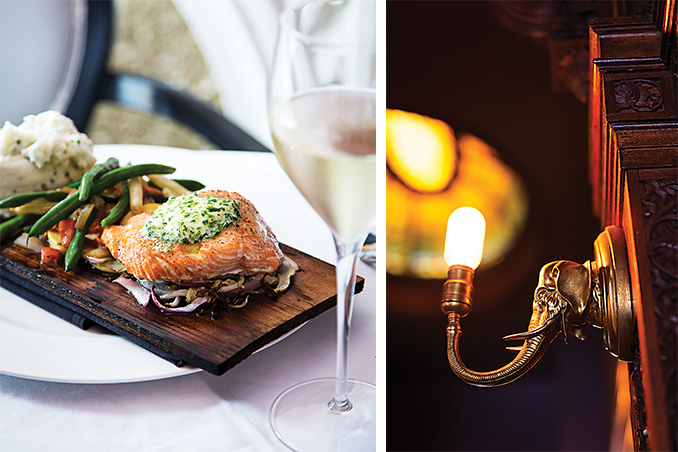 The shiny surfaces are mostly gone, with the exception of some elephant-head sconces and "wallpaper" nameplates—installed in the second-floor bathroom and hallway—that were found in the building, dating from when the Potthast Brothers Furniture Company was housed there. For all the renovations, it's clear that the past has not been completely forgotten—historic gems abound, including stained glass by famed artist Louis Comfort Tiffany and intricate woodwork by Lockwood de Forest, a leader in the aesthetic movement.
Against the backdrop of this enveloping oasis, the food is almost secondary to the space. With its United Nations approach, the menu was inspired by the Rivelises' 60-day trip around the world (Hanoi, Tokyo, Bora Bora, Morocco). It features items such as lasagna, chicken with chili sauce, and St. Louis-style ribs, as well as seasonal specialties, a raw bar, and a dedicated lounge menu with small plates and flatbreads.
While the fare is tasty enough and executive chef Andy Thomas (formerly of Citronelle and Gertrude's) has the proper pedigree, the menu is literally all over the map and might be better served by consolidating countries, especially since many of the nations featured are known for their bold cuisine and exotic, palate-pleasing profiles. On our visits, most of the dishes were spice- and salt-shy and needed more oomph, including a cedar plank sockeye salmon served on a bed of fennel and onions (the pile of mashed potatoes was the star of the otherwise disappointing dish), a pad thai-inspired rice noodle dish with shrimp, and a brothy but flavorless fisherman's stew rife with scallops, shrimp, salmon, crab, clams, and mussels.
---
Pimlico Hotel Egg Roll
Cut in four sections and served on top of a swish of plum and duck sauce, this festive appetizer—a nostalgic nod to the original recipe at the Pimlico Hotel—is a must-have prelude to your meal.
---
While many of the menu items we sampled needed some sort of tweaking, there were a few dishes that were just right. Our favorites included a plate of zucchini fritters—three compact cakes mixed with onion, fennel, and flash fried, and served with a cooling dill yogurt sauce—and tandoori-style chicken kabobs, threaded with peppers, onions, and zucchini, and served with a tangy yogurt sauce. Another winner was the so-called lobster roll, a riff on Vietnamese-style summer rolls, rolled in rice paper and packed with carrots, cucumber, and basil and served with a thin drizzle of mango sauce.
As for entrees, though pricey at $42, the one to order is the lamb tagine for two. The rich stew featured succulent chunks of lamb, chickpeas, and onions, floating in a thick, aromatic beef-tomato, gravy-like broth. Fat pearls of Israeli couscous were served on the side, along with house-made pita bread and a plate of simple vegetables.
In the service department, hospitality was high, from Linda's warm smile as she visited every table to a gracious and skilled wait staff that enhanced the experience with constant care and concern. Also of note, bar manager Matt Murphy is about as congenial as they come and makes a mean Arabber's Delight comprised of bourbon, banana liqueur, bitters, honey, lemon, and ginger.
Despite some kinks, The Elephant is very much worth a visit. And given some time to tweak, diners, like the Rivelises, should soon be swooning.