Review: The Essen Room
A new spot in Pikesville puts the deli in delicious.
While I can't say for certain, I'm fairly sure that the idea of food guilt was first born at a Jewish deli—a place with matzo balls as big as billiard balls, inch-thick hot dogs, and sky-high sandwiches crowded with Brobdingnagian portions of pastrami, chopped liver, and Russian dressing.
Such is the case at The Essen Room, a new Jewish deli in Pikesville, whose slogan is: "Where size does matter!" and where there's a place on the Wall of Shame (and a free meal) for anyone who can single-handedly consume in one sitting the G.B.M.F.—that's great big mother f—er—a platter of corned beef, brisket, turkey, roast beef, and pastrami (usually something meant for three to four people). Then again, with food this good, guilt has no place at the table. Years back, owner Neil Parish moved to Cherry Hill, NJ, where he owns a sister spot, The Kibitz Room.
Luckily for us, he wanted to spread his New York-style deli love—and his "secret" house-made brown mustard—all the way back to the Baltimore area, where he was raised and still has family. Visit The Essen Room, on the site of a former Original Brooklyn Water Bagel Co., anytime during business hours, and prepare for a bit of organized chaos—clearly, Pikesville-ians have been starving for this for a long time.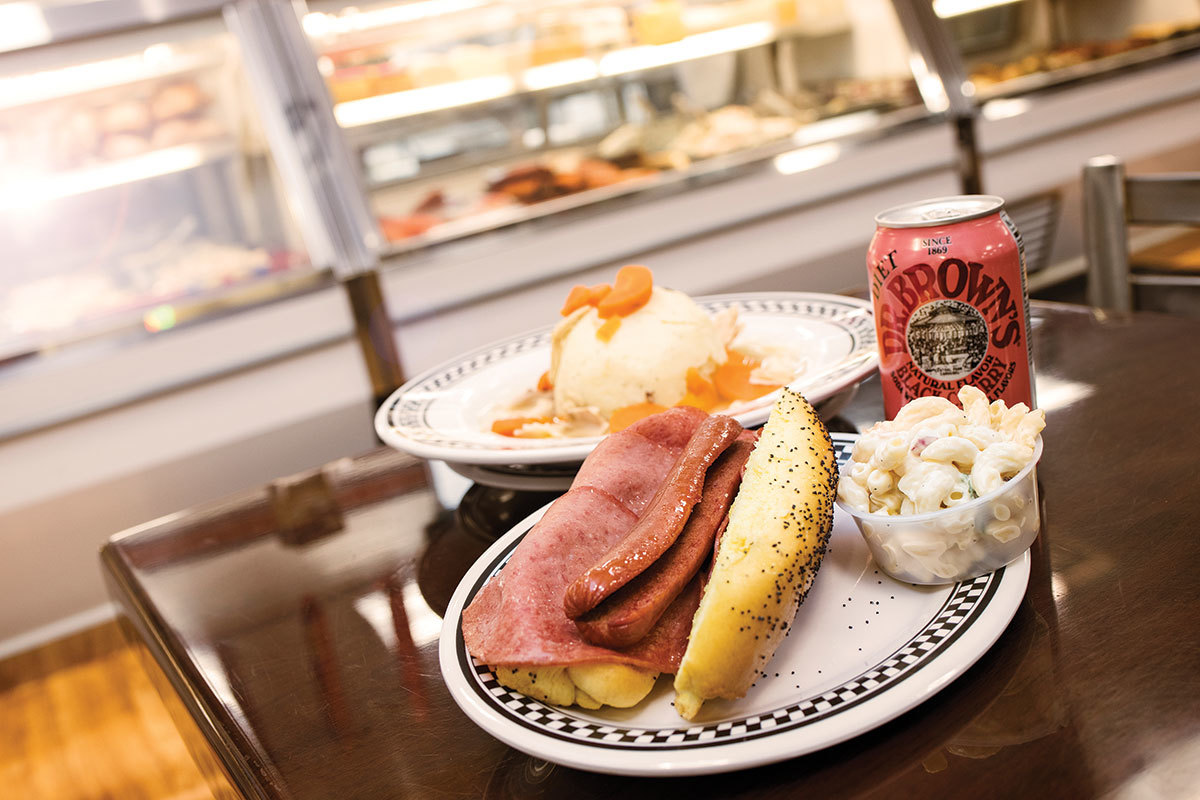 With its white subway tile and row of salamis strung from the ceiling, this place will feel instantly familiar. For me, several pilgrimages to Essen were particularly personal. Dining at Essen, which means "eat" in Yiddish (and German), feels like a return to home, a safe, familiar harbor in uncertain times. At a time when the world feels upside-down, I can count on the fact that corned beef on rye with mustard is still the same staple I ate as a kid.
My biography, in fact, is written in the deli display cases. There's the noodle kugel, with its fine egg noodles mixed with cottage cheese, sour cream, and sugar like my mom, Millie, made for every Jewish holiday. There's the cow's tongue that, much to my dismay, my Russian immigrant grandmother, Beila Salkoff, thought of as a delicacy, and the kippered salmon that reminds me of every bris, Kiddush, and shiva I ever attended.
Even if Eastern-European cuisine is not part of your heritage, there are so many things to love, from the giant menu with clever combinations, such as one creation with turkey, corned beef, and tongue with coleslaw and Russian dressing; and another of fries with brisket, fried onions, barbecue sauce, and cheddar cheese. To add to the authenticity, you'll also find cans of classic Dr. Brown's soda in the cold case and an all-you-can-eat pickle bar, including half-sours, sour tomatoes, and hot and spicy peppers.
---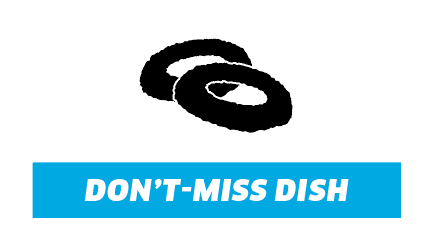 Onion Rings
Order these spectacularly crispy, deep-fried marvels and we guarantee you'll soon be shedding tears of joy. Eat them on their own or consider them as a crunchy companion to whatever else you order.
---
Someone should write a love song about the pastrami reuben, with its thin, buttery ruby-red fatty folds of smoked meat served on lightly seeded rye bread and adorned with several slices of Swiss, a drizzle of Russian dressing, some spicy brown mustard, and a soupçon of sauerkraut. The whitefish salad sandwich also deserves high praise. Unlike many salads of its kind, which tend to be overly puréed with too much mayo, this version features fat chunks of flavorful fish and only a tad of mayo. The matzo ball soup, aka Jewish penicillin, more than lives up to its nickname, with house-made chicken stock, wide egg noodles, pieces of chicken, and feather-light matzo balls.
Then there's the potato knish, a doughy snack stuffed with puréed potato, onion, and spices. Typically, knishes are little starch bombs fried in chicken fat. At Essen, which features eight different types of knishes, including one stuffed with hot dogs, the dough is like fine pastry and the filling is light instead of leaden. Knish pros will know to dip theirs in Neill's house-made mustard to moisten them.
Cross the finish line of your meal properly and choose from among many promising desserts, including seven-inch-high carrot cakes, house-made cheese Danishes, and jelly-filled hamantaschen, traditionally eaten during the holiday of Purim, but available here year-round. I settled for a slice—make that a brick-sized slab—of babka, a type of Jewish coffee cake, swirling with chocolate and studded with nuts and raisins.
While the eminently friendly staff can feel harried at times, that only adds to Essen's appeal. Order at the counter, and the food arrives at your table in a New York minute—which is a good thing, because you'll need extra time to tackle whatever is on your plate. And there's no shame in that.