Review: The Milton Inn Gets Reimagined
Everything old is new again at the iconic Sparks restaurant.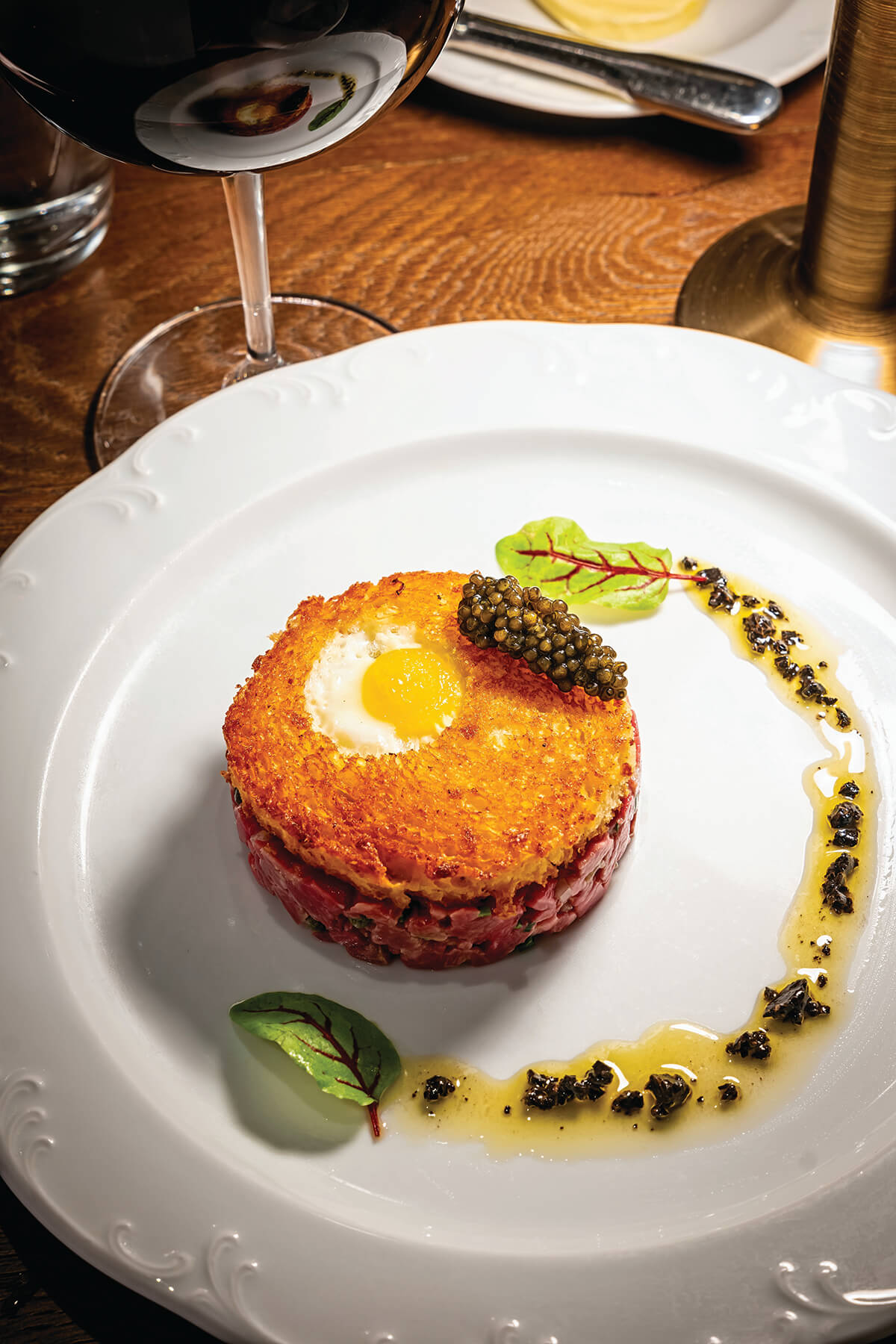 When restaurateur Tony Foreman and chef Chris Scanga toured The Milton Inn prior to purchasing the property last year, they shared a lightbulb moment. As they walked through the historic home with its massive hearths and fieldstone exterior, they were in total agreement.
"We came to the same conclusion that we should serve game here," says Scanga. "It reminded me of French hunting lodges I'd seen in Languedoc, France," says Foreman. "The inspiration is about having an idea that feels right and honest, where it feels like something it should always have been."
So, on the spot, they, along with Foreman Wolf partner-chef Cindy Wolf of Charleston, decided to reincarnate the once-legendary restaurant into something that had the feel of those French lodges but would be equally at home in Maryland hunt country, where the property is located.
"We envisioned a space that would feel elegant and rustic at the same time," says Foreman, "a place where we could hang antlers on the wall, and where it would feel cool to do that."
That concept came to life when The Milton Inn reopened its doors in July. (Chef Brian Boston served his last meal there in spring of 2020, when it became a casualty of the pandemic.) With its intimate dining rooms, plush textiles, impeccably sourced European oil paintings, a menu of French gastronomy's greatest hits, and, yes, a collection of antlers artfully mounted on the wall ascending the staircase, the iconic Sparks restaurant is back—and better than ever.
It's a happy ending for a space that dates back a few hundred years when the circa 1740 mansion was first a Quaker coach stop, then a boarding school (The Milton Academy for Boys, infamously attended by John Wilkes Booth), an antiques shop, and finally, a fine- dining fixture that, while beloved by many, was well past its prime.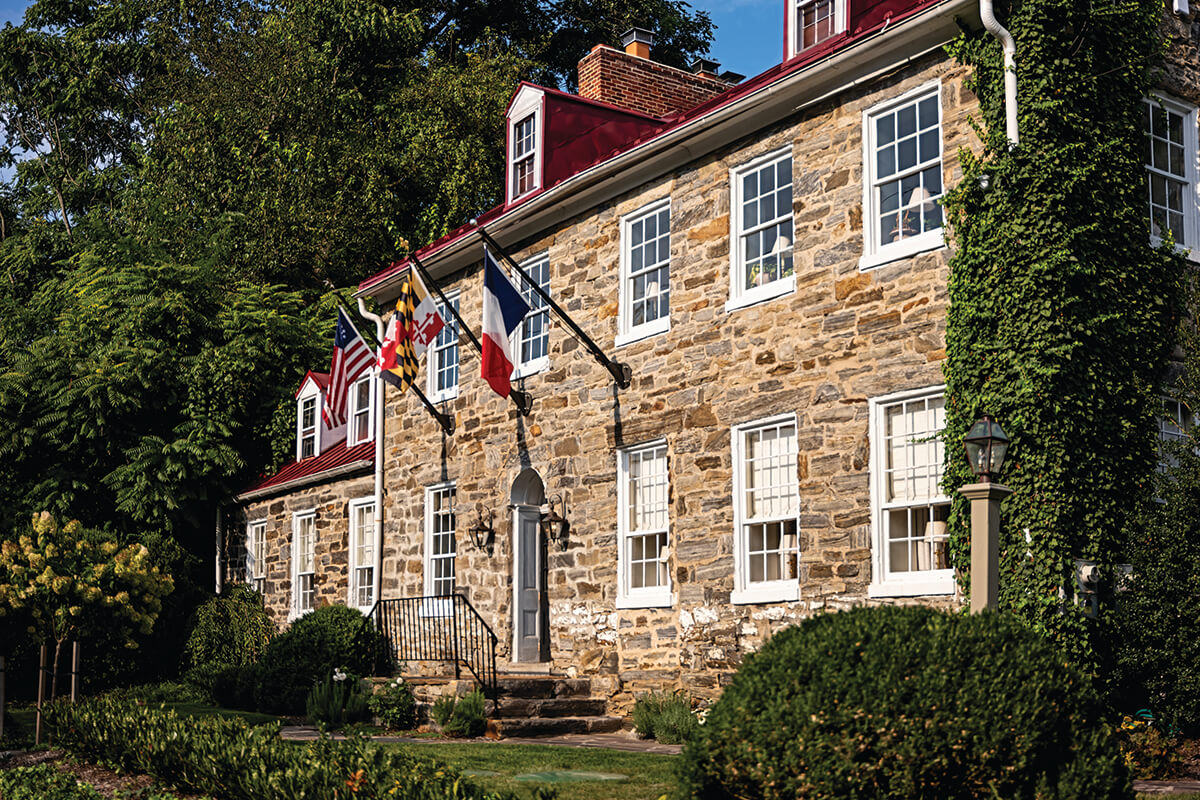 After a complete restoration and reimagining of the space—this version of the storied restaurant is the same in name only. And somehow, Foreman Wolf's first foray into Baltimore County manages to feel both current and timeless. Gone are the doilies, white tablecloths, and Eisenhower-era offerings like oysters Rockefeller of yore.
In are the craft cocktails (and an impressive French-accented wine list and Parisian maître d'hotel), rechargeable table lamps, and old-school Francophile favorites, which while deeply rooted in the past, have been updated for modern diners. In fact, Scanga describes the menu as "peasant food dressed up to be Instagram-worthy."
"WE ENVISIONED A SPACE THAT WOULD FEEL ELEGANT AND RUSTIC AT THE SAME TIME."
The atmosphere is equally posh. The talented Katie DeStefano created a series of seven spaces to choose from—the dark and dramatic Stable Room, the Hearth Room with its taxidermized pheasants, the genteel main dining room, and the airy Garden Room. (There's also a lovely weatherproof outdoor patio area, for those who prefer eating en plein air only.)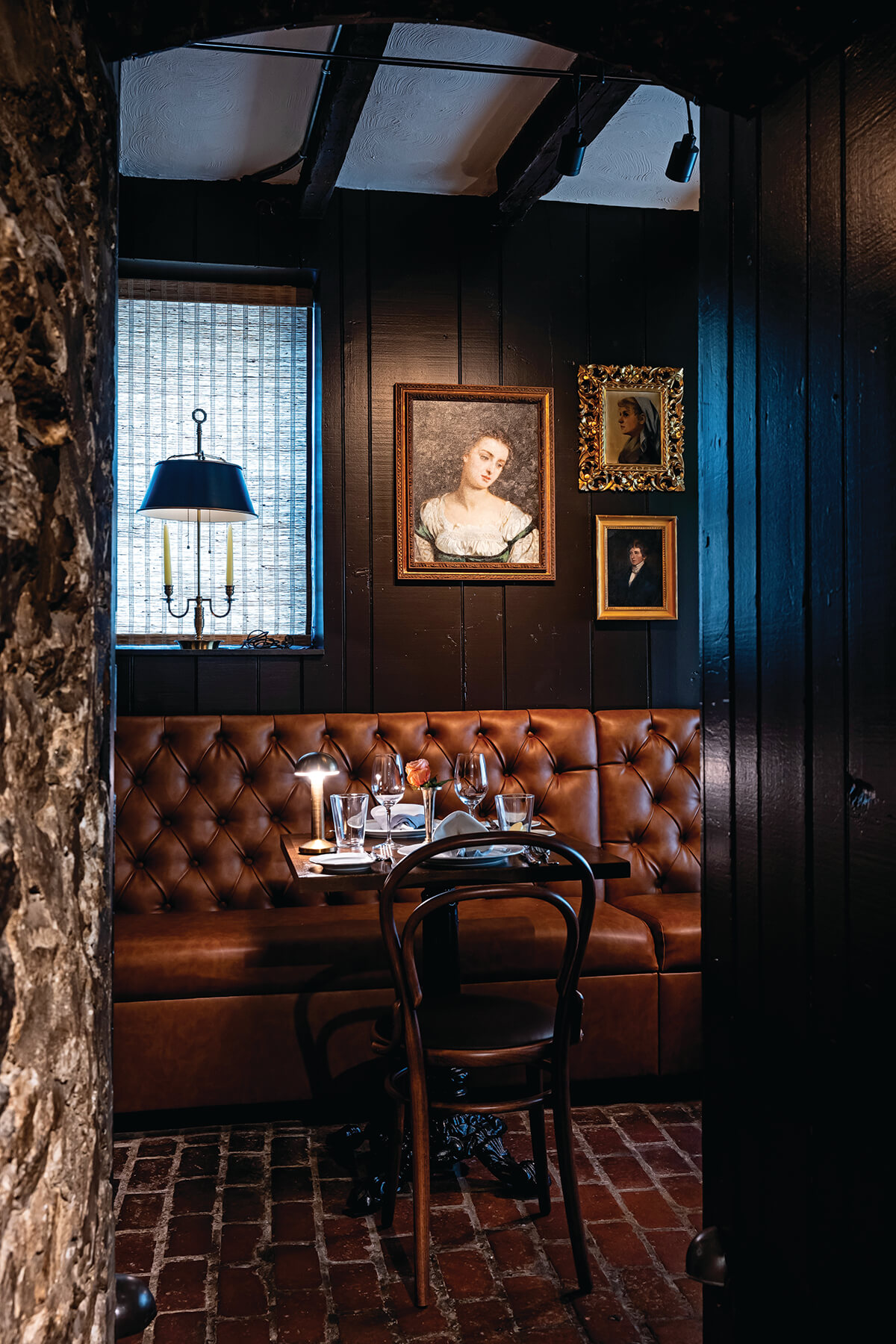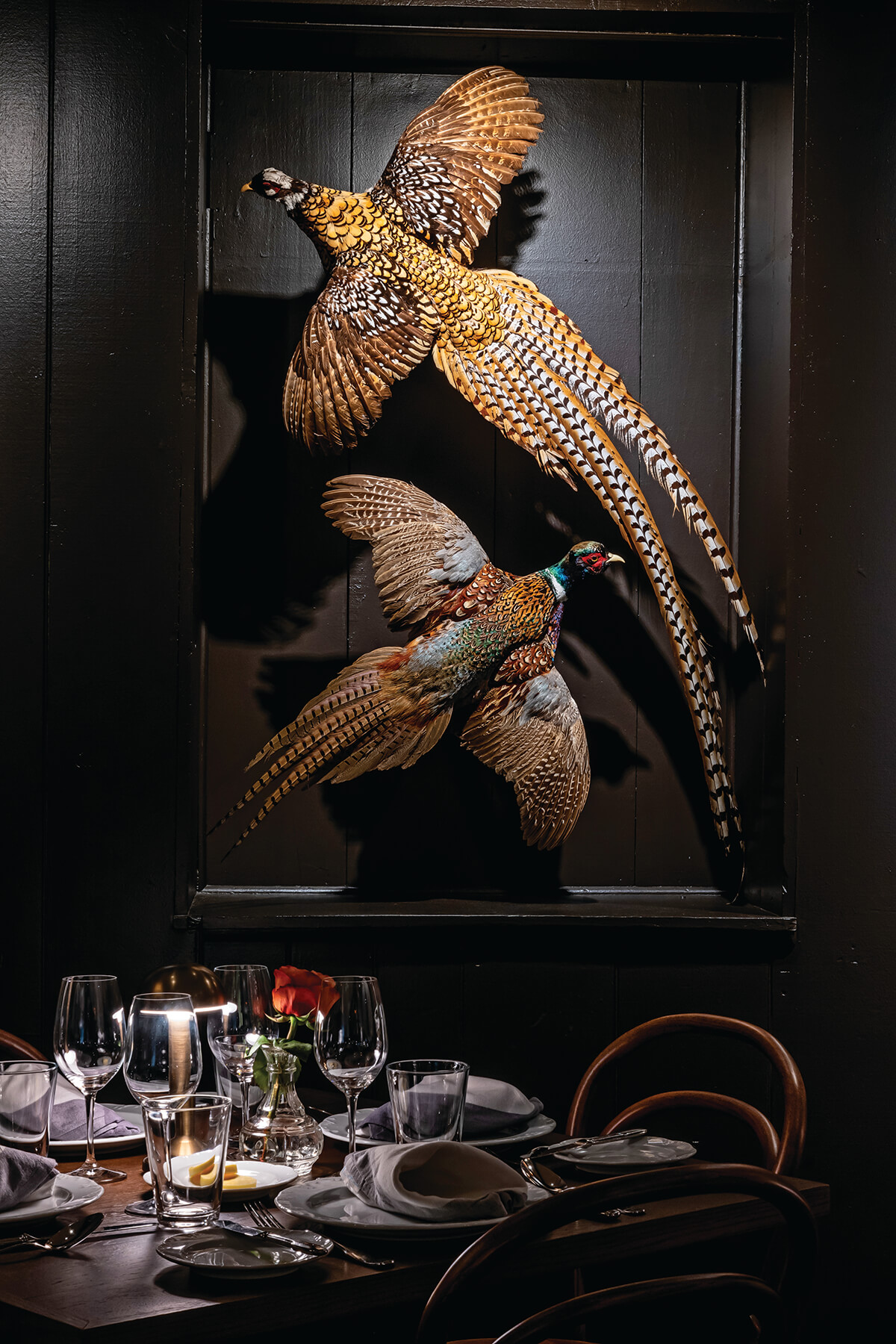 In addition to reimaging the space, Foreman and Wolf have given the 32-year-old Scanga a platform for his talents. Prior to this gig, Scanga worked in the kitchens at Foreman Wolf's other properties, including Petit Louis Bistro, Johnny's, and Charleston.
He was also classically trained at the famed Culinary Institute of America, which makes him well-suited to design a menu of French comfort foods that pulls from the borders of southern and southwestern France, including the Basque Country and the Rhône region.
Think of Scanga's perfectly rendered dishes—seared foie gras in plum sauce, grilled venison with chanterelles and sour cherries, duck leg confit with plums, and a succulent roasted guinea fowl—as an edible love letter to French fare.
"My style of cooking is doing stuff that is like grandma food that we can doll up," he says, "but the flavor is classic French cooking."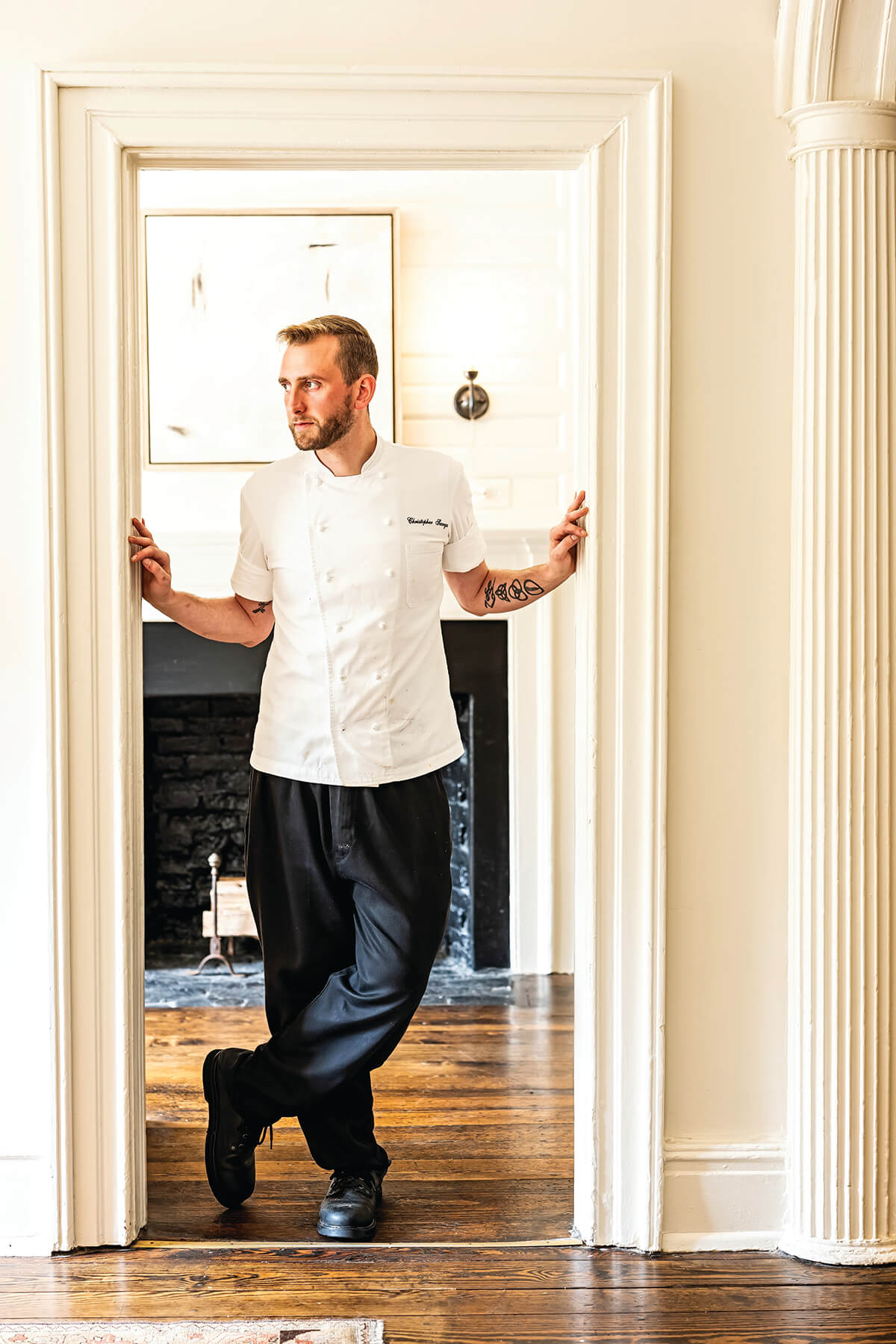 Scanga displays a deft artistic approach to his plates, but nothing is overdone—and every ingredient has a raison d'être. Take for example the divine steak tartare, a playful toad-in-the hole preparation that features a buttery brioche atop a luscious lobe of ruby-red beef, Ossetra caviar floating in black truffle vinaigrette, a quail egg at its center, and sorrel leaves that act as both garnish and a citrusy palate cleanser to cut the richness between bites.
The Pâté en Croûte ("pie in crust")—a mixture of ground venison and pork pâté encased in a decorative puff pastry—is a work of art that takes days to prepare. This melt-in-your-mouth version honors the centuries-old French culinary tradition. On the seafood side, the Saumon la Cr me d'Oseille, a crispy-skinned piece of salmon sitting in sorrel sauce, is a delicious nod to the famed Michelin-starred La Maison Troisgros in Roanne, France, believed to be the birthplace of salmon in sorrel sauce.
Louis lovers will rejoice that many of that bistro's flawlessly executed classics—the onion soup, the quiche, the steak frites—have earned a spot on the menu here. Also, familiar is Foreman Wolf's gracious and caring service that never fails to make the meal. (We were so happy to see the suave Nezam Mojarrad, who has worked all over town, take command of our table.)
The Milton is an instant classic. As it was in the past, it's a place to return to again and again.
THE MILTON INN 14833 York Rd., Sparks- Glencoe. HOURS: Sun. 5-9 p.m.; Tues.-Sat.: 5-10 p.m. PRICES: Appetizers: $11-24; entrees: $16-45; desserts: $11.