Review: The Tasting Room is a Palate Pleaser in Frederick
For having just turned 21, the restaurant feels remarkably fresh.
When it opened in 2001, The Tasting Room helped establish Frederick as a serious destination for fine dining. Over the years, its popularity endured even as newer, flashier (and ampersand-loving) restaurants like Thacher & Rye and Truth & Beauty established themselves in the growing historic city, which was the site of several Civil War battles.
Perhaps no one loves The Tasting Room more than Jarrett Walsh, who worked as its general manager for six years, ran his first beverage program there, and, most importantly, met his wife there. But even after he bought it in March 2020 (his timing could have been better), he was determined to build on its reputation, not rest on it. The result is a restaurant that, for having just turned 21, feels remarkably fresh.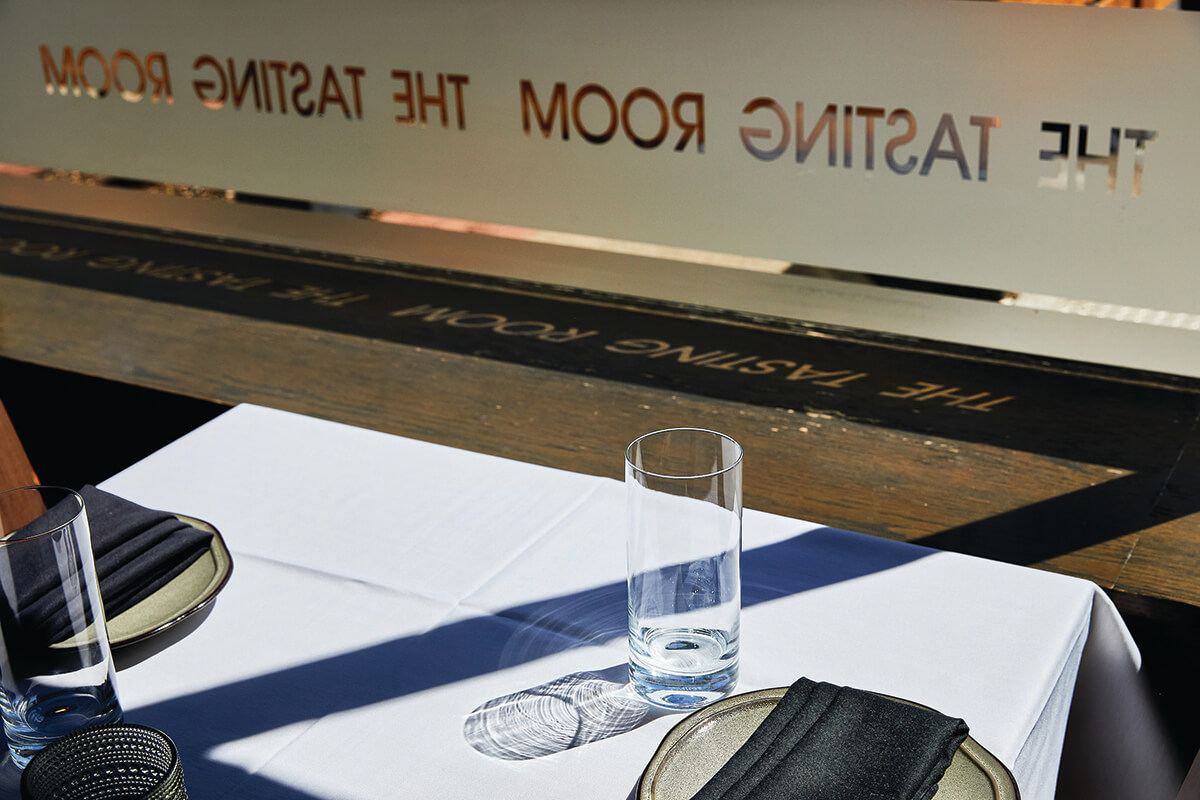 When we visited for dinner on a Wednesday night, the dining room, bar, and outdoor tables were filled, creating a place-to-be atmosphere. From the moment we sat down, we could see why. Servers, who have ditched the formal white button-down shirts and ties they used to wear for black shirts and jeans, were prompt, polite, and eminently informed about the house's offerings.
We started with a round of fantastic cocktails. It's rare to find a bourbon-based drink that is palatable even for non-whiskey fans, but the Feeling Fuzzy, made with bourbon, rye, peach, lemon juices, cardamaro, and spiced simple syrup, got a thumbs-up from everyone at our table. The Dr. Feel Good, a combination of rum, mango, coconut, and lime juices, mint, and bitters, tastes like adult spring break. And the Sling Back—gin, Drambuie, plum, mango and pineapple juices, passion fruit, grenadine, and angostura—arrived in an ornate, green ceramic glass that would put most tiki bars to shame. Both the cocktail and the vessel that held it seemed to be sending a message: Fun awaits.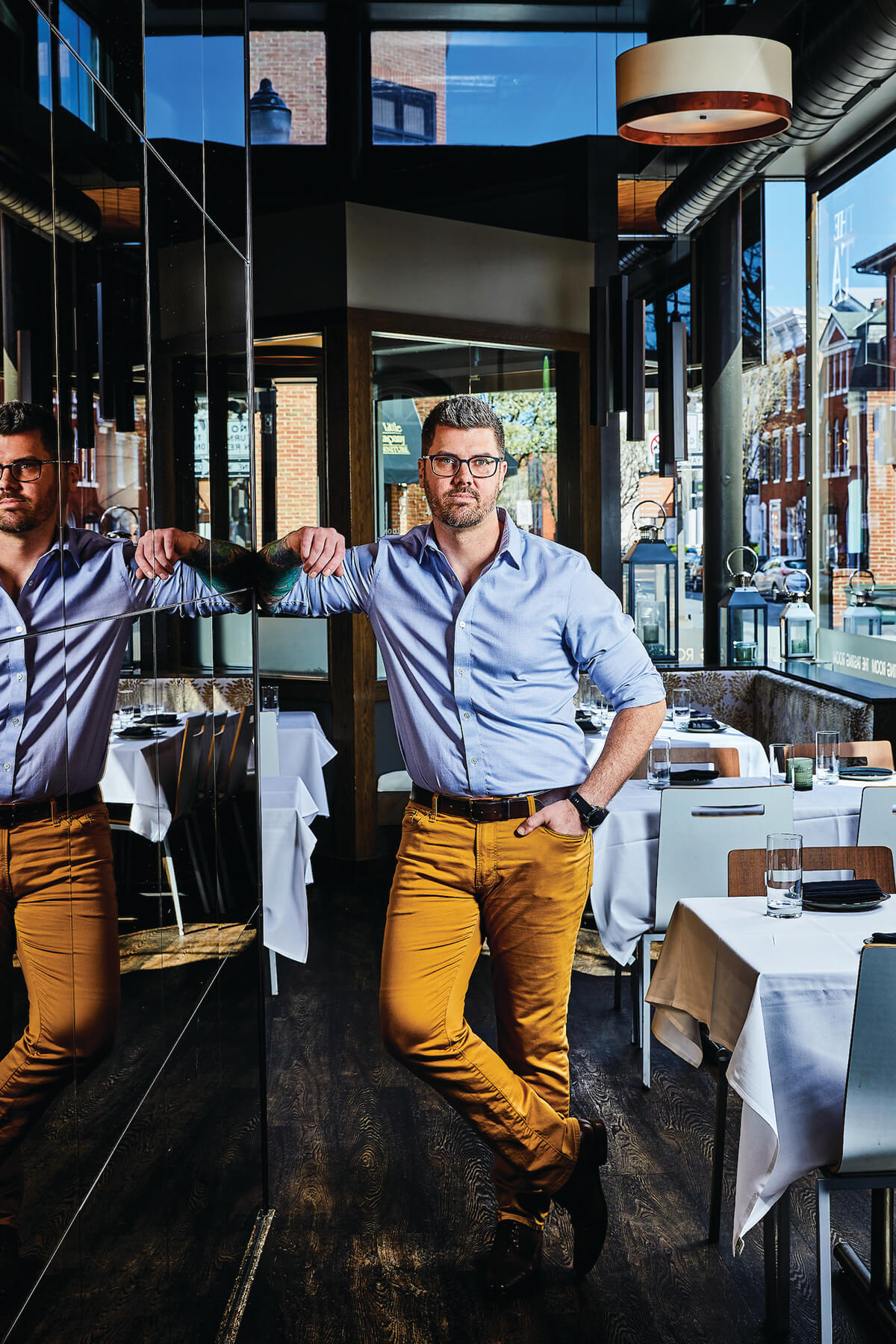 Executive chef Richard Falbo took over the kitchen earlier this year, and signs of his vast experience—he's worked in restaurants from Texas to Hawaii to northern Virginia to upstate New York—are all over the contemporary American menu, which also finds inspiration from around the world.
We started with the Lioni Latticini Brooklyn Burrata, a delectable dollop of the creamy cheese served with bacon jam, orange slices, fennel, curly endive, and, in a first for us, topped with everything seasoning. It was terrific and, most importantly in a world where burrata is popping up on more and more menus, unique. The charred Spanish octopus starter was cooked nicely and served with elements—jalapeños, herbs, and saffron calasparra rice—that added a kick of spice and body to the dish. Our server recommended that we squeeze the clementine orange over it, a good idea that added a nice bit of acidity.
Entrees were just as successful. The Half Poulet Rouge Chicken is Walsh's favorite dish—and was ours as well. A plump and juicy breast and leg are served with bulgur wheat, spring onion, and a beautifully peppery, garlicky, spicy green harissa that rivals the best versions we've had in any Mediterranean restaurant. The spot-on slow-cooked short rib, accompanied by creamy white grits, was shredded finely, and enhanced by its smoky sugo sauce.
Unlike an increasing number of restaurants in its category, The Tasting Room is open weekdays for lunch (and serves brunch on weekends). When we returned a few weeks later for a midday meal, we found a scaled down and less expensive menu. A bowl of lobster chowder, a legacy dish (along with crab cakes and the filet mignon), according to Walsh, is a great way to start a meal no matter when you're eating it. The broth is rich, and the lobster and corn provide buttery undertones.
In addition to salads, a burger, a Korean fried chicken sandwich, and a pork belly BLT, five lunch entrees are available. We chose the salmon cakes, which came topped with celeriac slaw and pickled celery. The dish is successful because of the sum of its parts. While the fish got a bit lost in the fried breading and the cakes were a tad on the dry side, the creative garnishes and tasty remoulade sauce more than compensated.
On both our visits, the volume inside the restaurant was loud, but thanks in part to high ceilings and walls of windows, not overwhelmingly so. The vibe is upscale but comfortable and not stuffy: casual fine dining as Walsh describes it. No matter how one classifies The Tasting Room, it's unquestionably an important part of Frederick's culinary history, and a formidable part of its future.