Motor City Meets Charm City at Underground Pizza Company
The Detroit-style pies provide a great canvas for a variety of big and bold creative toppings.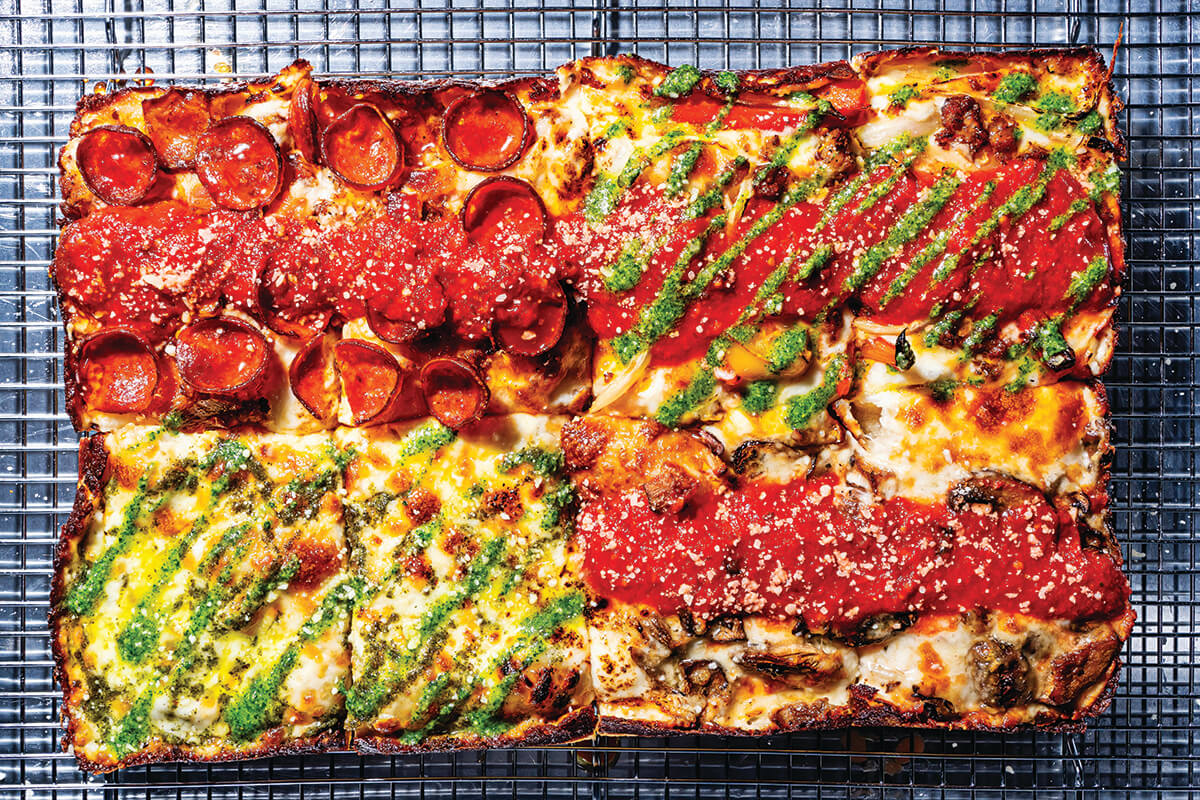 Evan Weinstein was working as a successful festival promoter when everything came to a grinding halt in March 2020, as the pandemic took hold in Maryland.
With way too much time on his hands, he started making his favorite, hard-to-find Detroit-style pizza, a square pan pizza with a thick crust.
"I found a recipe online, I made some home bakes, and I posted on Facebook, and friends were like, 'Hey, can you make me one?' Then people started offering me money to make them a pizza," says Weinstein. "I was making a couple pizza doughs here, a couple doughs there—the next thing I know, I'm doing 100 doughs in my house out of a regular kitchen oven. I was baking as many as I could."
Before long, the 39-year-old entrepreneur was selling his pies of perfection out of ghost kitchens and at pop-ups around town. And when supply could barely keep up with demand, it was clear that he had an opportunity for a new business.
So last December, Weinstein opened his first brick-and-mortar, Detroit-style Underground Pizza at the former Joe Squared spot on the Inner Harbor at Power Plant Live!
"I love Detroit as a city," says Weinstein, who actually worked the pizza station as a student at UMBC in the 2000s. "I've been there many times for what was called the Detroit Electronic Music Festival. It's a city built on underground culture, which is part of what my career has been built on and how I did this—from selling homemade pizza to friends to strangers hearing about it and meeting me in parking lots. It was all underground. Calling it Underground Pizza just made sense to me."
Before opening his own pizza place, Weinstein was more than happy to drive the distance for his favorite pies.
"I was driving to D.C. to get Detroit-style pizza because there wasn't anything like it near here," he says. "One day, I was like, 'This is ridiculous—I know I can make this myself.' This type of pizza is a very niche thing—I found it at a festival in Ohio that I was running. And I had been talking about the idea of doing a concession for Detroit-style pizza at Moonrise Festival since 2018. The idea just never took off."
Until now. To date, Weinstein sells between 100 and 400 pizzas a day—and for good reason. The crust defies logic—it's hefty, yet light, airy, soft, and springy; dense, yet crispy, and a great canvas for a variety of big and bold creative toppings.
To wit: "The Woodlands," generously loaded with hen of the woods and oyster mushrooms or "The Jawn," a harmonious marriage of ribeye, mozzarella, provolone, and fried onions, and "The Tiger King," a meat lover's pie laden with bacon, Italian sausage, hot honey, and pepperoni. And Weinstein uses only the best ingredients, from high-quality Stanislaus tomatoes to California olive oil and seasonal items whenever possible.
Though the focus—at least until the pandemic is over—is on carryout and delivery (they also ship frozen pizzas to 50 states), plus indoor and outdoor dining at the Power Plant Live! location, plans are underway to open two additional locations in Fells Point and Montgomery County.
"We just started out to open a carryout place," says Weinstein. "Now, it's kind of funny we've have had to figure out how to do this dine-in component."
UNDERGROUND PIZZA 30 Market Pl., 443- 347-6190. HOURS: Wed. 4 p.m-9 p.m.; Thurs. 1-10 p.m.; Fri.-Sat. noon to 11 p.m.; Sun. noon- 9 p.m. PRICES: Appetizers, salads, and sandwiches: $9-12; entrees: $13-33. AMBIANCE: Industrial.