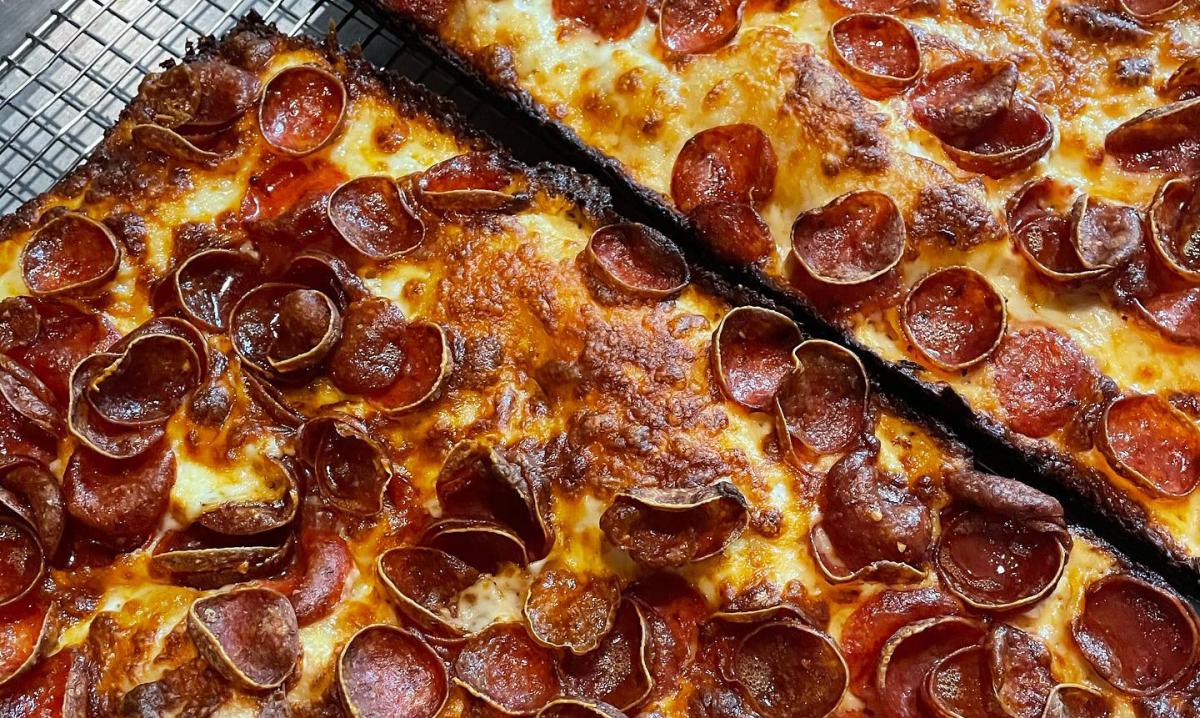 Courtesy of Underground Pizza Company
Evan Weinstein spent at least six weeks in early spring playing "Call of Duty" with other members of the entertainment industry.
The cancellation of concerts and large-scale gatherings due to COVID-19 left event promoters like Weinstein, who organizes Baltimore's annual Moonrise Festival, contemplating what's next.
"I have a business that I've had for fifteen years," he says. "It's shut down. I just had a baby, I had no plan." 
Stuck in quarantine and in search of something to do, the self-proclaimed pizza fanatic began creating his own Detroit-style pizzas right out of his kitchen at home. Known for their square shape, thick, crunchy crust, and cheesy layers, Detroit-style pies are among Weinstein's favorites. He was inspired by the Detroit Style Pizza Company, which vends at some of his festivals. 
"I have a passion for food," he says. "I spend most of my free time looking for food."
First, he was just selling to friends. But he soon realized he had stumbled onto a new business venture when strangers, who had heard about his pizzas through social media and word-of-mouth, were placing dozens of orders. "All of a sudden, I'm selling out of dough from my house," he recalls.
That's when Weinstein reached out to local chef Patrick Morrow. The pair knew each other having worked together on event catering in the past, and when Weinstein mentioned his recent interest in making pizzas, Morrow added that he was actually hoping to get into that market himself.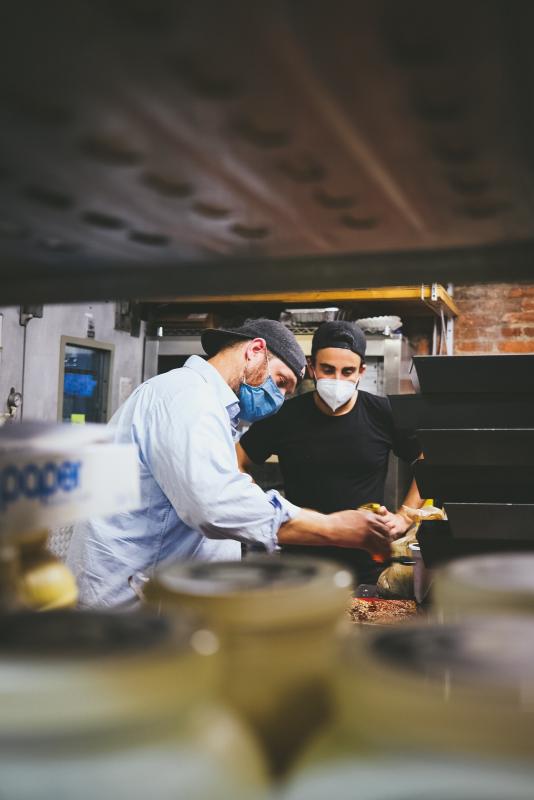 With Morrow's connections at restaurants such as The Abbey Burger Bistro in Mt. Washington and The Pig and Rooster Smokehouse in Canton, Weinstein was able to move the business out of his home and take full advantage of the ghost kitchen trend by using the facilities in these spaces to prep his pizzas. The duo is now making around 200 square pies per week, and expecting that number to grow.
The concept of a ghost kitchen—in which chefs and vendors utilize another restaurant's space to make and sell food—is not new. But it has grown in popularity during the pandemic as many diners continue to gravitate toward pick-up and delivery options.
Morrow, who has helped open a handful of restaurants, isn't surprised by this.
"It makes sense now more than ever before," he says. "You don't need a physical storefront; you don't need a traditional sign on the door. There are other ways to order now."
Morrow says that, in his experience as a chef for more than 20 years, the reason that most restaurants fail often has to do with owners not being able to afford rent. Ghost kitchens allow aspiring chefs to focus less on keeping the lights on, and more on purchasing quality ingredients. That's one of the things that Morrow says sets Underground Pizza Company apart, and keeps him optimistic for the brand's future.  
"I think it has legs," he says. "The quality of products stands for itself."
Another thing that sets the company apart is its delivery range. Weinstein has organized pop-ups as far as Philadelphia and makes frequent drops to Montgomery County and Washington, D.C., in addition to the Baltimore area.
Available in half or full sizes, the pizzas range in varieties from a classic red sauce with pepperoni to "The Funfetti" (spicy sausage, peppers, and onions), "The Flag" (a stripe of red sauce and a stripe of pesto), and "The Woodlands" topped with mushrooms, gruyere, and thyme. While some brands using the ghost kitchen model rely solely on third-party ordering apps like Uber Eats and Grubhub, Underground Pizza Company encourages their customers to send a direct message to the company's social media account if they're interested in picking up a pie. 
That's how Federal Hill resident Sheryl Segal placed her order. The Baltimore baker, who knew Morrow well from years of working in the city's food industry, noticed his latest venture on Instagram and wanted to show her support. "They just have a really cool thing going on," she says. "It felt underground—playfully so."
Weinstein says that underground vibe is very much intentional, and it relates to festival-planning in some ways. By not following the traditional pizza business model, he's freed himself creatively.
"I don't care what anybody else is doing," he says, "As soon as you do that, you start putting yourself in a box." 
Because Weinstein isn't sure that the entertainment industry will return to what it was pre-COVID, he's betting on this new model. "We don't know what's going to happen, so I was fortunate enough to find pizza," he says. "If you have a passion, this is the perfect opportunity."