Axe Marks the Spot
Urban Axes in Highlandtown is a swingin' good time.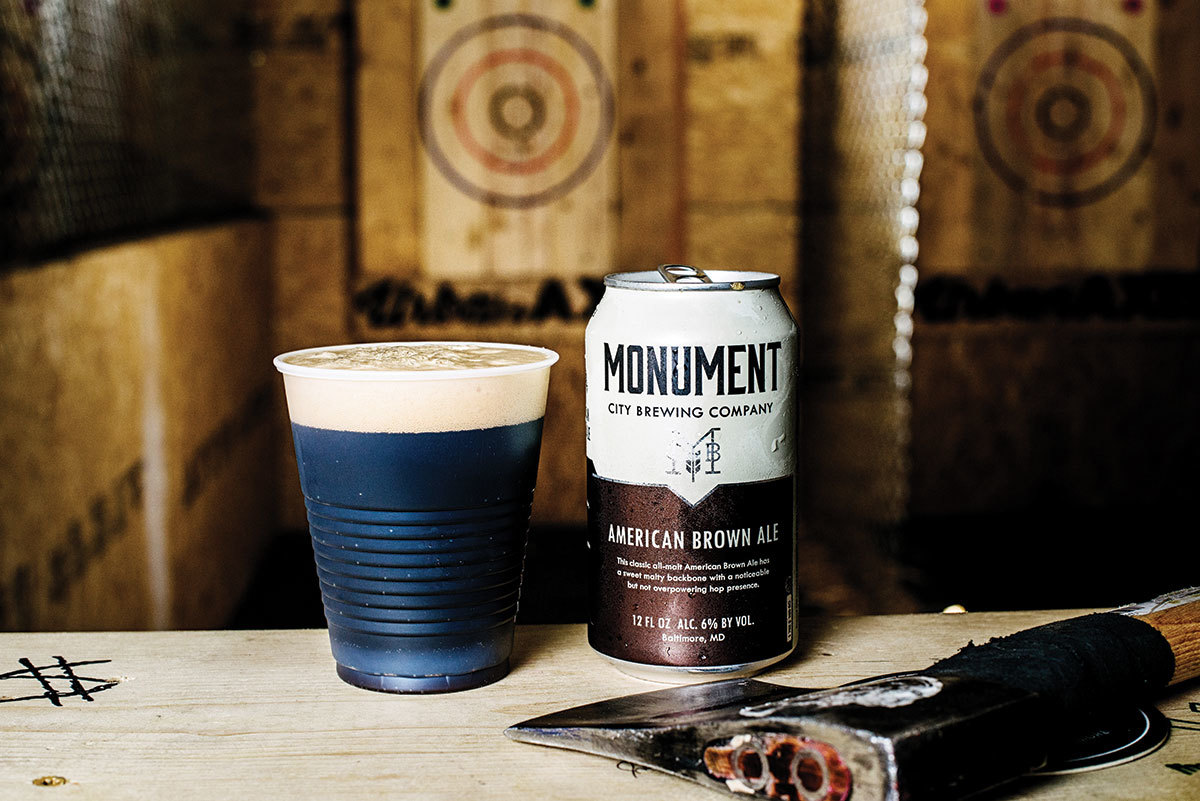 Over the years, we've found plenty of ways to supplement drinking with fun activities—darts, beer pong, Skee-Ball—but none quite as perilous as drunken axe-throwing.
Indeed, from the first moment you walk into Urban Axes (1 N. Haven St., 240-389-2937), a chain of axe-throwing bars that opened a Highlandtown location in July, you are greeted by glowing iPads and instructed to sign a waiver that includes language like, "I believe that I am physically, emotionally, and mentally able to participate in axe-throwing." Well, able or not, we scribbled our electronic signature and forked over the $35 per person for two hours of axe-throwing lessons and games for six or more.
The other thing that greets guests at Urban Axes is a giant bar with a fairly extensive local beer selection from Union Craft Brewing, The Brewer's Art, Flying Dog, Oliver, RAR, and next-door neighbors Monument City. (Most cans are $5, and there's a nicely priced $3 Natty Boh.) For non-beer lovers, there's a selection of a few red, white, and bubbly wines, as well as a cider and a canned Moscow Mule. Our bartender, who bore a striking resemblance to Jay of Jay and Silent Bob fame, was friendly enough, but this isn't exactly the kind of place where you stay and hang by the bar.
There are a couple of wooden picnic tables in the front and, of course, the requisite axe "arenas" throughout, but the space itself feels sparse. Located in an old industrial warehouse, it's clear that not much effort was put into sprucing it up or adding any Baltimore character. We got the strong sense that any Urban Axes location around the country would feel identical.
But the real fun began when our coach, Kristin, walked us back to our arena, which feels kind of like an open batting cage, and laid out the rules. Stay behind the yellow line if it's not your turn, the red line while axes are in motion, and always tap axes with your competitor as a sign of sportsmanship before throwing. Your coach stays with you during the entire session, which is super helpful since—believe it or not—none of us had thrown an axe before. We went through a bunch of practice rounds to learn to throw and see if we felt more comfortable throwing with one hand or two (two for me) followed by a round-robin competition and a bracket-style tournament.
Turns out, throwing axes is a lot like riding a two-wheeler: You're a bit shaky at first, but once you get your bearings, it feels almost natural. Oddly enough, we never felt unsafe, and there were plenty of groups in the space casually sipping beer and making bullseyes. It seems as if anyone can do it. As a wise person wrote on one of the wooden tables: "If you can dodge a ball, you can dodge an axe."