Tavern Talk
The White Oak Tavern delights in Ellicott City.
Outside of Main Street, the dining scene in Ellicott City can be summed up in two words: strip malls. In a land where private residences are neatly sequestered away from the businesses, what is lost in curb appeal is at least made up for with ample parking. But the cookie-cutter commercial facades can also belie engaging, family-oriented service and some truly inventive cuisine, aimed at the demographic sweet spot in these middle- to upper-class suburbs. The White Oak Tavern is such a place, having been a local award-winning hotspot since its opening four years ago.
Tucked in the back corner of the Enchanted Forest shopping center, the nondescript glass storefront opens into a surprisingly airy space with lots of dark wood, elevated dining areas, a sizable patio, and a wraparound bar serving as a focal point. The space feels welcoming, industrial, and modern, all at once, a carefully crafted iteration of the gastropub concept that has proven to be so successful in HoCo. Beer is thus taken seriously here—more than 40 well-curated taps, with a diverse range of styles, plus a heavy representation of local beers. There is even a free-to-join mug club to help keep track of one's journey through the rotating selections.
The menu continues the theme of approachable with a dash of esoteric, using ingredients from numerous farms in Maryland and Pennsylvania. Turned-up comfort and bar-food mainstays compose the bulk of options, with influences and styles freely intermingling. Flour tortilla tacos are filled with smoked chicken (free-range, of course) that has been curried with Indian spices and dressed in yogurt and chutney, and fried calamari gets treated to a savory miso aioli.
White Oak
feels welcoming and modern, a carefully crafted iteration of the gastropub concept.
Other dishes are simply next-level versions of themselves—Caesar salad appears pretty straightforward, but the house-made dressing is subtly balanced and perfectly coated on each pleasingly crisp chunk of romaine. Mac-n-cheese is made with orecchiette pasta and house-made Italian sausage redolent with fennel, luscious Parmesan cream sauce, and a healthy drizzle of pomegranate reduction. Chili cheese fries sub the shredded stuff for a from-scratch beer cheese sauce and a deeply flavored, faintly smoky-spicy mole-based chili further amplified with grass-fed ground beef, as well as coffee-rubbed smoked brisket (both from a farm in Baltimore County). The coffee is even from local roaster Zeke's. It's a stacking of ingredients that nicely summarizes what the menu is all about.
That same amazing chili is also listed as a soup, along with a vegetarian Hungarian mushroom soup that is loaded with both thick slices of mushrooms and darkly sweet paprika. There are several items that seem of the "just happen to be vegetarian" variety, including fried risotto balls with pineapple salsa, wild mushroom and blue cheese tarts, a "cheesesteak" made of mushrooms, chili cilantro slaw, and a lot of olive sofrito for an extra punch of umami, and spaghetti squash in roasted garlic sauce. The chef suggests adding chicken to that last dish, driving the point home that these dishes are made to be enjoyed for no other reason than that they are enjoyable.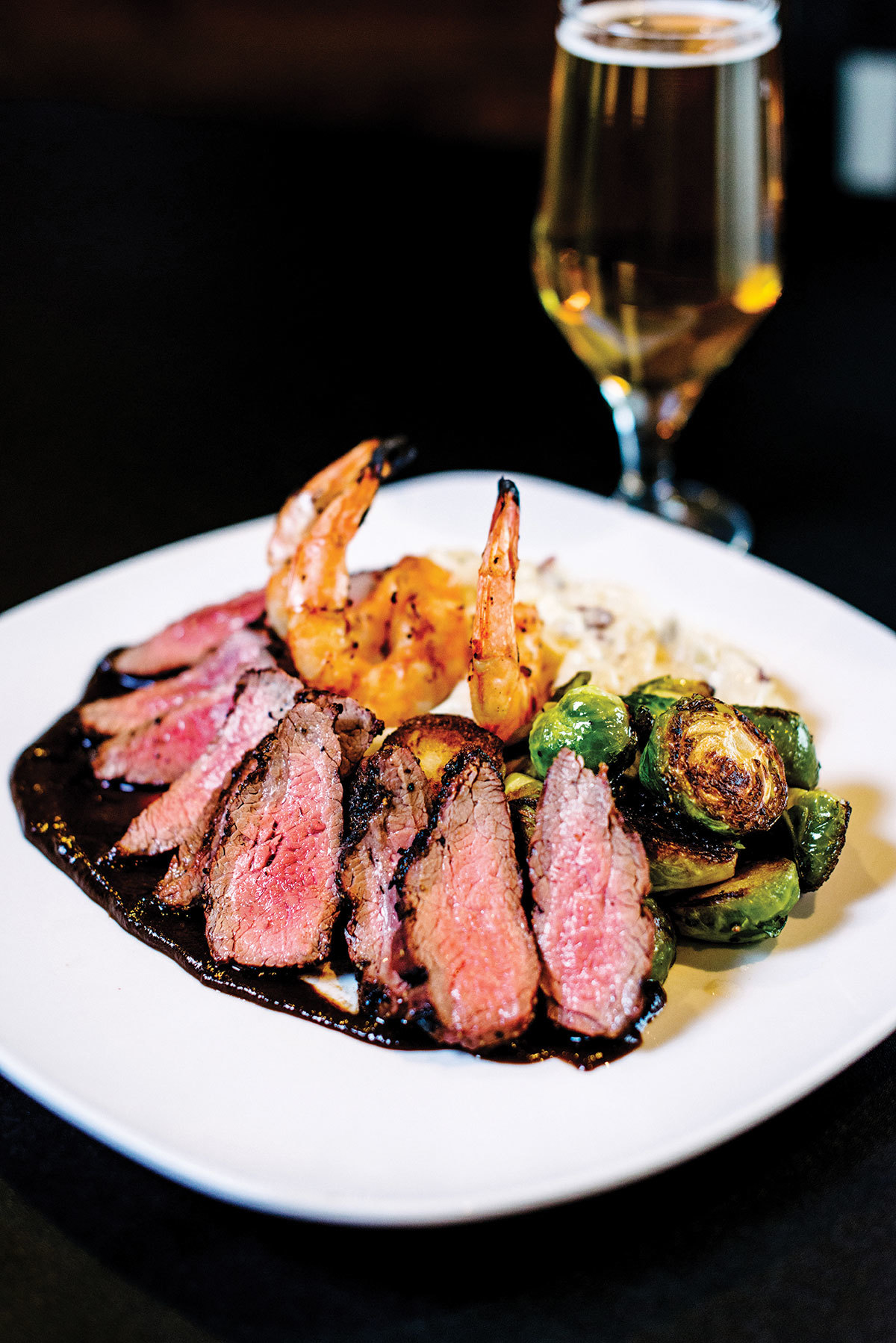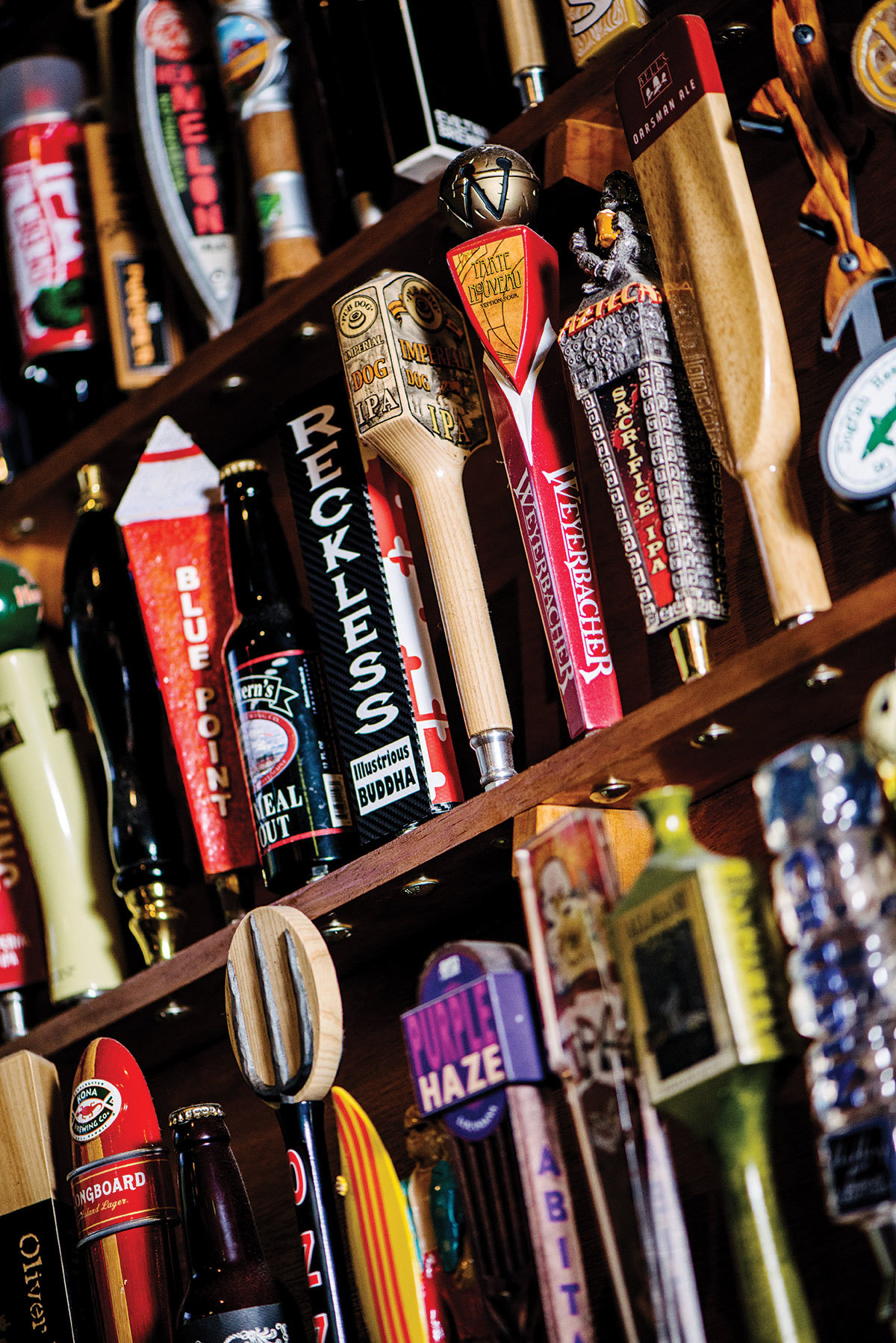 Grilled Tavern Steak with Sambal shrimp; craft beer on tap. —Kate Grewal
Not many places delve into house-made pasta, but White Oak gives it a whirl, albeit in a limited scope. Fettucine serves as a base for a Stroganoff with beer-mustard spiked cream sauce, and, again, local grass-fed brisket, except it's braised here.
If there is a must-try dish, it has to be the General Jorge's Chicken. The name suggests Chinese-Mexican fusion, which it is, with just a whisper of coating on the chicken chunks, pleasantly toothsome udon noodles, and a glaze that is somewhat sweet, a tiny bit spicy, and bright with citrus essence.
Staff here leans more toward a tavern experience, all sharing good-natured earnestness, perhaps possessing of varying levels of expertise and polish, but seemingly glad to be there and eager to help. Bartenders occupy the top level, being expertly knowledgeable about both beverage offerings and the food. But this is the type of place where everyone says hello, thank you, and good-bye.
Locals no doubt feel further embraced with numerous daily and weekly specials, including "Kids Eat Free" on Mondays and all-day happy hour on Wednesdays. But the best-kept secret of all may be brunch, which is exceedingly rare in that it is served seven days a week. And it is not simply that breakfast-y selections are available all week—true hardcore brunchers will appreciate that bottomless Bloody Marys, mimosas, and sangria are also part of the deal, every single day.
---

THE WHITE OAK TAVERN 10030 Baltimore National Pike, Ellicott City, 410-680-8974.
PRICES: Appetizers and small plates: $4-15; entrees: $11-26; desserts: $6-7. AMBIANCE: Casual.