Sister Act
Wicked Sisters moves into the McCabe's spot.
You might head to Wicked Sisters thinking you'll just stay for a craft beer or a cocktail or two. But as you watch the plates of food coming out of the kitchen—say some Boh-braised Mussels or a mug of tomato fennel soup—you'll soon find yourself hunkering down for the evening and asking for the menu.
There's a lot to like about Wicked Sisters. For starters, there's zero pretension here, no concerted attempt to pass for healthy (just say yes to the crab mac-and-cheese), and no talk of local sourcing. (Owner Charlie Gjerde's brother, Spike, is just down the hill at Woodberry if you want the whole sourcing spiel.)
It's clear that co-owners Lori—Charlie Gjerde's wife—and her sister, Carrie Podles (the team also co-owns Alexander's Tavern, Papi's Tacos, and Huck's American Craft), understand that the best bars always feel friendly, especially when all we're looking for is a comfortable place to land. And if the food exceeds expectations, even better.
After a devastating 2014 fire led to the closing of McCabe's, Gjerde and his business partners renovated the space over a year. As an homage to McCabe's, Gjerde has honored the beloved bar with a burger named after the popular watering hole and left intact a charred wall in the upstairs bar as a sort of shrine.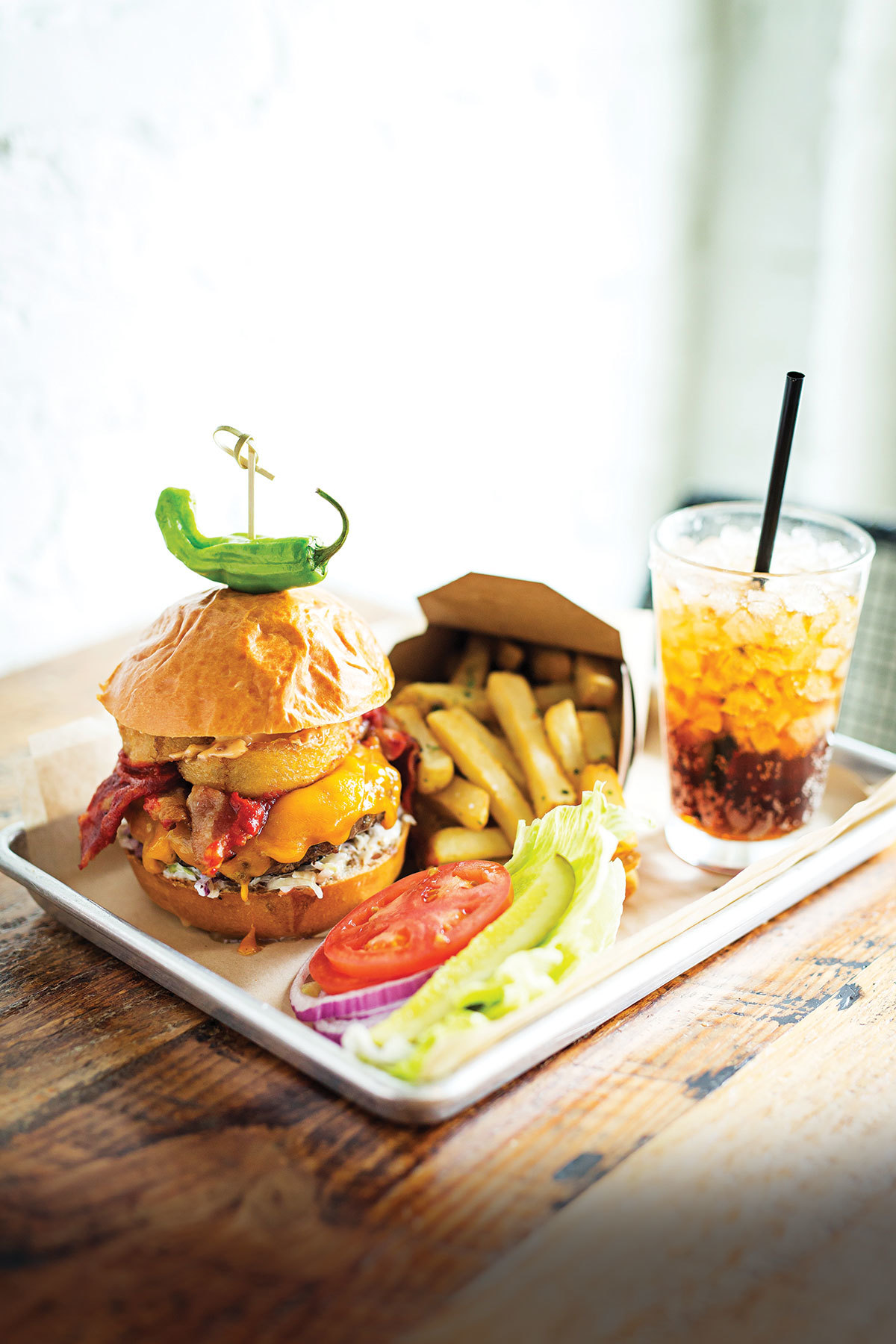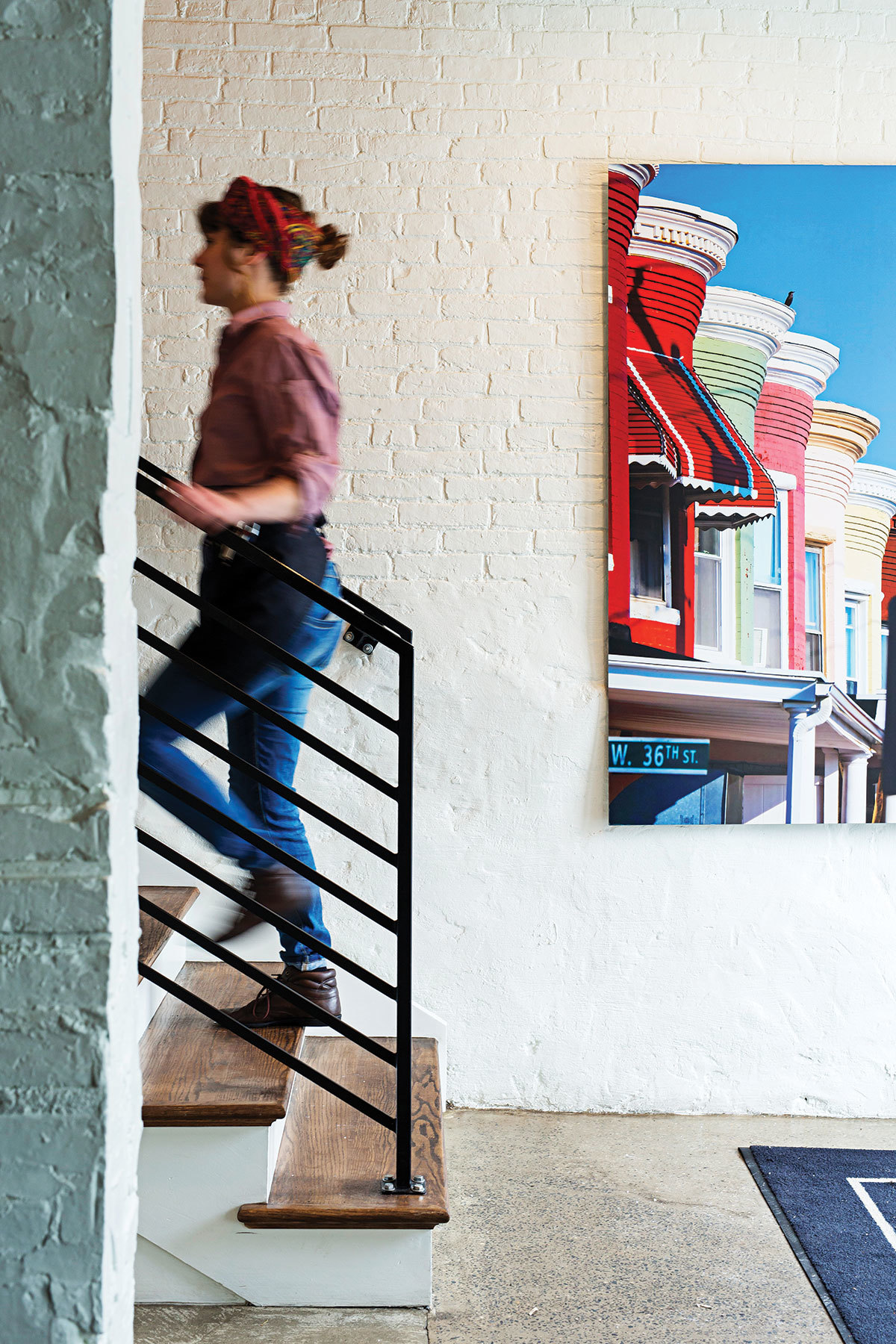 The Insanity Burger and scene at Wicked Sisters. —Photography by Scott Suchman
Patrons will feel very much at home here. The downstairs dining room is industrial chic with white brick walls, exposed duct work, artwork featuring photographs of local landmarks (the Domino Sugars sign, Hampden rowhomes), and piston-ring replicas made by a 100-year-old Baltimore turbo machine company that add an eye-catching sculptural element. The upstairs space is more of a dedicated drinking area, with high-top tables, a second bar, and a shuffleboard table. (Another appreciated amenity: Free valet service in the adjacent Meineke Car Care Center parking lot after 6 p.m. daily and during the day on Sunday during brunch service, which is a major perk.)
Chef Jason Horwitz (who led the kitchen at Gjerde's defunct Joy American Cafe at the American Visionary Art Museum more than a decade ago) has created a highly approachable menu with plenty of options, including bar bites like beer-battered onion rings and sweet and spicy Brussels sprouts, as well as salads, sandwiches, family style meals for two, and a half-dozen mains. The "everything bagel"—salmon encrusted with seeds on top of a latke—is a nod to his Jewish heritage, while the meatballs (more on them later) honor his Italian side.
On the first of two visits, we dug into the crispy fried wings with Buffalo sauce. We particularly loved the tangy house-made blue cheese dressing, which added a nice cooling component. The same dressing was highlighted in the Blue Cheese Wedge salad. This simple affair features two hunks of super crisp and cold lettuce cloaked in dressing and embellished with flecks of smoky bacon and pieces of diced tomato. 
---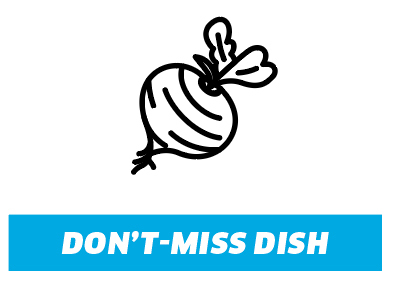 Roasted Beets
Roasted beets run the risk of overexposure, but we like that this version with blood oranges, pomegranates, and lemon-garlic vinaigrette adds citrus to the sweet.
---
As more serious hunger called, we plowed through a plate of four colossal meatballs swimming in a marinara made with brother Spike's canned tomatoes and then topped with melted mozzarella. The meatballs are slapped on a grinder roll or served on top of spaghetti in a family-style meal for two, and they're delicious. The recipe is from chef Horwitz's grandmother—and he does her proud. 
Carnivores will also delight in the so-called Insanity Burger. You'll understand the inspiration behind the name when the dish—a mix of chuck, brisket, and short rib stacked high on a brioche bun and heaped with slaw, Sriracha bacon, sharp cheddar, an onion ring, house-made chipotle sauce, lettuce, tomato, a pickle, and a shishito pepper—arrives at your table. (Guy Fieri, eat your heart out.) If you really want everyone staring, order the optional fried egg to plop on top.  
On both of our visits, service was excellent. On our first trip, our server, Colleen, was incredibly cheerful and never steered us wrong. On the other outing, we sat at the bar, where our bartender, Jeff, kept our wine glasses filled and only had our best interests in mind as he jovially suggested that we'd over-ordered. "We can handle it," we told him, while sopping up the last of the meatballs' marinara with a piece of cheesy garlic bread. And we did.
---

WICKED SISTERS 3845 Falls Road, 410-878-0884.
HOURS Mon.-Thu. 11 a.m.-10 p.m., Fri. 11 a.m.-11 p.m., Sat. 10 a.m.-11 p.m., Sun. 10 a.m.-10 p.m., brunch 10 a.m.-3 p.m.
PRICES Appetizers: $6-15; entrees: $17-45; desserts: $5-8.
AMBIANCE Family-friendly tavern.