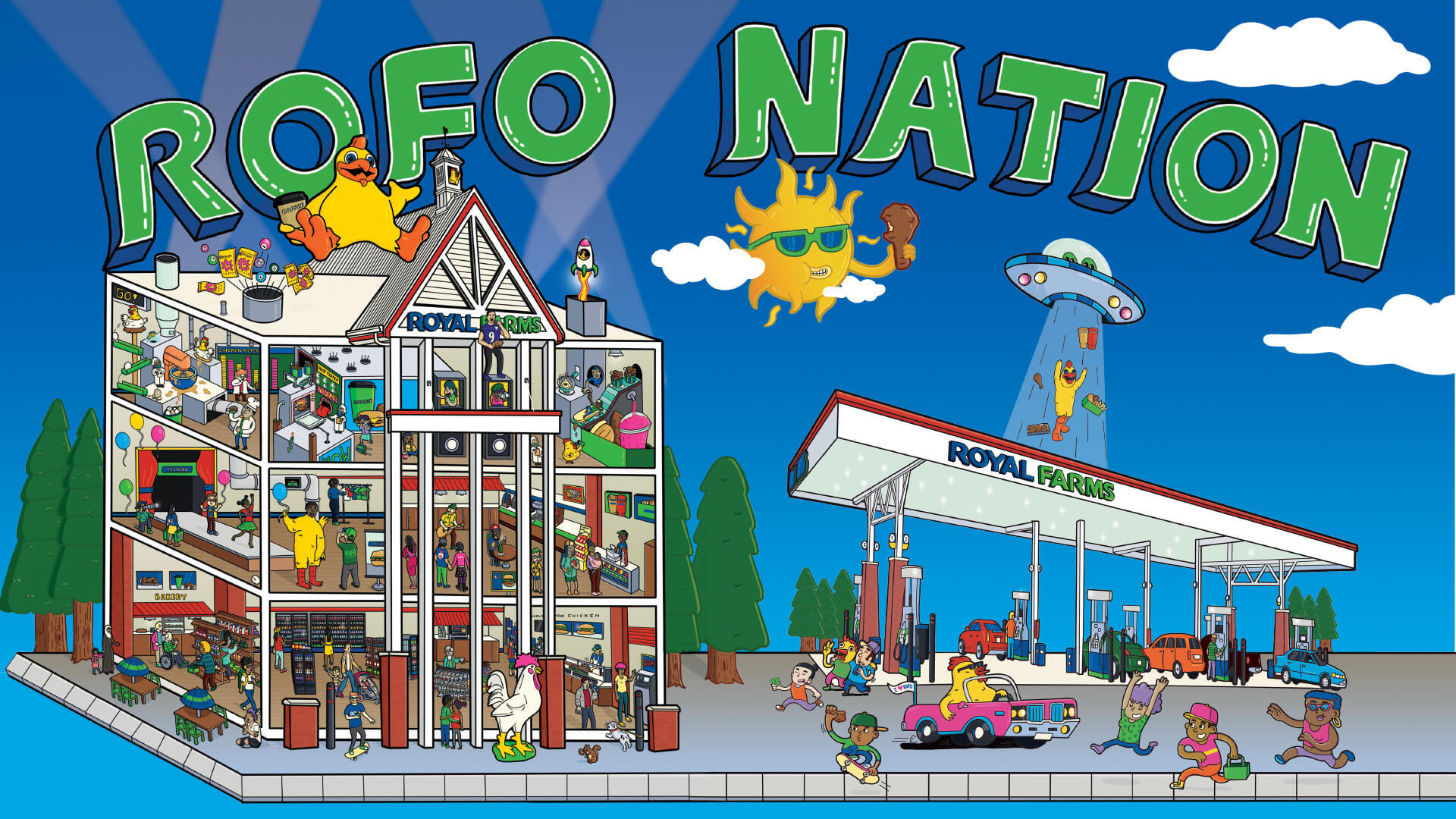 Food & Drink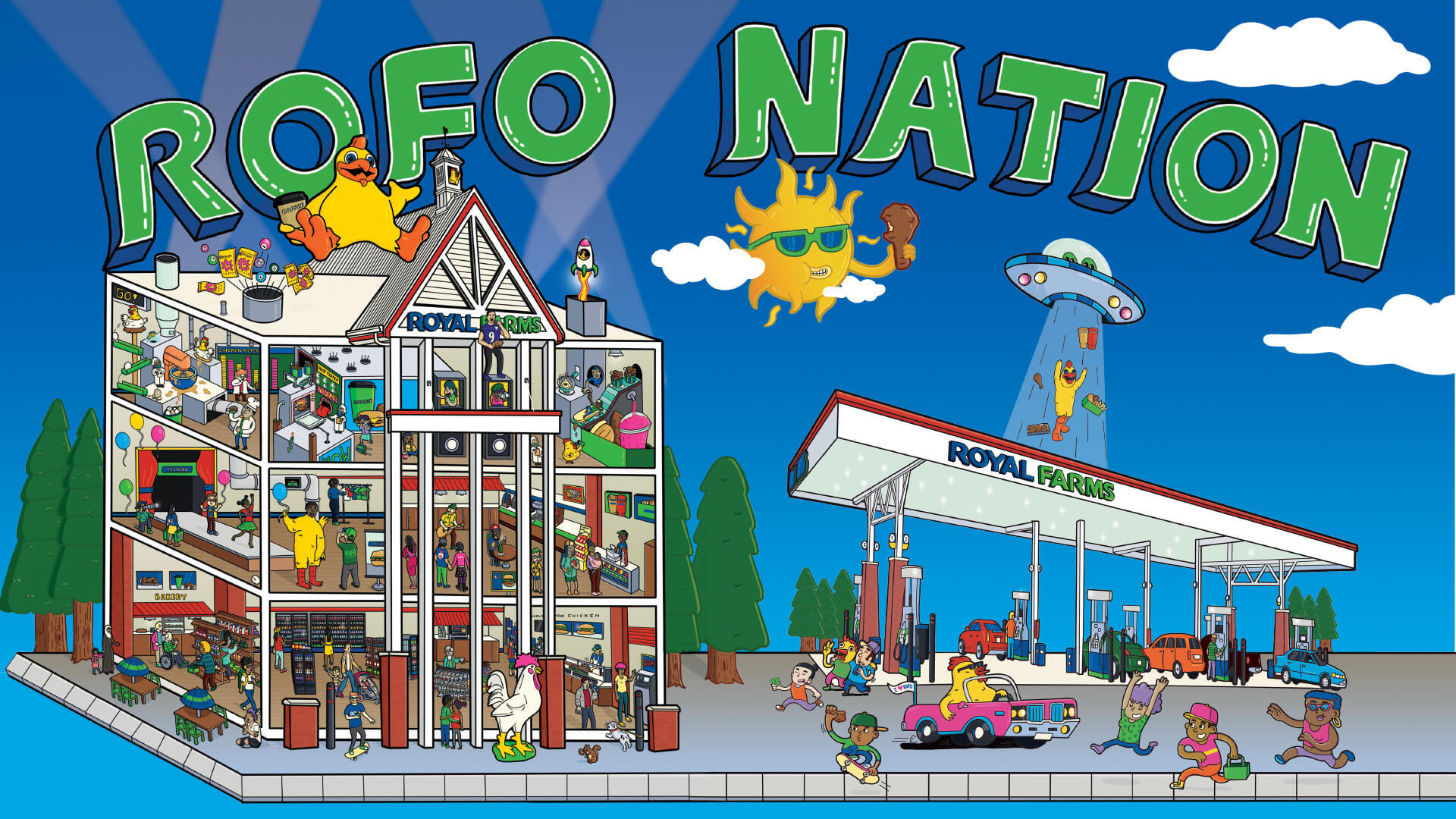 How a fried-chicken slinging convenience store conquered Baltimore!
December 2021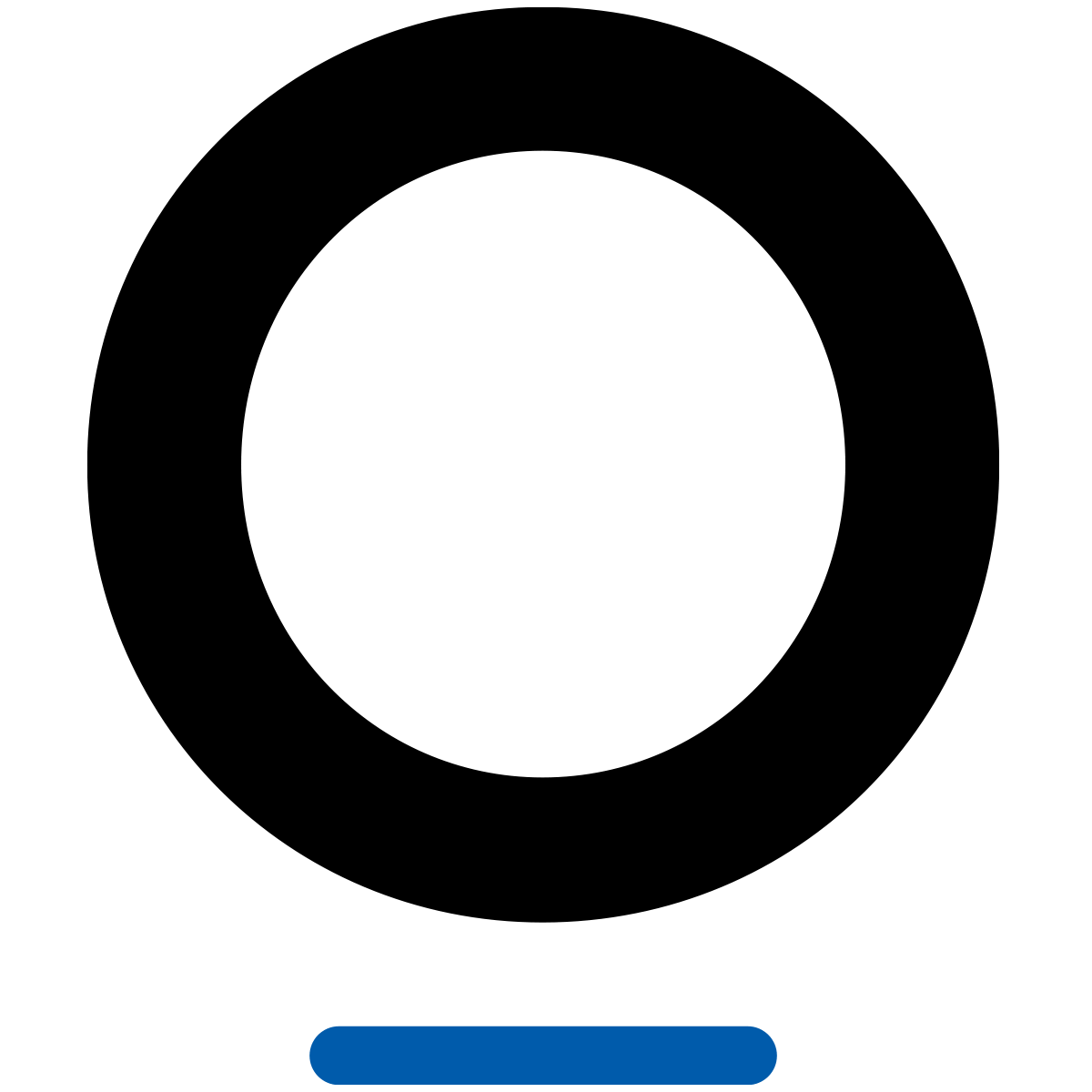 ON A FRIDAY NIGHT, the hottest hangout in Hampden might very well be located on the northeast corner of West 36th Street and Roland Avenue. The neon glow of blue and green lights beckons newly transplanted twenty-somethings in through its glass doors for cigarettes and Red Bulls, while old-timers pick up Keno cards, construction workers fill up on hot coffee, and police officers idle outside like taxis. For a century, the two-story limestone building has been an epicenter of local life here, once housing the Bank of Hampden, then the Sandler's Department Store, and now, at all hours of the day, the Baltimore landmark of Royal Farms.
"RoFo is certainly a hub of activity for the people of Hampden," says Samantha Clauseen, owner of nearby Golden West Café. "They were absolutely a part of the neighborhood changing over."
Indeed, similar scenes are playing out in communities across Baltimore, where Royal Farms have become ubiquitous. We're not quite sure how we got here. In part because the Kemp family, who founded the company some 63 years ago, is notoriously private. Also, because, for all of our local loyalty, Baltimore City is just not the kind of town to play favorites with corporations. We value the underdog. But somewhere along the way—undoubtedly with the help of its coveted fried chicken—Royal Farms has risen from a small-town shop to a fast-growing, gas-guzzling, cult-followed conveniencestore chain that we're inexorably drawn to, sometimes despite ourselves. "Anytime I drive by one at night," says Baltimore writer Rafael Alvarez, "I think of Close Encounters of the Third Kind."
But long before it spread like kudzu across the state—now with 250 locations in not only Maryland, but Delaware, Virginia, West Virginia, Pennsylvania, and New Jersey—before it became a brand almost as synonymous with Baltimore as the Ravens, Orioles, Old Bay, or Natty Boh—Royal Farms began with humble roots.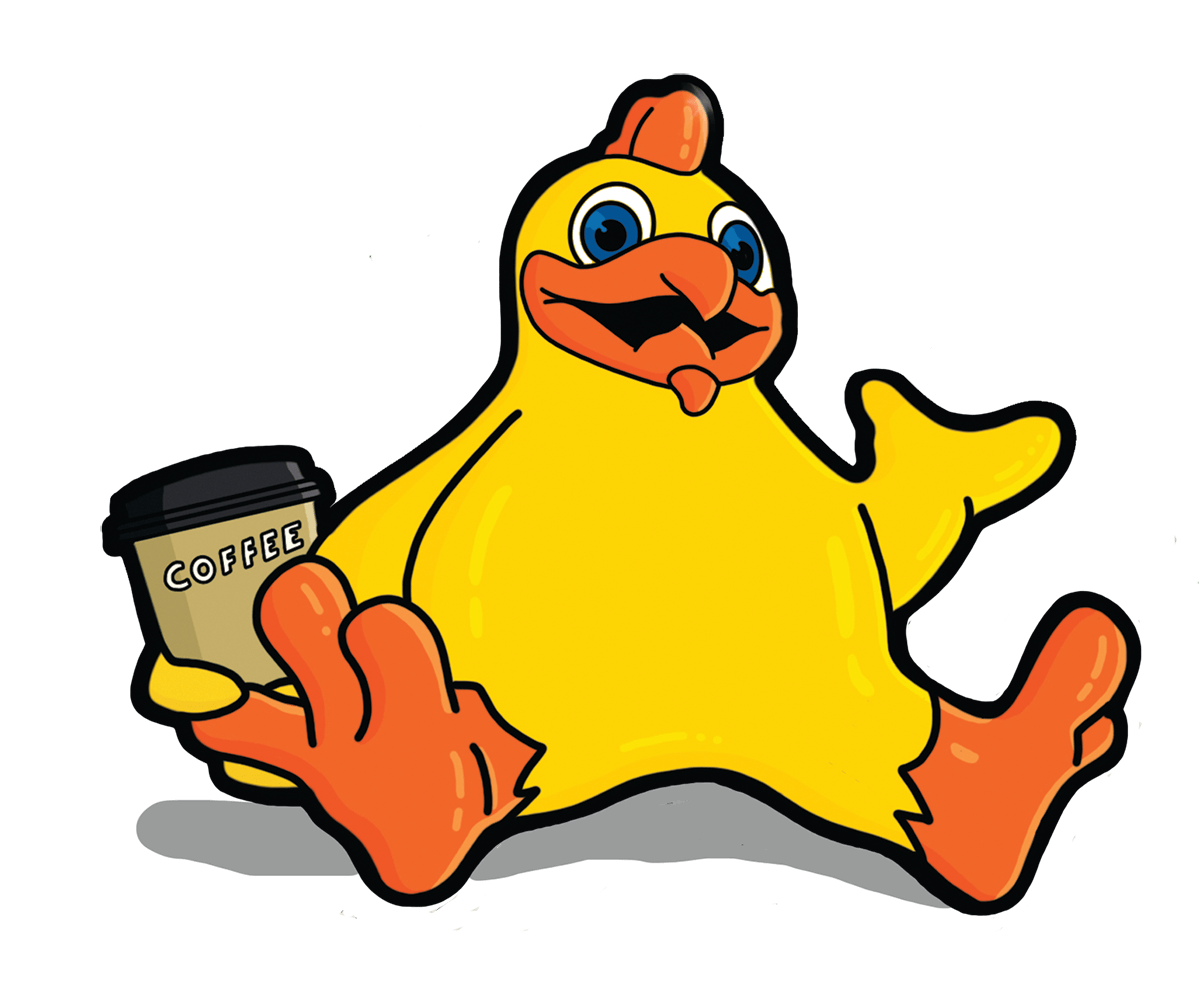 In fact, RoFo, as it's affectionately known (rumor has it that catchy but seemingly misspelled nickname was invented by Loyola students), was born out of another beloved Baltimore company, Cloverland Farms Dairy, founded by Homeland resident Maynard Kemp and his brothers, circa 1919. For many, this was the Baltimore milkman, famed for its horse-cart service and an ear-candy jingle that many Baltimoreans can still recite today: "If you don't own a cow, call Cloverland now."
"Do you want me to sing it to you?" asks chef John Shields of Gertrude's Chesapeake Kitchen. "Everyone in my Parkville neighborhood had their insulated metal milk box out front. I can hear my mom now"—in a classic Bawlmer accent—"Didtha milkman come yat?!"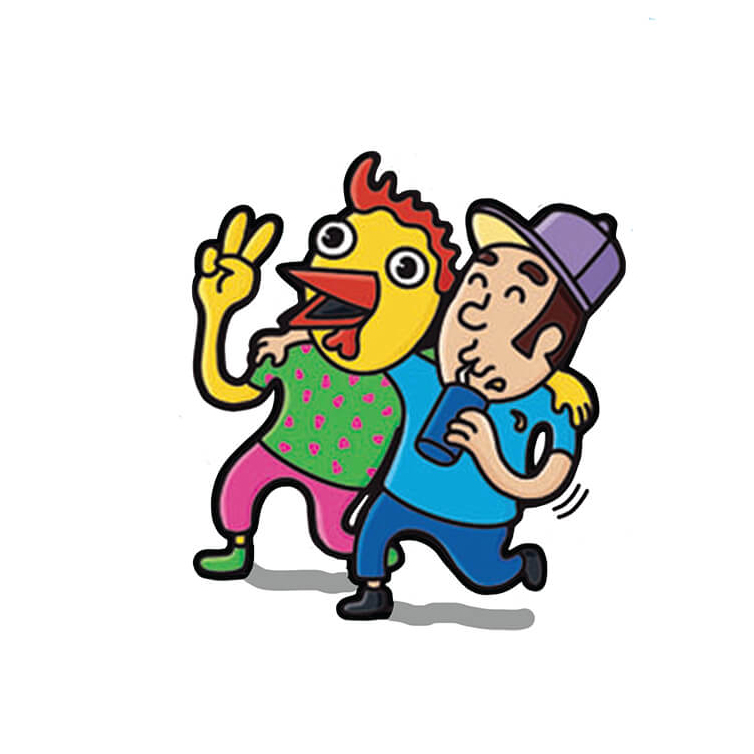 Declining home-delivery demand would encourage the company to open its first shopfront in 1959—the predecessor to the modern-day convenience store—with "White Jug" locations from Timonium to Halethorpe, selling "quick pick-up items" and a full dairy line. (The Pennsylvania-based Wood Brothers Dairy would follow a similar trajectory, opening what is now known as Wawa in 1964.)
It all came to a head in the late 1960s, when Cloverland joined forces with the Royal Dunloggin Dairy, which had acquired another West Baltimore milkman of a familiar name several years before. "How has Royal Farms Dairy grown in three years from 30 quarts of milk a day to 7,500 quarts a day?" asked one Sun ad in 1934. "The answer is in every bottle of Royal Farms milk—the answer is EXTRA RICHNESS."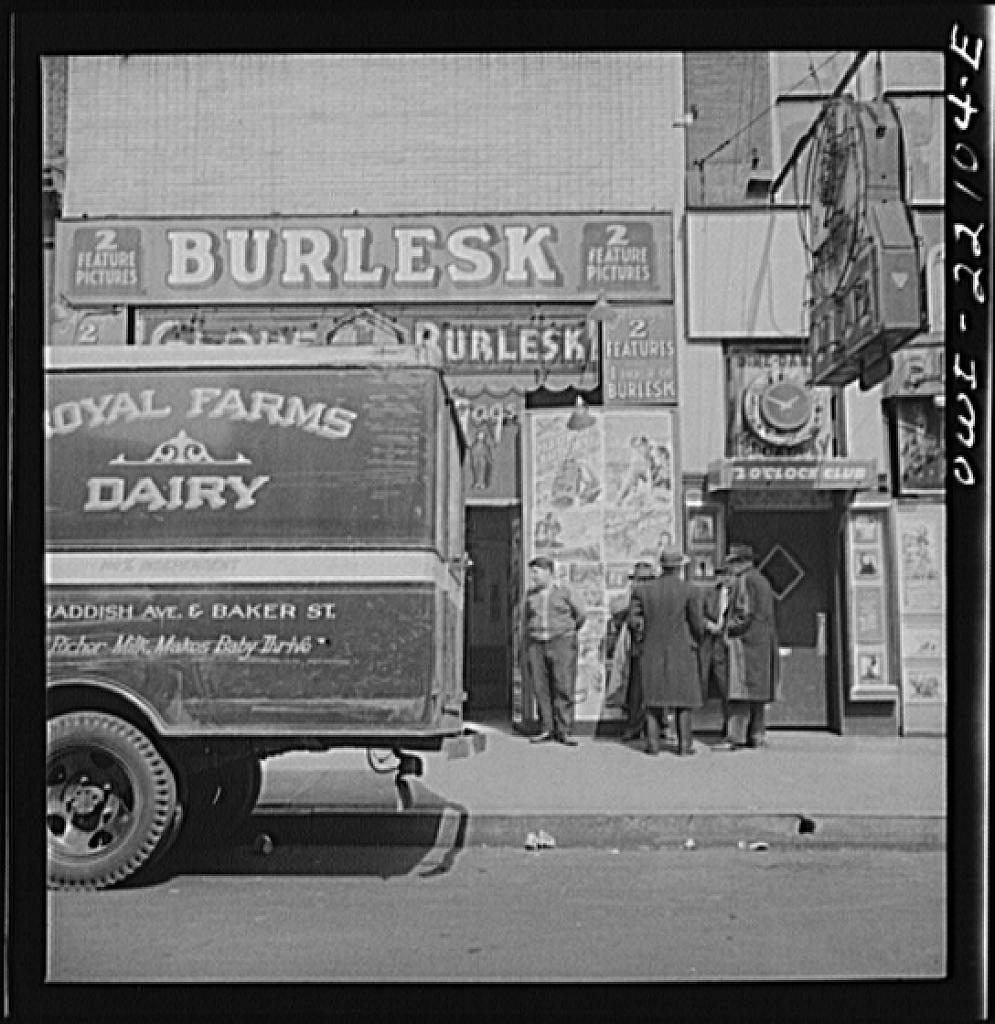 A Royal Farms Dairy truck parks outside of the 2 O'Clock Club on The Block, circa 1943.
By the 1970s, "White Jug" shops would be supplanted by the all-new Royal Farms Stores, open from 7 a.m. to 11 p.m. seven days a week, with the likes of hot coffee, doughnuts, snowballs, and frozen soda "coolees" on offer. It wouldn't be until the next decade, though, following the demise of the "Cokes and smokes" era, that the company would add a new item that would change everything.
"Other stores had food, but it was fried 12 days ago and under a heat lamp—a frightening thing you wouldn't think to eat unless you were very drunk," says Shields. "Royal Farms was a whole new ball game. It seemed like suddenly everybody was talking about it."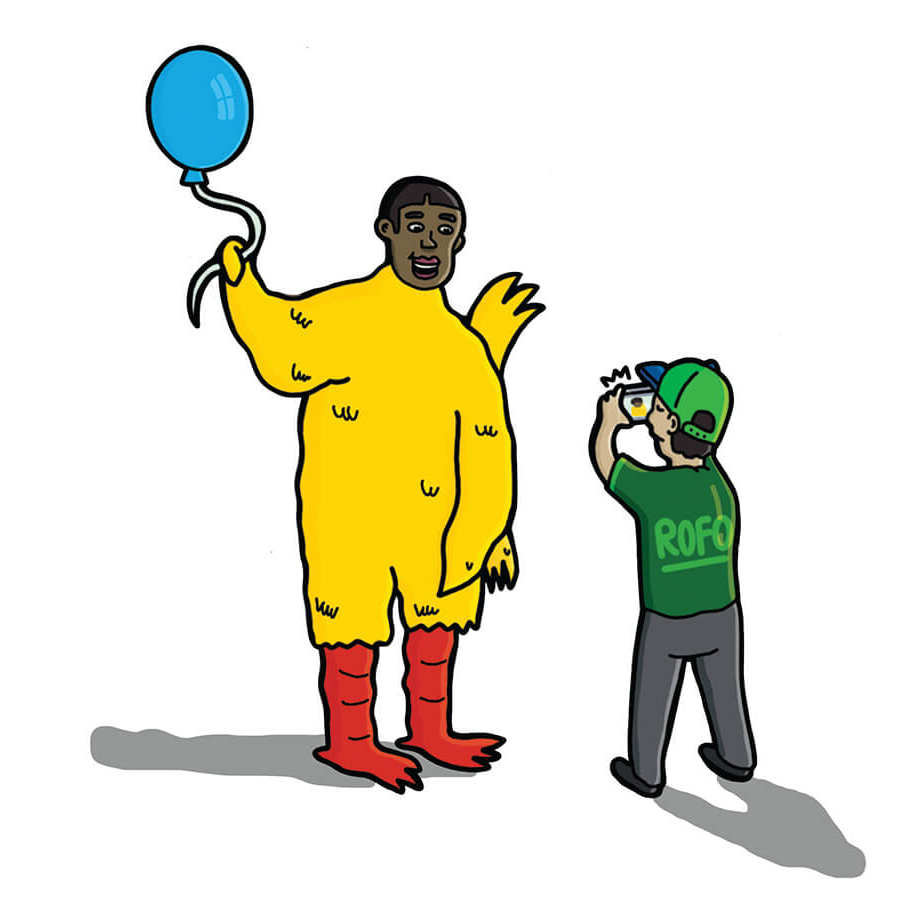 Maryland has long been a hub of poultry production, but the fried chicken was ironically inspired by a fryer salesman, with a borrowed recipe tweaked over time, initially made with meat from the Eastern Shore's Purdue.
"In 1983's National Lampoon's Vacation, Clark Griswold says, 'I'm so hungry I could eat a sandwich from a gas station,' and at the time, it was the funniest line in the movie," says Jeff Lenard of the National Association of Convenience Stores. "Now that's changed. Anthony Bourdain said, 'Proximity to petroleum products is rarely an impediment to a great meal,' and a lot of people, especially in Baltimore, know that, too."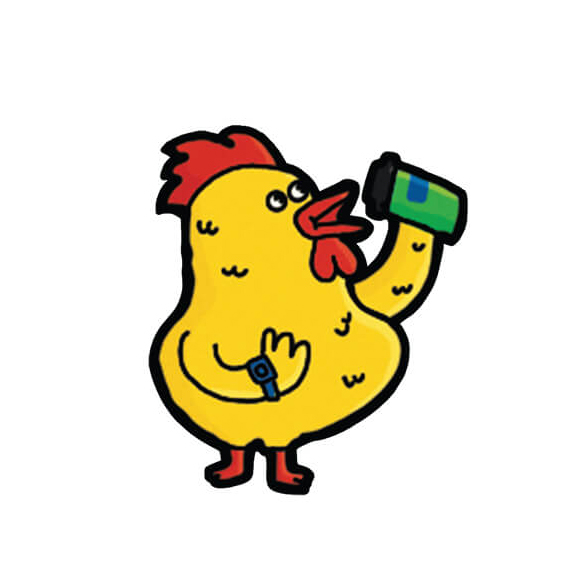 Today, even with fresh food options like fruit and salads, it is undeniably the chicken that has garnered the company its customer devotion and cool points, with praise from national tastemakers like Food & Wine, The Washington Post, and Garden & Gun.
"I would venture to say that Royal Farms' fried chicken is better than that chain headquartered in Louisville, Kentucky, or that other one with 'Louisiana Kitchen' in its name," wrote G&G's Julia Bainbridge in reference to KFC and Popeyes.
Still, others go for the caffeine fix. "I drink their coffee every day," says Xenos Kohilas, owner of Ikaros Restaurant, a Greektown stalwart located within two miles of eight Royal Farms locations. "It's always fresh. The product is consistent. They're never out of what you want. I get gas there and sometimes a newspaper. It is a convenience."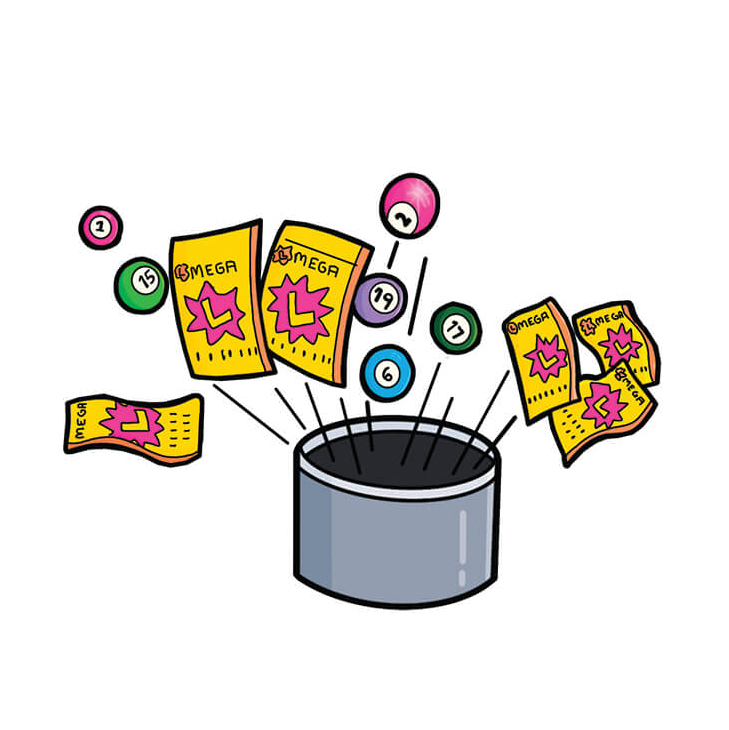 That 24/7 service even made them a haunt for local newspapermen. "Back in the day, before cellular communications, I used to hit Royal Farms regularly for the pay phones," says Sun columnist Dan Rodricks. "It was also a regular stop when my kids were playing ice hockey, and I was a man in a van. I have a RoFo rewards card. I've been a RoFo road warrior a long time. Still haven't bumped into Justin Tucker there yet, though."
It might have been that very moment—when beloved Ravens players like Haloti Ngata and Justin Tucker became RoFo spokespeople—that we finally realized just how big the company had become. Of course, there was the sponsorship of Royal Farms Arena in 2014, and in 2010, the $1.95-million replacement of an iconic local landmark.
"It broke my heart when they took over Burke's Restaurant," says Alvarez of the 76-year-old watering hole that served oysters and martinis on Lombard and Light streets. "The death of downtown Baltimore, and the way we used to do things, could be marked by that moment. It's the homogenization of culture. They promised they were going to have the same onion rings, which they never have."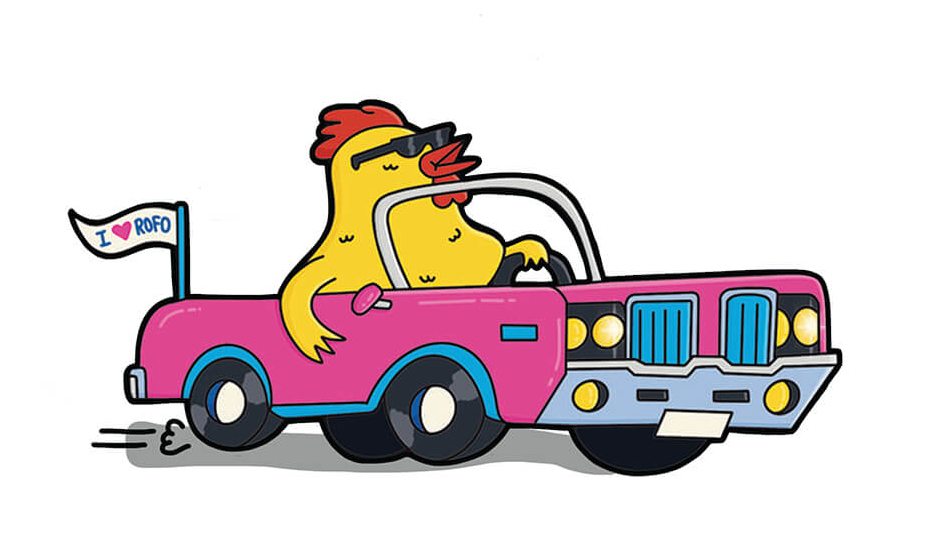 Similarly, Shields laments the loss of Holly's Restaurant to the hands of Royal Farms. "It made me very sad, like, 'There goes the neighborhood!'," he says of the Eastern Shore staple he frequented on his way to Ocean City. "You can get too big for your britches, and maybe they are a little aggressive. They don't need to be McDonald's. But I'm also a realist. That's what business is about, and we live in suburbia—a car-cultured society. Royal Farms plays right into that."
It's those gas pumps, in part, that have inspired neighborhoods to add RoFo to the Not In My Backyard list, with boycotts from Annapolis to Towson, with Bengies Drive-In going so far as to sue for the nuisance of the neon-like lights.
"Their ubiquitousness is a bit unsettling," says Alvarez. "It's almost impossible to not be a Royal Farms customer in Baltimore. You have no choice."
Still, even as the stores get bigger, brighter, and more inescapable, adding bells and whistles like self-checkout and apps like UberEats, Royal Farms remains small in comparison to the competition. Pennsylvania is nearly four times the size of Maryland, of course, but Wawa has 900 locations, Sheetz has 600, and 7-Eleven? A whopping 10,000.
These cookie-cutter colosseums of convenience will never replace the mom-and-pop corner stores of yore, nor the allnight diners or old dive bars full of colorful characters. They may represent the city's changing face—the crossroads conundrum between past and future Baltimore—but they have also undoubtedly tapped into an essence of this region: that we root for our own, no matter what.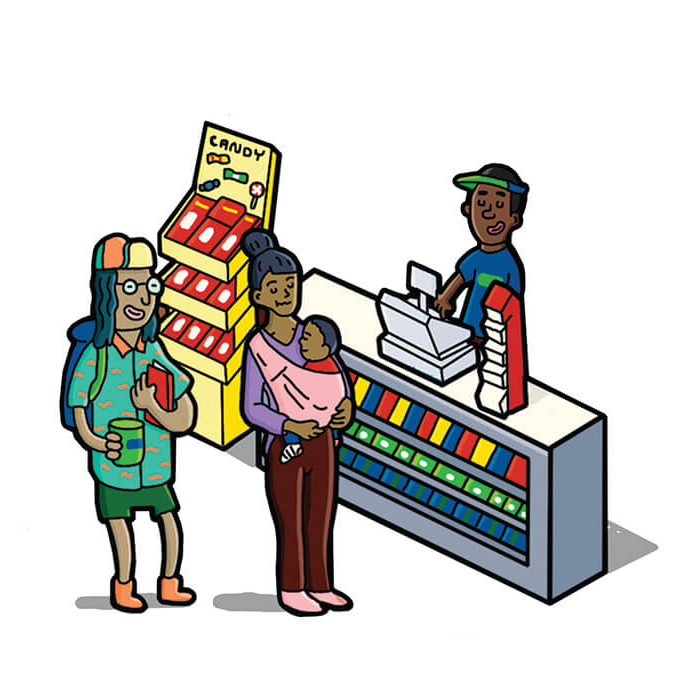 "It's where we started and it's still where we call home," says Breahna Brown, a spokesperson for Royal Farms. "We are proud to be a part of the Baltimore community. We've lived here, made friends here, been part of our community here, and have been fortunate enough to serve many of our neighbors."
RoFo now ranks 38th in the top 100 chains list by Convenience Store News, with 4,500 new employees to be hired by the end of 2021, and more than 20,000 pounds of food donated to the Maryland Food Bank during the COVID-19 pandemic. Still family-run in their third-generation and headquartered in Hampden, they sell Baltimore-made Cow Tales and Berger cookies and Cloverland Dairy milk products to this day.
"Going back to when it was called Cloverland Dairy, the local has remained in the forefront," says veteran news anchor Marty Bass of WJZ. "Local wins [and] Royal Farms has not let the locals down . . . Only in Charm City could what should be 'RoFa' become 'RoFo' and loved as such. It just screams hon-ness!"

Local chefs weigh in on why RoFo chicken is so fly.
By Jane Marion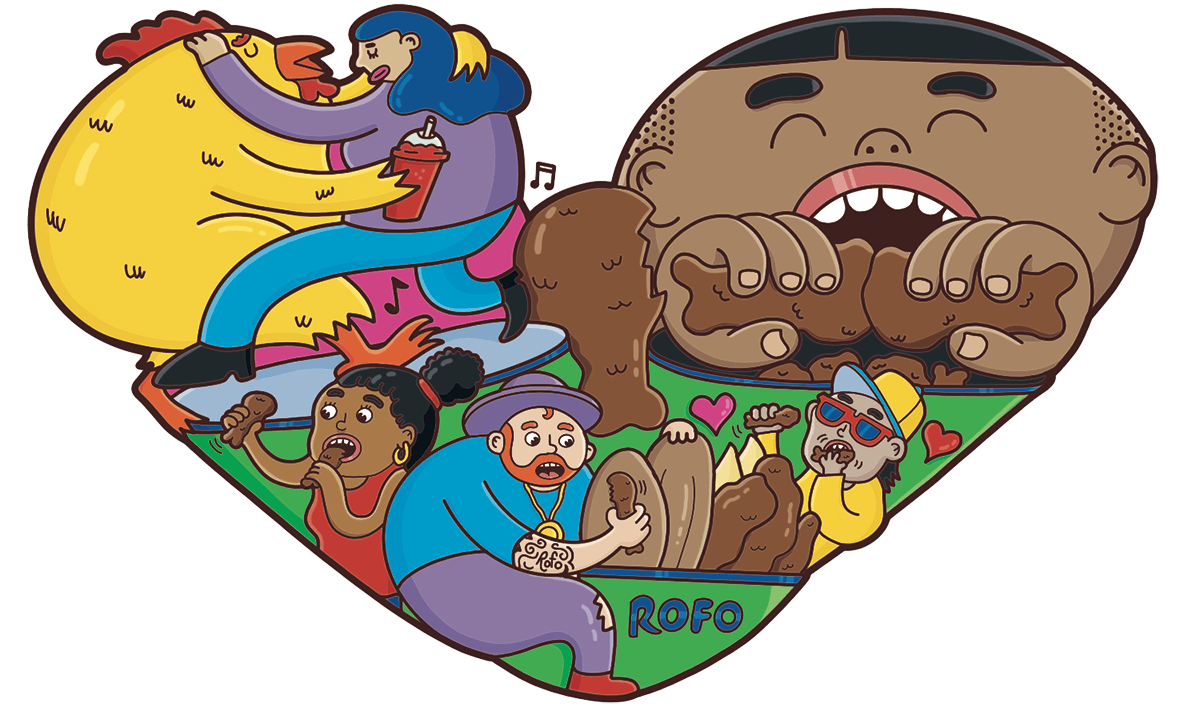 Hard to say whether it's the salty skin, crackly exterior, never-frozen juicy meat, or fresh-from-the-fryer glow of Royal Farms "world-famous" fried chicken, but there's one thing we know for certain about this secret recipe: It's damn delicious.
And the great tastemakers have taken notice, with Food & Wine dubbing it some of "the best fast-food fried chicken à la gas station" and The Washington Post hailing it the second-best chain fried chicken after Popeyes. "Royal Farms has won me over," wrote the Post's Michael O'Sullivan. "It's the chicken that sealed the deal: fresh, hot, moist, flavorful . . . and with a beautifully golden, assertive, if slightly yielding, crust. It's also unusually well-suited for reheating as leftovers, if there are any."
In Baltimore, local chefs cluck the praises of RoFo, too. "I'm not supposed to eat it—I've had heart issues," says John Shields of Gertrude's, "but it's one of those secret treats I have every now and then—I just love it so much."
For Ekiben co-owner Steve Chu, who serves a Taiwanese-style curried fried chicken with a cult following of its own, it was love at first bite. "The first time I had RoFo, I was 12 years old," he says. "My mother brought home a huge RoFo pack with 16 pieces of chicken for three kids, plus all the sides—the whole nine yards. I remember how juicy and hot and salty it was. It was truly perfect."
The Milton Inn chef Chris Scanga, who graduated from the famed Culinary Institute of America, also has fond childhood memories of eating the chicken: "I grew up in Lutherville, where there was a RoFo near the train tracks that I could walk to from my house . . . It's the one fast food I can't give up. Even under the warmer, it stays crisp."
Linwood Dame of Linwoods in Owings Mills was taken aback the first time he tasted it. "I was at a friend's house one Fourth of July and she had this chicken that was really tender and flavorful," he recalls. "I remember saying, 'This chicken is really good, where is it from?' She said, 'Royal Farms.'"
Shields recalls a time in which even former Sun food critic Elizabeth Large was duped by the dish. "Years ago, [interior designer] Dan Proctor was invited to a party at Elizabeth's. He told her he'd make the fried chicken but didn't have time, so he went to Royal Farms. He brought in these exotic platters, and she's eating it and says, 'This is the most delicious fried chicken I've ever had! I'm from the South and I love fried chicken. This is that good.' I'm not sure he ever told her."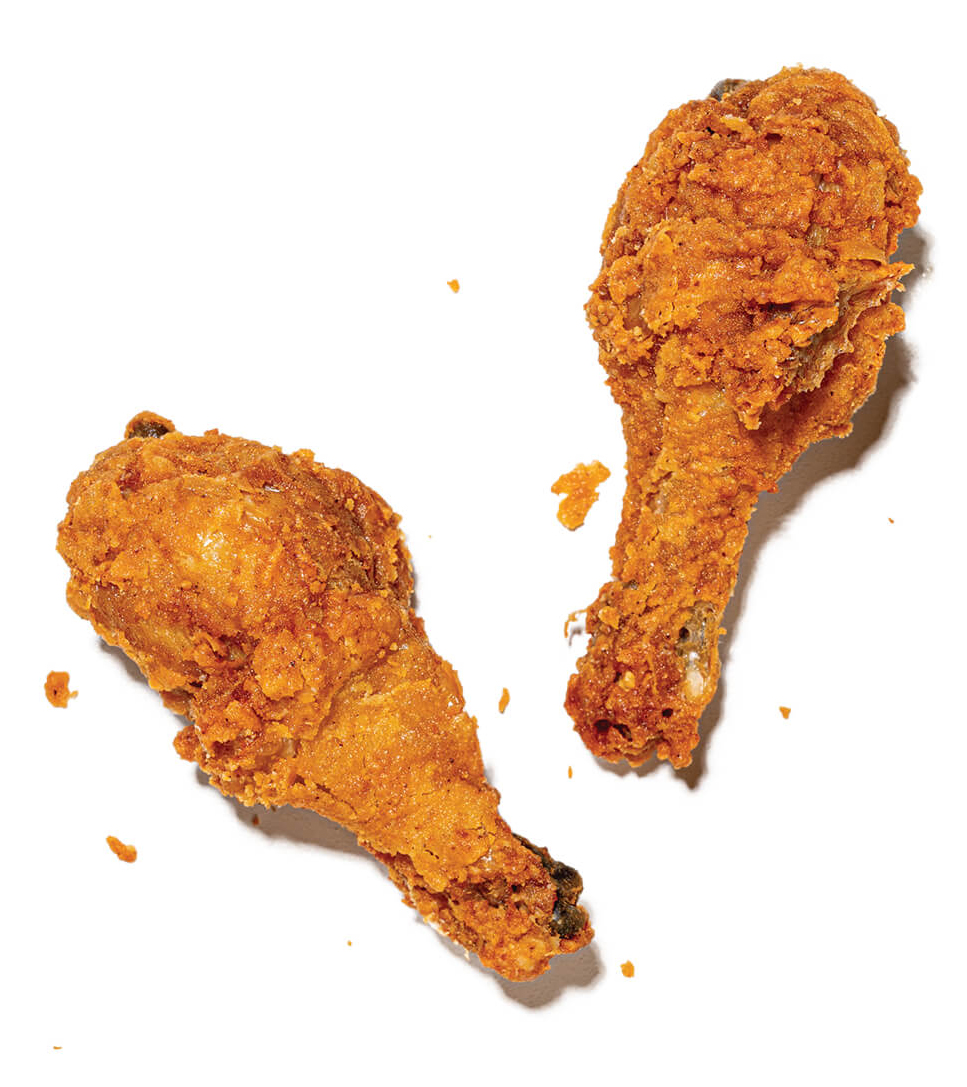 Even with Maryland technically below the Mason-Dixon Line, and also a hub of poultry production, chef Catina Smith of the Our Time Kitchen couldn't get past the locale. "For the life of me, I don't trust gas-station chicken," she says. "However, recently, we were in a rush and the kids were hungry, so my boyfriend grabbed some as we were stopping for gas. It was crispy, well-seasoned, and moist—all the things I look for in fried chicken."
And while little is known about the actual ingredients, Shields says the recipe is likely rather simple. "Flour, salt, pepper, and possibly a little MSG," he surmises, perhaps nailed down due to the perfect ratio or cooking practice.
"They use a pressure cooker, which helps maintain the moisture while cooking it all the way through at a fast rate," says Chu, who thinks part of the appeal is that "it's a little too salty in all the right places." Basically, it's down to a science.
Arguably the most famous fried chicken in Maryland, it's also affordable, easy to transport, and, even as the company rapidly expands across the mid-Atlantic, remains a no-frills local treasure.
"Marylanders love to support our own," says Chu. "RoFo is a local business, and we support it out of hometown pride."

A childhood that tastes of chicken and freedom.
By Janelle Erlichman Diamond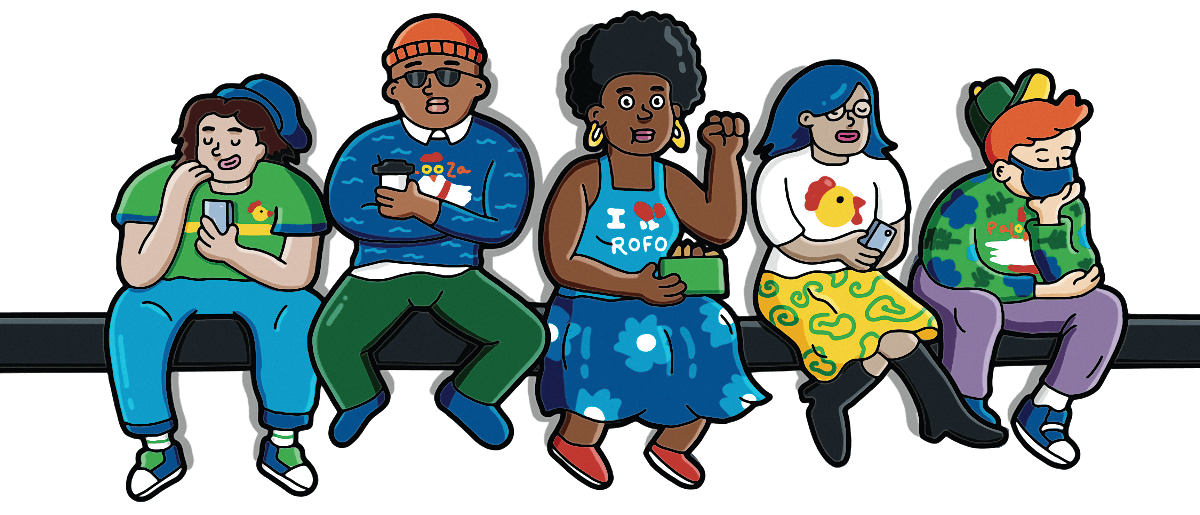 THE SMELL LINGERS in the air like the illegal cigarettes smoked behind the 7-Elevens and movie theaters of our youth. But this time, the vice is fried chicken, as pre-teens sit shoulder-to-shoulder on the curb behind the dumpster at Royal Farms.
Among the green and blue logo, fluorescent lights, and overstuffed shelves, the kids who linger are in various stages of puberty, school, and responsibility. They are usually in groups, frequently on foot, and often with bikes and scooters. They are too young to worry about salt intake, but old enough to know the pain of a brain freeze.
In Baltimore, the true rite of passage involves not a first kiss, but official permission to walk to—and linger at—the neighborhood Royal Farms without parental units. Like Mario Kart, there are different levels to this local ritual that involve supervision (or lack thereof), money (borrowed vs. earned), and intent (to eat food and/or socialize with friends).
Your children's transition from RoFo trainee (a parent idles outside the Royal Farms while kids get to shop alone) to expert (your teen says, "I'm walking to RoFo," and four hours later comes home with a pack of half-eaten sunflower seeds, a Monster Energy drink, and a crushed, greasy bag holding leftover Western Fries) is swift but unavoidable. After all, a childhood that tastes of spicy chicken tenders—and freedom—is as good as it can get.
And like all good places with a young cult following, there is merchandise. Every summer, new "limited-edition" ChickenPalooza gear is released, and parents dutifully race out to grab shirts and socks before the coveted sizes are gone and kids are reduced to wearing their pirate-themed jersey—"Here be chicken!"—to bed since it's three sizes too big. The shirts can be seen at summer camps up and down the East Coast and on students waiting at bus stops and walking to school.
At Royal Farms, kids linger in the parking lot, swap snacks, stare at their phones, leave the spoils of their meal behind, know the managers' names, throw soda bottles on the ground to make them explode, eat a second dinner or third lunch, laugh, pester, and toss food at each other.
It's delightful, chaotic, and a little sticky, just like the mecca itself.
Ah, to be young.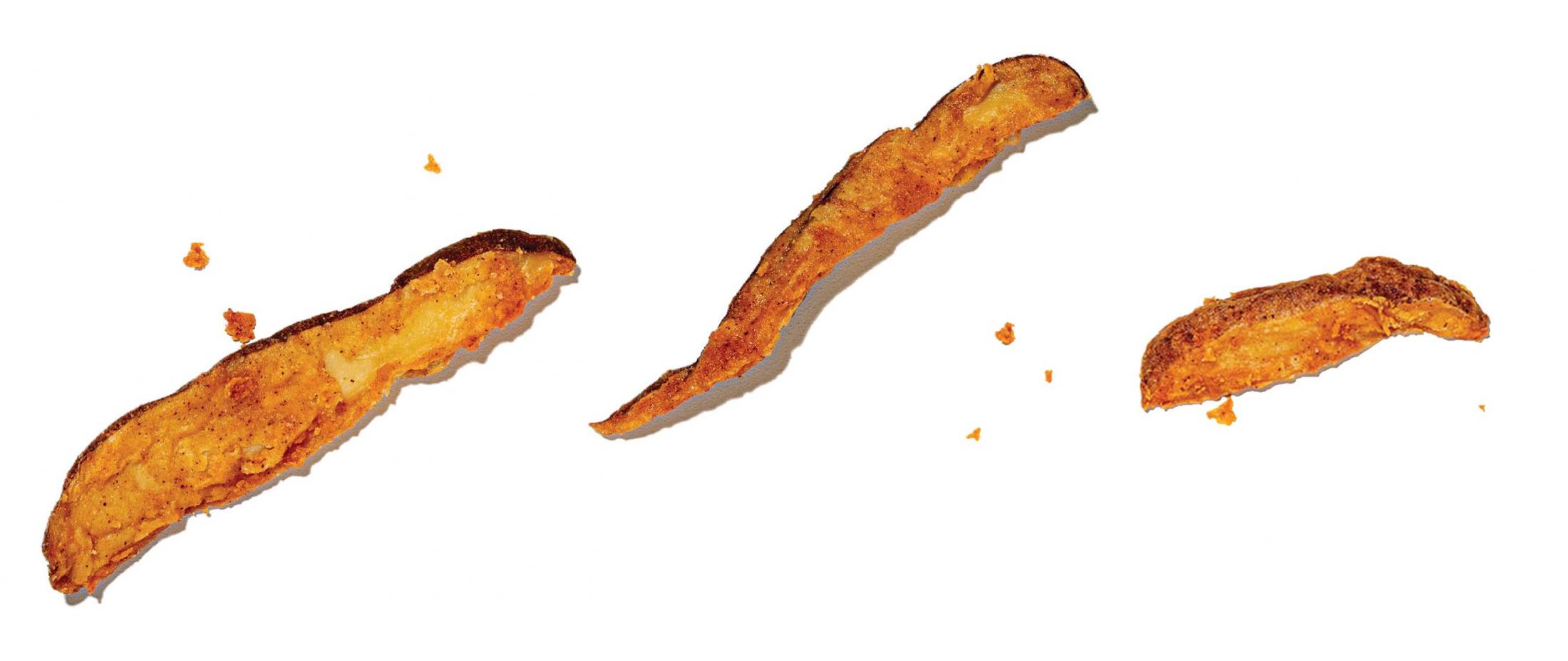 RoFo fries are hot potatoes.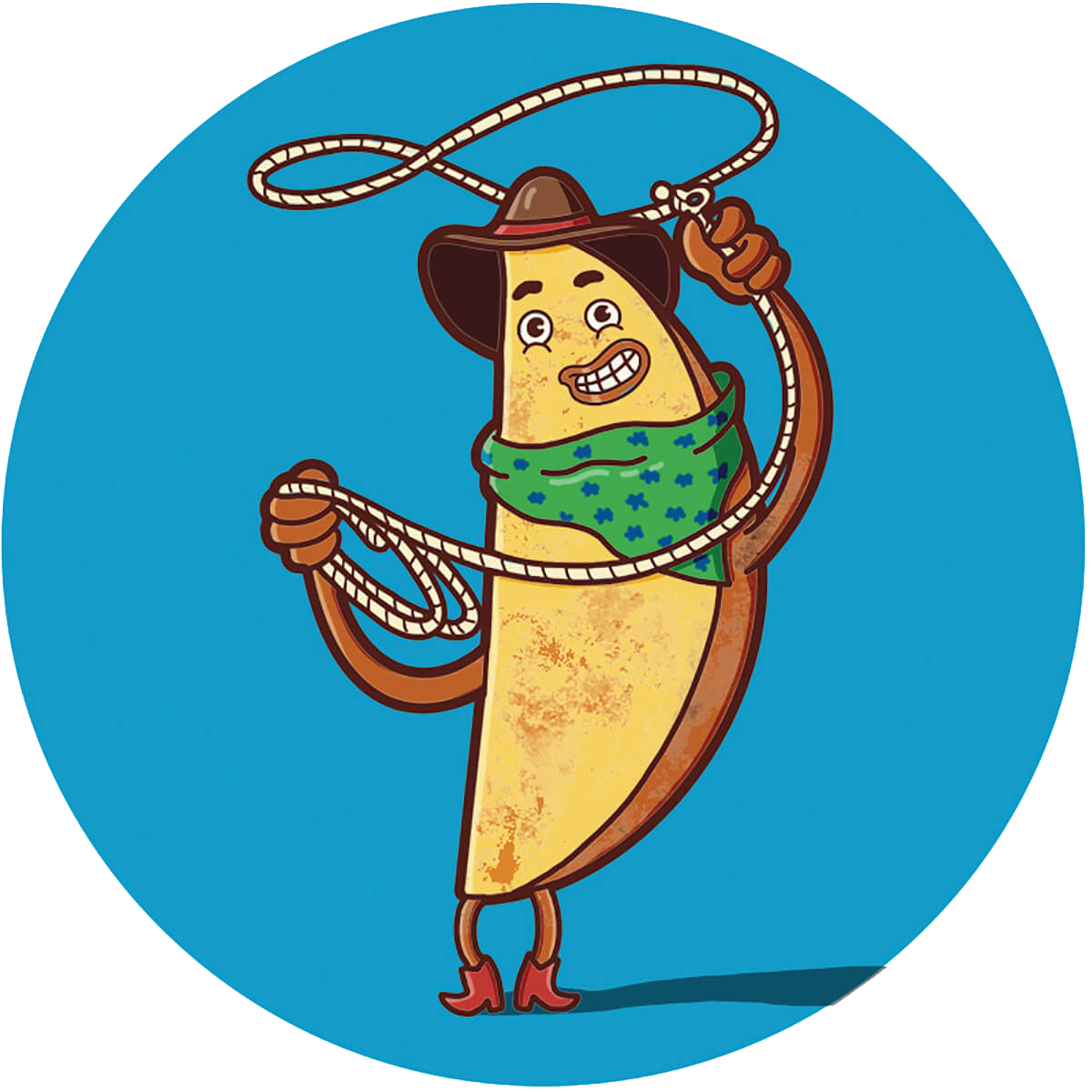 Is there any more polarizing potato than the Western Fry? Within Maryland limits, the breaded starch popularized by the RoFo chicken box stirs great debate among the chain's most diehard devotees. Even in our own offices, a raucous round of opinions broke out during one recent meeting, with our staff split down the middle over whether to love or leave the iconic side.
What is a Western Fry, exactly? It's actually kind of an East Coast thing—and certainly a staple of chicken-box spots throughout Baltimore. It's not your typical French, shoestring, or steak variety, but rather a skin-on, hand-cut wedge, lightly seasoned and breaded, then cooked in oil until a crispy golden brown.
So what's the big deal? Their size, for starters. Western Fries (always capitalized, mind you) can be a small meal unto themselves. They are chunky, meant for dunking, particularly in Chesapeake dipping sauce. (For a power move, get them doused in RoFo's Old Bay-like spice.)
Even the small order is at least an entire spud, but it still takes a strong will not to eat them all, with a few undoubtedly snacked on before you start your car.
In fact, we recommend you eat them immediately. Even for fans, the Western Fry is not without its asterisks. They don't make good leftovers, the breading falls off easily, and while we love the batter's peppery zest, they're also potent salt bombs. "All they do is make you feel bad about yourself," wrote one Reddit user, which isn't entirely untrue.
And so the debate rages on. Do we love them? Do we regret them? One thing is for sure: Through the good, the bad, and the ugly, we'll probably keep coming back for more.
⇓ Article continues below ⇓

Justin Tucker is Royal Farms' main Raven.
By Max Weiss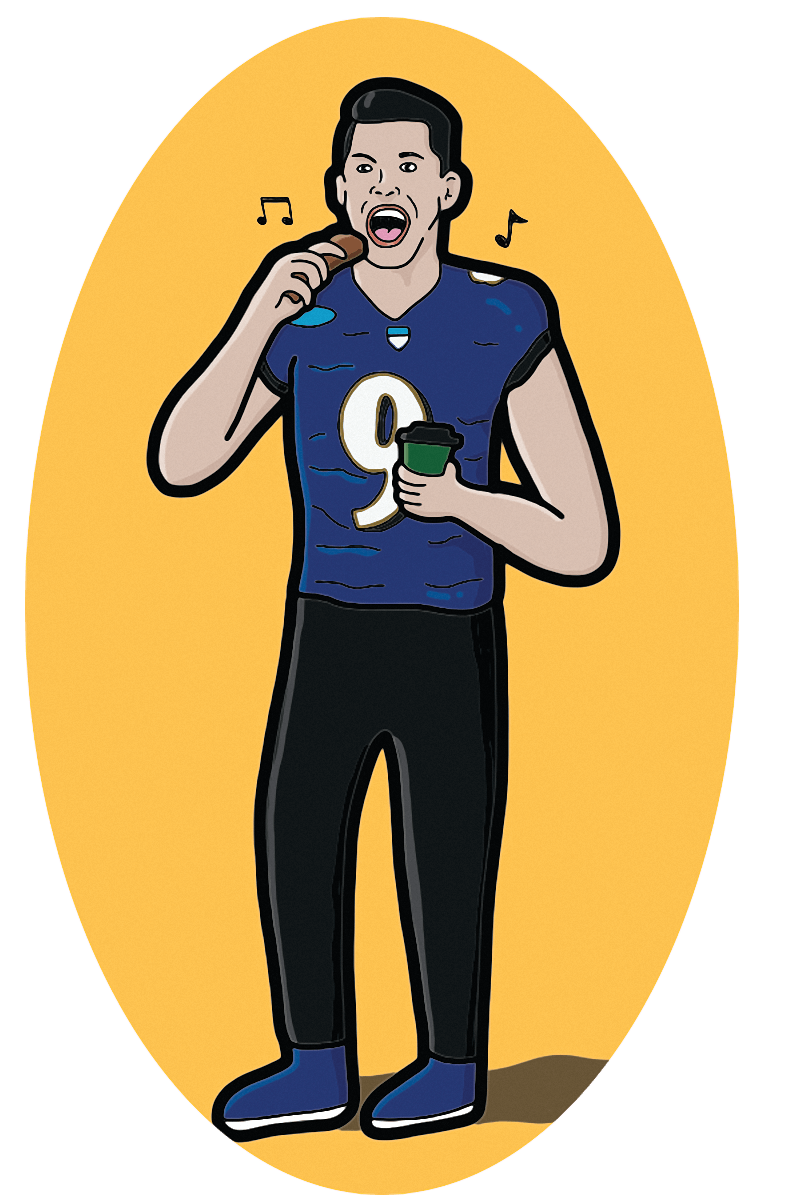 If Justin Tucker ran for mayor of Baltimore, he would win in a landslide. So it makes perfect sense that Royal Farms chose the handsome, affable, multitalented Ravens kicker to be their pitchman after Haloti Ngata was traded to the Lions in 2015. We chatted with Tucker about intentional overacting, how he takes his coffee (black), and what it's like to break into song in the middle of a convenience store.
How did you get involved with Royal Farms? It had to be like, gosh, seven years ago now. My agent hit me up one day and said, "I've got this opportunity. You know those commercials where Haloti Ngata is talking about fried chicken and coffee and gas?" And I'm like, "Oh yeah, of course, it's Royal Farms!" I guess, as they say, the rest is history.
Had you done any acting before? I certainly had not done any acting. And perhaps it shows.
What kind of notes did you get on set? One of the first and most important things that stuck out to me was that I was encouraged to be over the top. Just really bring the energy. Because for a 30-second spot, the last thing you want is for everything to fall flat. If you think you're bringing enough energy, you probably need to bring 10 times more.
And at some point, they let you sing? They had caught wind of the fact that I am a classically trained singer. I guess they figured, hey, this totally makes sense, let's have Justin sing an opera song about our amazing coffee. The script writers came up with this song about Royal Farms coffee [to the tune of "La donna è mobile" from Rigoletto]. And I don't know if it was a hit, but I enjoyed it. I believe it was that same year, I sang a rap song about fried chicken into a drumstick.
What was the response from your teammates? I certainly heard from plenty of my teammates and coaches and friends. If a guy has a new commercial out, Harbs [Ravens coach John Harbaugh] will play it at the team meeting. Like Lamar [Jackson], for example, he's got Oakley shades. Or Sam Koch has this amazing spot that he shot years ago for Jiffy Mart that may have been recorded on a potato. So whenever I've got a handful of new Royal Farms commercials, Harbs will put them up in the team meeting so I can be celebrated-slash-made-fun-of all at the same time.
What's your favorite commercial so far? I liked the one where there were multiple Justins going in and out of the store. It gave the creative folks an opportunity to do something a little more unique; it wasn't just that traditional Billy Mays-style hard sales pitch. It's already weird seeing myself on TV. But seeing that many of me on TV is definitely a little trippy.
How about the one where you break into song in the middle of a Royal Farms? Was that staged? No, that was totally legit. We took several takes and it was really funny. A couple of them got interrupted. Somebody would say, "Oh hey, you're you! Let's take a picture." Or, "Can you sign my hat?" Obviously, those didn't make the final cut. People were surprised to see me break out into song in the middle of their favorite Royal Farms.
What is your go-to RoFo order? It depends on when I'm there. Like if I'm stopping through in the morning, it's got to be a massive cup of coffee, black. If I'm stopping through for a snack—I say a snack, it ends up being a whole meal. Like the five-buck box of fried chicken and Western Fries. I wash it down with a huge soda. It may not be the quintessence of health and wellness, but man, does it taste good.
Why do you think Baltimore loves Royal Farms? As simple as I can put it, Royal Farms is just awesome. You can fill up your car with gas. You can get a cup of coffee. In my humble opinion, you can get the best fast-food fried chicken out there. The stores are always in great shape. They're clean. Everything you can get is fresh and fast. And if you sign up for your RoFo Rewards Card, you can save 10 cents or more per gallon of gas—so there's that.
You're good, man. But in all semiseriousness, there seem to be these regional convenience-store turf wars. You've got the Royal Farms, and then the Wawas and the Sheetz. If you go down south, there's the QuikTrips and the RaceTracs. It seems like everybody has their spot that they get really fired up about. And out here in Maryland, the obvious choice is Royal Farms.

From doughnuts to detergent, the other stuff we can't live without.
POTATO CHIPS

| UTZ Original

You know that RoFo gets Baltimore when you see the chip aisles. This is Utz country, baby, because as we all know, the PA brand is truly in love with the Land of Pleasant Living. Crab chips forever.
LOCAL SWEETS

| Berger's & Otterbein's

RoFo vs. Wawa has nothing on Berger vs. Otterbein, but the two Baltimore cookie companies harmoniously coexist in the check-out lines, where we fully support a bag of each.
SCRATCH-OFFS

| Maryland Lottery

We can't help but dabble in a little lotto action on the occasional visit. They had us at Keno, and the fact that someone just won $2 million from a scratch-off sold at a Laurel location.
COFFEE

| House Joe

Royal Farms says, and means, that its coffee is "real fresh," with Swissmade brewing systems that literally grind the beans and brew the joe as you order it.
AUTO

| Motor Oil, Gas Cans, Etc.

We've all had the rare panic for antifreeze, wiper fluid, or motor oil, but not enough time to run to the automechanic. RoFo even has those dangly treeshaped air fresheners.
HOUSEHOLD

| Tide & Toothbrushes

Who doesn't wrap a household shopping run into a quick pitstop? RoFo has the basics covered, from toothpaste and detergent to trash bags and duct tape.
MEDIA

| The Baltimore Sun

In the days of disappearing newsstands, it's nice to know you can still grab your local paper at your local store, with the Sun always on offer. (A few good RoFos stock us, too!)
SNACKS

| All the Snacks

Our inner children still want to steer us straight to the snack aisles, filled with junk-food classics like Pop-Tarts and Pringles. Even adults need an annual slushie.
INCIDENTALS

| Chapstick & Bic

It's the little things that count—and ratchet up our final bill—typically in the form of our thousandth Chapstick stick, Bic lighter, or cell phone charger cord.
CLASSICS

| Chicken & Doughnuts

In true, ingenious, Southern fashion, we couldn't think of a better complement to the "world-famous" fried chicken than a box of Krispy Kreme doughnuts.

Not everyone wants a RoFo in their backyard.
By Ethan McLeod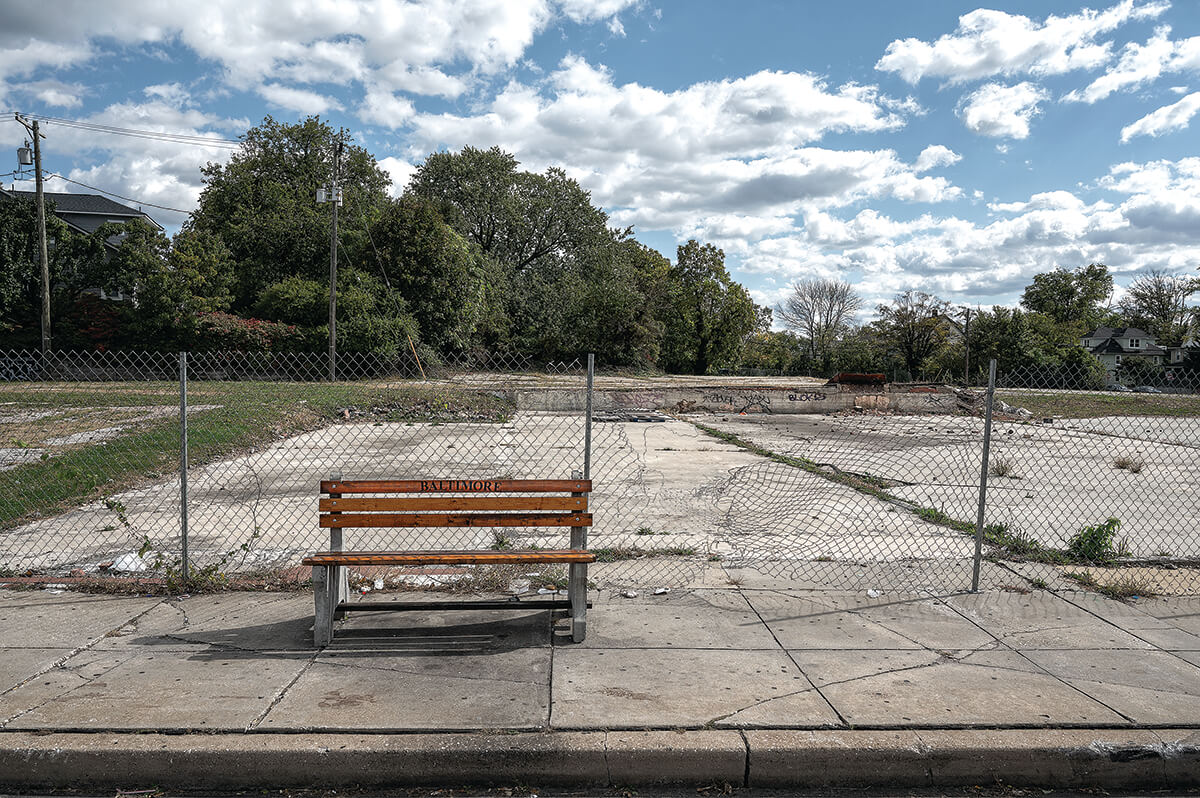 Nicole Evanshaw is proud to be part of the steady main-street evolution afoot in Hamilton. She and her husband co-own Silver Queen Cafe, a beloved neighborhood restaurant, and a recent wave of transportation updates, including a bike lane and floating bus stop, have only helped small businesses like hers in the 5400 and 5500 blocks of Harford Road, she says.
No surprise, then, that Evanshaw is not thrilled about the prospect of an eight-pump behemoth coming just up the hill. For nearly a decade, Royal Farms has been pushing to build a convenience store and gas station at a fiveway intersection.
"This has been going on so long," says Evanshaw. "I can't believe Royal Farms still wants to plow ahead. It's not what fits with this neighborhood." Over the last nine years, a zoning battle surrounding these plans has pitted residents against the popular Baltimore chain. Royal Farms hopes to activate a vacant lot, but a coalition of neighbors and community leaders say it's ill-advised as they fight to make Hamilton more family-friendly and prosmall business. (Royal Farms declined to comment for this story.)
Hamilton is among a growing list of locales that have recently fought Royal Farms' plans for new locations. As the company has expanded over the last decade, similar battles have unfolded from Annapolis to Joppa to Towson as residents oppose more chains in their communities.
The company first unveiled its plans for a gas station in 2012 and, a year later, Baltimore's Board of Municipal and Zoning Appeals approved the conditional use needed to install the 12 pumps. However, upon learning that the board had changed the decision's final phrasing after speaking in private with Royal Farms attorneys, neighbors successfully appealed for a new hearing. The BMZA reheard the case in 2015 and again approved the plans, this time for only eight pumps and various promised intersection improvements, but residents remained steadfastly opposed. In 2018, the Maryland Special Court of Appeals ultimately sent it back to the BMZA for a third time. Both sides were set to square off again at a March 2020 zoning board hearing, but it was called off as the COVID-19 pandemic was beginning to spread across Maryland.
Regarding next steps, "Because of the long history and the need for a comprehensive review," says BMZA's acting executive director Kathleen Byrne, "no firm date has been set."
Today, the site still sits empty, and community members say it's become a tired conflict. "I tell people I was a young man when it got started," said lawyer John C. Murphy, who has represented the neighborhood coalition in court and before the zoning board and today has "a whole table filled with Royal Farms pleadings."
With the project in limbo, some public officials have made it clear that they side with the residents. This June, city planning director Chris Ryer recommended "disapproval" of a gas station at the already busy intersection, stating that doing so "would be inconsistent" with the transit and traffic reduction improvements completed in 2019, being "most particularly in conflict with efforts to improve the pedestrian experience for patrons of other businesses."
Councilman Ryan Dorsey, who represents Northeast Baltimore neighborhoods in the 3rd District, echoed his opposing argument before the BMZA six years ago.
"It's an extremely low-density, auto-oriented use—one that makes exceptionally low-value utilization of land that is key to unlocking the potential of a neighborhood," he says.
A gas station will make even less sense moving forward, Dorsey says, since the city plans to extend its traffic-calming designs another four blocks northward, including past Royal Farms' planned location.
The company already has a total of four locations in the area and just over the county line, with stores in Lauraville, Parkville, and Nottingham, all under three miles away.
A fifth is in the works, with Royal Farms scoring BMZA approval this July to build a new gas station and store on Belair Road, about a mile away in Gardenville, at a site strikingly similar to Hamilton's.
Anne Yastremski, president of the Hamilton Community Association, noted her neighborhood already has multiple convenience stores, as well as a fuel stop just three blocks south. She's adamant that another gas station is not what Hamilton needs. "Do we need a giant station? Is gas the future?" she says, noting other visions, such as green space or an expanded library. "You're not going to attract new residents based on, 'You know, there's a giant gas station on the corner.'"

Fast-food fealty forever.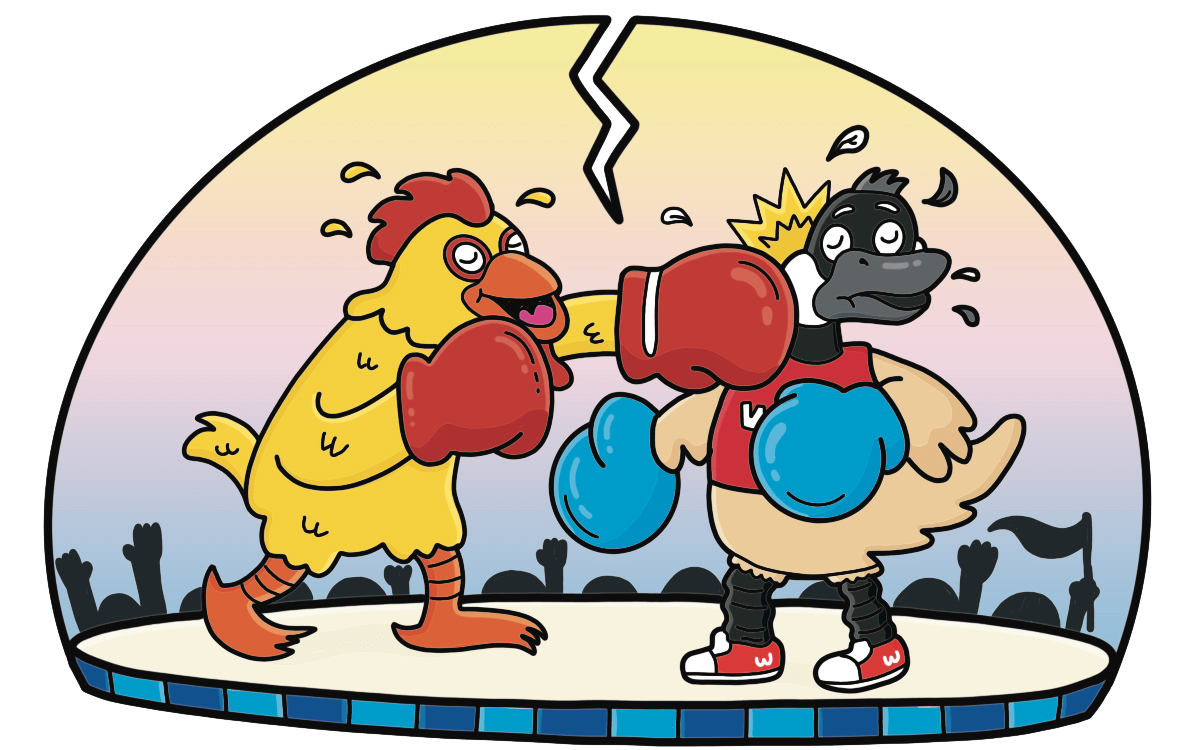 GOOD OLD-FASHIONED competition has always been a cornerstone of American culture. First, there was Ford and Oldsmobile. Then, there was Coca-Cola and Pepsi. Then, of course, McDonald's and Burger King. But perhaps few battles of the brands have rivaled that of local convenience stores, particularly in the Mid-Atlantic, where numerous regional brands—Baltimore's own Royal Farms, naturally, plus Pennsylvania's Wawa and Sheetz, the underdog High's, and national behemoths like 7-Eleven—are all vying for the same customer base.
Luckily for them, these turf wars tap into a source of local pride. The same way the Ravens flock can't comprehend local Washington supporters (the Colts left 37 years ago, y'all), and Orioles fans wouldn't be caught dead in a Nats jersey, Maryland residents have their go-to places to buy their coffee, fill their gas tanks and tires, and sneak in their most coveted indulgences. And they vary zip code to zip code.
"Somewhere in Harford County, there's a line of demarcation with Wawa on one side and Royal Farms on the other," says Baltimore writer Charles Duff, with Western Maryland cementing itself as Sheetz country, and the Eastern Shore speckled with Shore Stops. By sheer volume, Central Maryland is squarely under the supreme rule of Royal Farms, but its goose-themed competitor—three-times the size of the Baltimore company, with more than 10 times the Facebook followers—is closing in quickly, sometimes just across the street, even igniting gas price wars.
Of course, even as these one-stop shops compete for the coolest new technology—touch screens, self-checkout, and the ultimate convenience, delivery apps—it's safe to say that these otherwise interchangeable pitstops truly set themselves apart, and garner their fiercest loyalties, over one thing and one thing only:
Be it chicken or hoagies or even High's new Maryland crab cake, "There's always a heated rivalry any time you talk about food," says Jeff Lenard of the National Association of Convenience Stores. "There's plenty of room for everyone. Even the most passionate McDonald's fan will go to Wendy's if the need presents itself. Sometimes variety is the spice of life."
Still, some supporters will always take it to the next level. "I guess where the rubber meets the road is: Did that person also get the brand tattoo?" says Lenard. "That's how you know you've made it."
Go ahead, Google it.

What makes RoFo so special?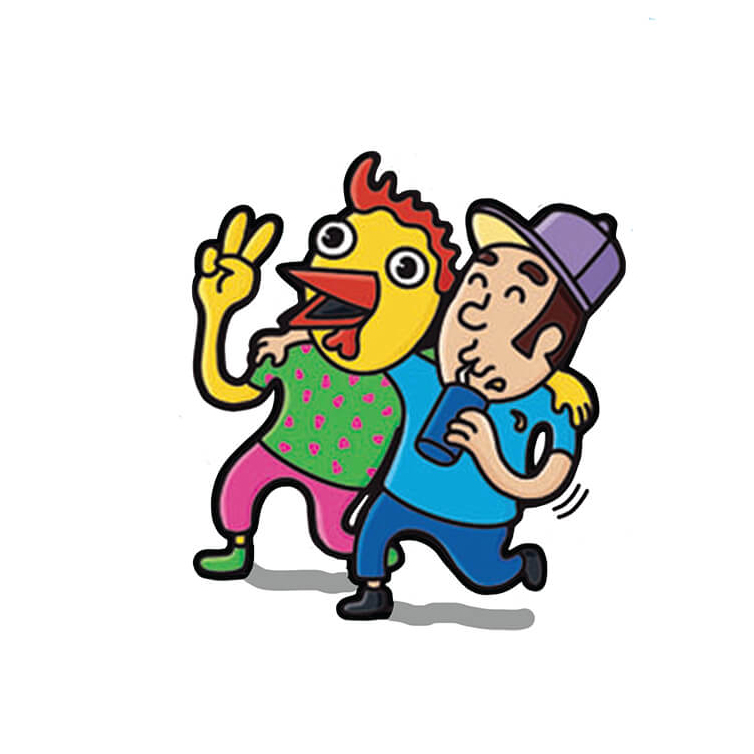 "Royal Farms is a bonafide staple of Baltimore. Similar to crab cakes, Orioles, and Ravens, the green and blue lights always make me feel at home. Plus, it is impossible to pass up a free car wash after filling my gas tank."
—Baltimore City Mayor Brandon Scott
"My go-to order? Hands down: egg and cheese breakfast sandwiches!"
—Baltimore Symphony Orchestra maestra Marin Alsop
"I'm almost 40, but anytime I walk into a Royal Farms and smell that fried chicken, I'm instantly 23 again, a little tipsy because it's 2:30 a.m., and about to destroy a two-piece dark with a side of Western Fries."
—WTMD radio host Sam Sessa
"There's a RoFo two blocks from the station and I always use the excuse 'I've got to get gas' to run in and grab chicken and a biscuit. It's wicked good, wicked crunchy, and a better indulgence than chocolate."
—WJZ news anchor Denise Koch
"You can't go wrong with 24/7 service, fresh chicken, and hot coffee. My go-to order is a no-brainer: three-piece chicken with Western Fries."
—Maryland Governor Larry Hogan
"I've been going to Royal Farms since my pop took me to the Mace Avenue store in Essex in the late 1970s and got me every MLB helmet with a slushy. I wish I still had 'em! They didn't have fried chicken back then, but I'm glad they do now because it's the best in town."
—WNST radio host Nestor Aparicio
"People write it off because it's a gas station, but it's better than the fast-food chains in my opinion."
—Orioles pitcher Bruce Zimmerman
"Royal Farms enables us to dine with royalty every day. Toss the tiara and pass the chicken."
—Senator Barbara Mikulski