Royal Farms Stores in Baltimore, Ranked
From chicken-box quality to recent renovations, we graded the store locations.
There are two syllables that ring true for everyone in this city. No matter your neighborhood, your background, or your salary, we all know what RoFo means.
Whether stocking up on road trip snacks before hitting 95, getting your scratch-off lottery fix, filling up the tank at one of its gas pumps, avoiding the grocery store to run that quick errand, or, yes, drunkenly filling up on a late-night chicken box and western fries, Royal Farms has been there for all of us in one way or another.
What started in 1959 as a way for Cloverland Dairy and the Kemp family to have a milk storefront when home deliveries declined has now grown into more than 170 locations in Maryland, Pennsylvania, Delaware, and Virginia. (Even Ravens' golden boy Justin Tucker raps for the cause.) The very first location—and where Royal Farms is still headquartered today—is on Roland Avenue in Hampden.
"We've grown up with Baltimore and the area," says Royal Farms spokesperson Brittany Eldredge. "It's like Cheers, when people visit their store, say hi, and check in with each other. We've always kept to our roots."
Eldredge mentions customers who have been visiting the same store for 30 years, snowbirds down in Ft. Myers who are begging for a location, cashiers that have helped customers with a flat tire, or even one Royal Farms manager who helped a couple give birth to a baby in the parking lot. But beyond the community aspect, Eldredge is clear about what keeps people coming back: "It's the chicken," she laughs. "It's addictive."
Since Royal Farms and its loyalty is so firmly locked in Baltimore, we decided (with some inspiration from our friends at Seattle Met magazine) to rank all of the metro-area Royal Farms locations. We had a few simple rules: the stores had to be within city limits or very tightly hugging the Beltway; locations with gas stations, recent renovations, or those licensed to sell alcohol get bonus points; and we'd rate them based on appearance, selection, customer service, and chicken/fry quality.
So without further ado, sit back, grab a drumstick, and check out our ranking of these 31 Baltimore-area Royal Farms.
31. 7950 Pulaski Hwy.
Trundle just a couple miles south of I-695 to get to this gem in beautiful downtown Rosedale. Can't miss it: It's right next to the Eisenhower-era Rosedale Motel (pretty swank—the sign says "Phones and A.C."), where you can plot your next retro tryst. Jesi at the register was great. Total points: 18
30. 3333 E. Fayette St.
A quick in-and-out gas and coffee stop surrounded by body shops, bus stops, same-loan businesses, and Big Boyz Bail Bonds, this is a solid but no-frills operation. The corner of East Fayette Street and North Highland Avenue here would benefit from a more attentive city sanitation department, but the store and friendly staff manage just fine. Check the fried chicken tender, egg, and cheese on a biscuit. Total points: 19
29. 504 Edmondson Ave.
This Catonsville spot doesn't have a lot of bells and whistles—no gas, no milkshakes, and definitely no recent renovation. For some reason, this Royal Farms location had a ton of customers that were children and, according to the them, this RoFo is home to the world's best frozen coke slushee. Total points: 20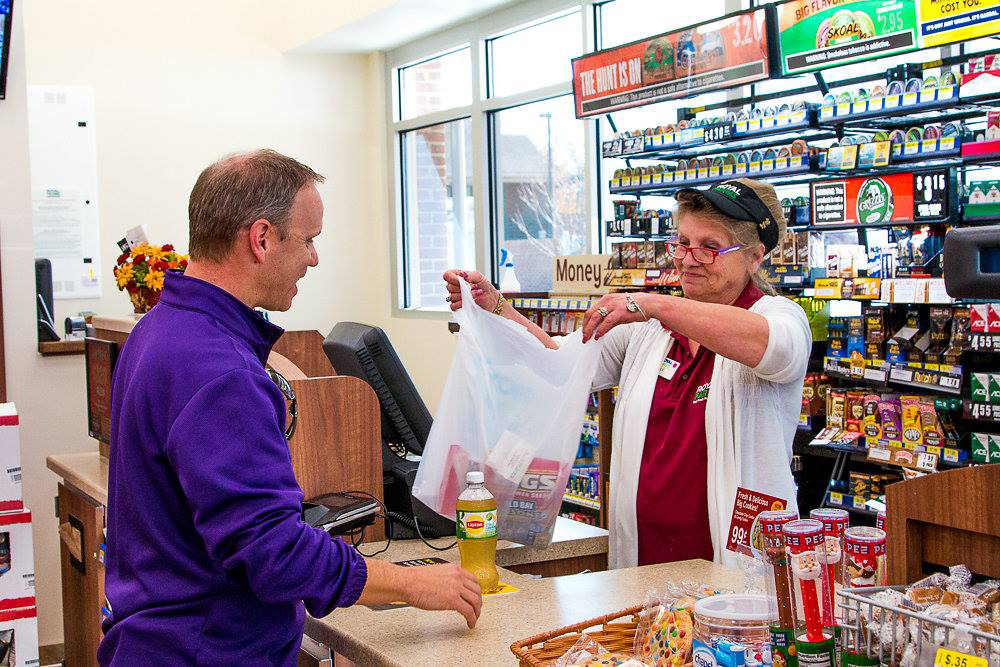 28. 6100 Holabird Ave.
Though there's a beautiful view of the water and Key Bridge here, there's not much else to write home about. This location could be spruced up and have a better selection, though we have heard it's getting a new renovation this year. We did, however, appreciate the toasty warm hash browns. Total points: 22
27. 5232 Harford Road
This tiny outpost, tucked next to a Papa John's, is strictly no-frills. There's no gas station, no milkshake machine, and it's not even open 24 hours. (It's open 5 a.m. to midnight.) But it's got the basics covered: juicy, well-seasoned chicken and fries; speedy service; and a smattering of household essentials for those no-toilet paper emergencies. It also has, we might add, one of the strangest selections of magazine we've ever seen, running the gamut from our own Baltimore Bride magazine to High Times. Total points: 22
26. 7204 York Road
Stop here for your Krispy Kreme doughnuts fix, a bottle of Pepto Bismol, or to stock up on your smokes, but this spot doesn't go beyond the basics—the cashiers are brusque and the fried chicken lacks seasoning. This spot does get extra credit for "local sourcing," including a well-stocked selection of Otterbein cookies. Total points: 23
25. 1801 Washington Blvd.
Pull off 95 when you see the gleaming neon Montgomery Park sign and, right across from what was the department store, you'll find plenty of gas pumps (12 to be exact), and inside, a broad selection of food items with the customary touch screen order system. Unfortunately, when we visited, the chicken—which we had to wait 10 minutes for—was on the dry side and the service could have used some prompts from Ms. Manners. Total points: 23
24. 6311 Eastern Ave.
Location, location, location. A mash-up of a neighborhood Royal Farms (for the Bayview community) and an I-95 rest stop Royal Farms. Situated off Exit 59, with a half-dozen gas pumps and working free air, this is a go-to for motorists heading north or south on one of the east side's hellish commutes—there's a bathroom!—as well as good ol' Dundalk Avenue. Bonus: It backs up to a Home Depot. Total points: 24
23. 8207 Harford Road
Bright and clean, with a well-stocked coffee station, this Parkville location is clearly designed to serve the steady stream of commuters on their way to and from the Beltway. Extras include Slushee and milkshake machines, and 24-hour service. That service, however, might need a little polishing. When we went, it took a good three tries for the cashier to give us the correct change. The chicken was good, though. (We can't stay mad at you, RoFo!) Total points: 25
22. 3601 Potee St.
If you find yourself in Brooklyn Park, throw on your best mismatched PJs to blend in with this RoFo crowd. It's not the most aesthetically pleasing, but the Tchaikovsky blaring through the speakers adds a bit of elegance to your visit. The day of our visit wasn't the cleanest and we were able to play slip and slide with spilled coffee on the floor, but damn if the chicken wasn't delicious. Bonus points for the gas station and Redbox outside of the store. Total points: 25
21. 36 Light St.
You can't miss the neon logo that towers over the intersection of Light and Lombard streets. It can get a bit cramped with the commuter crowd piling in during rush hour, but the service is speedy. The western fries, especially, shined at this location. Total points: 26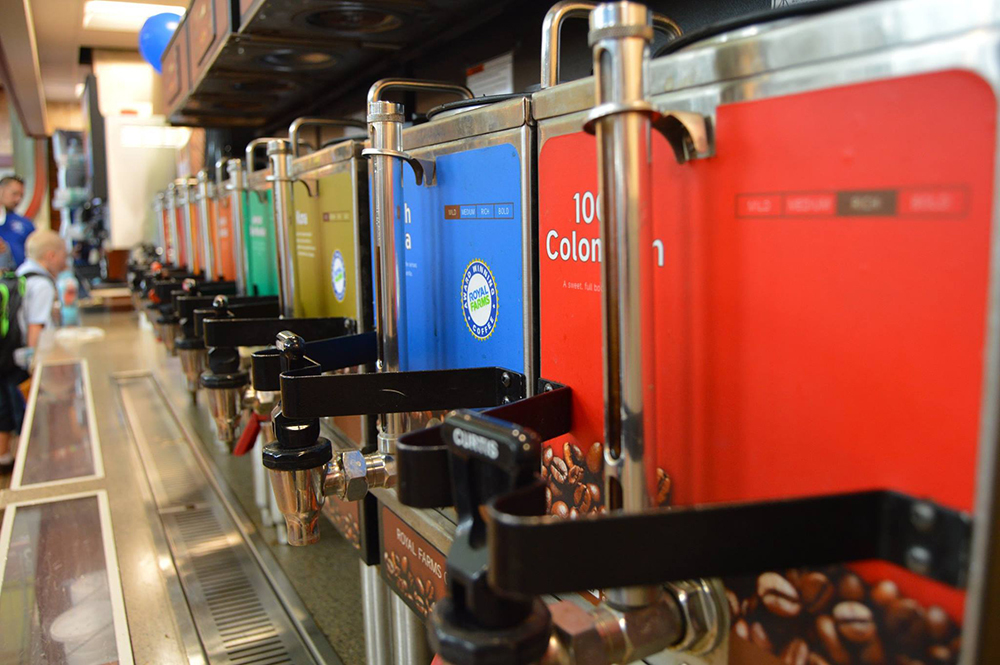 20. 3360 Annapolis Rd.
Everybody raves about RoFo chicken, but this location made us remember just how much we loved the coffee. The parking lot was a little awkwardly shaped, so be ready to play a bit of bumper cars when you pull in. But the strong, well-flavored cup of RoFo Joe makes it worth it. Total points: 28
19. 3320 Eastern Blvd.
If you live next door at Peppermint Woods Williams Estates trailer park, you can shuffle over here in your Ravens-themed PJs for your breakfast—chicken, fries, and a Lotto ticket. And it's right across the street from Bengie's Drive-In! Plus, they've got about the cheapest gas prices in town. Total points: 30
18. 1200 Ponca St.
In true RoFo fashion, this location is just one block south of its O'Donnell Street sister spot, and the they are easily interchangeable. (We often confuse the two.) A good pit stop for gas, snacks, and bathroom breaks before leaving Charm City. If you happen to be a truck driver, there's a roof of semi-size diesel pumps in the back. Total points: 31
17. 2050 Fleet St.
With a fresh facelift, this Fells Point RoFo is the go-to place for drunken residents and tourists to grab late-night drumsticks and bags of Utz potato chips. There's a Redbox outside to inspire extra laziness. Total points: 32
16. 1440 Key Hwy.
We love the car wash and kitschy mailbox shaped like a chicken out front. But on a recent visit, the hot food counter was out of western fries. Understandable—but such a bummer when you're craving carbs. (Is it just us, or does RoFo chicken sans potato wedges seem sacrilegious?) On the bright side, the lunch counter has a killer view of the Domino Sugars sign. Total points: 32
15. 4820 O'Donnell St.
With convenient access to I-95 and 895, this snack-and-gas station is just east of the city, with an epic view of the Natty Boh sign. From personal experience, beware of the super-tight parking spaces, as you can easily back into another vehicle parked at the gas pumps. Total points: 32
14. 6067 Falls Road
Though the bustling corridor of Falls Road offers everything from pizza joints to snowball stands, RoFo stands alone when it comes to one-stop shopping. At this location, you'll likely find whatever you need—whether you're craving turkey jerky, need engine oil, or a big bottle of Aleve. Of course, no trip is complete without the "World-Famous Fried Chicken." It's a fried chicken triple threat: juicy on the inside, crispy on the outside, spicy in all the right places. Total points: 33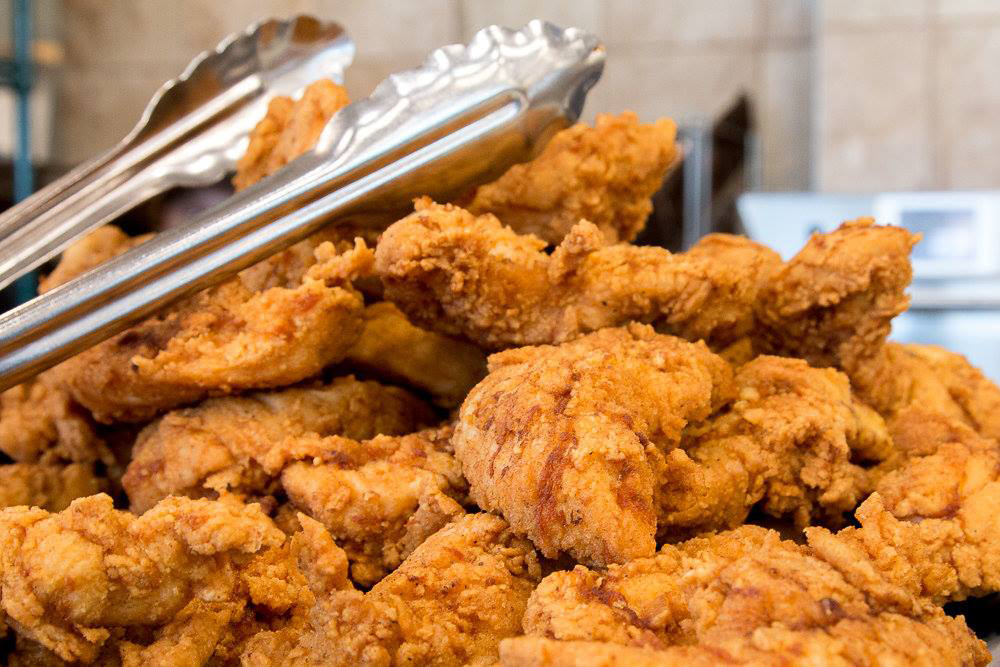 13. 1530 Russell St.
Given its location off of I-95, the portion of Russell Street surrounding Horseshoe Casino should be renamed "Gas Station Row," but this one stands out among the pack with a spacious parking lot and gas pumps on both sides of the store. The selection is spot-on. (We dare you to try and resist the display of Berger cookies near the check-out line.) Total points: 34
12. 3701 Fleet St.
The "secret RoFo" of Southeast Baltimore sits tucked down the hill behind the "Zappa" branch of the Enoch Pratt Free Library system between old school Highlandtown rowhouses and medical offices just east of Conkling Street. Not a lot of hustle and bustle generally—just a laid-back vibe and a very chill staff. Friday and Saturday nights when Canton bars let out, it can get a little entertaining. And that's not always a bad thing. Total points: 35
11. 2700 Taylor Ave.
This 24-hour Parkville RoFo gets a workout, especially on Ravens game days, because [cue triumphant horns] it sells booze! Yes, from 6 a.m. to midnight, you can stop here to replenish your emergency supplies of beer, wine, and malt beverages like Mike's Hard Lemonade and Smirnoff Ice. Of course, while here, you'll probably want to order a heaping helping of chicken and western fries to-go. Can't drink on an empty stomach now, can you? Total points: 35
10. 1119 W. 41st St.
Let's face it, this Royal Farms, which is right across the street from the Giant, is all about the gas station and the free air. (Seriously, the free air might even be more popular than the fried chicken.) But once you wander inside, this is a perfectly respectable, if generic, Royal Farms, serving all your fried chicken, ice, and munchie needs. Total points: 36
9. 2330 Smith Ave.
This location puts the "royal" in Royal Farms. The new and improved RoFo, which reopened last February, has well-stocked shelves and employees like Danard, who seem to really care. Without us even asking, he gave us a special discount card. The chicken here gets two drumsticks up, though we do deduct for the prominently displayed nutritional value chart that lists two breasts at 1,360 calories. Frankly, we'd rather not know. Total points: 37
8. 6201 Pulaski Hwy.
This bright and open location on busy Pulaski Highway would be an ideal pre-road trip spot. The space is clean, has a café area, a nice selection of gift cards, and a well-organized coffee station. Plus, the staff members were all laughing together and seemed to really enjoy working there. Total points: 38
7. 2704 Washington Blvd.
Don't drive too fast or you'll miss it! Tucked in the middle of a residential neighborhood, this hidden gem is still has the new store smell from a recent renovation. It's also conveniently located across from a fire station in case you suffer burns from the piping hot chicken. Our cashier was friendly and cracking jokes, and the store gets bonus points for a renovation and gas pumps. Total points: 39
6. 7701 German Hill Rd.
Located in a residential area of Dundalk, this location doesn't look like much from the outside, but is super clean and has great inventory inside. Plus, cashier Tammy was friendly and the chicken quality (breading, juiciness) was some of the best we had. Total points: 40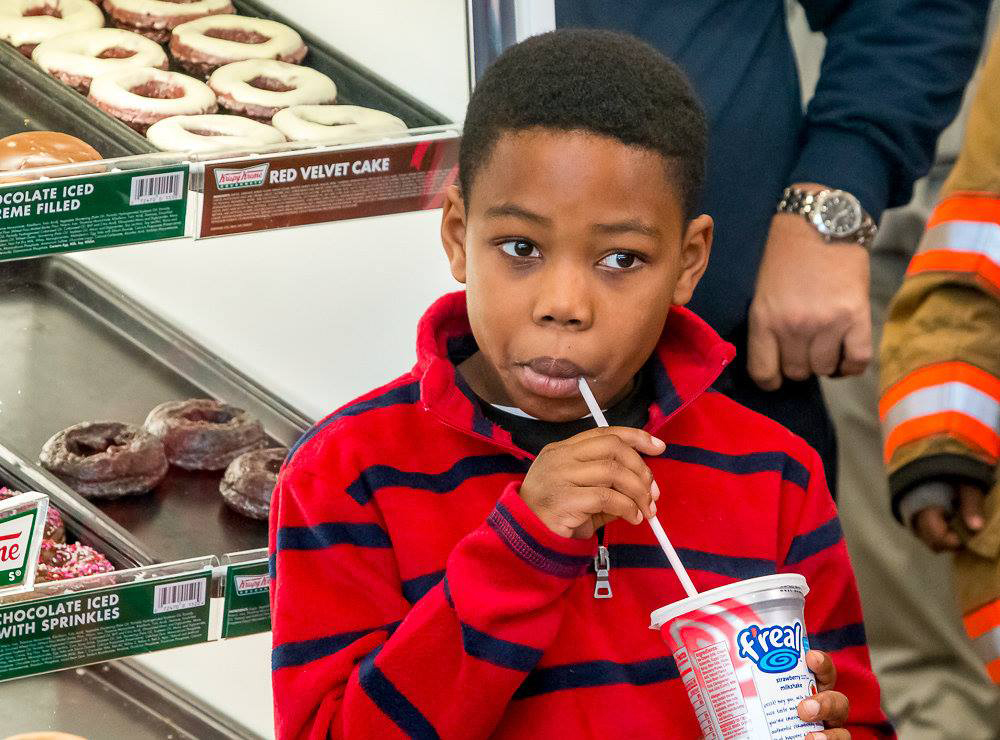 5. 205 W. Coldspring Lane
After undergoing a major renovation last year, this Royal Farms—the go-to spot for Loyola students and Roland Park residents—is spic and span and has all the bells and whistles you could want: Two ATMs, a Redbox, Krispy Kremes, coffee, well stocked fried chicken selection—we even spied a pre-wrapped vegetable or two. And did we mention the F'Real Blending Bar? It's basically a make-your-own milkshake bar—and it's spectacular. Friendly staff member was overheard saying, "Good luck!" to a guy who just bought a Powerball Ticket. Total points: 41
4. 3635 Keswick Rd.
With beer and wine, a Redbox, no surcharge on the ATM, and the crispiest chicken sandwich this side of 83, it's safe to say this is one of the best Royal Farms locations in the state. This next-door sign for Fun Fitnezz is a nice reminder to work on your post-chicken body conditioning. Total points: 42
3. 920 W. 36th St.
This is it—the Taj Mahal of Royal Farms. Situated right in the heart of Hampden, this Royal Farms is so fancy it has a second floor dining room. The selection is enormous, dizzying: An entire wall of chips; a freezer stocked abundantly with ice cream; brands of juice, energy drinks, and soft drinks you didn't even know existed. Of course, this Royal Farms has everything you could ask for—freshly fried chicken and fries; made to order (and some pre-made) sandwiches; Krispy Kremes, a coffee station, a Redbox, but it also has one of those glorious F'Real Blending machines and two TVs for lottery results and Keno. Lack of wine and beer withstanding, there's an argument to be made for never leaving this store. Total points: 43
2. 1501 62nd St.
If you're getting out of dodge for a bit and heading east, it's worth it to go off the beaten path for this location in Moravia Park. This modern RoFo in the charming strip-zoned heartland of eastern Baltimore County has it all—well, except beer. Dimitrio was the best cashier, the store is open 24 hours, and it even has (clean!) restrooms. Total points: 44
1. 6411 Fort Smallwood Rd.
You might wonder where the heck you are as you exit into an expanse of industrial property. But if you see the signs for the Under Armor factory store, you're on the right track—and trust us, the trek is worth it. This newly remodeled Royal Farms is bright and open, with a large café area for dining in. The shelves are well stocked with a selection including a hot chocolate bar and smoothies made at the milkshake machine. And this location gets bonus points for cleanliness (an employee was vigorously wiping down the chicken case on our visit) and customer service (we got free honey mustard sauce with our western fries!) Total points: 46