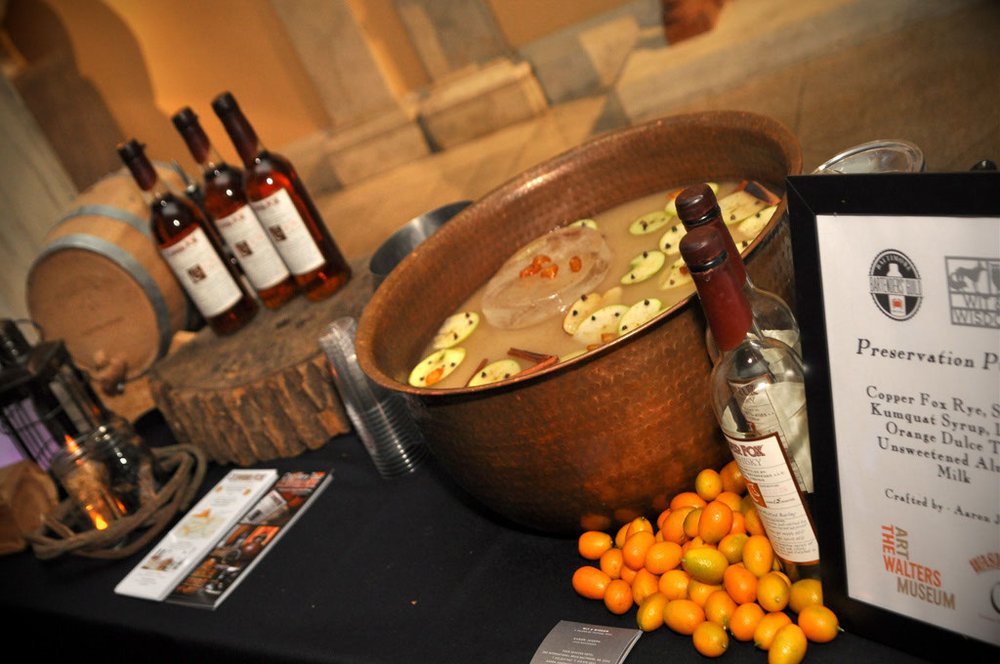 Courtesy of the Walters Art Museum
Fun fact: The reason that William and Henry Walters were able to afford so much fine art? The museum founders made their fortune selling rye whiskey.
For the second year in a row, the women's committee of the Walters Art Museum is celebrating that spirited history with an event called Rye Rocks, taking place this Saturday, January 16, at 7 p.m. The event features 12 rye whisky distillers pouring samples in the sculpture court, as well as a dozen bartenders from the Baltimore Bartenders' Guild (BBG) making creative rye cocktails.
"This event is a great way to highlight our exhibit From Rye to Raphael: The Walters Story," says event chairwoman Maki Uchida. "During the event, guests can go up to the fourth floor and view the exhibit. They'll be able to see the history of the distillery and artworks related to that era."
Of course, the main action will be taking place in the sculpture court, where guests can enjoy drink samples, a barbecue dinner from Chef's Expressions, and Korean-inspired snacks from Dooby's in the adjacent map room.
Participating distilleries include High West, Copper Fox, Templeton, Filibuster, and NY Distilling Company. Taking a quick peek at the menu, it's easy to see there is no lack of innovation and outside-of-the-box thinking from bartenders this year. Aaron Joseph, formerly of Wit & Wisdom and now at Bookmaker's, will be taking NY Distilling's Rock & Rye (like a sophisticated Fireball) and combining it with apple cider, lime juice, kumquat-spiced cider, and whole milk for his cocktail. Bartender Anna Kent from Le Garage is doing an Asian-inspired concoction with Templeton Rye, Chinese tea, and Asian pear beer. Chelsea Gregoire from Pen & Quill will combine the potent High West Double Rye with amaro, Italian vermouth, grenadine, orange bitters, and Wildflower mead from Charm City Meadworks. Just to name a few.
"The process is pretty simple," says BBG president Brendan Dorr. "I call up my distilling friends or ambassadors' reps or whoever has rye in their portfolio. I then go to the bar guild and ask which rye they want to select. At events like this, they're going to be turning out so many cocktails. We told them to prepare to make 500 drinks, so I do not recommend egg-white cocktails. You'd be hurting by the end of the night."
Aside from the creative recipes, Rye Rocks will also feature a "first look" at Sagamore Spirit, Kevin Plank's planned whiskey distillery in Port Covington. At Sagamore's table, they'll be giving out 3-D goggles for guests to try on and experience a virtual tour of the new distillery.
"They'll be using 3-D renderings to make people really feel like they're moving through the space," Uchida explains.
Expected to attract 500 guests this Saturday, event organizers stress the importance of educating people about our state's local connection with rye whiskey, a liquor that has been gaining popularity in the past few years.
"[Rye is] on the return nationally, but it originated in Maryland and Pennsylvania," Dorr says. "Only five or six years ago, I had a couple of ryes on the shelf. And now I have about 20 different ryes. That's a small scratch on the surface, nationally speaking. But these events are a great driver to explain the history and variety of this great spirit."