MOM's Boy
How the founder of MOM's Organic Market helped lead the organic grocery revolution.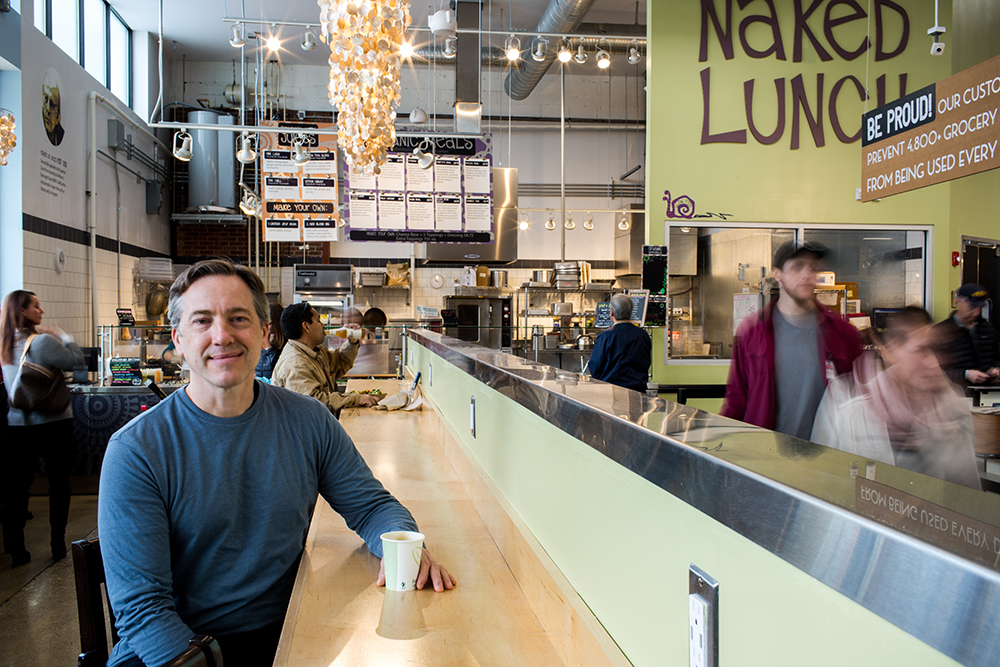 The path to Scott Nash's Rockville office on the second floor of MOM's Organic Market headquarters above its flagship store is not exactly what you'd expect from your typical CEO of a multi-million-dollar company. There's no long hallway with dark woods, no sleek leather chairs, no phalanx of Armani-clad assistants to greet you at the door, or modern masterpieces on the walls. There are no ostensible signs to signal that this is a place of power and influence.
Instead, the road to Nash's office is paved with recycling bins brimming with denim jeans, boxes packed with organic products, errant grocery carts, and a long, sterile concrete staircase, at the top of which hangs an oil painting of a chimpanzee sporting a smoking jacket. The simian subject sits at a dining-room table before a bowl filled with bananas and hoists a glass of red wine into the air.
"I hung that there to tell people who are coming up to the corporate offices that that's who's in charge. The painting is really just a reminder for us to have humility," explains Nash, who keeps a human skull in his office as an additional reminder. "Hubris is a killer of corporations."
Nash, 51, is the founder of MOM's Organic Markets and couldn't be more down-to-earth—or pioneering. Thirty years ago, long before the word "organic" became a buzzword in the grocery world and every consumer had a pesticide-free Winesap apple in his or her cart, Nash got into the organic grocery business.
These days, as the good-for-you grocery revolution has moved from the fringe to the mainstream, the number of U.S. organic operations has grown by 250 percent since the government started certifying organic products in 2002, according to the U.S. Department of Agriculture (USDA). Alongside behemoths Whole Foods and Trader Joe's (where only some of the products are certified "organic"), Nash's organic-focused market dominates the industry in the mid-Atlantic. To date, there are 17 MOM's stores in four states plus the District of Columbia, with newly opened markets in Hampden and White Marsh, as well as stores in Timonium, Jessup, Frederick, Bowie, and College Park.
To call MOM's a place that sells groceries would be akin to calling Apple an electronics store. Yes, produce, seafood, seasonings, and dry goods line the shelves, but there's also beekeeping equipment, bat boxes, non-GMO cotton underwear, and electric charging stations. A solar farm supplies 25 percent of the power needs of the stores.
But the green concept doesn't end there. For employees, there are kind-to-the-earth perks—everything from home composters to programmable thermostats to incentives for electric cars and organic mattresses. The latter is a topic—one of many, in fact—that gets Nash on a roll.
"Mattresses are messed up," he notes. "There are lot of toxins and chemicals applied to mattresses."
Once the outspoken Nash starts, he can't stop. "We're against coal and oil. We're against bottled water. We're against most of the lawn-care industry," he says, rattling off his hit list of environmental hazards. "And, by the way, people love their farmers, but farmers are doing incredible amounts of environmental destruction, especially here in the Chesapeake. And there's also the cotton industry, which is really just terrible. We've tried to bring awareness to certain industries we think are really BS and doing a lot of damage."
"What we sell is important, but it's the sideshow. It's about the activism and world-view."
As he sits in his office space wearing hiking shoes, a gray T-shirt, and gray cargo shorts, the avid pinball enthusiast looks more like a lifetime member of the Sierra Club than the CEO of a company that employees a staff of 1,000 and that has annual revenues expected to reach $200 million "very soon," he says.
His office, too, is an unexpected mix of man cave, with its Terps memorabilia and treadmill, proud-papa paradise (courtesy of artwork from his brood of three with wife, Suzanne), and New Age-y life-coach lair with a "Competent Bucket List" of aphorisms and aspirational quotes scrawled on a floor-to-ceiling white board. ("Let go of your ego" and "Find your gratitude" are chief among them.)
And although he could easily retire to his house in the well-heeled suburbs of Bethesda with two Teslas and a Chevy VOLT parked in the driveway, or spend all day at VÜK, his pizza place in Bethesda that started as a spot to house
his vintage pinball collection, that's not what he's about. It's protecting and preserving the planet—not the dollar sign—that's his driving force. (Last year alone, MOM's donated more than $500,000 to charities such as The Living Classrooms Foundation.)
"MOM's is so much more than just what we sell," says Nash, who publishes his e-mail address on the company website and answers his inbox directly. "MOM's is a movement—we structure it as a lifestyle and we refer to our customers as 'lifestylers.' We have a strong culture here. What we sell is important—we support organic farming because it is good for the environment—but it's the sideshow. It's also about the activism and the world-view."
Nash's world-view was formed at an early age. The son of a University of Maryland professor (his father) and an avid naturalist (his mother), the entrepreneur, who grew up in Beltsville, enjoyed the gift of a free-range childhood not bound by rules or an adherence to parental norms. "My parents taught me to think for myself," he says. "They taught me to challenge authority. They were forward-thinking, unconventional thinkers. They never once said, 'Do your homework.' My Dad said, 'It's up to you how you do in life.'"
Nash recalls collecting cans out of dumpsters on weekends with his dad for recycling money, while his mom, Annette, saw to it that the family belonged to the Audubon Society and planned trips to watch birds migrating up the Maine coast. Freethinking and a passion for the planet were the themes of those formative years, which included grade-school lunches with whole-wheat bread sandwiches and alfalfa sprouts.
"They didn't guide us much," says Nash. "With church, Dad said, 'If you want to go to church, go to church,' and I went with a neighbor a few times. And my mom would say, 'We all have our fears and prejudices, but it's our role as parents to not project those onto our children'—it was pretty fabulous."
Even so, while Nash struggled to define his path, he was adrift in high school and dabbled in delinquency. "I did a lot of drugs," he admits. "I did a large amount of vandalizing at one time." By his sophomore year at the University of Maryland, he decided to drop out. "My story resembles the story of a lot of entrepreneurs," says Nash. "They were terrible students. They dropped out of school. They were delinquent in some ways as juveniles and very anti-authoritarian. I tell my kids that just because adults have authority over you doesn't mean they deserve it."
Nash enjoyed the gift of a free-range childhood, not bound by rules or parental norms.
Without any life plan or purpose, Nash, whose dad died when he was a high-school senior, moved back home. "There was pressure for me to work," says Nash. "My mother was reeling from my father's death, and she started charging me rent." His initial plan was to go into business. "When people would say, 'What do you want to be when you grow up?' I'd say, 'I want to own my own business.' But that had more to do with the fact that every boss I ever had was an idiot, and I thought I could do it better. I was always scanning the horizon for opportunities."
The opportunity came when Nash started working in the warehouse of a Beltsville-based organic wholesaler. Soon after, he was hired by a customer who ran a small mail-order business that shipped produce to consumers around the country. Four months later, he and his then business partner broke out on their own.
By 1987, the young entrepreneur went solo. With a $2,000 loan from his mom for the initial inventory, he delivered organic groceries on a local level out of his mother's garage. He was 22. In no time at all, demand was high enough for him to move to a 900-square-foot warehouse, where he grossed $100,000 in his first year and then doubled that in 1988.
But his big break came serendipitously in 1989 after a 60 Minutes report on alar in apples, which started a national conversation about toxic pesticides in produce.
On the heels of the 60 Minutes report, NPR's Diane Rehm did a show on organic foods. An Organic Foods Express (what the business was called back then) customer from Vienna, Virginia, called in and gave an on-air testimonial about the quality of vegetables at MOM's. "My phone rang off the hook for hours," recalls Nash. In 1990, he opened his first retail space in Rockville and the model for his present-day business was born.
Walk into any MOM's Market and it feels distinctly different than the competition. The aisles are twice as wide. The shelves have more breathing room, and there's very little signage so that customers are encouraged to "treasure hunt," to discover new items as they go along in the store. ("When you go to Whole Foods, there's a freakin' sign on every surface," Nash says.) "I like for the product to be the headline in this show, not the signage." The goal, says Nash, is to create a sort of Zen-like spot for what can sometimes be an anxiety-producing experience.
"We try to make shopping a meditative, stress-free experience," he says. "A lot of people see shopping as a drag, but we want it to be an oasis. We don't even have our employees approach customers and say things to them, because we don't want people interrupted from their trance of shopping." Clearly, customer loyalty from people like Richard McMichael, a MOM's customer for more than 25 years, speak volumes. "It's the vibe that resonates for me, that keeps me shopping there," he says.
It's that vibe that keeps the staff committed, as well. Lisa de Lima, vice president of grocery and produce, has an M.B.A. from The Johns Hopkins University and a master's in environmental studies from the University of Vermont, and she sits on the USDA's federal advisory board for organics. "I came here straight out of college where I was working for an environmental nonprofit, but made no money, so I started cashiering here part-time," de Lima says. "If we didn't have an environmental mission that lined up with my values and beliefs, I wouldn't have made it here as long as I have. But I decided that I could make more of a difference helping people spend their dollars in the right place."
While Nash takes his stores seriously, he also believes that the foodie movement has gone too far. "I was at one store, I think it was Whole Foods—they had this huge display of collards and a sign that said, 'Collards are the new kale,' and I was like, 'You people take food way too seriously;' 'You people are idiots.' Like fashion, food as status—I reject it wholesale. There are people starving out there. I like the awareness to some degree, but it's been overshot."
Despite hitting it big, Nash has taken a balanced approach to his success.
"I was either going to be a depressed, lost misfit or what I am," says Nash. "Those were the only two choices. A lot of people end up the depressed, lost misfit because they didn't get that break or that random thing that sets them on a different course, so I don't make a big deal out of much of this."