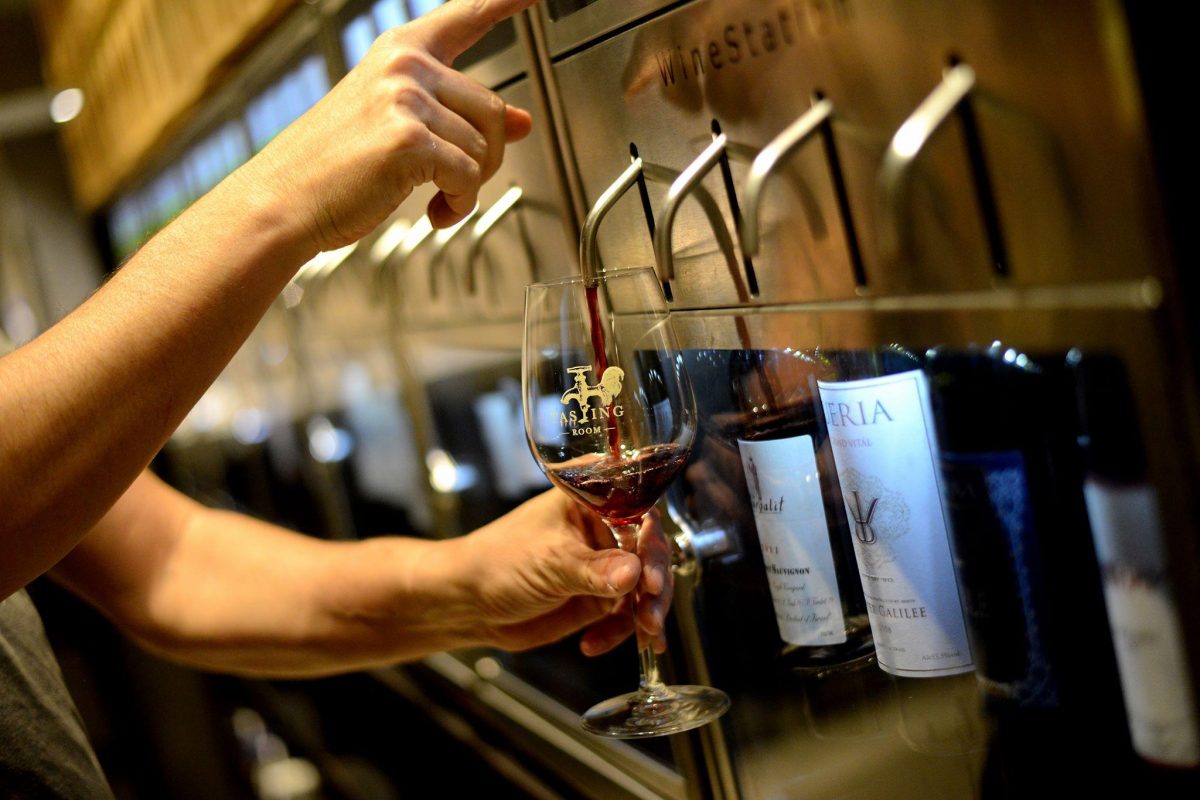 Napa Technology
There's something sacred about the traditional way of ordering a drink across the bar, but the modernized self-serve method—which has surfaced in larger cities like New York and Washington, D.C.—has its perks, too.
At Serenity Wine Bar, the new Locust Point hangout opening in the former Our House space off of Hull Street next month, owner Nneka Bilal is hoping to find a sweet spot between the two. In addition to classic bar and table service, Serenity will offer 16 pour-your-own wine taps that patrons can access using a reloadable swipe card.
"It's kind of like a Dave & Buster's system," Bilal explains. "You purchase a card and load money onto it. Then you can go up to the screen, swipe your card, and choose if you want a small pour to taste, or a full glass."
Highlighting many different blends—ranging from dry to sweet, red to white, local to international—the taps created by North Carolina-based Napa Technology are meant to offer something for everyone. Bilal hopes that the system encourages sampling and mingling between wine beginners and seasoned oenophiles alike.
"There's such a social aspect to it," she says, referencing her own experiences at self-serve spots in D.C. "It's not very intimidating. You're up there with strangers and talking to people about the wine—what you like and what you don't like. It's a really friendly experience."
The idea is for Serenity to fill the neighborhood-corner-bar void that Our House left behind, and a huge part of creating that atmosphere revolves around the food.
After working at a pizza restaurant for 23 years, Bilal, a Howard County native, was pleasantly surprised to find that the space was equipped with its own pizza oven. She wants the menu to center around her own roster of made-to-order pies, as well as wings, sandwiches, salads, and pastas. Aside from the pour-yourself wine, the spot will also offer house-made sangria and a selection of draft and bottled beers.
In keeping with its name, the 75-seat space will have a casual feel with a mix of coffee tables, high-tops, bar seating, and long benches. Bilal is also planning to arrange black-and-white photographs of Baltimore to make the space feel hyper-local.
"I wanted to highlight the city, but also make it feel really cozy," she says. "The space was pretty turnkey, it just needed a little bit of love. I want it to feel like a home away from home"
Though the DIY tap trend has taken root in Baltimore County (think spots like B.C. Brewery in Hunt Valley and Liquid Lib's in Timonium), Bilal is excited about being one of the first places to offer the of-the-moment technology within city limits.
"It reflects a change in the times," she says. "Sometimes when you sit down at a crowded bar, you have to wait for somebody to notice you. But here, everyone can just come in, get started, and do their own thing."