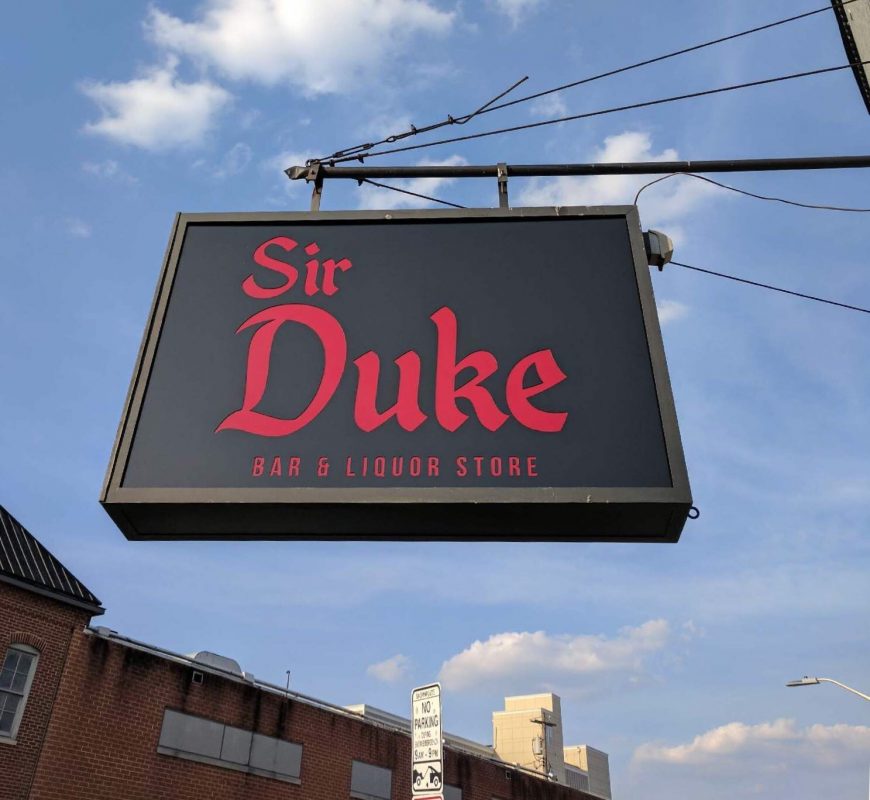 The building that connects four rowhomes on the corner of Aliceanna and South Bond streets in Fells Point has housed a few different bar concepts over the years, and its latest will harken back to the mid-20th century taverns that the property's owner Bryan Burkert grew up seeing thrive in his hometown of Buffalo, New York.
"When the inspiration comes, it's exciting to be able to switch things up and do something new," says Burkert, who previously operated live music hangout Fletcher's and EDM dance club The Get Down in the space, and rented it out to bacon-fueled dive Bad Decisions last year. "I wanted this new bar to seem like a place that could have existed pre-1980."
Burkert's newest concept, Sir Duke Bar & Liquor Store, will open to the public on July 12—paying homage to classic American dives with traditional pub fare, local artwork, and its own adjoining liquor store with an array of beer, wine, and sprits.
"I really wanted get back to my roots and the roots of the building, which was an era before everything became so crisp and clean," Burkert says. "Especially after The Get Down, which was so tech-heavy with tons of LED lights, it's nice to be able to strip it down to the most basic neighborhood tavern, like when I was growing up."
After The Get Down closed in 2015, the space was renovated to include a kitchen, front doors that extend out to the street, and new windows that let in natural light on the first floor. Following the revamp, the building then briefly housed Bad Decisions, which closed in January due to financial conflicts.
The remodel will be on full display as the space transitions into Sir Duke—which is named after Stevie Wonder's 1976 tribute to Duke Ellington—and will feature walls filled with paintings, street art, and photos by local artists including late photographer, and beloved Baltimore contributor, Sam Holden. Adds Burkert: "There's literally something to look at everywhere you turn."
The tavern vibe will also permeate into the menu, which was created under the helm of former Kali's Court chef Rashad Edwards. Bar-goers can expect snacks like onion rings, soft pretzels with beer cheese, braised short rib street tacos, and boneless Buffalo wings. The menu also lists a number of flatbread pizzas, ranging from a classic pepperoni to a wild mushroom with truffle oil and roasted garlic.
Behind the bar, there will be 12 draft beer options, huckleberry lemonade and Moscow mules on tap, boozy milkshakes, and a number of signature cocktails including the "Punch Drunk" (rum, melon liqueur, lemonade, pineapple, and sparkling water) and the "Tequilin' Me Softly," made with silver tequila, lime, cranberry juice, and ginger beer.
As Fells Point continues to thrive with more waterfront attractions and destination dining, Burkert—who also owns stalwart record store The Sound Garden and artsy dance club The Rockwell in the neighborhood—is enthusiastic about opening a hangout that caters to locals.
"My hope is that everybody can find something different that they like about the place," he says. "If we can achieve that, it will be a success."