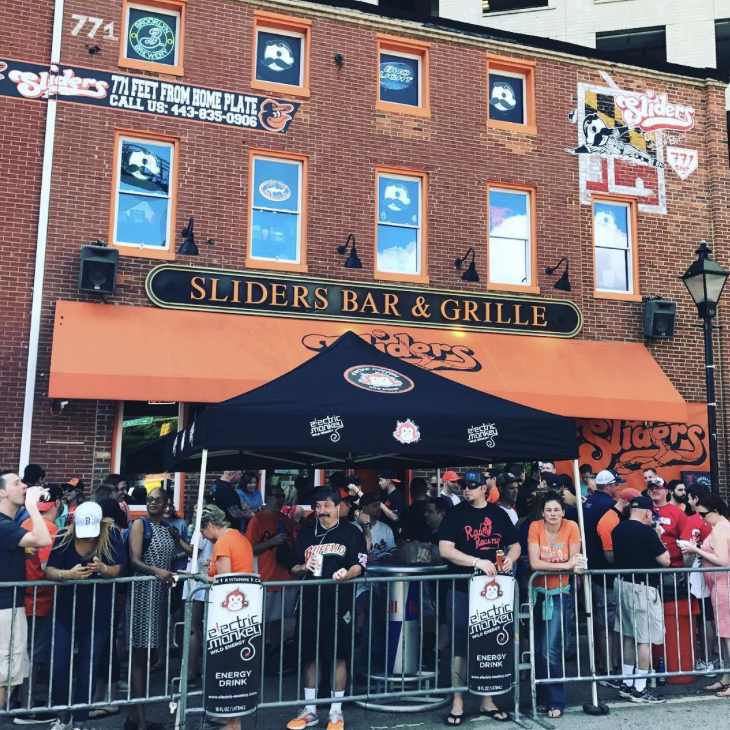 @theelectricmonkey via Instagram
Rachel Sheubrooks started serving Orioles fans when she was 14, and she hasn't stopped since. Throughout high school—when she wasn't doing schoolwork or playing field hockey for the Catonsville Comets—she worked at Boog's BBQ inside Camden Yards.
"That was my first job," she recalls. "I have such great memories there. My son's second birthday was in September, and Boog [Powell] signed every single one of his invitations."
After a brief move to South Carolina after college, Sheubrooks returned to Baltimore and found herself managing Sliders Bar & Grille on Washington Boulevard. The famed Orioles headquarters opened in 1990—the same year that Camden Yards was starting to be built—and became known for its location 771 feet away from home plate. (Sheubrooks says that the exact proximity was measured by construction workers who built the stadium.)
In the spring of 2007, Sliders' previous owner was readying for retirement and offered to sell the bar to Sheubrooks. The sale officially went through at the end of March that year, giving Sheubrooks and her team just over a week to make the necessary preparations for opening day.
"The previous owner had already been halfway out the door," she says. "So we basically had 10 days to get our lives together. At the time, my cousin was running Luckie's Tavern at Power Plant Live, and he sent all of his workers over to help me. We just kind of banged it out. It was scary, but really fun at the same time."
Though now they are certainly less rushed, Sheubrooks' team puts the same attention and precision into preparing for opening day at Sliders currently as they did 11 years ago. In anticipation for March 29, staffers have already begun cleaning the entire space, polishing Sheubrooks' 400-piece bobblehead collection, and scheduling the necessary plumbing and electrical inspections.
"You always want to know ahead of time if something is on the brink of breaking," she says. "That's not what you want to happen on opening day. And each year you learn from your mistakes. We always have meetings before and after opening day with all of our staff, and everyone has to go around the room and say one thing that worked and one thing that has to change next year."
Sheubrooks likes to keep things fresh for every opener, whether that means introducing new signage, windows, or menu items. This time around, the pub has a fresh coat of paint.
Fans can also look forward to additional outdoor bars, as well as a revamped game-day menu with eats including house-made Old Bay chips, loaded tots, and a "Crack of the Bat" wrap filled with spicy barbecue chicken.
Of course, there will also be Sliders' signature 32-oz. "bird bowls" filled with Orange Crush, and plenty of Natty Boh to go around. The pub became a full-blown Boh bar last year, and now boasts a colorful mural of Mr. Boh sliding into home plate on the outside of the building.
In order to accommodate the swarms of fans that show up to celebrate, Sheubrooks schedules more than double the amount of staff that is needed at Sliders on any typical day of service. On opening day, she employs nearly 22 security guards and nine bar-backs. (Each position usually requires a maximum of two people on a regular day.) And the number of bartenders increases from six to 42. 
Though Sheubrooks herself doesn't typically work nights, she is planning to work a 24-hour shift starting at 2 a.m. on opening day. 
"This year we're going to set up the night before so that everyone can just keep the momentum going," she says. "I've been taking Emergen-C every day—I'll have an extra Red Bull. It's one day a year, so you have to be pumped."