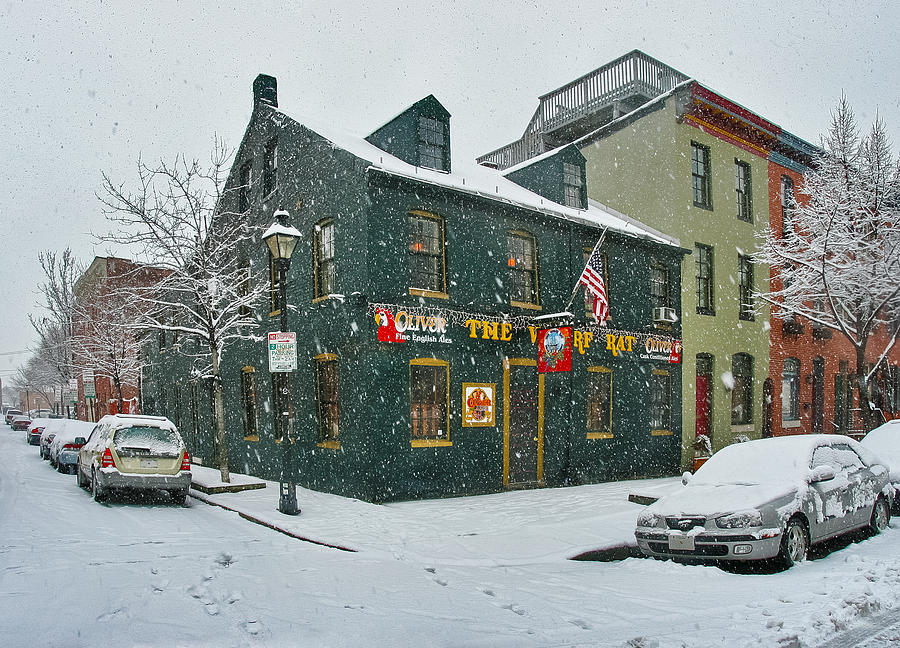 The Wharf Rat
While some of us are stuck in traffic or glued to our desks for the day, there are plenty of other (read: better) ways to enjoy Baltimore's first snow of the season. Here we've complied some food and drink specials to warm up anyone's day.
Mahaffey's Pub: No strangers to snow, the Denver-based Great Divide Brewing Company will have some of its beer featured at Mahaffey's Pub in Canton. Starting at 3 p.m., guests can sip on Yeti, an espresso oak aged imperial stout while also enjoying Mahaffey's steak night and giveaways that begin at 6 p.m. 2706 Dillon St., 410-276-9899.
Brewer's Cask: The Federal Hill beer bar opened a few hours early, at noon today, and is offering three craft beers for $8. Customers can choose from 20 specialty craft beers on tap and also get a half-price burger (which is a new weekly special). 1236 Light St., 410-273-9377.
Sláinte Irish Pub: This Fells Point pub (now with a full three floors of enjoyment) is serving breakfast with $10 bottomless Bloody Marys and mimosas. There will also be $6.50 Irish cheesesteaks and $3.50 S.I.P. pints (Sláinte's house beer made by Oliver Brewing). Sports fans can FA Cup and NHL games live all day. 1700 Thames St., 410-563-6600.
Blue Pit BBQ: Starting just yesterday, Blue Pit BBQ in Woodberry is now serving lunch from 11:30 a.m.-4 p.m. The menu includes items like a bratwurst sandwich on a pretzel roll, chopped brisket, Chesapeake pickleback slaw, and four-cheese mac. If that doesn't keep you warm enough, the restaurant's whiskey bar will also be open during lunch. 1601 Union Ave., 443-948-5590.
Hamilton Bakery: If you want to go a bit more wholesome, Hamilton Bakery will be offering a free large cup of coffee with a purchase of any pastry. And not just any coffee, but Zeke's custom Hamilton Bakery Blend. 5414 Harford Rd., 410-254-0797.
The Wharf Rat: If it's a huge fireplace you want to curl up next to, The Wharf Rat is your best bet. The bar is running its three half-pints for $8 special today, and the spot's huge, open hearth will be roaring in the back bar. 801 S. Ann St., 410-276-8304.