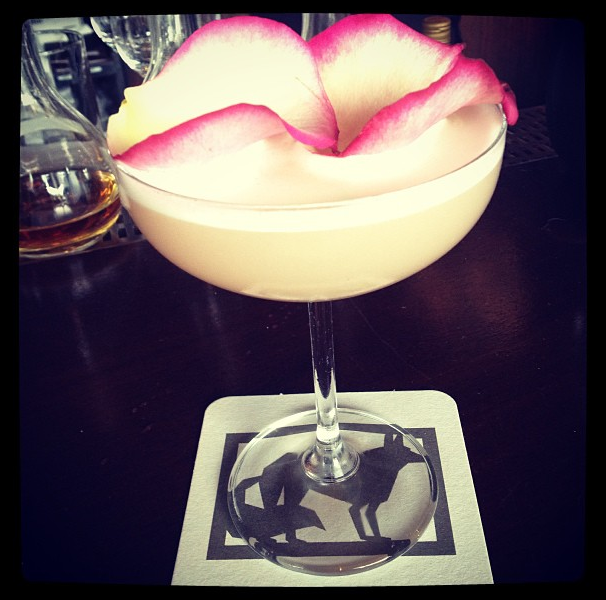 Last night we were lucky enough to be invited to sample the new spring cocktails at Wit & Wisdom and PABU—both located inside the Four Seasons Hotel Baltimore. The evening was special for a lot of reasons: Wit & Wisdom just hired a new lead bartender, Aaron Joseph; the bars opened their patio up for the first time last week; and PABU was celebrating its one-year anniversary.
And, of course, both bars are rolling out their new spring cocktails. If you want spring in a drink, try Wit & Wisdom's Edinburgh Rose, pictured, made with Edinburgh gin, Lillet Rouge (French aperitif wine), house-made rose petal syrup, lemon, and an egg white garnished with rose petals. This cocktail is clean, the gin doesn't bog it down with juniper, and the egg white blends the sweet and tangy flavors of the drink.
Lead bartender Joseph shared some of his history with us and he has worked in the Caribbean, on the Eastern Shore, and in some of the finest craft cocktail bars in D.C. His resume is reflected on the drink menu. There's the Red Rum Punch made with Mount Gay Eclipse rum, passion-berry tea, lemon, orange, and sugar cane syrup garnished with a mint sprig and orange peel. This drink—which should properly be sipped on a patio—was tropical enough without being overbearing. It was more tart than sweet and the tea added an aromatic quality. A local must-try is the Eastern Shore Shandy made with local Sloop Betty vodka, lemon, house made Old Bay Syrup, and Heavy Seas Small Craft Warning, garnished with an Old Bay rim. This take on a classic shandy is like a crab feast in a glass—spicy, buttery, and delicious.
The last drink we sampled was the Farragut, an extremely well-balanced mix of Four Roses bourbon, Nux Alpina walnut liqueur, sugar-free maple syrup, orange, and lemon, served over an ice ball and garnished with grated cinnamon and an orange peel. This cocktail hit all the right notes: smoky, sweet, and smooth. The perfect drink for those chillier spring nights.
Then we made our way over to PABU. This was my first time visiting the Japanese restaurant and bar. And it was a great night to do so. Because of its one-year anniversary, PABU brought in guest chefs from Roy's and The Food Market to create dishes, and featured dessert from Charm City Cakes. All of the food was excellent (especially a to-die-for soft-shell crab with lime-cilantro dipping sauce from The Food Market's Chad Gauss).
We sampled PABU's spring cocktail menu as well, guided by lead bartender Nick Jones. Highlights for us included the Cobra Kai (Jones's tribute to Karate Kid), with Dewazakura Oka sake, Lillet Rouge, white tea syrup, lime juice, and sparking wine. The sake's cherry flavor married nicely with the tart lime and light, white tea. We tried additional sake with the help of Sommelier Tiffany Dawn Soto, who recommended the Okunomatsu Sparkling Daiginjo, which was like the champagne of sakes—bubbly and sweet with notes of melon and honey. Perfect way to cap our night!
Of course, these two places are on the swankier side of Baltimore bars (cocktails were $9-12 each), but if you're feeling fancy or just simply want to celebrate springtime, these two Four Seasons gems—with incredibly knowledgeable staff—are the perfect places to do just that.