Daily Bread
These beach town sandwich shops are sub-perb.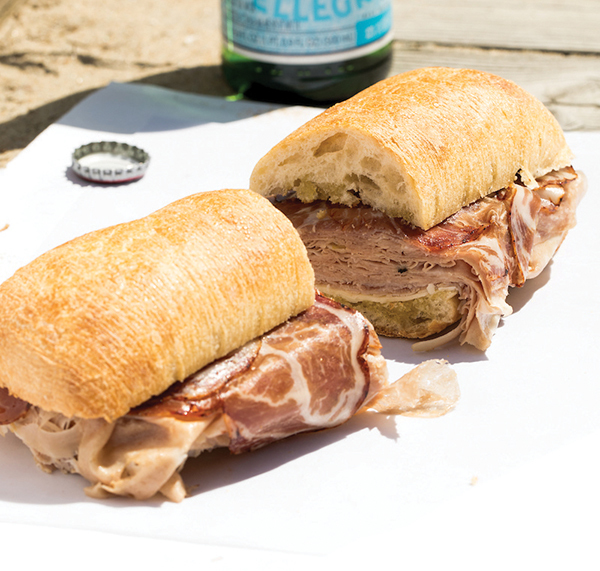 When it comes to vacation, it's not all about dining out. In fact, some of our favorite food memories are the picnics we packed with our friends and family to eat down by the beach. Luckily, Route One offers oodles of carryout options, and nothing rewards us after a long day in the sun quite like a quintessential sandwich. With a bag of chips and an ice-cold drink, a sandwich or sub is the ideal beach meal, featuring nearly all your important food groups tucked into one tidy, portable package.
If you're in search of the Holy Grail of hoagies, look no further than Frank & Louie's Italian Specialties (58 Baltimore Ave., Rehoboth, 302-227-5777) at Delaware's Rehoboth Beach. At this small Boot Country grocer, check in with brothers Frank and Louie Bascio—the two bald guys behind the bar—to craft you a killer combo. Always order the Sal's Italian, stuffed with a medley of mortadella, genoa salami, capocollo, prosciutto, ham, and sharp provolone on ciabatta. To avoid the meat sweats, try the vegetarian Maddie's Caddy, packed with paper-thin slices of seasoned eggplant, fresh mozzarella, and roasted red peppers. Just be sure to take a madre-made dessert for the road, with Italian wedding cookies and ricotta pastries made by the Bascios' own mother, Diane.
For all the fixings, also swing by the original Arena's Deli (149 Rehoboth Ave., Rehoboth, 302-227-1272), located just up the street. A beloved staple since 1990, this small sports bar hawks more than 30 sandwiches, ranging from Philly cheesesteaks to veggie-heavy powerhouses and the truly terrific California Club Dude, with oven-roasted turkey, thick slices of avocado, Monterey Jack, and alfalfa sprouts on whole wheat. Act like a local by adding bacon and getting it griddled.
Staying closer to Ocean City? Now in its 41st year, DeVito's Italian Deli (14302 Coastal Hwy., Ocean City, 410-250-1122) is somewhat of a local institution. During peak months, lines wrap outside and around the 143rd Street sub shop. (Insider tip: Call ahead.) The paper menu boasts a dozen-plus subs, including turkey, Italian cold-cuts, meatballs, and tuna melts. Consider the Roman Prince, which comes loaded with prosciutto, soppressata, and capocollo on rolls made in-house daily.
Also keep an eye out for Rosenfeld's (6301 Coastal Hwy., Ocean City, 410-520-0283), a year-round Jewish deli with a sign that boasts, "We are a big dill"—and the half-sour pickles to prove it. While a sky-high Reuben might not sound like a fitting lunch on a fiery day, we beg to differ. The Papa Joe pairs house-made corned beef and pastrami with melted Swiss, crunchy slaw, and Russian dressing on toasted marble rye. Eat it with a chilled can of Dr. Brown's black cherry soda and you'll forget you're schvitzing in no time.