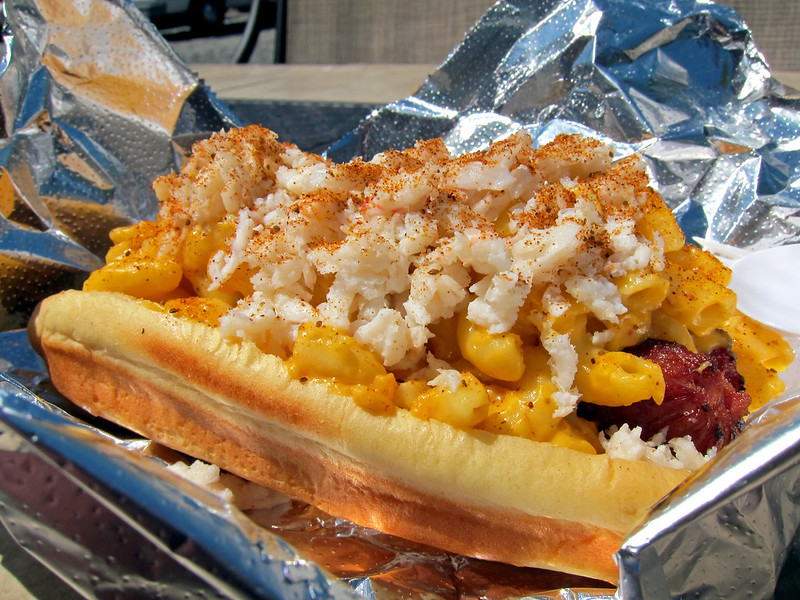 The famous crab mac and cheese dog from Stuggy's. —Photography by Taber Andrew Bain via Flickr Creative Commons
Stuggy's fan-favorite franks are on the move—but they're not going too far.
By the end of the year, the hot dog spot will relocate from its cozy Broadway digs to a bustling Fells Point corner on Fleet Street, in the space that was formerly Papi Cuisine before it moved to South Baltimore. Of course, the new space will offer Stuggy's famous hot dogs, and patrons can expect the signature over-the-top fixins' (think: crab mac and cheese, pulled pork, chili, and jerk chicken) to make their way onto a variety of sandwich creations, too. Another new highlight will be a full bar program.
"I think the prominence of the corner with the foot traffic was extremely appealing to us," owner Ryan Perlberg says of the new address at 1928 Fleet Street. "All of the neighbors around there are salt of the earth. This intersection is really developing—you've got Sacré Sucré, who are incredible, Ale Mary's next door, and Peter's Inn a block away. It's our kind of people."
He adds that, along with carryout, the new Stuggy's will allow for dining in—both indoor and outdoor—with about 75 seats inside. For the sandwiches, Perlberg says they've committed to getting fresh bread delivered daily through a partnership with Ovenbird Bakery, and specials will regularly rotate. The dinner menu will include items such as spaghetti squash dishes and braised meats.
"Forget weekends," Perlberg quips. "We want someone to come in on a Tuesday when they don't want to cook or they're sick of ordering Uber Eats. We just want them to come in and have a great experience."
Perlberg's business partner Perez Klebahn—the duo also manage cocktail bar Rye in Fells Point—is helping develop the menu and bar program.
"He has such a finger on the pulse of what's happening and what's not too pretentious," Perlberg says. "We're kind of approaching this as if Rye was opening up a sandwich shop."
The cocktail list will be approachable and accessible, but still offer plenty of flair, with margaritas, sangrias, and just "good pairings for when you want to have a great turkey avocado sandwich," says Perlberg.
Perlberg says the interior has been tweaked, with a new glass front door and other improvements to lighten up the space, plus lots of greenery to keep things warm and inviting. Other plans include a small dog-friendly menu, ("we're such dog lovers and everyone we know loves dogs," Perlberg says) and weekly programming like trivia nights.
"We're having fun again," he adds. "It's great."