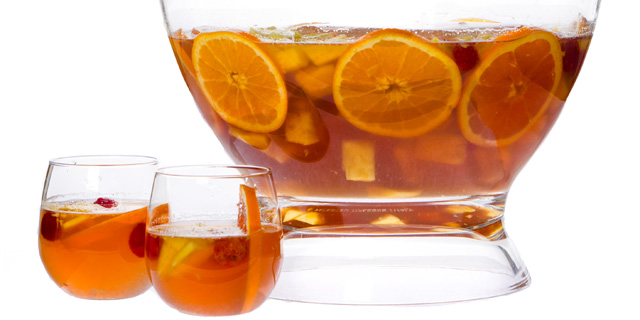 A big trend I've been noticing on cocktails menus has been the revival of the punch bowl. No longer reserved for school dances or holiday parties, the punch bowl is making a comeback at local bars and restaurants.
B&O American Brasserie has the Chesapeake Punch (Maker's Mark, Appleton rum, Cointreau, orange, lime, simple syrup, and Angostura bitters) and the Gangland Courage (Hennessy VS, Batavia Arrack, apricot cordial, ginger syrup, lemon, and sparkling brut).
Additionally, Hersh's Pizza & Drinks (one of our "Best Bars") introduced rotating punches to their menu. Right now, bar manager Jamaal Green is offering the "Brandy and Bubbly" punch, which would make for a perfect Super Bowl party drink. Or, as Green says, "I want everyone to drink themselves into oblivion with this!" Here's the recipe:
19 oz. brandy (Vecchia Romagna)
11.5 oz. fresh-squeezed orange juice, house-made grenadine, and simple syrup…equal parts
7.6 oz. of squeezed lemon juice
750 ml of prosecco or cava
.5 liter of club soda
Garnish with two lemons sliced into wheels, one orange into half wheels. Can serve 30 per four-ounce serving. Add two egg-shaped ice blocks or one large.
[Image: courtesy of thelatinkitchen.com]