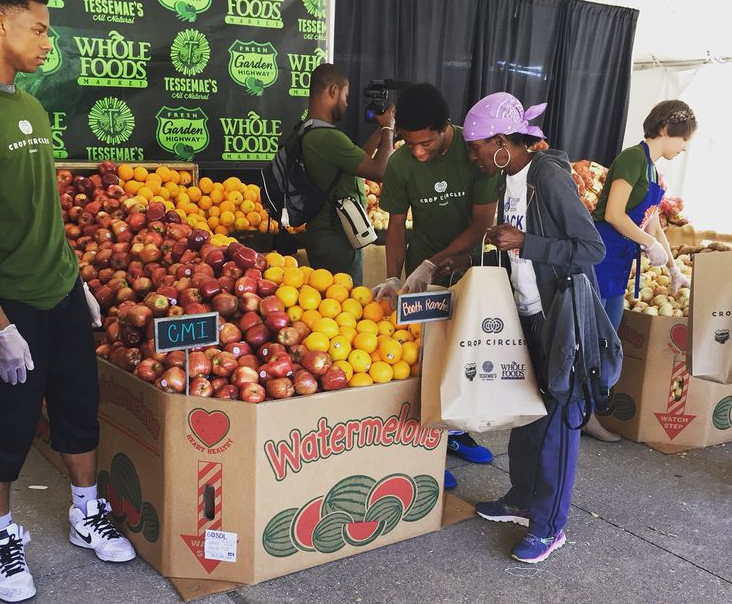 Courtesy of Tessemae's All Natural
A recent food map created by The Johns Hopkins Center for a Livable Future estimates that one in four Baltimore City residents currently live in food deserts—neighborhoods where access to healthy produce and quality grocery stores is extremely limited.
In an effort to combat this ongoing crisis, Baltimore-based condiment purveyor Tessemae's is bringing its national pop-up farmers' market initiative to its hometown this weekend.
On Saturday, November 21, Tessemae's will host Crop Circles, a free produce drive complete with kid-friendly activities, cooking demonstrations, and live DJ entertainment, at New Hope Academy from 10 a.m. to 3 p.m.
"I have three kids with a fourth on the way, and when you have kids you really understand the direct effect of nutrition on everything that they do," says Tessemae's CEO Greg Vetter. "Initially our idea was to put salad bars in schools, but then we realized that we would have to ask permission from school districts to do that. With Crop Circles, we wanted to find a way to really get out there and do something."
In keeping with Vetter's proactive philosophy, the Tessemae's team plans to distribute more than 40,000 pounds of fruits and vegetables to an estimated 8,000 locals living in food deserts throughout the city. The produce has been donated by California-based company Renaissance Food Group.
"It's definitely more significant coming home to Baltimore because this is where we're from," Vetter says. "I don't want to say we care more, but we have more knowledge of the severity of the situation here."
The family-run company first rolled out the Crop Circles campaign last spring, with pop-ups in Compton, CA and Englewood, IL. Vetter says that these events saw huge success, (Grammy award-winning hip-hop artist Kendrick Lamar even stopped by to show his support in Compton), bringing an unprecedented amount of free healthy food to thousands of families in need.
"When we were in Chicago, a little boy eating an apple walked up to my brother Brian and told him, 'This apple tastes crunchy, like chips, usually the apples we get taste horrible and mushy.'" he says. "We were just like, 'Holy shit, this kid is 5 years old and has never had a good apple.'"
Local sustainability champions expected to attend Saturday's event include Rep. Elijah E. Cummings, restaurateur Spike Gjerde, Ravens all-star Ed Reed, and Mayor Stephanie Rawlings-Blake, whose administration has made food justice a top priority through the years.
To further educate the community about Crop Circles' mission, Gjerde and his Woodberry Kitchen team will be holding live cooking workshops throughout the afternoon, demonstrating recipes that can be made with local produce.
Looking ahead, Vetter hopes to host three to four yearly pop-ups nationwide. Additionally, in hopes of making a long-lasting impact, a portion of the proceeds from Tesseamae's online sales will go toward establishing gardens and produce stands in each city that Crop Circles visits.
"Food dictates life," he says, "It sounds really simple but it's so true. If you have a great meal, you are going to feel better. Every amazing memory that you have is tied to good food, and it's impossible for these people have a good life without it."