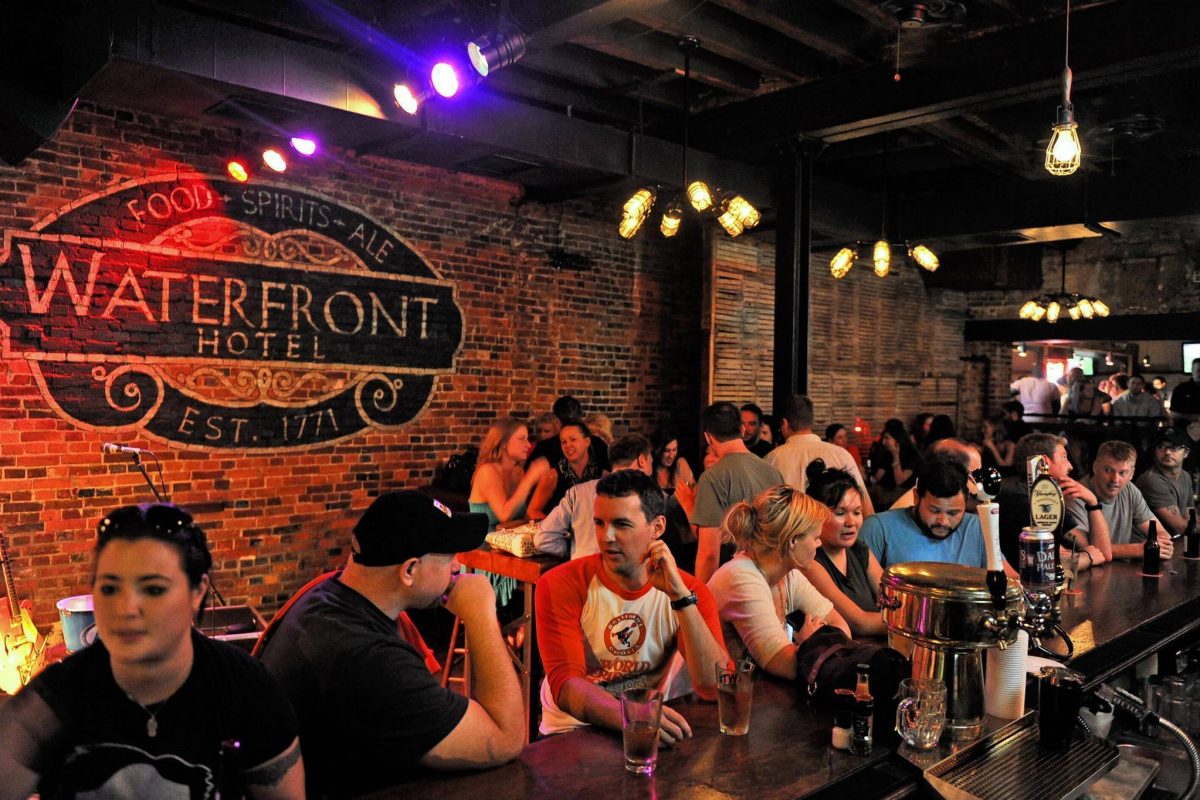 Courtesy of Waterfront Hotel
Back in the fall of 2001, Kenny Liner rented out the old Paloma's space in Mt. Vernon to host the first-ever show that he and his bandmates would play as The Bridge. The concert just so happened to fall on Thanksgiving Eve, making it convenient for a bunch of old friends to hear the band's debut while back in town for the holiday.
"Like so many other awesome things in life, that part was just a coincidence that wound up being a great idea," Liner says. "Five-hundred people showed up to a place that could only hold like 200. It was a really crazy, awesome time."
Although the members of the iconic funk-and-blues collective have since parted ways, they've made a tradition of playing reunion shows the night before Thanksgiving each year.
Once again, the six-man crew—including celebrated vocalist Cris Jacobs, saxophonist Patrick Rainey, bass player Dave Markowitz, drummer Mike Gambone, and keyboard player Mark Brown—is getting together for a sold-out performance at Union Collective on November 27.
"It's all about nostalgia for us," Liner says. "We're definitely coming up with some good ideas to keep people interested, but we know that, at this point, when people are coming to see The Bridge they're not coming to hear new stuff. They want to hear the songs that they miss hearing."
Whether squeezing their way through the crowd at the annual Bridge reunion, or heading to neighborhood bars to catch up with old friends, Baltimoreans have grown to embrace Thanksgiving Eve as a requisite kickoff to the fall holiday. Liner credits this, in part, to the area's tight-knit high school culture.
"So many people are happy to come home and make those connections from their childhood and high school years," he says. "On Thanksgiving, Thursday is for the families, but Wednesday is for the friends."
In keeping with that sentiment, we've rounded up a few bar specials and events perfect for celebrating with your best buds. Before filling up on turkey, head to these spots around town to jumpstart the long weekend in style.
Thanksgiving Eve Shindig at Waterfront Hotel: Squeeze your way through the crowd at this Fells Point mainstay to dance to live music while ordering rounds of discounted drinks. Musician Grayson Moon will kick off the evening at 4 p.m., and No Off Switch will take the stage at 10 p.m. While jamming all of the live tunes, be sure to sample a $6 pint of Waterfront's new exclusive Can Town beer. 1710 Thames St.
Friendsgiving at Black Flag Brewing Co.: This Columbia hangout is throwing its all-day Friendsgiving bash complete with two new releases and discounts on cases to bring to your Thanksgiving celebration. Plus, T&J waffles will be on site slinging waffle sandwiches from 11 a.m.-3 p.m., and Mardi Gras Thyme will serve its fried fish and smoked mac and cheese from 4 p.m. until close. 9315 Snowden River Pkwy., Ste. C., Columbia. 4 p.m.-12 a.m. 443-864-5139
Thanksgiving Eve Buck-a-Shuck: Veteran brewpub Red Brick Station is ringing in the holiday with its annual oyster fest. Head to the spot to enjoy Eastern Shore oysters shucked to order, as well as $3 house beers, $5 glasses of sauvignon blanc, and $5 Orange Crushes and oyster shooters. 8149 Honeygo Blvd., White Marsh, 7-9 p.m. 410-931-7827
All-Night Happy Hour at Bar Vasquez: This Argentinian hotspot in Harbor East has become known for its $5 happy hour menu that rotates monthly. Normally, the specials only last until 7 p.m. But, in honor of Thanksgiving Eve, Bar Vasquez is offering the discounted drinks and snacks all night long. The November menu includes the "La Uva Borracha" (The Drunk Grape) cocktail—which mixes cachaca with lemon juice, agave syrup, and housemade grape syrup. It also features $5 wines and pintxos such as black bean soup and crispy broccoli with lemon-caper aioli. 1425 Aliceanna St. 410-534-7296
Thanksgiving Eve at Crossbar: This Federal Hill beer hall takes the biggest drinking night of the year seriously. Head to Crossbar for $5 Smirnoff bombs and Rumple Minze shots. Or, if you're really hoping to get in the spirit, go for the $25 all-you-can-drink deal on domestic beers and rail drinks. 18 E. Cross St.
Thanksgiving Eve Fall Festival at Rathskeller: Hang out on the heated patio at this new Elkridge spot, which is celebrating its first Thanksgiving Eve with German fare, beers, hot chocolate, warm cider, and mulled wine. The $40 price of admission includes bottomless eats and drinks and live music all night. 5782 Main St., Elkridge.
Fully Tilted Thanksgiving Eve: If you haven't had the chance to try Full Tilt's special barrel-aged Patterson Pumpkin ale this season, head to the Towson taproom to sip the fall-inspired release while challenging your friends to retro arcade games. The brewery will offer beat-the-clock specials including $3 beers and Cranberry Crushes from 3-4 p.m., $4 drinks from 4-5 p.m., and $5 beers and Crushes from 5 p.m. until close. There will also be live music by Daniel Roberts and a 25 percent-off deal on all crowlers and six-packs for those stocking up for the holiday weekend. 5604 York Rd.
Thanksgiving Eve at Bond Street Social: Spend the biggest drinking night of the year sipping cocktails and sampling hors d'oeuvres at this Fells Point social spot, which will feature live DJ music all night long. A $10 cover gets you one free drink and passed light fare. 901 S. Bond St. 9 p.m. $10. 443-449-6234
Dranksgiving at Jailbreak Brewing Co.: Garage folk act Skribe is headlining this second-annual get-together at Jailbreak's taproom in Laurel. In the spirit of giving back, the brewery is offering all-night happy hour deals to all patrons who bring in a non-perishable food item for Laurel Advocacy & Referral Services (LARS)—a local organization that works to end homelessness. Additionally, 10 percent of all beer sales throughout the evening will be donated to LARS. The evening will also feature firkins, festive eats, and the release of "It's Christmas Dammit"—the brewery's Belgian holiday ale created in collaboration with Downtown Crown Wine & Beer in Gaithersburg. 9445 Washington Blvd. North, Ste. F, Laurel. 443-345-9699
Thanksgiving Eve Party at Looney's: The Canton location of this fan-favorite sports bar is kicking off the holiday weekend with music spun by DJ Rampage and drink deals starting at 7 p.m. Later in the evening, bartenders will spin a wheel every half hour to determine which specials will be running until last call. Among them will be $2 Miller Lite bottles, $4 craft beers, and $4 Deep Eddy vodka drinks. 2900 O'Donnell St.
Friends Trivia Bar Crawl: Before you watch re-runs of all the Friends' Thanksgiving episodes on Thursday, test your knowledge of the show at this Power Plant Live bar crawl. Dress in your '90s garb, or as your favorite character, to answer questions about the long-running sitcom while sipping drink specials at many of the district's bars. 10 Market Place.
Thanksgiving Eve Party at La Palapa Grill & Cantina: Ellicott City natives come out in droves for this annual night-before-Thanksgiving bash. Take advantage of food-and-drink specials, heated tents, live DJs, and satellite bars, and chowing down on tacos and gathering free swag. The night will begin with happy hour at 4 p.m. and continue until last call. 8307 Main St., Ellicott City.