—Courtesy of Atwater's via Facebook
There are a lot of things to be thankful for this holiday season, and—thanks to the local food scene—the ability to ditch the pre-Turkey Day prep is one of them. Plenty of restaurants are open on Thanksgiving, but, if you're hosting at home or heading to a potluck, there are also seemingly endless carryout options. It might be hard parting with your favorite recipes, but these locally made, ready-to-eat options provide all of the fixings and trimmings without any of the extra work. You can thank us later. (If you're on dessert duty, head over to our ultimate pie guide to narrow down the sweet selections.)
Atwater's: With four locations scattered everywhere from Canton to Catonsville, this fan-favorite cafe chain is a holiday one-stop shop. Choose from fully prepared turkey dinners or individual bread, soup, and side options. (Think: apple and pecan-laden Brussels sprouts or sausage and cornbread stuffing.) Also, the artisanal jams and cheeses are perfect if you're assembling a Friendsgiving grazing board.
Order deadline: Order by Nov. 19 at 6 p.m. for in-store pickup Nov. 21 and 22.
B'more Made With Pride: The collective of chefs and bakers stationed at this Harford Road culinary hub has put together a takeout menu with all of the essentials. Build your feast around entrees such as whole turkey, pork loin, and cornish hen. Sides on offer include Maryland-style crab and shrimp dressing, classic mac and cheese, collard and kale greens, and candied yams.
Order deadline: Order by Nov. 18. You can pick up in store Nov. 22 and 23, or opt for delivery on Thanksgiving morning (within a 15-mile radius.)
Bin 604 Wine + Spirits: Wine is an important element of any holiday meal. (Perhaps the most important part, but we'll let you decide.) If you don't want to show up empty-handed, this Harbor East bottle shop is offering a special "Funky Turkey Pack," which includes six unique blends (at a 21.3 percent discount!) perfect for pairing with your holiday favorites.
Blacksauce Kitchen: Walking in with comforting meats and sides from this Remington smokehouse will make you the talk of the table. Mouthwatering menu items include cider-braised turkey, smoked beef short ribs, brisket cornbread dressing, sweet potato slab pie, and buttermilk biscuits by the half dozen.
Order deadline: Order online by Sunday, Nov. 19 for pickup on Nov. 22.
BlueStone Restaurant: The team at this Timonium go-to is pulling out all the stops for this year's take-home feast. Serving six to eight people, the carryout deal includes boneless honey garlic-glazed turkey breasts, buttermilk-chive mashed potatoes, green bean casserole, cranberry sauce, and gravy. If you're feeding a crew, add-ons include crab soup by the quart, trays of baked mac and cheese, and a family-size salad.
Order deadline: Pre-order by Nov. 17 for curbside pickup on Nov. 22.
Braglio Farms: Save time this year by pre-ordering your bird from this family-owned farm in Woodstock. Opt for fresh or smoked whole turkeys that range from 10 to 25 pounds. To make things even easier, Braglio is offering a "Smokehouse Turkey Kit" that includes a turkey rub, SPG (salt, pepper, garlic) rub, smokehouse brine blend, and a brine bag.
Order deadline: Reserve your turkey ASAP for pickup at the farm Nov. 21-23.
The Capital Grille: To impress your guests without lifting a finger, set the table with brioche stuffing, cranberry-pear chutney, French green beans, pecan-crusted sweet potatoes with hot honey, and other carryout sides from this downtown steakhouse.
Order deadline: There is no deadline to order for pick up on Nov. 22 or the morning of Thanksgiving.
The Classic Catering People: This Owings Mills caterer is offering a stellar selection of eats and treats. Catering for a crew includes a full feast, plant-based package, individual holiday plates, or a "Everything but the Turkey" deal that includes all of the classic sides. Additionally, a la carte options range from candied bacon straws and stuffed mushrooms to corn pudding, lobster mac and cheese, and pumpkin samosas. (No, no one has to know you didn't make them.)
Order deadline: Order by Nov. 16 for pickup or delivery on Nov. 22.
The Corner Pantry: Mouthwatering holiday apps and sides—such as caramelized onion dip, roasted butternut squash soup, and scallion nutmeg mashed potatoes—are yours for the taking at this Mt. Washington mainstay.
Order deadline: Place your order by Nov. 17 for pickup on Nov. 22.
Eddie's of Roland Park: This Roland Park fixture is once again rolling out its "Holiday in a Box" family feasts. Choose from the traditional hand-carved or whole turkey dinners, or go for the "Turkey Dinner Nouveau" with upgraded spins such as apple sausage stuffing and truffled mushroom-thyme gravy. Five dollars from each order supports the Maryland Food Bank, benefiting families in need during the holiday season.
Order deadline: Place your order with 72 hours notice for pickup or delivery.
The Gourmet Girls: Let the experts at this Pikesville market handle the cooking this year. The holiday menu boasts all the classics—from turkey (locally sourced from Albright Farms in Phoenix), stuffed chicken, and brown sugar-glazed ham to all of the sides. Picture dishes such as candied sweet potatoes with glazed pecans, roasted autumn vegetables, sweet and sour sauerkraut, and honey roasted butternut squash.
Order deadline: Orders must be placed by Nov. 16.
Gundalow Gourmet: Take the pressure off by letting the team at this local staple—headquartered at The Shops at Kenilworth—take the reins. Pre-order casseroles, vegetables, and baked goods to compliment the bird. Highlights include mascarpone mashed potatoes, pecan praline sweet potatoes, and lemon-shallot haricot verts.
Order deadline: Place pre-orders online ASAP for pick-up.
Heritage Smokehouse: The Govans pit palace is going all out with whole-smoked turkeys, smoked ham, a variety of sausages, and sides like corn pudding and honey-butter yeast rolls. The custard-style "Jen's Grammy's Sausage Stuffing," highlighting brioche, Italian sausage, and peppers, is also a must-try.
Order deadline: Fill out the order form and drop it off or email it to [email protected]. You can also order via phone: 443-438-7593. All orders should be submitted ASAP for pickup on Nov. 22 from 3-5 p.m.
H3irloom Food Group: Lean on chefs Dave and Tonya Thomas and their carefully crafted Thanksgiving menu this year. Go the traditional route with H3irloom's whole spatchcocked turkey or, to go a different route, opt for the lamb pot roast or homestyle vegan meatloaf. Plus, choose from a lengthy list of sides, breads, and flavorful condiments (cranberry hibiscus preserves, anyone?) to upgrade your holiday meal. Desserts on offer include a spiked apple cider pound cake and a Southern coconut cake.
Order deadline: Order by Nov. 14 for curbside pickup from H3irloom's Northeast Baltimore kitchen on Nov. 21.
Kora Lee's Cafe: Whether you're in need of a meal for one or dinner for eight, this Catonsville cafe has you covered. Catered meals include your choice of two entrees (options include fried cornish hens, lamb chops, and stuffed salmon) plus four sides, bread, cranberry sauce, and dessert. A la carte sides and desserts are also highlights.
Order deadline: Orders should be placed by phone, email, or online ASAP.
Mama's on the Half Shell: Having a very Bawlmer Thanksgiving? The Canton seafood fixture has you covered with eats like coddies, mini crab cakes, crab dip, steamed shrimp, Maryland crab soup, and fried oysters. But there are also more traditional meal deals, including turkey plates, a ham dinner, or rosemary lamb lollipops. Highlighted a la carte sides (think: honey-glazed carrots, oyster stuffing, and sweet potato mash) are also plentiful.
Order deadline: Order online now for pickup Nov. 20-23.
Our Time Kitchen: Combining the culinary expertise of eight small businesses, this shared kitchen in Old Goucher is curating a lengthy list of specialty dishes to choose from. The collaborative menu allows you to personalize your feast, with options including hot smoked honey salmon by stuffed turkey breast by Cane de Sucre, jerk chicken rasta pasta by Nafasi Catering, sweet potato pie by Chauncey's, and chestnut stuffing by Wild Thyme.
Order deadline: Pre-order pickup Nov. 22 and 23.
Sally O's: The team at this Highlandtown hangout is whipping up a menu of specialty sides and pies, including Velveeta-style shells and cheese, mashed Yukon gold potatoes, braised collard greens, cornbread stuffing, and creamed spinach.
Order deadline: Order online before Nov. 20 for pickup after 5 p.m. on Nov. 22.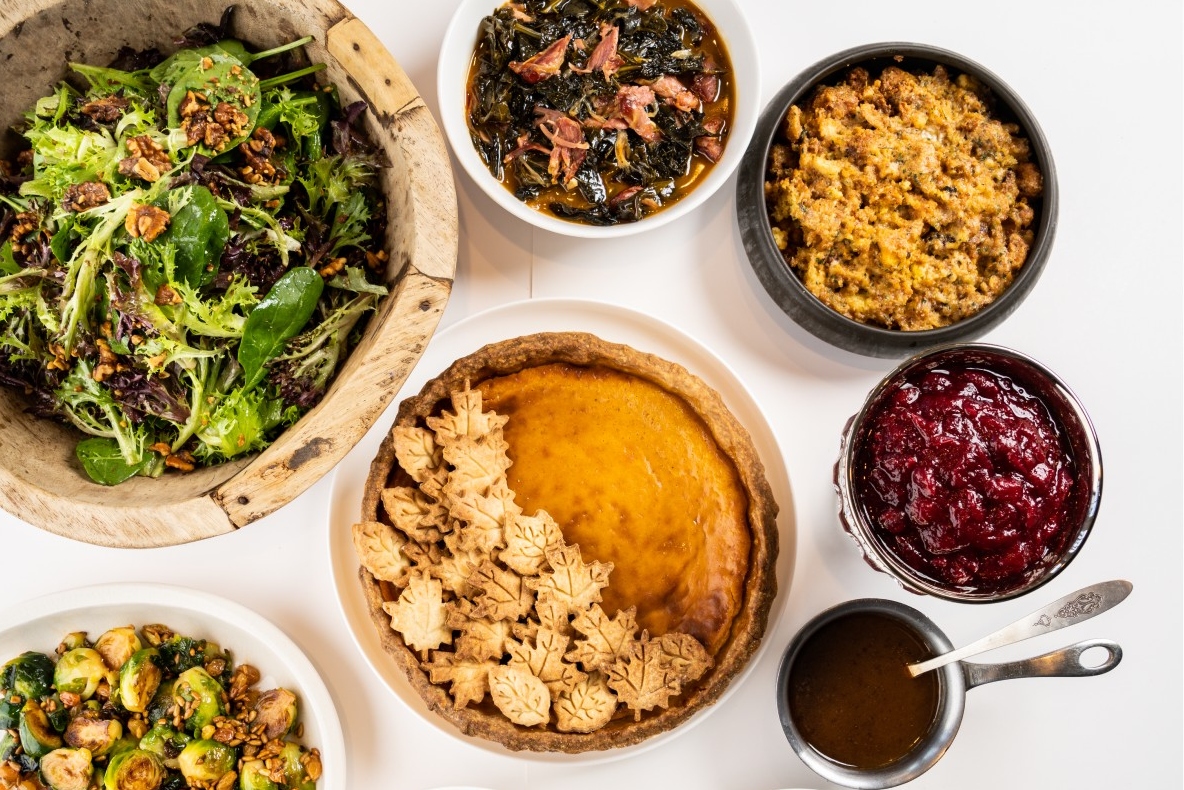 Santoni's Marketplace & Catering: When it comes to catering, this Glyndon market operates like a well-oiled machine. The holiday menu offers all the usual favorites, plus Maryland-inspired spins like Chesapeake-style oyster stuffing and jumbo lump crab fondue.
Order deadline: All orders must be placed by Nov. 19 at 4 p.m. (Get a $10 coupon for a future purchase if you order early by Nov. 14.)
Seasons 52: Pick up your turkey dinner at this wine bar and grill in Columbia. Feeding groups of four to six, the Thanksgiving box packs all the classics plus mini pumpkin pies.
Order deadline: Orders should be placed ASAP and picked up on Nov. 22.
Soul Kuisine Cafe: Another great option to embellish your holiday table this year, Soul Kuisine on North Avenue is offering heat-and-serve meals that will make holiday prep seamless. The customizable dinner includes herb-roasted turkey wings, pan gravy, cornbread, your choice of three sides, and one dessert. Add-ons include baby back ribs, cabbage, and jumbo lump crab cakes.
Order deadline: Orders must be placed by Nov. 17 for pick-up on Nov. 22.
Taste This: Nothing says comfort food quite like the menu at this Southern spot, which operates locations in Charles Village and Lauraville. The special holiday package serves 25 and includes a slow-roasted turkey or pineapple-glazed ham with either rice or stuffing. You can also choose from sides like mac and cheese, corn and asparagus, yams, cabbage, or mashed potatoes.
Order deadline: Orders must be placed by Nov. 19 at noon.
Thacher & Rye: So, let's say you have the turkey covered, but you still need to fill the table out with sides. This Frederick spot has your back. Chef Bryan Voltaggio's to-go meals via Goldbelly offers classics like buttery mashed potatoes, green bean casserole, and orange-cranberry compote.
Order deadline: Schedule orders to be delivered in advance via Goldbelly.