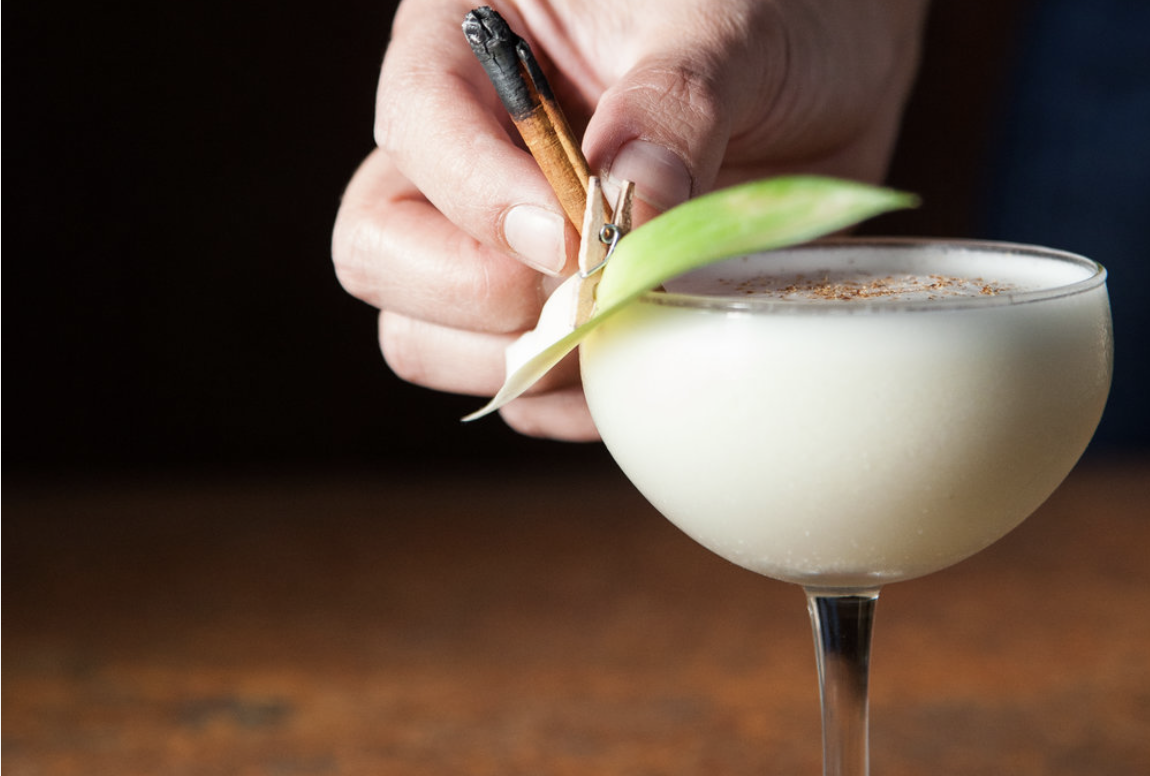 Courtesy of Alma Cocina Latina
National Rum Day couldn't have come at a better time. As the summer draws to a close, we can't think of a more ideal way to savor the season than with a colorful punch or strong Dark 'n' Stormy. And luckily, Charm City is chock-full of industry talent getting creative with rum varieties from near and far.
One of the city's largest rum collections can be found behind the bar at pizza palace and live music venue Joe Squared in Station North. The origins of the bar's inventory date back to 2005, when owner Joe Edwardsen first opened the spot and noticed a need for more rum destinations in the city. Since then, the offerings have grown to include more than 35 rum options from 15 different countries.
"It's a very versatile beverage," says general manager Okan Arabacioglu, who has tended bar at Joe Squared for nearly a decade. "The fermentation and the way it's barreled and aged has a huge impact on how the rum develops into its own character."
Arabacioglu says that he enjoys introducing barflies to the different types of rum, mentioning bottles from as far as Guatemala and the West Indies. Among some of the bar's most popular rum cocktails include a Campari punch, a spin on a traditional rum runner, and a ginger-basil mojito muddled with lime juice, basil leaves, and evaporated cane sugar.
"There are a lot of rums that need to be explored," Arabacioglu says. "Like whiskey, there are many varieties that are so smooth and beautiful, but not a lot of people know about. It's very underappreciated."
Along with Joe Squared, there are plenty of other local spots that boast stellar rum collections. Here are our picks for the best places to celebrate the spirit:
Alma Cocina Latina: The colorful cocktails at this Venezuelan restaurant in the Canton Can Company pair nicely with the dishes that come out of the kitchen looking like works of art. Making use of both foreign (think Papa's Pilar and Brugal) and local Old Line Spirits rum, the bar menu lists many different coladas and island cocktails including the "Playa Desnuda," with pineapple-infused rum, house pineapple kombucha, orange juice, and cardamom bitters. 2400 Boston St., 667-212-4273
Bar Vasquez: This Argentinian spot in Harbor East offers its own spin on a rum and coke featuring Myer's dark rum, fernet branca, Luxardo maraschino liqueur, lime, and cola. Stop by during weekday happy hour to enjoy the sip alongside $5 snacks from 5-7 p.m. 1425 Aliceanna St., 410-534-7296
Blackwater Distilling: Just in time for National Rum Day, this Kent Island-based distillery has finally debuted its new solera-aged rum—an interval process that involves mixing ages in barrels. Plenty of local bars offer Blackwater products, including the fan-favorite Picaroon rum. Among them are Bookmakers, Blue Pit BBQ, and The Oceanaire Seafood Room. 184 Log Canoe Circle, Stevensville, 443-249-3123
Bluebird Cocktail Room: Head to this literary-themed Hampden hangout to sip craft cocktails while browsing classic books. The new summer menu features a frozen pina colada, "Don's Banana Hammock" with rum and bananas, and the "Expression of the Divine," which highlights peach rum. 3600 Hickory Ave., 667-303-3263
Gunther & Co.: Along with a list of house libations, this Brewers Hill bar features a few cocktails spotlighting Gosling's dark rum. Head outside to its picturesque patio to sample the cleverly named "Rye'n Gosling," with Rittenhouse rye, Gosling's dark rum, caffo amaro, agave, and flamed lemon. There is also the "The Ibis," which mixes the dark rum with campari, velvet falernum, pineapple, and lime juice. 3650 Toone St., 443-869-6874
Lobo: Spend happy hour sipping the fan-favorite Mai Tai at this Fells Point watering hole. The signature cocktail ($9) mixes Kraken rum, Appleton white rum, Grand Marnier, fresh-squeezed orange juice, housemade grenadine, and housemade almond syrup. 1900 Aliceanna St., 410-327-0303
Little Havana: This South Baltimore staple stays true to its Cuban inspiration by featuring authentic eats and plenty of rum drinks at the bar. Aside from a traditional mojito, Dark 'n' Stormy, and rum runner, the spot also features a "Goombay Smash" with coconut rum, peach schnapps, pineapple, and orange juice. 1325 Key Highway, 410-837-9903
R. Bar: The centerpiece bar inside Remington food hall R. House will be celebrating Rum Day in style with drinks off of its summer camp-inspired seasonal menu. The rum-focused "This One Time, At Band Camp" (a nod to cult classic American Pie) features Charanda Uruapan Mexican rum, Shrub District strawberry dill shrub, White Envelope spiced syrup, lemon, and mint. 301 W. 29th St., 443-347-3570