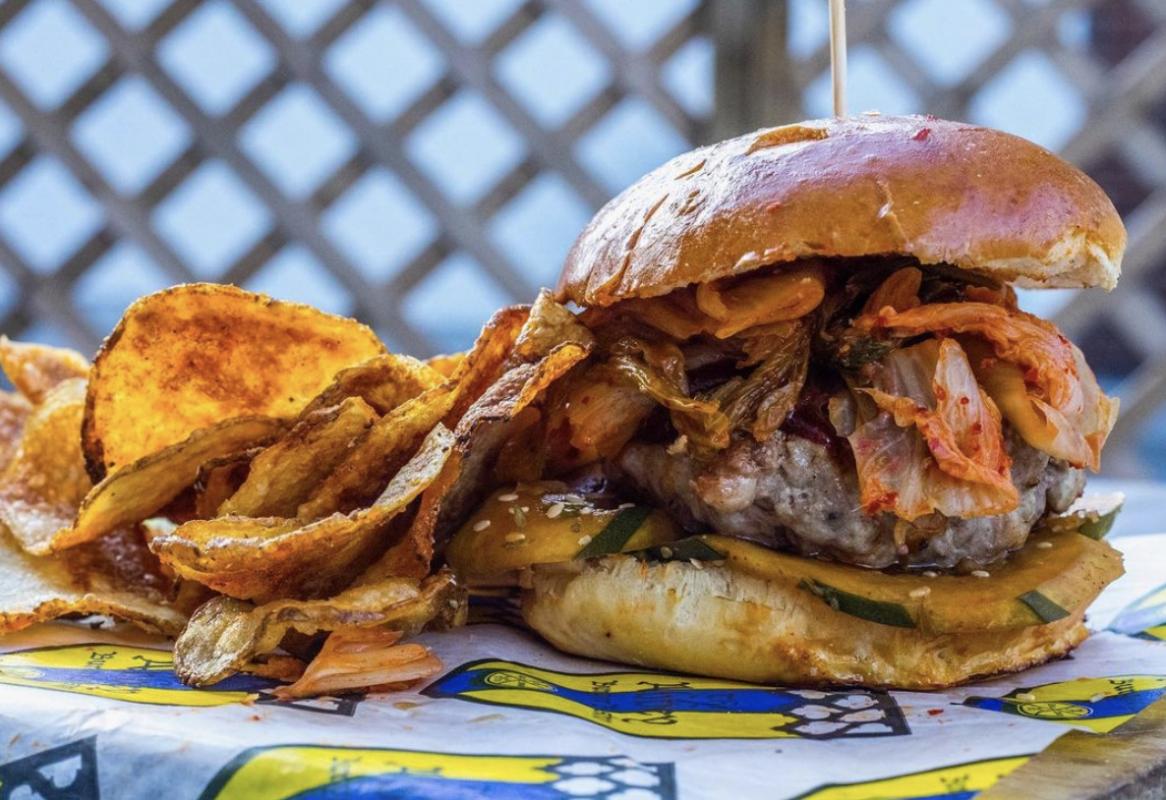 —Courtesy of Abbey Burger Bistro
French fries might be the most popular complement to a hearty burger or sandwich, but there's something to be said for a quality order of crispy kettle chips. (Though we do also love a good bag of Utz from time to time.) Some of the area's most addictive sliced spuds can be found at Todd Conner's in Fells Point, where longtime cook Eric Mason fries up hundreds per day.
"Surprisingly, we get a lot of people who ask for chips as a side as opposed to French fries," says Mason, who has been manning the kitchen for the past decade. "Actually, we have quite a few regular customers who come in to order them with their lunch and then take some with them to go. And we even have some who come in and say they just want chips."
The process, says Mason, involves thinly slicing the crisps and deep-frying them in 350-degree oil. He cooks them until they're golden brown, drains the excess grease, and then coats both sides in a powdered ranch seasoning to give them their signature flavor.
"People really like that we serve them warm," he says. "But other than that, there's really no secret ingredient. We just like to put a little extra love into them, of course."
Aside from Todd Conner's, there are plenty of other pubs whose house-made chips are sure to satisfy snack cravings. Here are our picks:
Abbey Burger Bistro: Though it seems like the side options are endless (think waffle fries, fried pickles, sweet potato fries, and tots), you can't go wrong pairing one of Abbey's massive burgers with a side of golden-brown crisps. If the salty snacks leave you with a sweet tooth craving, order one of the famed Berger Cookie shakes for dessert. Multiple locations including 1041 Marshall St., 443-453-9698
Delia Foley's: The baskets lined with green-and-white checkered paper at this Irish staple in South Baltimore come overflowing with house-cooked kettle chips. The crisps are fried until golden brown and tossed in a signature Texas dry rub seasoning (cayenne, chili powder, onion, garlic, and salt), and served alongside all of the pub's sandwiches, wraps, and grilled cheeses. 1439 S. Charles St., 443-682-9141.
Mt. Washington Tavern: You can't go wrong with a crab cake or shrimp salad sandwich paired with an order of fried lattice chips at this Mt. Washington haunt, which has become a go-to for dinners with friends and cocktails in the upstairs Skybar. 5700 Newbury St., 410-367-6903
Nick's Fish House: There's nothing quite like a crab cake, shrimp salad, or pit beef sandwich on the patio at this waterfront dining destination in South Baltimore. But to make the meal even better, Nick's serves all of its sandwiches with a side of crispy, house-made chips. Throw on your sunglasses and treat yourself to the perfect pairing—and be sure to order an Orange Crush for good measure.
The Velvet Chocolatier: Okay, okay. Chocolate-covered potato chips might not sound like the most conventional combo. But hear us out: The unique confections made at Ruthie Carliner's Pikesville shop are a perfect combination of salty and sweet. A 6-oz. box of dark chocolate-dipped waffle potato chips goes for $25 and can be purchased online.
RegionAle: This Canton sandwich spot—which also operates its flagship in Ellicott City—tosses its house-fried crisps with signature salt and pepper, salt and vinegar, and Old Bay seasonings. They also fry up sweet potato chips, if that's your preference. Stop in today to pair your hearty sandwich—think: everything from a toasty Cubano to Buffalo cauliflower on a roll—with a $1 order of chips in honor of National Potato Chip Day.