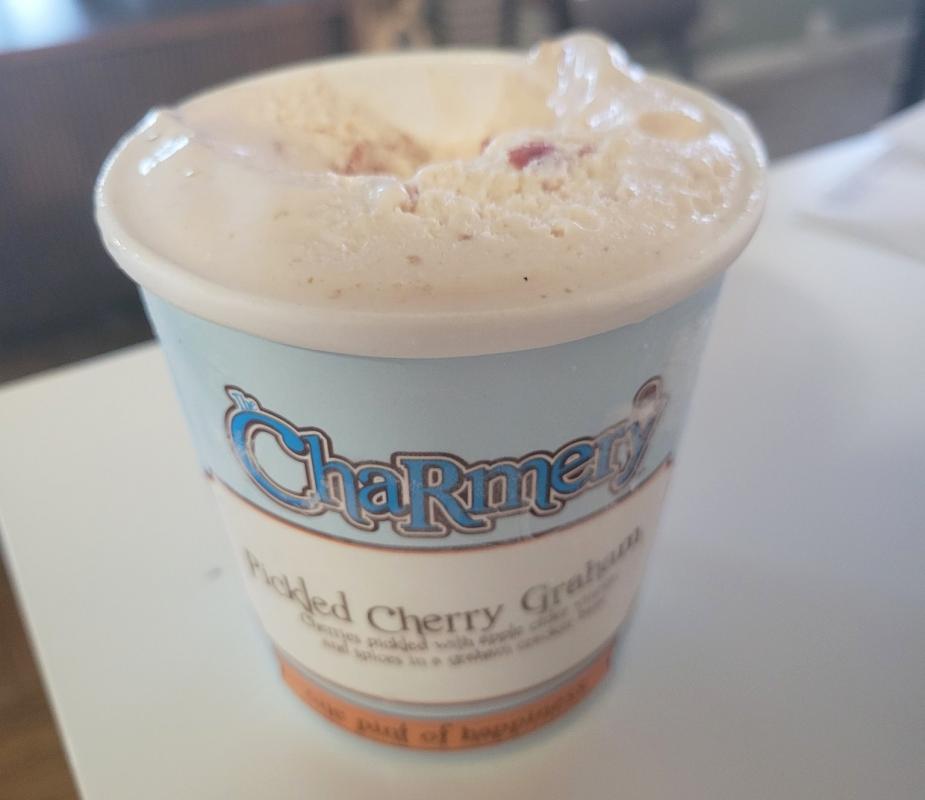 —Courtesy of @KunzelESO via Twitter
Fans of video producer, musician, Baltimore native, and bureaucratic wunderkind Brian David Gilbert can head to one of The Charmery's five locations this weekend to get their hands on a new flavor inspired by Gilbert's foray into ice-cream making.
In a video documenting his own attempts, Gilbert created three "A+" ice cream flavors, a Peanut Butter Lychee, a non-dairy Pina Colada, and an Old Bay Hush Puppy variety that was partially inspired by The Charmery's Old Bay Caramel. 
"If you're in Baltimore, check out [The Charmery], it's great," he said in the video. "If you're not in Baltimore, frickin' rent a car and go there."
Wise words, Brian. The shout out caught the attention of folks at the beloved local ice cream chain, and thus, a collaboration was born.
"[Making ice cream] is one of the many weird, niche hobbies I've gotten into during this pandemic," Gilbert tells us. "I mentioned their really wonderful Old Bay Caramel ice cream because I made an Old Bay ice cream of my own. One of their PR people reached out [about a] collaboration. And I was like, absolutely. Yes. 100 percent. I've always wanted to do that. This is great."
The one ice cream from the original video that didn't quite make the grade was an impromptu cherry vanilla flavor, which was given a B, "with room for improvement."
"When I first started talking to David [Alima, co-owner of The Charmery,] about potential ice creams and ways we could go, I mentioned that it's sort of my white whale now—making a cherry ice cream that's actually good," Gilbert says. "And it was very reassuring, and also very scary, when he responded and was like, 'Oh yeah, cherry ice cream is really hard to do well.'"
Enter The Charmery's ice cream experts, who have concocted a new cherry scoop in collaboration with Gilbert: A+ Pickled Cherry Graham. The flavor features cherries pickled in apple cider vinegar and spices in a graham cracker base.
"[Alima] came back to me and said, 'Hey, what if we pickled the cherries? We've done this with other things where we've pickled berries,'" Gilbert says. "And I'm a big fan of all things pickled. I got super excited when he came up with those ideas, and at that point I was like, 'Yeah, I trust your judgment so much more than I trust my own about ice cream. So if you think that's going to work, I'm all for it.'"
in a wild turn of events, i have fulfilled my dream and made a collab ice cream with @TheCharmery

if you're in baltimore, go check it out (and tell me what i'm missing since i'm extremely sad i cannot be there)!! pic.twitter.com/IYI0RtHc22

— brian david gilbert (@briamgilbert) September 24, 2021
The scoops just hit stores on Sept. 24, but folks on the internet have already confirmed that the new flavor earns its A+. It's good news, considering they put the grade in the name. 
"Omg. The cherry gives it a little sweetness, but not too [much] sweetness," wrote one user on Twitter. "And the graham is the bassline; subtle, but crucial. Like the foundation of a house. Easy A+."  
"What a joy!!!! Delicious!!! Truly A+!!!" raved another.
In addition to being reportedly delicious, the new flavor is also benefiting a good cause. A portion of proceeds will go to the Baltimore Action Legal Team, which works to offer legal assistance to Baltimore communities "as they exercise their civil liberties protesting against injustices rooted in structural racism and economic inequality," according to the organization's website. 
"All of the collabs have at least some part of the proceeds go to a local nonprofit, which I was really excited to hear," Gilbert says. "Specifically, I thought that the Baltimore Action Legal Team was doing really good work. Not only just helping people get out with bail funds, but also educating people on making sure they know when there are illegal detainments, which I think is extremely, extremely important work to be doing."
According to Alima, the Pickled Cherry Graham flavor will be available at all Charmery stores in Hampden, Towson, Columbia, and Federal Hill for the next week or so. So move quickly if you're looking to try out the BDG-approved ice cream. Pints are also available to order online for pickup. 
If you can't make it this week, there's always the option to give it a whirl yourself. Gilbert's missing out on tasting the collab flavor in person (he's preparing for a cross-country move), but he plans on experimenting to recreate the A+ recipe at home. 
"I'm currently literally walking between boxes in my apartment trying to figure out which place to put my ice cream maker so it's easily accessible as soon as I get to my new apartment," Gilbert says. "When I get there, I think I'm going to try to pickle a couple different things and put them into the ice cream. And my poor partner is going to have to deal with a lot of bad ice cream for the next two months until I get it right." 
As for those who wanted to taste the other flavors from the original video, or had ideas for others (a Pepcorn flavor perhaps?), Gilbert has some simple advice: "If you have the opportunity to make your own weird ice cream, you should do it," he says. "It's really worth it."