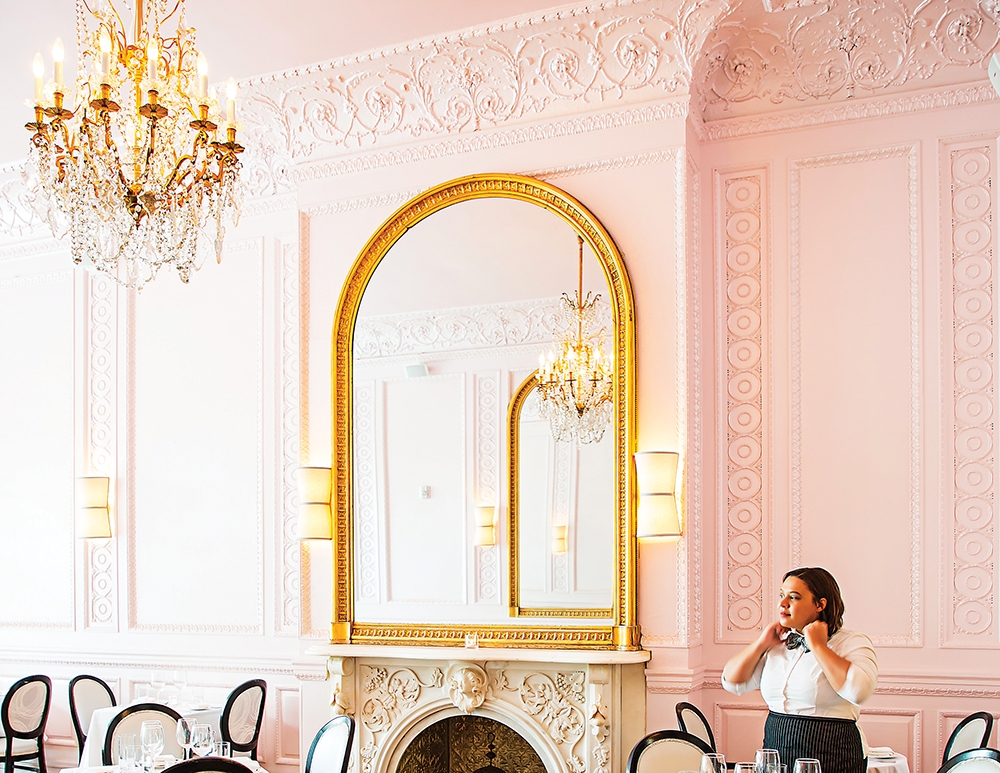 Photography by Scott Suchman
Back in 2015, Steven Rivelis and Linda Brown Rivelis began their journey to restore the famed Brass Elephant, the elegant Mt. Vernon social spot where the two were married in 1986. A 22-month renovation maintained the 19th-century mansion's history—with Tiffany stained glass, intricate teak woodwork, dangling Waterford crystal, and golden chandeliers—while also updating the interior with a new marble bar and contemporary furniture.
The owners, along with co-owner Mallory Staley, have been candid with customers about their struggle to secure a bank loan to pay back investors who helped fund the multi-million dollar renovation.
"Without even looking at our financials, nine banks told us that they will not make a loan for a restaurant, especially in Baltimore City," The Elephant team wrote in an open letter two months ago. "Unfortunately, we have run out of time. After two years, our friends and family who loaned us the gap funds deserve to be paid back."
To remedy the matter, the partners put the building on the market for $2.9 million in January. Although the property would have new landlord, they assured the community that the restaurant was in it for the long haul. Sadly, those plans changed recently when one of the investors took legal action to seize the building.
"This individual's legal action against us disqualified us from being eligible for a loan from the SBA," Steven Rivelis said in a statement announcing the restaurant's final night of service on Saturday, March 23. "In response, we will have to leverage all of our available resources to defend ourselves from this hostile takeover of our treasured property."
Though this weekend will be the last to feast on The Elephant's global cuisine (think everything from Moroccan meatballs to Shanghai noodles) inside its posh dining spaces, it will remain open as a private events venue. The owners will also continue to operate Sascha's—the boutique catering company which they inherited from former owner Sascha Wolhandler in 2017—as well as their pre-show cafe at Center Stage.
"While these developments and actions are extremely painful, we feel so very blessed to have had this dream opportunity to open and operate The Elephant for almost three years," Staley said. "We remain profoundly thankful to all of our guests for your ongoing support and contribution to this amazing journey."
On the heels of an unfortunate year for Charm City restaurant closures, the news of The Elephant's final night is yet another blow to the local dining scene. The historic and elegant Mt. Vernon space—adorned with pale pink walls, pops of gold, and vintage sconces around every corner—was one that locals flocked to for special occasions, as well as weekly happy hours and live jazz nights.
In a recent interview, Steven pointed out the importance of supporting local restaurants—especially those right in your own backyard.
"Businesses need our neighbors," he said. "And neighbors need the businesses, or else you don't have a thriving community. It's a reciprocal responsibility."