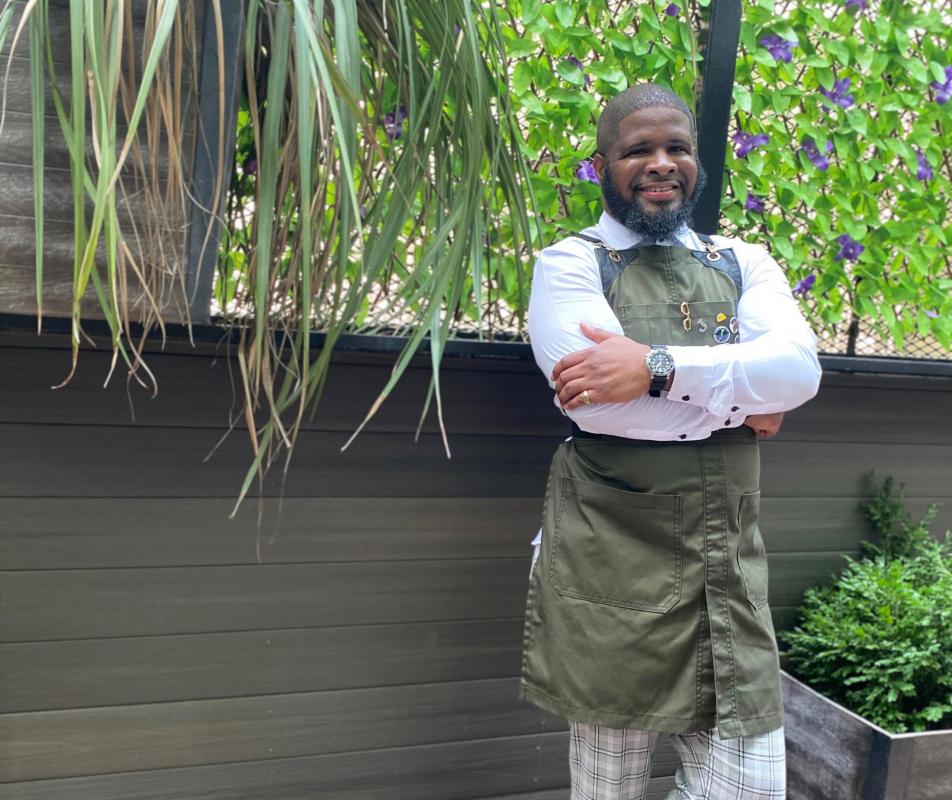 Chef Justin Holloman on the top level of The Garden Rooftop Restaurant & Lounge. —Courtesy of Justin Holloman
The earliest memories that chef Justin Holloman has of being in the kitchen date back to when he was 7 years old. He not only remembers the comfort of cooking alongside his late grandmother, Hattie Holloman, but he also looks back fondly on how her food brought the community together. 
"She cooked for everybody, everybody knew her," Holloman says of his grandmother's reputation in the McCulloh Homes community. "I started off watching her, and seeing the fellowship of people coming together during the holidays or Sunday dinners. That inspired me to do what I do now."
Naturally, Holloman was set on a culinary career path from a young age. (His mom, Jacqueline, even got him a gig participating in cooking demos with gastronomy greats like Emeril Lagasse and our own John Shields at the Baltimore Book Festival when he was a kid in the '90s.) After graduating from Baltimore International College, he climbed the ranks in local hotel and catering kitchens—including The Classic Catering People and Linwood's—before starting his own private chef projects and a spice line. Now, all of Holloman's experience is culminating with a spot of his own. 
The Garden Rooftop Restaurant—named after its top-level lounge that features a retractable roof ideal for all-weather gatherings—is slated to open by the end of 2021 at 411 North Paca Street downtown. Stationed across from Trinacria Fine Foods and next to Select Lounge (Holloman's partner in the restaurant also owns the nightclub next door), the property was formerly a car wash. "I remember as a kid riding to the back of this building and getting my mom's old station wagon cleaned," Holloman says.
It has since been transformed into a restaurant that will offer traditional sit-down service downstairs, as well as a curated bar menu on the second floor and roof level—which will feature snacks such as a citrusy whitefish crudo, corn and crab hushpuppies with lemon aioli, rosemary honey-garlic wings, and Holloman's signature fish tacos with Mexican crema.
When it comes to the food, Holloman says he wants to pay homage to his grandmother's cooking, but also present his own style. While Hattie's soul food techniques are always in the back of his mind, he has a particular interest in molecular gastronomy. He also likes to incorporate global influences into his recipes. 
"Every time I cook something I think of her—how she fried food, how she made the cakes, how she got up at 5 a.m. to put greens on," Holloman says of his grandmother, "but she always told me 'You've got to be different. Whatever you do, do it to the best of your ability.'" 
That's the guiding principle behind Holloman's opening menu. Guests in the main dining room can expect dishes such as a Natty Boh seafood cioppino, vegan Moroccan King Mushroom risotto, a house burger with brown sugar bacon, and Ethiopian-inspired grilled snapper with plantains and cilantro rice.
Fittingly, the garden motif will be reflected throughout the entire building, with strung lights, lots of greenery, and custom lounge furniture shipped in from Turkey. The goal, says Holloman, is to give diners a holistic experience where they can have a traditional meal in the dining room and then head upstairs to the roof to sip frosé and craft cocktails. (Though the drinks have yet to be finalized, Holloman says they will have Adam and Eve-inspired names like "Forbidden Fruit.") Upstairs, guests will also be able to enjoy occasional live DJ entertainment and snap photos in front of the grass-covered walls. 
"We want it to be a hub not just for great food, but great vibes," Holloman says. "My fiancé and I often go out to eat and then leave to go continue the night somewhere else. Here, everything you want is in one location." 
Though construction is complete, Holloman and his team are currently finishing the design of the space and eyeing an opening later this year. As the debut approaches, Holloman is starting to process the reality of running his own kitchen—a dream that he's had since he was a young boy cooking with Hattie. 
"The crazy thing is the restaurant is not too far from where my grandmother grew up," he says. "So it's surreal, emotional, and exciting all at once. I feel the weight of it, but I don't think it's going to hit me until that first order comes in and everyone's waiting on me to orchestrate."