A Dummy's Guide to Crabs: Home Plates
Here's everything you need to throw the perfect crab feast.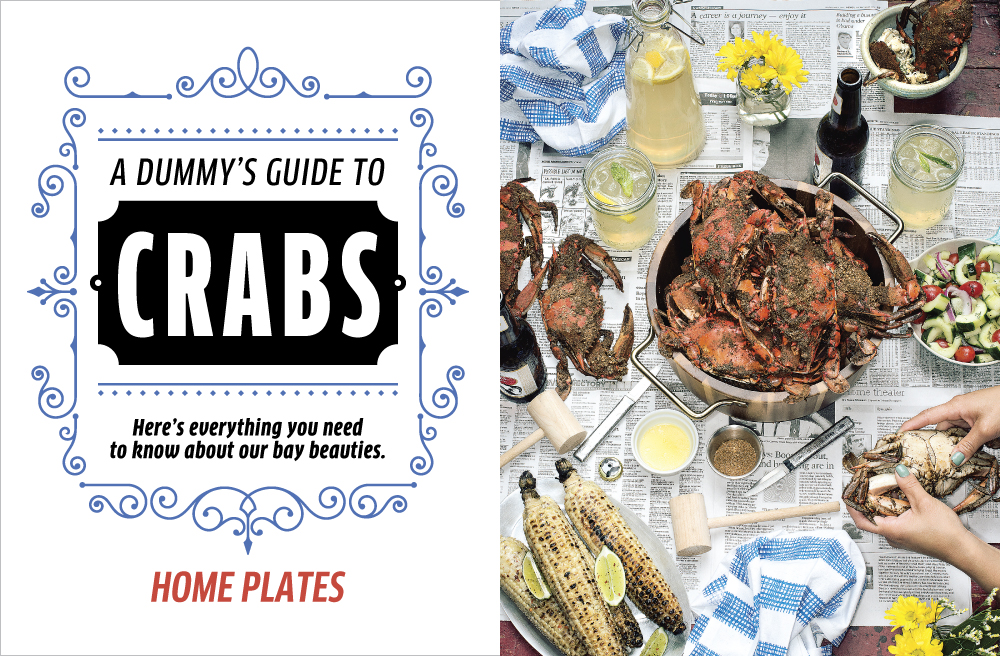 Can't get enough crabs? Be sure to check out our 2014 Crab Buyer's Guide and Crab Basics.
---
HOW TO STEAM CRABS AT HOME
Before bringing crabs home, you'll need an ice chest to keep crabs cool, so they don't drop their claws—an act of self defense known as "autotomy."
WHAT YOU'LL NEED

4 cups water

5 (10-ounce) whole,
live jumbo crabs

4 tablespoons Old Bay

2 teaspoons dry mustard
DIRECTIONS:
Fill a large pot with water. Place a steamer rack inside. Bring to a boil over medium heat. Using tongs, place three crabs on the rack in an even layer, with belly side down. Gently place remaining crabs on top. Sprinkle with two tablespoons of Old Bay. Steam for 25 to 30 minutes. (One way to know when they're done is that yellowish, white fat should be steamed out.) Using tongs, remove crabs to a platter. Sprinkle with remaining Old Bay and dry mustard. Serves 1 to 2. Courtesy of Jimmy Fowler, assistant manager at Pappas.
"If you're squeamish, you should probably have someone else steam them. Even I've never really gotten used to it."—Pappas's Jimmy Fowler
HERE'S THE RUB
Old Bay may be synonymous with Baltimore, but it's just as easy to blend your own signature mix. Used on fish, shrimp, and other types of seafood, a rub acts as a marinade, enhancing the flavor of food as it cooks. Local chefs Opie Crooks of Shoo-Fly Diner and Jerry Pellegrino of Waterfront Kitchen weigh in with these simple-to-make rub recipes. For each rub, mix in a bowl, then store in a cool, dry place.
Opie Crooks's Crab Spice Rub
4 ounces salt
1/4 ounce black pepper
1/4 ounce dehydrated onion powder
1/4 ounce dehydrated garlic powder
1/4 ounce dried lovage (fennel can be substituted)
1/4 ounce fresh bay leaves, finely ground
1/4 ounce fish-pepper powder
Pinch of sugar
Jerry Pellegrino's Rub
Zest of two lemons
¼ cup dried basil leaves
¼ cup tomato powder
2 tablespoons Coleman's dried mustard
1 teaspoon garlic powder
1 teaspoon onion powder
1 teaspoon fresh ground black pepper
1 teaspoon salt
---
CRAB-CAKE CONTROVERSY
BROIL VS. FRY
We all know that preparation is the key to success, and the crab cake is no exception. To broil, or to fry: that is the question. Two local experts (and native Baltimore boys) weigh in on their preferred methods of cooking cakes.
Photography by Christopher Myers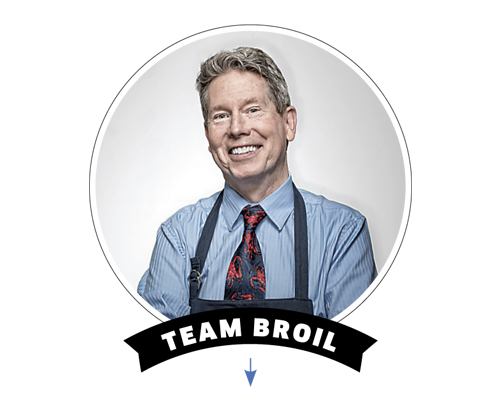 Coastal cooking expert John Shields believes broiling is better. "If you really are using Maryland crab, it has a very distinctive flavor," Shields says, "but if you're using lots of Old Bay and frying, it can come from Mexico, Southeast Asia, or Maryland. You can't tell the difference at that point—between the frying and seasoning, the crab gets lost." Broiling creates a crust, while allowing the crab to shine. "If you're spending the big bucks on Maryland crab," says Shields, "a simple broiling process gives you a nice crispness outside and seals in the moisture nicely, while still giving you the full flavor of the crabmeat."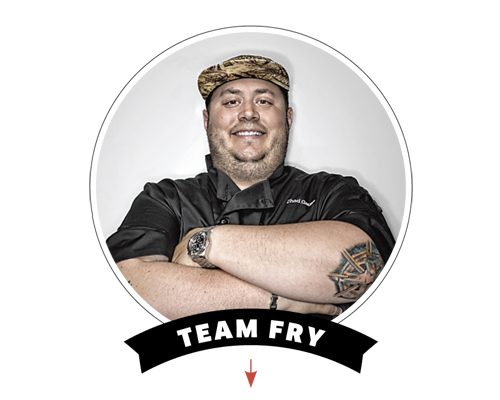 The Food Market's Chad Gauss is a fry guy. "A Baltimore-style crab cake should definitely be fried," says Gauss. "It's goes back to our roots as a working-class town." In terms of texture, broiling, says Gauss, can't compare to deep frying. "It's hard to beat the texture of a fried crab cake—frying makes the outside crunchy and the inside creamy," he claims, "and when it's fried properly, it locks the heat in." Think fried especially when eating out, says the chef. "Enjoy it," says Gauss. "Don't worry about the calories. The oil is better and your house won't have to smell like a fryer."
---

PERFECT CRAB FEAST
Brown paper vs. newspaper
The professionals use heavy brown paper—it's print-free, and easy to discard at feast's end. If you're carrying out, most joints will provide brown paper, but if you're going the D-I-Y route, several layers of newspaper work just as well.
Mallets/Picks
Getting the jumbo lump is no problem. (Pull apron. Remove shell. Discard gills. Snap body. Hello, gorgeous!) Reaching tighter cavities, however, requires an array of tools: mallets to crack claws; knives and picks to scrape and extract minuscule, meaty morsels.
Beverages
Suds and spice are natural partners when it comes to slaking your thirst from steamed crabs. Temper the tongue with a plastic pitcher of iced-cold beer. (See p. 56 for some suggestions.) For a non-alcoholic choice, iced-tea or lemonade can also cool the palate.
Serving Options
A traditional Maryland-style crab feast entails serving the savory swimmers straight up on a paper-covered table or on paper or plastic platters. If you want a fancier feast, pile in a pail or present on a pretty, nautical-themed platter.
Clean Up for Guests
The fun of the feast is getting down and dirty. But when the party's over, unless you want to smell like a spice girl (or boy), you may want to freshen up. While a liberal spray of a garden hose is really what's required, paper towels and some wipes for the final finish will do.
---
SOFT-SHELLS
Each spring, soft-shell crabs appear on Maryland menus as a seasonal specialty. The crabs, plucked from the water just after molting their outer shells, make for a delicacy necessitating neither the mallets nor the patience required when eating steamed crabs. Prepping soft-shells, however, is anything but dainty. (Cut behind the mouth and eyes with sharp shears, rip off face, remove gills and apron.) Though most fishmongers sell soft-shells already prepped, there's an "ick" factor even with the cleanest of crabs. "I recommend easing someone into soft-shells with a sandwich," says Ryn Dorsey, executive chef at Kali's Court and Mezze. "They're not seeing as much of the crab."
Chef Ryn Dorsey's
Semolina Pan-Fried Soft-shell Crab
You will need:
2 soft-shell crabs
1 cup buttermilk
1 cup semolina
1 tablespoon salt
1 tablespoon granulated garlic
1 tablespoon granulated onion
1 tablespoon dried oregano leaves
2 tablespoon freshly ground pepper
Olive oil
Directions
Dip soft-shells in buttermilk.
In a small bowl, combine semolina,
salt, garlic, onion, oregano, and pepper.
Dredge crabs in semolina mix.
In a pan, heat 1-inch of olive oil over medium heat. If it bubbles, the oil is ready. Carefully place encrusted soft-shell crabs in hot oil and fry for 2 to 3 minutes on each side.
Serve with truffle aioli. (Recipe below.) Serves 2.
Truffle Aioli
You will need:
4 egg yolks
Juice of one lemon
Black-truffle paste
2 cups blended oil
Salt and pepper to taste
Directions
Place egg yolks in food processor,
with lemon juice and 1 to 2 tablespoons
of truffle paste, depending on taste.
Slowly drizzle in canola or vegetable
oil while blending. Add honey.
Grilled Soft-shell Crab
with Avocado Summer Salad
You will need:
Lemon
Extra-virgin olive oil
Two soft-shell crabs
Old Bay
Directions
Preheat grill.
Juice one lemon into a cup of olive oil.
Dip crabs in olive oil and then dust with
Old Bay to taste.
Grill crabs for 3 to 5 minutes on each side.
Avocado and Tomato Summer Salad

You will need:
1 ripe avocado
2 ripe local tomatoes
1 bunch watercress or
green of your choice
1 ear corn, grilled
Directions
Slice avocados and tomatoes and
layer on top of bed of watercress.
Remove corn from cob and sprinkle
on top. Place soft-shells on salad. Serves 2.
---
SIDELINES
Illustrations by Rebecca Bradley

CORN ON THE COB
If you have to take sides, buttered corn on the cob is the one to choose. Dust with Old Bay, and it's better still. Don't want to make it yourself? Try it from Riptide by the Bay, 1718 Thames St., 410-732-3474.

PICKLED CUCUMBER SALAD
Crispy cukes, with notes of salt and sweet, add complementary crunch to the crabby patty. Pickled beets work well,
too. Don't want to make it yourself? Try it from The Fresh Market, 2510 Quarry Lake Dr., 410-580-1930.

COLESLAW AND FRIES
Cool, snappy slaw and any kind of potato (roasted or mashed, but especially fried) are side staples. Don't want to make it yourself? Try it from Bo Brooks, 2701 Lighthouse Point, 410-558-0202.

CARROT SALAD
Preferably flecked with cranberries, raisins, or even pineapple, this earthy sidekick salad doesn't dominate but marries well with crusty crab. Don't want to make it yourself? Try it from Graul's Market, 12200 Tullamore Rd., Lutherville, 410-308-2100.
---
CONDIMENTS
Go au naturel or say it with sauce (or citrus).
TARTAR SAUCE
A mayonnaise–based sauce, typically blended with pickles, capers, and lemon juice.
COCKTAIL SAUCE
Ketchup plus horseradish equals the classic crab-dipping condiment.
REMOULADE
A French version of tartar sauce that can contain anchovies and horseradish, among other ingredients.
SRIRACHA SAUCE
Some like it hot with this chili-based sauce.
LEMON WEDGES
Citrus adds a bright note to crab and can also be used to squeeze on fingers after you've consumed crab.
---
DESSERT
Still have room after binging on a bushel? Crabs swim well with the following:

SMITH ISLAND CAKE
This culinary architectural wonder, with up to 15 layers of fudgy icing, accompanied watermen on the oyster harvest in 1800s Smith Island. Today, Maryland's official state dessert is enjoyed by all.

OLD BAY CARAMEL ICE CREAM
As the name implies, this combination of caramel ice cream and Old Bay marries salty, spicy, and sweet. We get our fix at Hampden's Charmery, but you can buy your favorite brand and blend your own.

CRABBY POPCORN
We love a good theme when we come up with one, so why not carry the crab motif to the final finish? This Crabby Caramel Popcorn—caramel kernels coated with Old Bay—is from Popsations Popcorn Company.

CRITTER COOKIES
Nothing says summer like a crab feast and Fido prancing around the picnic table. Make your own doggie treats or head to Dogma, Life with Your Pet, for these "iced" crabby cookies. (Red and blue crabs available.)
---
WASTE NOT, WANT NOT
RECIPES FOR LEFTOVER CRABMEAT
Government House's Maryland Crab Cakes
Ingredients
1-pound jumbo-lump crabmeat, well picked
1 egg, well beaten
½ cup mayonnaise
1 tablespoon lemon juice
1 teaspoon Worcestershire sauce
½ teaspoon powdered mustard
7 Saltine crackers, crushed
1/8 teaspoon cayenne pepper
1 tablespoon chopped parsley
½ teaspoon Old Bay seasoning
Directions
In a medium-sized bowl, mix together all ingredients except crab. Fold in crab. Press into six cakes and place on buttered sheet pan. Bake at 400 degrees for 10 to 15 minutes until golden. Yields six crab cakes. From executive chef Medford Canby.
Conrad's Crab Balls
Ingredients
1-pound jumbo-lump, lump, or backfin (or a mix)
1 egg
1-2 tablespoons mayonnaise
2 slices of stale white bread
½ teaspoon salt
½ teaspoon white pepper
1 teaspoon Worcestershire sauce
Seafood seasoning to taste
Directions
Preheat broiler. In a mixing bowl, gently fold all ingredients. Scoop a tablespoon of crabmeat onto a baking tray, and repeat until all meat is used. Broil for 4 to 5 minutes, being careful not to burn. Makes approximately 25 crab balls.
Wit and Wisdom's Crab Louie Cups
Ingredients
½ cup red onion, minced
¼ cup cornichons, minced
1 whole egg plus 1 egg yolk per serving
3 ½ teaspoons lemon juice
1 teaspoon chopped parsley
¼ cup ketchup
2 tablespoons Sriracha
½ teaspoon salt
1 cup canola oil
4 cups leftover crabmeat (backfin and claw meat)
2 heads Bibb lettuce
2 avocados per serving
Directions
In a food processor, add red onion, cornichons, egg yolks, whole eggs, lemon juice, parsley, ketchup, Sriracha, and salt; process. While the food processor is still running, add oil in a slow and steady stream until dressing is fully emulsified. Pick through leftover crabmeat to ensure there are no shells. Mix the crabmeat with the dressing. Separate and wash Bibb lettuce leaves. Cut avocado into slices. Place dressed crabmeat into lettuce cups and garnish with slices of avocado. Serves 8.
Stone Mill Bakery's Maryland Crab Soup
Ingredients
3 carrots, peeled and chopped
1 each: medium boiling potato, peeled and cubed, and yellow onion, peeled and chopped
1 stalk celery, trimmed and chopped
½ pound green beans, cut in 1-inch pieces
1 cup each: fresh corn kernels and fresh lima beans
½ cup fresh peas
1 ½ cups shredded cabbage
4 tablespoons Worcestershire sauce
2 tablespoons Old Bay seasoning
1 bay leaf
1 tablespoon each: thyme and oregano
Pinch of red pepper flakes
28 ounces whole, peeled tomatoes
½ cup sherry
1 pound crabmeat: use jumbo lump or picked meat from crab claws and back fin (12 to 16 crabs approximately, if picking)
Salt and pepper to taste
Directions
Combine carrots, potatoes, onions, celery, green beans, corn, lima beans, peas, cabbage, Worcestershire sauce, Old Bay, bay leaf, thyme, oregano, red pepper flakes, and six cups water in a large pot. Add tomatoes, crushing with hand and juice from the can. Bring to a boil over medium-high heat, then reduce heat to medium-low, simmering for 30 minutes. Add sherry and crabmeat to soup. Simmer 45 minutes, stirring often. Add salt and pepper to taste. Serves 4 to 8.