Arts & Culture
The Social Network
How food bloggers, Instagrammers, and Yelpers are shaping the local restaurant scene.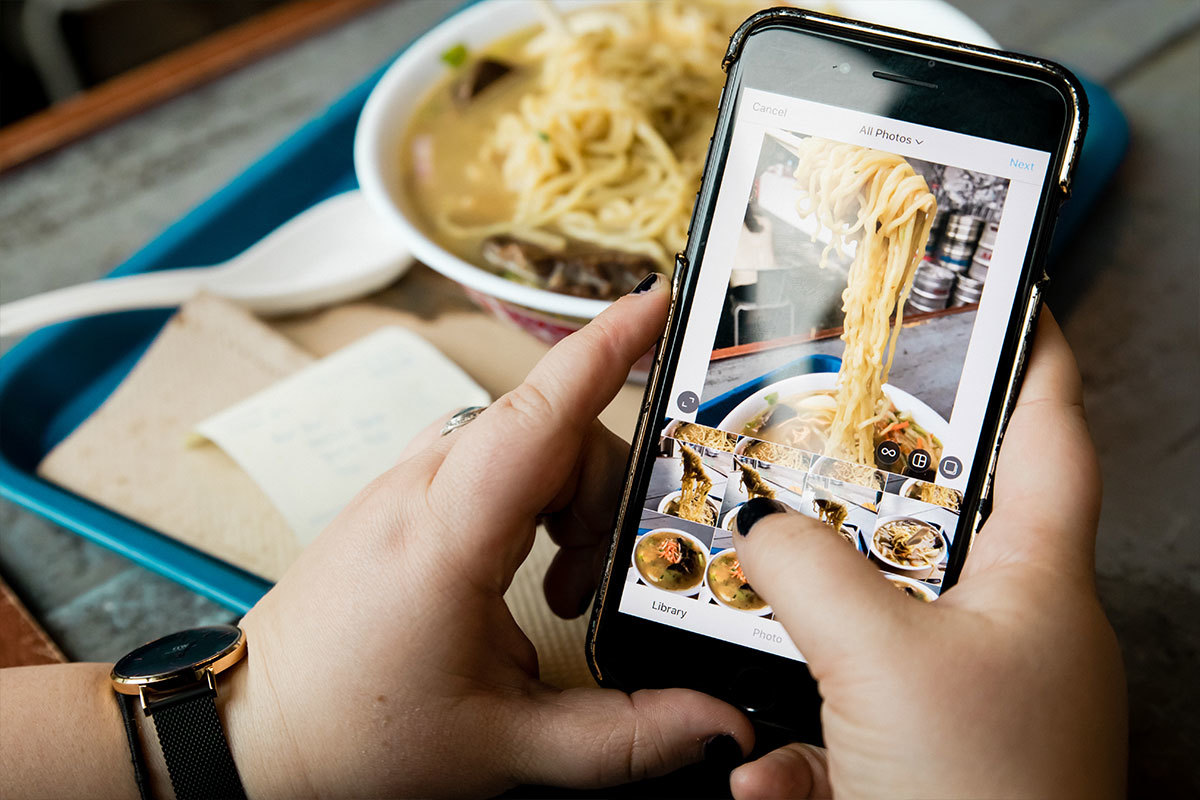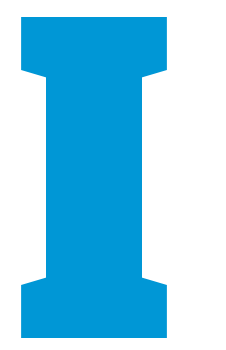 nside Horseshoe Casino, a row of 10 nattily dressed servers greet guests as they enter Gordon Ramsay Steak. On the evening before its official debut, the swanky steakhouse is packed with nearly 150 visitors. They stop to pose for photos in front of a branded banner before making their way into the dimly lit lounge with plush couches, etched ice sculptures, and flat screen TVs projecting headshots of the restaurant's famously fiery creator.
Restaurant staffers make their rounds, carrying platters of smoked salmon cones filled with herb crème fraîche and caviar, and bite-sized samples of wagyu beef filet. But the most sought-after dish of the evening sits beneath a glass dome in a cloud of liquid smoke.
"Technology has brought out the food nerds in all of us."
Many in the crowd inch forward and gather around the dome in anticipation, as if awaiting the arrival of a movie star on a red carpet. With cameras properly positioned, they nod and give the server the go-ahead to remove the cover. He lifts it, swirling it around as the smoke dissipates. What surfaces beneath the haze—amid a cacophony of iPhone camera clicks and flashes—is a platter of Yukon gold herb potato chips topped with mounds of beef tartare, and garnished with lemon zest and capers.
For some, a plate of smoked tartare doesn't exactly seem like a Kodak moment. But in the mind of a professional blogger or food Instagrammer, capturing the theatrics leads to the best-performing online posts.
LEANDRO LAGERA AND HEIDI KLOTZMAN STAGE CHARCUTERIE FROM CULTURED IN MOUNT VERNON MARKETPLACE..
In recent years, these ad-hoc food writers, known as social media influencers, have been creating an entirely new way of helping to market local businesses—though they're not to be confused with foodies who occasionally post pictures of their meals just for fun.
Influencers build a following by curating their feeds with eye-catching content and are often sought out by businesses and rewarded—either monetarily or with complimentary goods and services—in exchange for their coverage. Whether intentionally or not, they have become mini-celebrities unto themselves. And while there are many types of influencers (think fashion gurus promoting boutiques, or lifestyle bloggers endorsing a local yoga studio), the food beat is one of the most powerful and popular.
"Technology has brought out the food nerds in all of us," says Adam Sachs, former editor-in-chief of Saveur magazine. "Food trends travel at the speed of social now. I've definitely had the thought while strolling in Paris that, if I've got one morning to find one perfect pain aux raisins, I'm going to look through people's social feeds and find the best-looking one with the most credible responses. I trust that more than looking it up through a traditional guide."
The visual focus on food has become so commonplace, in fact, that the prestigious Culinary Institute of America (CIA) added an elective course covering food photography and styling to its curriculum this spring. The class will focus on properly shooting dishes for the still camera—whether that means adjusting light or purposefully overcooking vegetables to convey a more defined texture.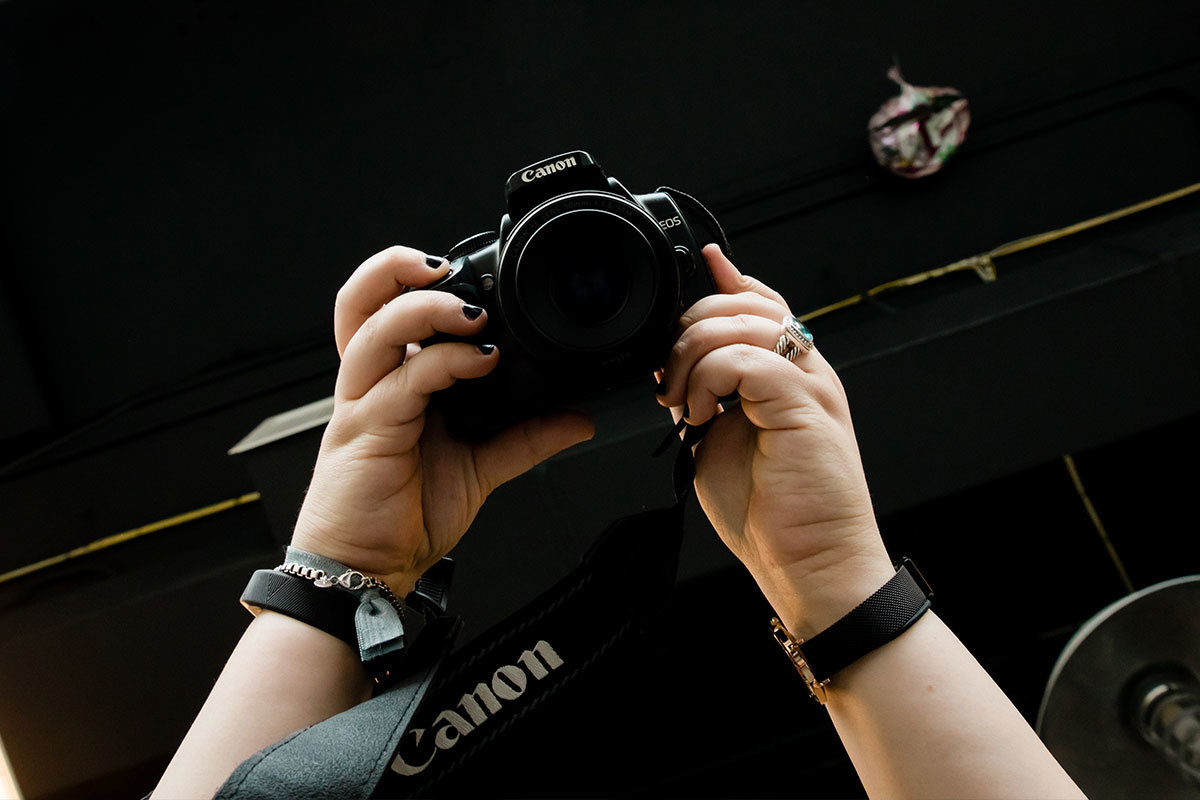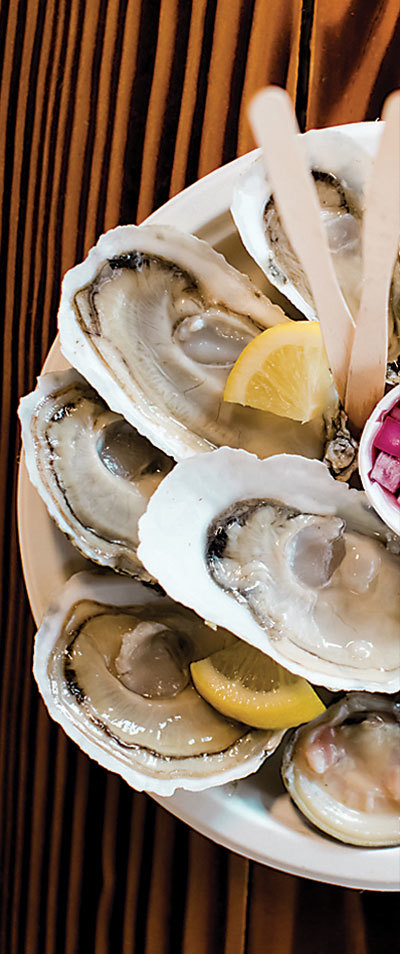 RACHEL LIPTON GETS HER CAMERA PRIMED AND READY FOR OYSTERS AND RAMEN.
"We're becoming more of a visual culture in general," says Denise Bauer, dean of the School of Liberal Arts and Food Studies at the CIA. "We're moving away from the written word toward the visual. This is our students' entire world. They're on their phones taking pictures of their food all the time—it's become natural for them."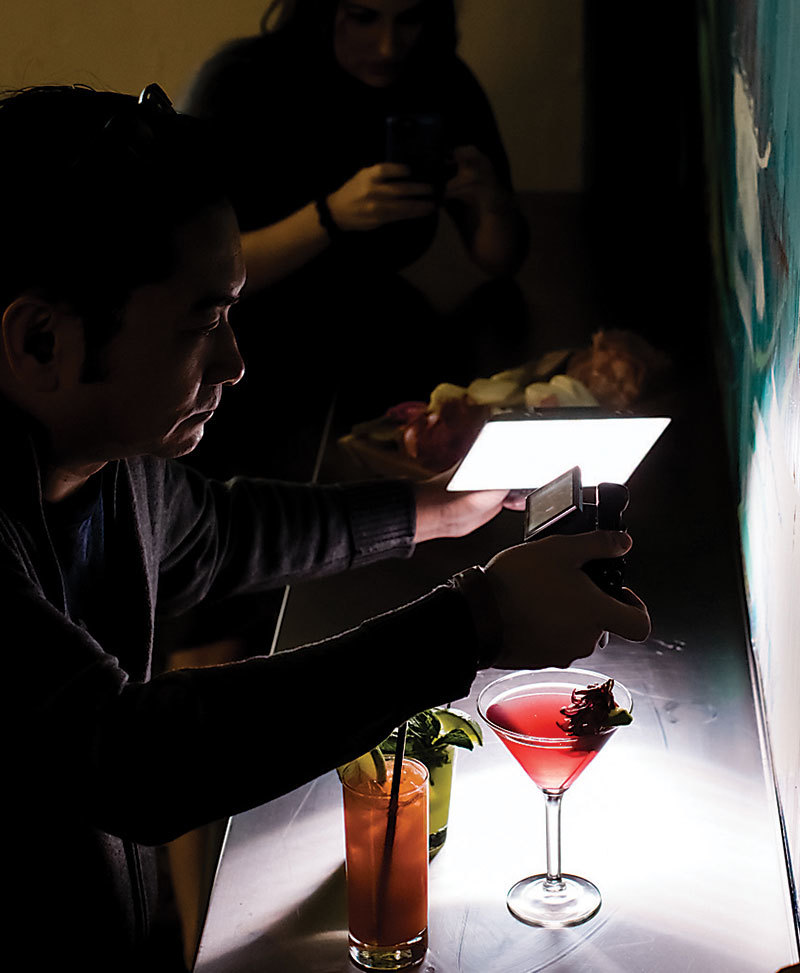 LEANDRO LEGARA STAGES A COCKTAIL PHOTOGRAPH..
The eat-with-your-eyes mentality has certainly caught on locally. As the area's culinary options continue to expand, more people have taken an interest in documenting the offerings on a digital platform of their own.
A recent list published by Baltimore food blogger Leandro Lagera (@foodnomad) names more than 100 local culinary influencers, whose accounts reach millions of diners in the city and beyond. Whether they're posting a gooey cheese pull or runny egg yolk on Instagram, writing reviews on Yelp, or sharing their dining experiences on a personal blog, these food personalities are making an impact on where we go out to eat. Love them or hate them, they're a force to be reckoned with.
Lagera's Instagram feed, for example, could make even the most hardcore health fanatics ditch their diets. Lagera attended high school in Howard County and later moved around the East Coast building his career in corporate media finance. He didn't discover his passion for dining until he was transferred to New York City for a job with ESPN in 2005. "There was so much to try," Lagera remembers. "Momofuku was on the rise, and David Chang was still cooking at Noodle Bar. Wylie Dufresne had just opened WD-50, and the whole molecular gastronomy wave had started. I always liked food, but didn't recognize the possibilities until I moved to New York."
Lagera began chronicling his dining adventures with a Google map of the restaurants that he loved to frequent in the Big Apple. The hobby then became the Food Nomad blog, and, when he moved back to Baltimore in 2015, Lagera, now the vice president of operations and finance for The Real News Network, started maintaining an Instagram account that quickly caught on with diners. "There was some sort of satisfaction in taking a picture, lots of people liking it, and gaining followers at a good pace," he says.
Followers are critical to establishing an influencer presence, says local public-relations veteran Heidi Klotzman. The CEO and founder of HeidnSeek Entertainment started her own company in 2005, back in the heyday of platforms like Friendster and MySpace. In the past decade, she has seen how social media personalities have become an integral part of endorsing local businesses—especially restaurants.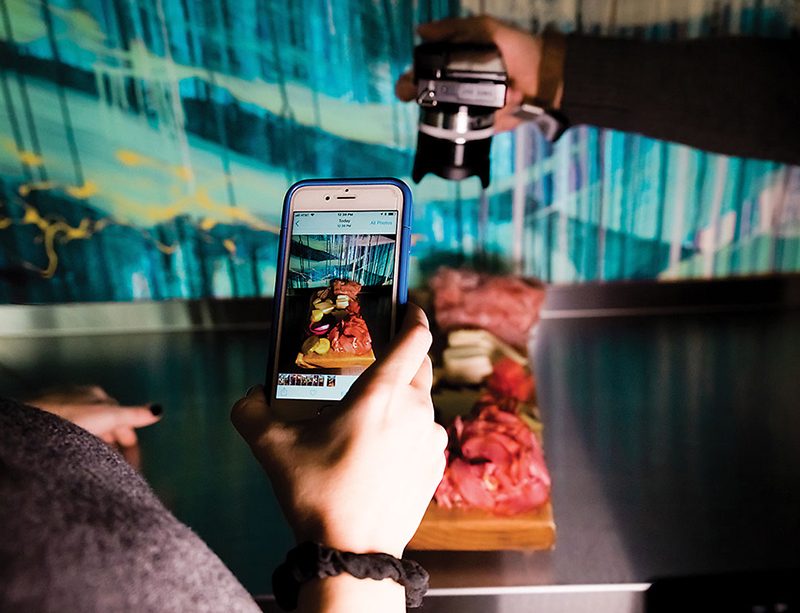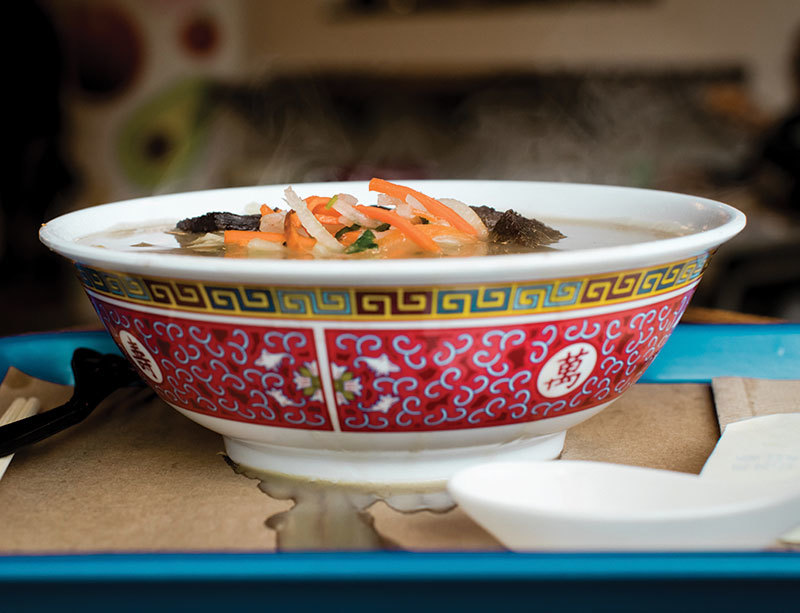 SCENES FROM MOUNT VERNON MARKETPLACE.
Klotzman has become known for organizing what she calls "influencer events"—parties in which local movers and shakers gather at the venues of her clients (restaurants, shops, luxury real-estate sites), and subsequently promote the brand by posting about their experiences online. "There's nothing more powerful than getting everyone together," Klotzman says. "Because you don't just have 150 people in the room. You have 150 people, times each one of their followers."
With more than 14,000 followers, Rachel Lipton (@liketheteaeats) has enough acolytes to fill Royal Farms Arena. The 27-year-old social media and marketing specialist started her food blog soon after graduating from Towson University in 2013. In her senior year, Lipton made it a point to stray from dining hall fare and familiarize herself with city restaurants. Once she settled in the city after graduation, she started writing about restaurants on a blog, and eventually launched an accompanying Instagram—which appeared on Zagat's list of the nation's top food accounts to follow last year.
"One time my brother was explaining to my mom that I'm a 'social media influencer,'" Lipton recalls. "And I was like, 'That sounds so icky.' It feels like I'm [taking advantage] in a weird way. But that's never been the goal." Instead, blogging has been a form of expression for the typically shy Lipton: "It's fun," she says. "I'm taking pictures, eating food that I like, and hanging out with people that I would never know otherwise. I can be very reserved, so it's a good way for me to be more outgoing."
VARIOUS COCKTAILS LINED UP AND READY TO PHOTOGRAPH.
While to some it might sound like a breeze, keeping a food blog requires a significant commitment. Aside from working their daily nine-to-fives, Lipton and Lagera estimate that they attend restaurant events (reviews, openings, media previews) three times per week.
Equally time-consuming are the hours devoted to editing photos, writing blogs, and communicating with publicists about media opportunities. Most public-relations companies have a list of tastemakers that they frequently invite to dine at a new restaurant or sample dishes off of a chef's seasonal menu. And often, the influencer is asked to post photos or write about the experience in exchange for a complimentary meal.
The quid-pro-quo model has become somewhat of a hot-button issue in the world of restaurant marketing. Though there are some big-name foodies who pitch their services to restaurants in exchange for cash (a recent Washington City Paper article reported that California food personality Jonathan Cheban—one of influencer queen Kim Kardashian's best friends—asked a handful of D.C. restaurants for $3,500 in exchange for one tweet and one Instagram post on his platforms), Lipton lets the eateries approach her first. "If a restaurant says, 'We'll buy you some sushi if you take a few pictures and post,' I'm not going to be like, 'Yeah, but you have to pay me,'" she says. "You're giving me dinner, and probably leftovers for lunch tomorrow, too."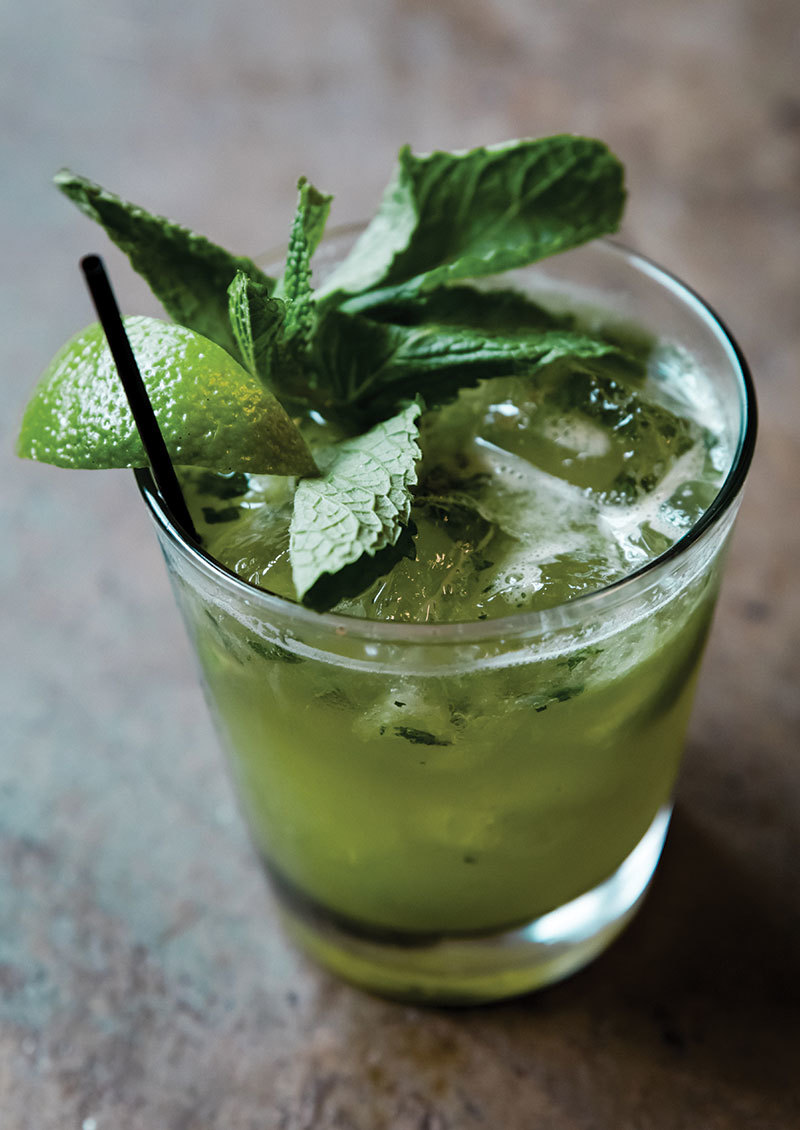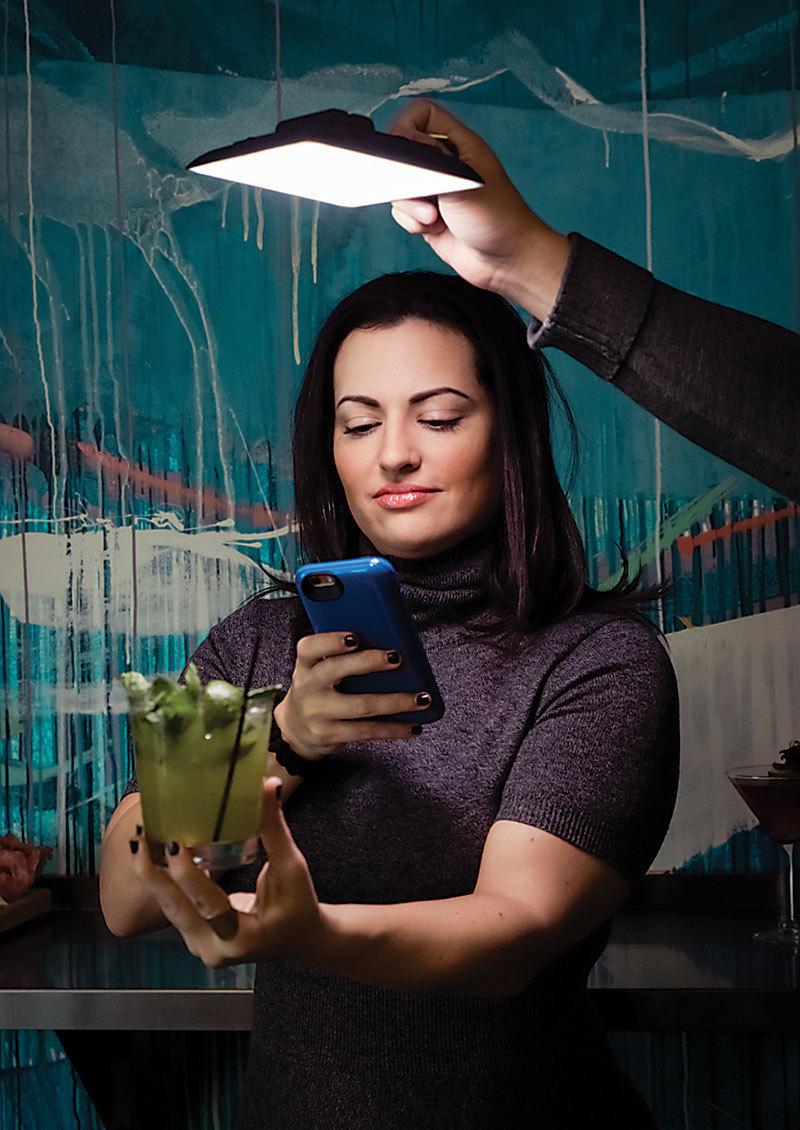 HEIDI KLOTZMAN ENDEAVORS TO CREATE THE PERFECT LIGHTING.
And while influencers generally tend to be big boosters (Lipton has vowed to only post positive reviews), other platforms such as Yelp have made it so that anyone, no matter what their profession or lifestyle, can be a critic.
Robert Wong, an anesthesiologist at Mercy Medical Center, posts reviews on Yelp as a way to save patrons from bad dining experiences. Wong wrote his first post in 2009, and was later granted elite status—the Yelp algorithm bumps Wong's entries to the top of its feeds—by the website after consecutively keeping up his streak. "Eating out is a big deal," Wong says. "You're taking time out of your day, and using your hard-earned money. So, I'll absolutely write negative reviews—because I have no stake in it. They're not paying me to be there. I'm paying it forward for other people."
While Yelp has continued to be a well-regarded source for consumers, it can be detrimental for businesses. "The whole Yelp revolution almost killed me," says Brian Acquavella, who owns Blue Agave Restaurante y Tequileria in Federal Hill. "I almost left the business because of it. I've interacted with guests one-on-one for an entire experience where they've told me everything was amazing and shook my hand on their way out the door. And then, two days later, they go on Yelp and say that the jalapeño relleno was too spicy and give me a one-star review."
A veteran in the hospitality industry, Acquavella says that human interaction has gotten lost in the digital age. "I didn't get into this business for any other reason except to make people enjoy themselves when they go out," he says. "When all you hear is what you did wrong, and you never hear what you did right, it wears on you."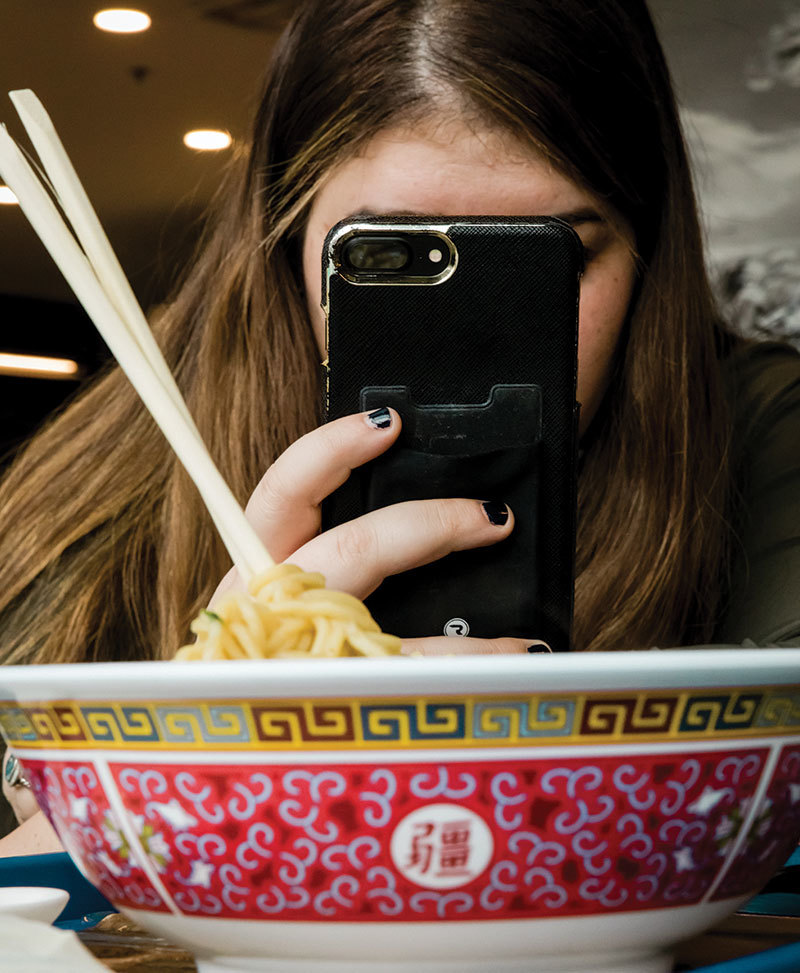 RACHEL LIPTON RAISES HER CHOPSTICKS FOR A DYNAMIC RAMEN SHOT.
To encourage a lighter approach to online reviews, Acquavella opened a new bar, One Star Country Club, just around the corner from Blue Agave last October. As its tongue-in-cheek name implies, the concept asks patrons to leave it an ironic, one-star review on Yelp ("The Natty's are way too cold," one Yelper writes), with the hope being that new diners come check out the space for themselves, rather than making a judgment based on others' online critiques.
"I'm not saying that the review system is all bad," says One Star's general manager Don Messinese. "It just doesn't need to be taken so seriously. I would rather people take it in stride." Despite all of the criticism, restauranteurs acknowledge that online dining culture can also have its perks—whether an influencer is purposely promoting a place, or a regular patron is casually posting their meal. Many are even taking advantage of the new focus by enhancing plating and installing mono-point lighting systems in their restaurants to up the eye appeal for the camera.
"The whole Yelp revolution almost killed me. I almost left the business because of it."
James Beard Award-winning chef Andrew Carmellini, who opened Rec Pier Chop House in Fells Point and Rye Street Tavern in Port Covington last year, says his restaurants have benefitted from the online foodie craze. He recalls back to the summer of 2016, when his New York City restaurant Bar Primi debuted Frosé—a slushy drink that freezes rosé and pureed strawberries. The pink cocktail caught on with Instagrammers, and news outlets even began to send video crews to document the process of making it. (An Insider video about the drink reached nearly 12 million views on Facebook.)
"With Frosé alone, we broke all of the sales records at Bar Primi that summer," Carmellini says. "We had lines out the door. Customers were coming in, ordering Frosé at the bar, taking a picture of it, not drinking it, and leaving. It's kind of a sad commentary, but, at the same time, it was great for business."
From a business perspective, Lagera says that he doesn't see the digital focus on food fizzling out any time soon. "When you go to any restaurant these days, there's always going to be someone pulling out a camera."
So while a steak tartare dish enveloped in smoke might seem like a mundane moment to most, these food photographs are conveying a much stronger message to millions of followers around the world.
"You can only fill your feed with so many inspirational quotes and pretty sunsets," says Sachs. "It's more satisfying to say, 'Hey look, I'm eating a hamburger.' Or, 'Check out this pie I made.' It's an easy, shorthand way of saying, 'Life is good.'"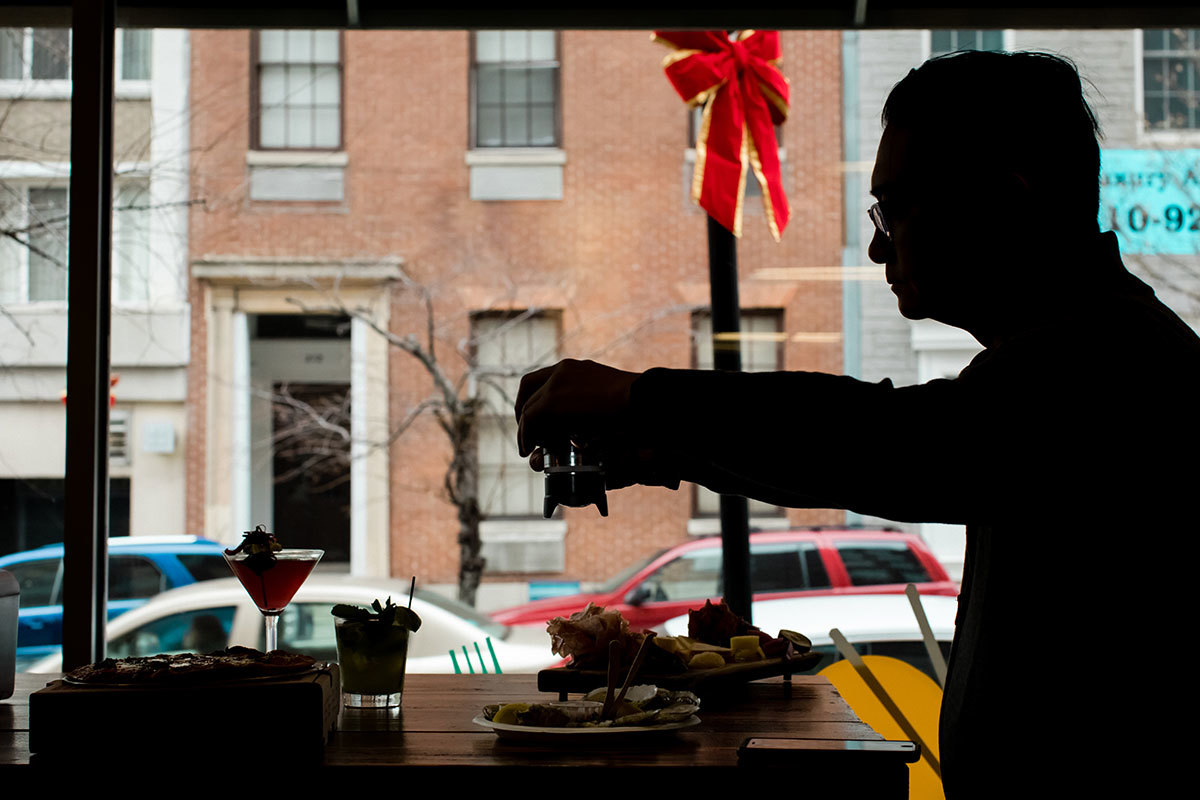 LEANDRO LEGARA GOES FOR THE COVETED AERIAL ANGLE.