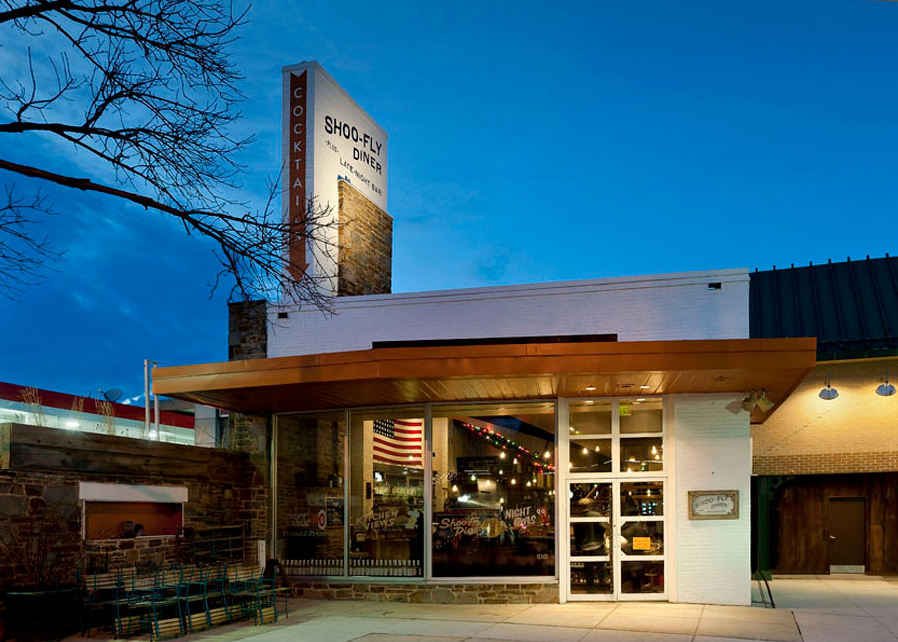 Courtesy of Foundry Architects
Soon, the tall facade that towers over the corner property at 510 E. Belvedere Avenue will boast yet another new logo.
The Belvedere Square space, which has been a revolving door for restaurant concepts throughout the last few years, is slated to debut as The Starlite Diner by the end of August. The new project, spearheaded by former Red Maple owner Leonard Clarke, will be a family-friendly spot to enjoy comfort food, weekend brunch, and local craft beer.
Locals might remember the building's former inhabitants, which have included long-time tenant Hess Shoes, romantic dinner spot Taste, contemporary cocktail bar Crush, and, most recently, Spike Gjerde's industrial farm-to-fork eatery Shoo-Fly Diner, which only operated for 18 months. Clarke says that, although many of the building's former tenants didn't stick, he isn't superstitious. (We write more about this location and other so-called "cursed restaurants" in our upcoming August issue.)
"I haven't had any second thoughts whatsoever," he says. "There are a lot of reasons why places don't work, but I'm confident that the concept will translate successfully through the menu, pricing, and service."
The diner will be open daily for breakfast, lunch, and dinner and cater to a late-night crowd on weekends. Its menu will feature a lengthy list of modern comfort foods (think classic breakfast dishes and a variety of burgers), plus an array of fresh-squeezed juices, milkshakes, and healthy options for kids. Clarke has hired Texas native Arim Isabel, who has headed up kitchens at New York City hotspots Cafeteria and Southern Hospitality.
Clarke says that he was instantly inspired by the space during his first walk-through last fall. His goal is to preserve the building's history while also making it feel bright and inviting.
Designed by Kuo Pao Lian and Pavlina Ilieva of PI.KL (local studio behind R. House and the redesign of Sip & Bite), the 175-seat interior now features built-in booths, dark walnut furniture, a classic diner counter, window seating, and tons of indoor greenery—a far leap from the candle-lit lounge design of Red Maple.
"When I opened Red Maple, I was 37 and single," says Clarke, 53. "Now I'm married and have an 8-year-old son, so I'm less interested in the late-night business and looking for something a little calmer."
The Mt. Vernon club, known for its guest DJs and colorful martinis, was recently sold to Ryan Perlberg, who plans to transform it into a cocktail bar called Sangria in the coming months.
Michael Gioioso, real estate advisor for Belvedere Square property management MacKenzie Management Company, is confident that the new diner will fit in nicely with the other existing food destinations in the market.
While Shoo-Fly was also a diner concept, it was more of an experiment and a quasi-canning operation for Gjerde's Woodberry Pantry products. Starlite will be Clarke's sole focus.
"He's going to rock and roll in there," Gioioso says. "Belvedere Square is a great catch-all food hub, and this is really going to add to the breadth and variety of that."
In addition to joining the tight-knit community of local business owners in the market, Clarke is excited to introduce the approachable concept to the neighborhood.
"Diners won't ever go out of style, they're just such a classic all-American thing," he says. "Belvedere Square is a fantastic oasis in North Baltimore and I'm excited to be so close to that great energy."