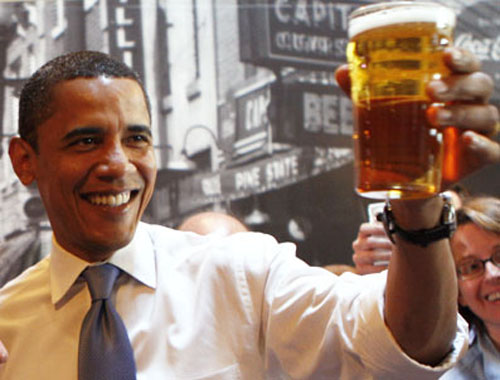 There has been a lot of political controversy swirling around the two recent conventions, but let's focus on something almost everyone loves: craft beer.
Last month, President Obama was at a coffee shop in Knoxville, Iowa, chatting with Bradley Magerkurth, a salesman for a beer distributor. The two got to talking and Obama revealed his inner brewmaster. "He said, 'You know Michelle and I brew a beer at the White House, we brew a honey beer,'" Magerkurth told the Boston Globe. "And then he said, 'You know what? I should get a beer for you.'" Obama's aide quickly returned with a bottle he retrieved from Ground Force One and handed it to Magerkurth.
This simple act stirred up quite the brouhaha among several-thousand beer enthusiasts, who on August 23, submitted a "We The People" petition asking to see the first official White House brew recipe. Well, this past Saturday, they got their wish as the recipe for White House Honey Ale was released.
The concoction (which aficionados say is a fairly standard mix of light malt extract, amber crystal malt, honey, gypsum, yeast, and corn sugar) is believed to be the first beer brewed on the grounds of the White House. The honey comes from the administration's official beekeeper and all the brewing equipment and ingredients are paid for by the Obamas.
Along with the recipe, the administration also released a video of two White House chefs going through the whole month-long brewing process. Let the race to replicate the White House ale begin!
[Image: courtesy of beerpulse.com]