Three Boozy Sips to Pair With Spicy Food
In honor of National Hot and Spicy Food Day on the January 16, we round up complements for your next heat-seeking culinary adventure.
For some people, the holiday season is over. For us, the best holiday is yet to come. We are referring, of course, to National Hot and Spicy Food Day on the 16th! From jalapeño-inflected Central American food to piquant Korean fare and everything in between, there's nothing quite like a hearty bowl of chili or steamy banh mi to liven up the winter blues. What to drink though? Consider these boozy complements to your next heat-seeking culinary adventure.
J&P Matheus Riesling Piesporter Goldtröpfchen Kabinett 2020
($20, Kysela Pere et Fils)
That title is such a mouthful you may not have room for that jalapeño cheese bratwurst, but if you do, this wine is the perfect match. The Riesling grape is tremendously versatile, and this example offers up notes of pear and apple. It has a sunny disposition that plays well with both fatty and spicy food, not least because it's a bit sweet toward the finish, which helps put out the fire. The wine's acidic backbone, masked at first by the residual sugar, steps out on the finish to clean things up in a lip-smacking way that primes your palate for the next forkful.
Fun fact: Germany's Mosel River Valley is home to some of the nest Riesling vineyards. Here, on the steep banks of the river, growers must tend the vineyards manually or risk tumbling a tractor into the river. The town of Piesport anchors the famous Goldtröpfchen ("drops of gold") vineyard.
Hotel Tango Lemoncello
($35, Winebow)
For the same reasons Riesling works, so does this limoncello from combat veteran-owned Hotel Tango Distillery. Made with actual lemons, this is limoncello ready for sophisticated cocktails. But we aren't here for sophisticated cocktails, we're here with a batch of steak fries smothered in Old Bay, which needs something simpler and more direct. Grab a glass, throw in a shot, a squeeze of lemon, some simple syrup and top it with club soda. You're welcome.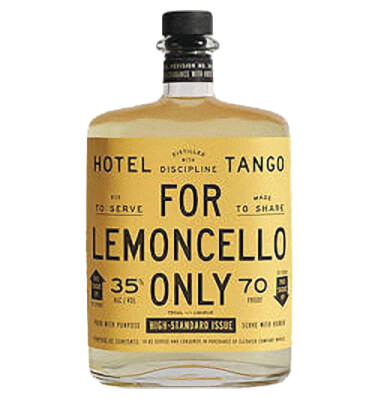 Ommegang Brewery Hennepin Ale
($13 4-pack bottles, Legends)
Most beer lovers reach for India Pale Ale when presented with spicy fare; the high-toned spiciness and bitterness can really dance with hot food. On the other hand, IPAs have been getting hoppier and more bitter and we think there's a point past which all the hops clash with and maybe even enflame spicy flavors. Ommegang's classic American saison-style ale still brings the hops, but they're dialed back a bit to let other notes like clove and citrus have their say. It's an immensely satisfying brew that elevates food rather than obliterating it but is bold enough not to get pushed around by heat.