A Seat at the Welcome Table
James Beard Award-winning author Toni Tipton-Martin talks about her new cookbook and moving to Baltimore.
A newly minted Baltimorean has moved to town just in time to launch her latest book, Jubilee: Recipes from Two Centuries of African American Cooking. Originally from Los Angeles, James Beard Award-winning author and activist Toni Tipton-Martin is now neck-deep in renovations to the Charles Village rowhouse she shares with her husband, Bruce.
"We always wanted to live in this part of the country, but, in some ways, it's been a tough transition," Tipton-Martin says of the move from her most recent home in Denver. "We have been suburban dwellers for many years." Yet she is drawn to the vitality of her new neighborhood. "This rowhouse, the vibrancy and energy, the artistic expression, people who are open-minded—it is so conducive to my work."
The author of several books, Tipton-Martin's latest efforts focus on what has become her calling: acknowledging the "talented but invisible" hands of African-American cooks, from the early days of enslavement to today's professional and home kitchens.
In her writing, speeches, and books, she details a new framework for assessing the contributions of black cooks in America. She lights a path to transcend the degrading images of Aunt Jemima in her kerchief and the constricted view of Southern fried chicken and 1960s "soul food" as synonymous with black cooking.
To give these cooks their due, Tipton-Martin has set the table with a pantry full of evidence drawn from her collection of 300 cookbooks, dating back to 1827, all penned by or featuring African-Americans.
This collection is the heart of her James Beard Award-winning 2015 tome, The Jemima Code: Two Centuries of African American Cookbooks, which presents the books without including recipes. "That was intentional," Tipton-Martin says. "Some of these ideas about black cooks and black cooking are provocative." Recipes, she felt, might get in the way of the larger message.
Her new book, Jubilee, debuted in November. It is a cookbook, and a beauty at that. In it, she shows just how diverse, sophisticated, and wide-ranging the African-American "welcome table" can be. Equal parts memoir, reporting, scholarship, and kitchen savvy, Jubilee makes clear the generosity of African-American gifts to American cuisine.
Tipton-Martin's commentary redirects our preconceptions about the ingenuity and entrepreneurship of African-Americans through more than 100 recipes, drawn from historical sources and updated for contemporary cooks. Think salmon croquettes inspired by Beatrice Hightower Cate's 1936 Eliza's Cook Book; Caribbean roast pork, influenced by a recipe from one of Maryland's own, photographer John Pinderhughes; and gingerbread with lemon sauce, a tribute to Booker T. Washington's passion for ginger cakes.
Preserving the complex legacy of black cooking is a "social justice project," she says. "Did you know black men and women owned culinary businesses in the 1800s? If not, maybe you'll think there are other things about African-Americans that you did not know. This is one way to broaden the mind and reduce the barriers between us."
---
Toni Tipton-Martin's String Beans à La Creole
Reprinted with permission from Jubilee: Recipes from Two Centuries of African American Cooking by Toni-Tipton Martin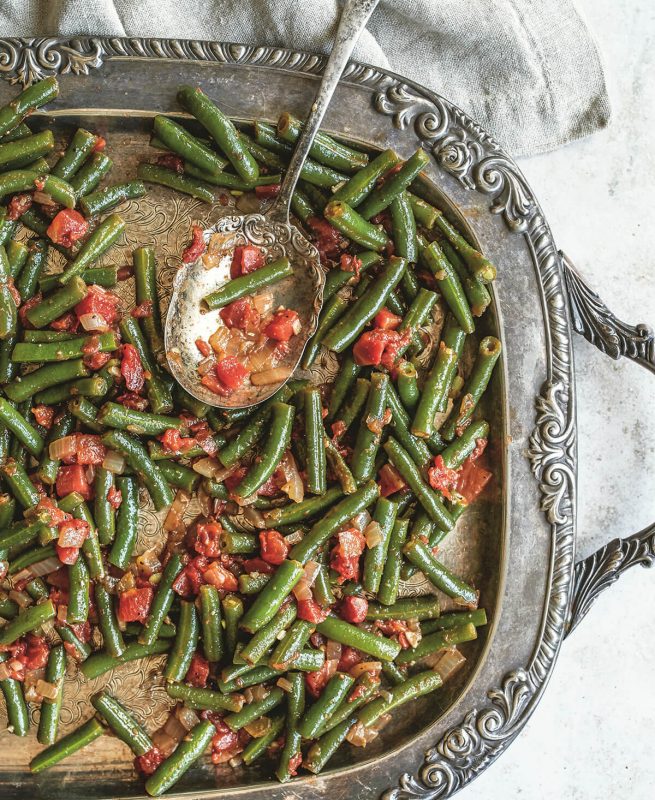 Green beans steeped in Southwestern flavors are an unusual but appropriate use of the term à la creole, meaning "of mixed heritage." This dish is a quick adaptation of Bertha Turner's 1910 book, The Federation Cook Book: A Collection of Tested Recipes, Contributed by the Colored Women of the State of California. She poached her beans in a broth laced with mild green chiles, then simmered them with tomatoes and more chiles.
Ingredients
Salt
1 1/2 pounds green beans, trimmed and cut into 1-inch pieces
2 tablespoons bacon drippings or vegetable or olive oil
1 cup diced onion
1 teaspoon minced garlic
1 (10-ounce) can diced tomatoes and green chiles (such as Ro-Tel)
1/4 teaspoon smoked paprika
Black pepper
Instructions

1. Set up a large bowl of ice and water. In a large skillet, bring a couple cups of well-salted water to a boil over high heat. Add the beans and cook until they turn bright green and tender-crisp, 3 to 4 minutes, shaking the pan occasionally. Plunge the beans in the ice water to stop them from cooking further. Drain and set aside.
2. In the same skillet, heat the bacon fat over medium-high heat. When hot, saute the onion and garlic until translucent, 2 to 3 minutes. Add the tomatoes and chiles, paprika, and beans. Season with salt and pepper and continue to cook 5 to 10 minutes, or to desired tenderness.