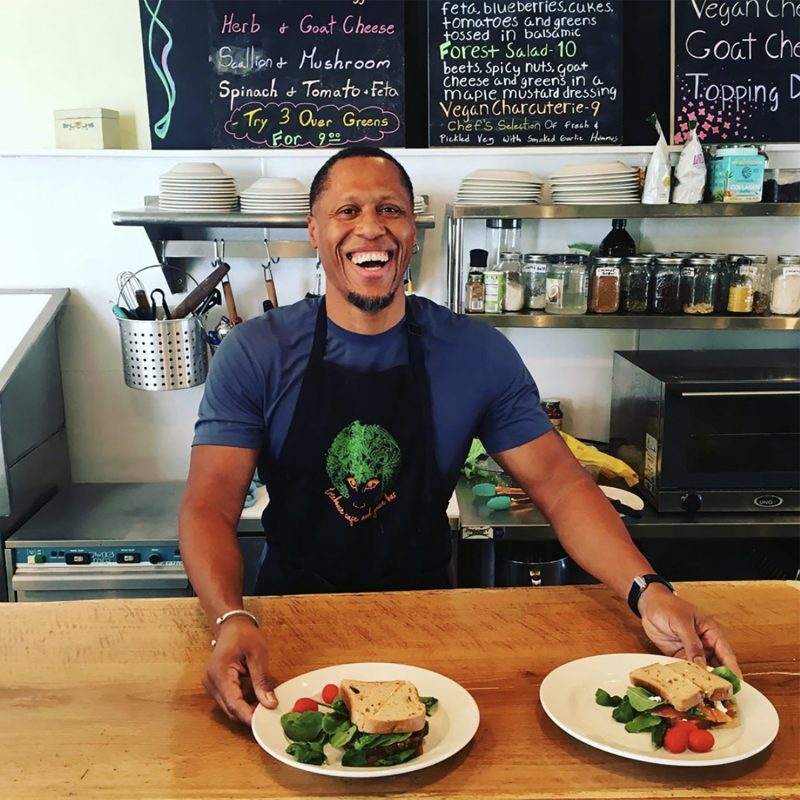 @treehousecafemd via Instagram
Throughout the past few years, the brick exterior of the shop stationed at the corner of West 34th Street and Chestnut Avenue in Hampden has boasted many different colorful murals. Locals might remember the red tricycle that graced the facade when it operated as kid-friendly Play Cafe, or the most recent funky wall design that welcomed neighbors into New York City-style bodega Prime Corner.
Now, the entrance is decorated with hand-painted trees and vines that represent the ethos of Treehouse Cafe and Juice Bar—a new holistic concept that features an entirely gluten-free menu of juices, smoothies, soups, salads, wraps, and pizzas.
"What we've seen more than anything else is how much the neighborhood wants something to succeed in the space," says Kirsten LaPointe, a fitness instructor at Movement Lab in Remington who co-owns Treehouse with fellow yoga teacher Shariff Roberts. "Everyone has come by and been so kind and supportive. Even the people who came in and weren't so sure they wanted only healthy choices were willing to roll with them."
As a certified nutritionist, Roberts had always wanted to open his own juice bar. And LaPointe, who worked as an art teacher before joining the local fitness scene, had long envisioned opening a bed-and-breakfast where she grew her own ingredients. Together, they came up with a menu that fuses the two ideas while incorporating superfoods—including turmeric, flax seeds, cacao, and MCT oils—that are medicinal to the body.
"Both of us are coming from the same angle of nurturing people," LaPointe says. "We want our customers to feel like they're having a treat, even though it's all healthy."
A few of LaPointe's favorite dishes include the gluten-free pizzas made with vegan cheese, savory hand pies that resemble empanadas, a vegan charcuterie board highlighting smoked hummus and caper berries, and a roasted root salad topped with orange and purple sweet potatoes.
After trying to make the concept work in another space for a number of months, the owners switched gears when they learned that the former Prime Corner store was available.
"Oddly enough, all of the equipment that I had collected for the other location fit into this space just like a puzzle," LaPointe says. "I got it all in, and I couldn't even stick a nickel in between two things."
Once all of the equipment was in place, the team got to work decorating the 50-seat cafe with steel chairs, reclaimed furniture from Second Chance, and new countertops made with live wood collected by local arborists.
"That's what makes it Treehouse," LaPointe says, mentioning that she hopes to add ficus and fairy lights soon. "Our name originally came from the beautiful yard and tree at the first location we attempted, but I think it also works here because it hints at the story that everything is made of fruits and vegetables. We're also using sustainable packaging."
Though the space is currently operating in soft-opening mode, an official grand opening party is scheduled for Wednesday, October 30 from 5-9 p.m. The pre-Halloween bash will feature free wine and card readings by Bonnie Tarantino.
Overall, LaPointe says she's looking forward to getting to know the neighborhood—especially those who might be skeptical about making a healthy lifestyle change.
"The joy I get is when someone feels better because of something that I served them," she says. "What I've been saying is, 'It's our party and everyone is invited.'"