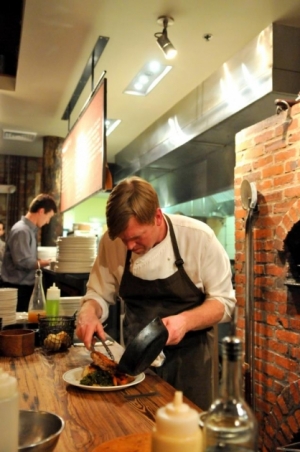 Woodberry Kitchen Facebook
Out of a pack of 20 James Beard Awards
semifinalists for Best Chef: Mid-Atlantic, Baltimore chefs Spike Gjerde
and Cindy Wolf made it to the final five. The winner will be announced
on May 5 in New York.
Both chefs have been nominated in the past. Spike—who owns Woodberry Kitchen, Artifact Coffee, Shoo-Fly Diner, and the soon-to-open Parts & Labor with his wife Amy, was a finalist last year.
Cindy, who has headed the kitchen at Charleston since 1997 and is a major player in the Foreman Wolf restaurant group, has been a finalist twice.
The
James Beard finalists were announced this morning from Chicago.
Hopefully, the announcer will get Spike's last name correct if he wins
in May. This guy pronounced it "Gerd."
Congratulations to both chefs.