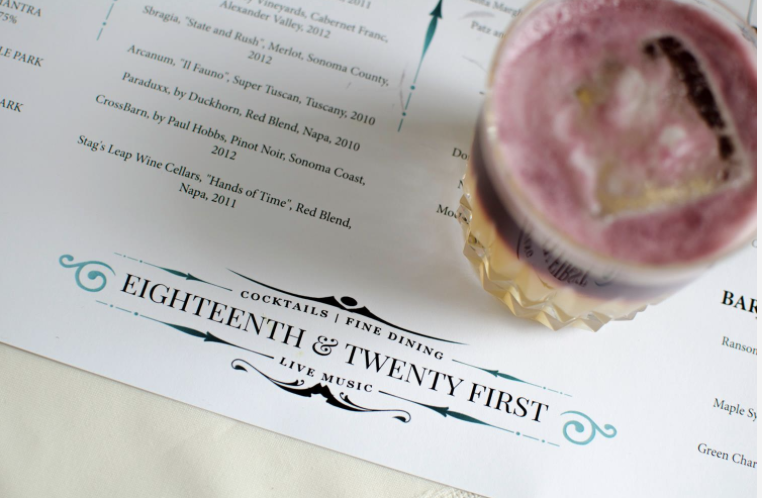 Courtesy of Cured and 18th & 21st
Nearly a decade ago, Steve Wecker sat down with John DeWolf, senior vice president of the Howard Hughes Corporation, to discuss the idea of opening a speakeasy-style jazz club in Downtown Columbia. It was an ideal time for the pitch, as the Dallas-based real estate developer was in the early stages of its revitalization plans to make the area more urban and walkable.
"John said, 'That's exactly what we need to kick this thing off,'" remembers Wecker, who co-owns Iron Bridge Wine Company in the neighborhood. "It's only taken about eight-and-a-half years to get here, but we're finally where we need to be."
Throughout the years, Wecker's vision transformed from a sole speakeasy, to a convivial Mid-Atlantic restaurant with a luxe supper club attached through the back.
"We thought, instead of opening a 6,000-square-foot jazz club, why don't we do two concepts under one roof," Wecker says. "We like to say it's a space for millennials out front, and boomers in the back."
Set to open in early May, the hybrid concept will be the first dining destination at Howard Hughes' 68-acre, crescent-shaped development near Merriweather Post Pavilion. The brand new, mixed-use district includes 1.5 million square feet of office space, a hotel, residences, a central park, and more than 300,000 square feet of street-level retail property.
The restaurant's front dining area, Cured, will play up the close proximity to Columbia's beloved concert venue (Wecker estimates the spot sits around 300 yards from the Main Stage) with vintage posters, old music memorabilia, and wooden accents reclaimed from some of the trees taken down on the Merriweather property.
"We want it to be kind of like an old neighborhood corner bar," Wecker says. "People always tell us that Iron Bridge is kind of like Cheers with wine. So we wanted to create that same feeling, and have some fun with the menu."
The 140-seat, rustic-industrial dining room will focus on local offerings including Eastern Shore oysters, Maryland craft beer, and cocktails made with spirits from Lyon Distilling and The Baltimore Whiskey Company. Executive chef Chris Lewis, formerly of Clyde's and Aida Bistro, has crafted the menu featuring dishes like charcuterie boards, coconut-braised short ribs, diver scallops, pan-roasted salmon, burgers with smoked gouda, and a roasted beet salad with local goat cheese.
Down a hallway through an unmarked door in the back of the restaurant is where diners can access the speakeasy—cleverly named 18th & 21st after the amendments that enacted, and later repealed, Prohibition laws. The 88-seat social spot will have a separate cocktail and dinner menu and offer live jazz six nights per week.
"After Prohibition, when they made liquor legal again, there was no longer a demand to get alcohol," Wecker explains. "So a lot of the speakeasies added jazz, dancing, and food to keep people coming back. They became a place to celebrate. This is our own modern take on that vibe."
The swanky lounge (think booths, droopy curtains, tufted walls, and a baby grand piano), will offer Lewis' plates including herb-crusted beef carpaccio, lobster poutine, turducken meatballs, and sorghum-glazed pork chops. Wecker's son, Stephen, and former Iron Bridge bartender Kyle Flanagan will helm the beverage program with sophisticated cocktails like the "Brave Little Gherkin" (Rittenhouse rye, pickled brine ice cubes, and a gherkin garnish) and "Two Tiny Flowers," a blend of lemon vodka, aromatized wine, and floral water.
The club will also be used for private events. To further their dedication to the community, Wecker and his partners are planning to offer the entire 18th and 21st space to local charities, such as Camp Attaway and Columbia Festival of the Arts, to use for fundraisers on Monday evenings.
"My dad always taught me to support the community that you do business in," says Wecker, a Columbia resident since 1969. "If someone in the area needs help, the best thing you can do is show up."
Though it has been a long road, Wecker is looking forward to seeing the project come to fruition—but he isn't stopping there. A second location of his rum-inspired Pasadena restaurant Mutiny Pirate Bar & Island Grille is slated to debut in Elkridge later in May.
"After the opening, I'm going to sit outside, have myself a glass of chardonnay, and a good cry," he says with a laugh. "It's been a tremendous journey, but despite of all of the roadblocks, we never lost sight of what we wanted to do."