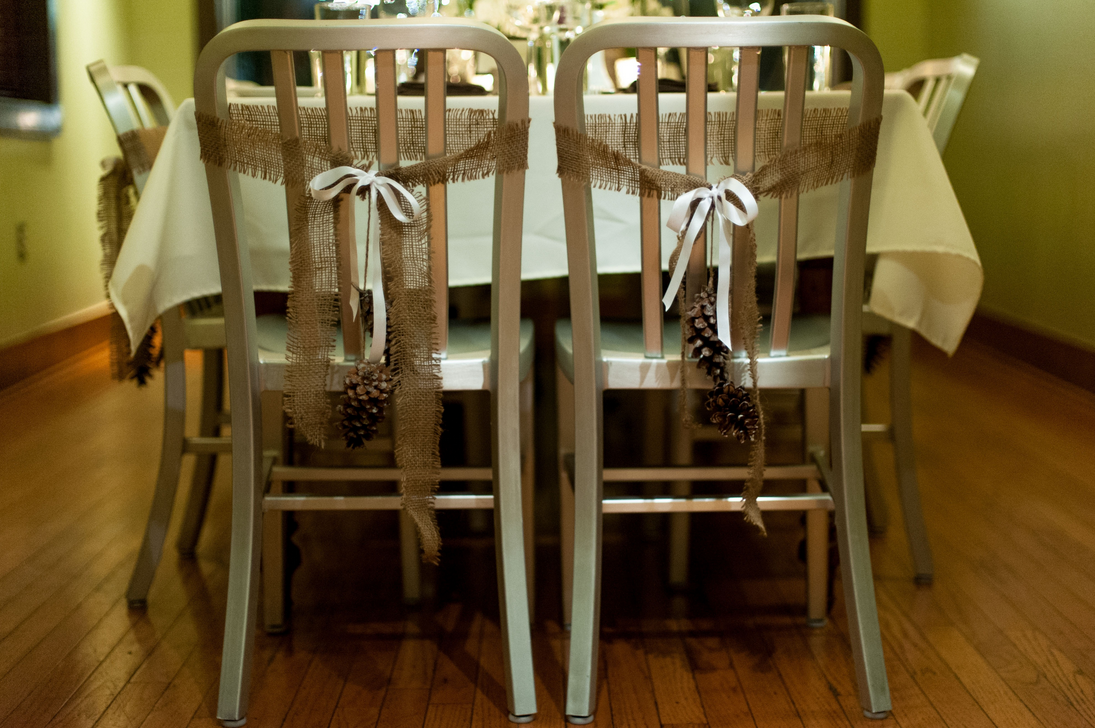 Courtesy of Liv2Eat
Although we still have Thanksgiving to get through before the winter holidays officially kick in to gear, it's time to start thinking about where to host your festive gathering once December rolls around. Whether you're planning an office party for the masses or an intimate hang-out with friends, here are some of the best private dining options available this season.
Boathouse Canton 2809 Boston St., 410-773-9795
Space: Take in the killer waterfront views from one of the seven secluded indoor/outdoor spaces at this multi-level Canton spot. Options include a mezzanine level party room, a sunroom, an outdoor lounge, or a large event tent on the water.
Accommodates: 20-100 guests.
Eats and Drinks: Customized menus can be created based on the guest list with fare ranging from mini crab cakes with Dijon aioli to tomato mozzarella bruschetta. Open bar packages are also available.
Pricing: Range from $25-$45 per person based on the menu of your choosing.
The Charmery 410-814-0493
Service: For a sweet finish, allow The Charmery's expert scoopers to cater the dessert at your seasonal soiree. The team will set up a full-blown ice cream social with all of the fixins' at parties within 20 miles of its shop in Hampden.
Accomodates: A minimum of 50 guests.
Eats and Drinks: Hosts can choose two holiday-inspired flavors including Tell Tale Chip (dark chocolate), Old Bay Caramel, Candy Cane, Winter Wonderland (coconut tinsel and white chocolate chips), Cookies for Santa (milk base with Christmas cookie pieces mixed in), Rye Whiskey Eggnog, and Sufganiyot (a jelly donut flavor in celebration of Hanukkah.) Or, for an extra fee, co-owner/master creamer David Alima will create a custom flavor specifically for your event.
Pricing: The all-inclusive sundae bar is $7 per person. (Each guest is served two scoops.)
Ristorante Firenze 2 Hanover Road, Reisterstown, 410-394-5577
Space: This Reisterstown newbie boasts a large main dining room, an intimate dinner party space, and a cozy lounge complete with its own fireplace.
Accommodates: Anywhere from 24-60 guests.
Eats and Drinks: Hosts are able to mix and match Firenze's Italian classics to create a signature prix-fixe menu, or they can opt for a buffet-style reception. Alcohol offerings, including the restaurant's 100-bottle wine collection, are not included in the fixed menu prices.
Pricing: $12-14 per person depending on a sit-down or buffet-style party.
Heavy Seas Alehouse 1300 Bank St., 410-753-1403
Space: The private room inside this historical building is accented with mahogany tables and chairs and has its own bar. An adjacent beer garden is also available for small private gatherings.
Accommodates: Ranges from 10-150 people.
Eats and Drinks: A cocktail party menu is available for guests to indulge all-you-can-eat appetizers like mini Portobello sliders and antipasto platters. Three-course pre-fixe menus can be customized before the party, with entrees like roasted chicken or house-made ricotta cavatelli. Drink packages, including all of the classic Heavy Seas brews, are also available.
Pricing: The cocktail party menu is $20 per person; group dining ranges from $29-$49 per person.

Joe Squared 33 W. North Ave., 410-545-0444
Space: This neighborhood pizza joint is settling in its new home just in time for the holidays. Located one block east from the old Joe Squared space in Station North, the new building features an entire private basement section with plenty of room for live music.
Accommodates: A maximum of 50 guests.
Eats and Drinks: A special all-inclusive holiday package offers guests a full buffet complete with the eatery's signature square pizza, risotto, salads, and appetizers plus a wide selection of wine and craft beer.
Pricing: The fixed price of $1500 includes venue rental, all food and drink, tax, and tip for 50 guests.

Liv2Eat 1444 Light St., 443-449-7129
Space: From intimate dinner parties in the small dining room to larger cocktail receptions in the front bar area, this elegant Federal Hill spot accommodates groups of any size. You can also ring in the holiday season by renting a heated tent overlooking the garden on Liv2Eat's back patio.
Accommodates: Anywhere from 16-80 guests.
Eats and Drinks: A multi-course winter menu includes dishes such as butternut squash soup, roasted beet salad, grilled swordfish, and pork loin with potato puree. Hosts also have the option to simplify the menu by eliminating an appetizer, or to upgrade it by changing the entrees or adding Cava and Prosecco pairings.
Pricing: A minimum of $35 per person depending on the menu and day of the event.
The Oregon Grille 1201 Shawan Rd., Hunt Valley, 410-771-0505
Space: Located inside a 19th-century farmhouse, this Hunt Valley mainstay offers four unique spaces for guests to mingle. Amenities include a private wait staff, flickering fireplaces, outdoor decks, and a private bar.
Accommodates: 12-50 attendees.
Eats and Drinks: Based on the size of the guest list, hosts can choose 2-3 entrees from lengthy brunch, lunch, and dinner menus. Appetizers, salads, soups, desserts, and passed hors d'oeuvres can also be added for an additional price.
Pricing: Appetizers run from $11-18 per person; entrees range from $11-56 per person; desserts range from $5-11 per person.
Verde 641 South Montford Ave., 410-522-1000
Space: Decked out with modern hanging light fixtures and wooden furniture, this Canton spot boasts a private 14-seat dining space and a second floor party room perfect for invite-only functions. The entire restaurant can also be rented out for larger affairs.
Accommodates: Anywhere from 12-150 guests.
Eats and Drinks: Organizers can create their own menus with Verde's award-winning pizzas, platters of house-made cheeses, and a variety of olives and salads. Bartenders will also work with you to create a special cocktail for the occasion.
Pricing: Prix-fixe menu options range from $20-40 per person. Open bar packages can be added starting at $16 per person.