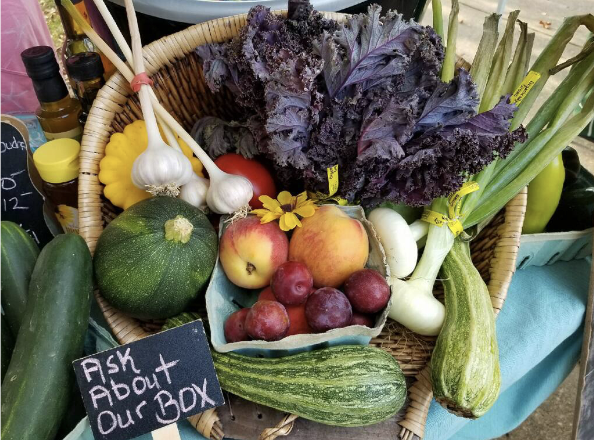 For many city dwellers, stopping by a neighborhood farmers' market has become a part of the weekend routine. But what happens when you run out of farm-fresh vegetables and herbs in the middle of the week?
Merritt Dworkin, the mastermind behind the Fells Point Farmers' Market, has launched a new producers-only bazaar that allows locals to restock their bounty on Wednesday afternoons through October. Featuring more than 20 vendors, the Canton Waterfront Farmers' Market runs Wednesdays from 3:30-7:30 p.m. at Canton Waterfront Park.
"Finding the right location was so key," Dworkin says. "Initially we wanted to do it on [O'Donnell] Square, but logistically we would have to shut down the street and it would really limit the number of vendors we could get in there. The waterfront seemed like a more natural fit—the view and the background are perfect."
Aside from the sparkling backdrop, Dworkin says that the park's location on Boston Street makes the market convenient for people running errands around Canton Crossing, or headed toward I-95 on their commute home.
The neighborhood was previously home to a farmers' market on South Ellwood Avenue that ended in 2014. Since then, various groups, including the Canton Community Association, have been pushing for a family-friendly market on a consistent basis.
In only two weeks since it began, Dworkin has expanded the event's footprint from 19 to 24 vendors. Many of them—including Ekiben, Gundalow Juice, One Straw Farm, and Boordy Vineyards—are regulars of the Saturday-morning market in Fells Point. (There will also be live acoustic music in Canton, similar to Fells Point.) But Dworkin has brought in a few newbies and amped up the number of prepared-food purveyors.
Looking ahead to next season, Dworkin hopes to extend the market's run past October, giving patrons more opportunities to shop local year-round.
"With more farms now having greenhouses and hot houses, we're hoping it will make it easier to expand our dates," she says. "For me, it's all about providing an event to help people support local whenever it's available."
Whether you're heading over for an afternoon treat, or grabbing ingredients to whip up dinner at home, here are a few vendors to look out for at the new Canton market:
A Friendly Bread: Get your carb fix from this North Baltimore-based breadery—which bakes artisan loaves in varieties like walnut-date, pumpkin seed, whole wheat, caramelized onion, apricot cardamom, and chocolate chip.
Black Bottom Farms: This family farm brings its bounty straight from the small town of Galena on the Eastern Shore. Peruse produce including beets, eggplant, heirloom tomatoes, English cucumbers, and sweet basil.
Cheese Galore and More: If you can't make it to Cheese Galore and More's new digs on South Charles Street in Federal Hill, visit owner Sharon Johnson at the waterfront fête across the harbor. The specialty shop offers everything you need to create a bona fide charcuterie board—including baguettes, gourmet crackers, meats, olives, antipasti, and, of course, plenty of artisan cheeses.
Migue's Magnificent Mini Doughnuts: These fried-to-order circles—made popular by the Fells Point market and the Baltimore Farmers' Market under the JFX—are the ideal mid-week treat. Bury your order in DIY toppings like powdered sugar, chocolate syrup, sprinkles, or a seasonal mango-chili sauce.
Phil's Dills and The Baltimore Whiskey Company: Dworkin, who intentionally stationed these two vendors side-by-side, encourages patrons to create their own pickleback shots with juice from Phil's Dills and spirits from The Baltimore Whiskey Company, which is settling in a new home at Union Collective. Pro tip: Try the Sweet & Spicy bread and butter pickles backed by Epoch Rye.
Thai Street: Get a little taste of Bangkok by way of Canton with the authentic grub prepared by this local pop-up. Dishes to look out for include spicy tofu panang (a nutty red Thai curry), sweet mango sticky rice, and classic pad Thai noodles.