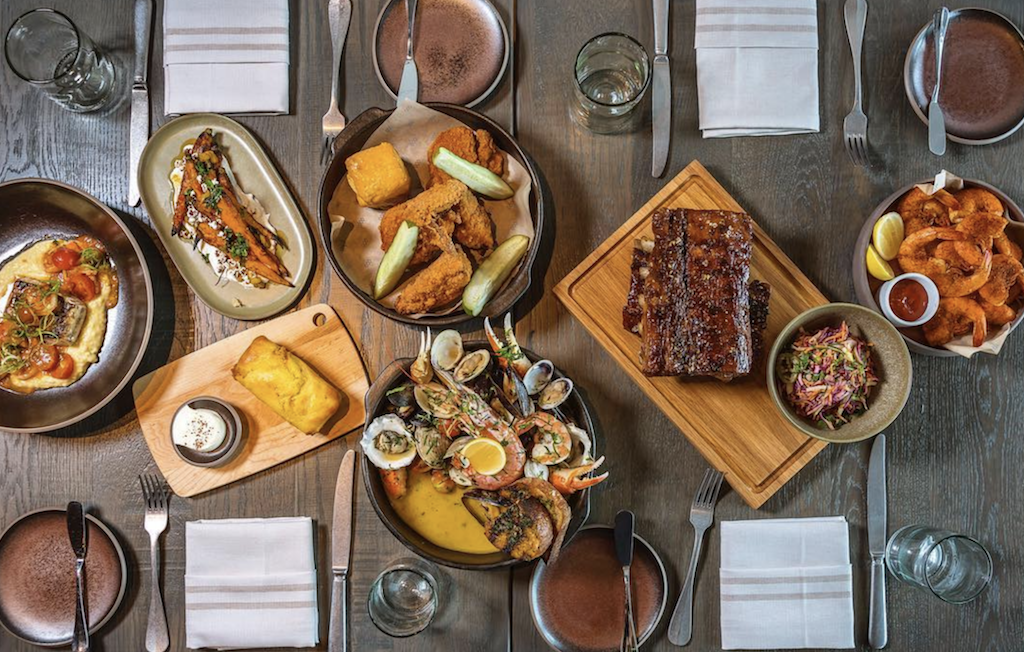 @ryestreettavern via Instagram
Nearly 100 dining destinations scattered across the city are perfecting their menus for Baltimore City Winter Restaurant Week, which returns in its 13th year January 12-21. With featured spots offering everything from burgers to bronzini—plus more vegan and vegetarian options than ever before—the annual prix-fixe promotion certainly boasts plenty to choose from.
"I thought originally that it was only for fancy places," says Annabel Lee Tavern owner Kurt X. Bragunier, who is participating in Restaurant Week for the first time this season. "But I've learned over time that little places like mine are good candidates, too. So I figured I'd give it a shot."
Bragunier's ode to Edgar Allan Poe on the corner of South Clinton Street closed briefly last summer due to financial struggles. Luckily, two local investors swooped in to save the bar soon after. Now that the tavern is back on its feet, Bragunier says that he's looking forward to really showing the community what it has to offer.
"We wanted to gear the menu toward people who haven't been here," he says, mentioning the restaurant's "tried and true" dishes including its crab cakes, crispy Brussels sprouts, and duck-fat fries. "I feel really strongly about our food—it's just all about getting people in here to try it."
Annabel Lee is among many of the must-try spots that are participating in the 10-day deal, which offers fixed menus priced between $12-25 for a two-course lunch, and $20-35 for a three-course dinner. In an effort to help break down all of the options, we've put together list of recommendations for the best spots to visit—whether you're interested in a luxurious lunch, vegetarian dishes, beer pairings, or dining near a cozy fireplace.
Best bargain: The Prime Rib
With its white linen tablecloths, leather chairs, and famous leopard-print carpet, this Midtown supper club is bursting with old-school charm. And while its entrees could typically set you back anywhere from $26-69, the swanky steakhouse is offering a three-course prix-fixe menu including all of the classics for $35 during Restaurant Week. Choose from a house salad or warm bowl of tomato soup to start, followed by main courses like filet mignon, chopped sirloin, a center-cut pork chop, imperial crab, or the namesake special cut of prime rib. End the evening on a sweet note with traditional crème brûlee, key lime pie, or chocolate mousse. 1101 N. Calvert St., $35, 410-539-1804
Beer pairings: Heavy Seas Alehouse
There are plenty of spots to sip worldly wines, but if you're more of a beer person, Heavy Seas Alehouse has got you covered. Each of the menu's three courses will be accompanied by 10-oz. pours of Heavy Seas favorites including the Vienna-style Cutlass lager, Peg Leg imperial stout, and the brand new Americannon pale ale. Fittingly, the menu also features beer-infused specials including beer-battered crab dip, an alehouse burger marinated in Heavy Seas' Powder Monkey pale ale, Golden Ale mousse, and a Tropicannon bread pudding with beer-infused cream sauce. 1300 Bank St., $35, 410-522-0850
Brunch spot: Minnow
This South Baltimore spot, which has been generating buzz with its smoked cocktails and trendy black-bun burgers, is going all out for Restaurant Week. In addition to the prix-fixe dinner menu (think dishes like crispy tofu, braised beef short ribs, and a chocolate-almond tart), the spot is also offering a three-course brunch. Dig in to dishes like French toast with spiced apple compote, crispy fried chicken on a blue corn waffle, sautéed shrimp omelets, and a Snow White cake with a  vanilla-swiss buttercream. 2 E. Wells St., $22-35, 443-759-6537
Luxurious lunch: Johnny's
Ditch the sad desk lunch and head to this Roland Park favorite for a three-course meal that starts off with either butternut squash soup with sage brown butter, or a classic Caesar salad. Then choose from options like a beer-braised short rib sandwich, chicken BLT hoagie, or a grilled shrimp kale salad with beets, goat cheese, and Marcona almonds. You can't go wrong with ginger molasses, mocha chocolate chip, or gluten-free peanut butter cookies for dessert. 4800 Roland Ave., $20-35, 410-773-0777
Newbie: Rye Street Tavern
If you have been meaning to swing by chef Andrew Carmellini's new tavern next to the Sagamore Spirit Distillery campus in Port Covington, Restaurant Week is an ideal opportunity. Take in the waterfront views while indulging in options like black bean soup with lime crema, cornmeal-crusted catfish with Carolina gold rice, the chef's famous fried chicken with buttermilk biscuits and whiskey pickles, and banana pudding for dessert. 225 E. Cromwell St., $20-35, 443-662-8000, weekends excluded.
Most romantic: Annabel Lee Tavern
Nothing says amour like the melancholic-romantic style of Edgar Allan Poe. This beloved corner destination devoted to the master of macabre is an ideal date-night spot, with its dim lighting, merlot-colored walls, sculpted ravens, and vintage paintings. Glance over the handwritten menu to find dishes like chicken tortilla soup, a charred romaine and tomato salad, and comfort-food entrees like meatloaf with Applewood-bacon gravy and a mango vegetable curry served over couscous. Plus, you can make it a cheap date, since the prix-fixe menu only costs $28. 601 S. Clinton St., $28, 410-522-2929, weekends excluded.
Vegetarian offerings: Myth & Moonshine
Sip Moonshine cocktails out of a Mason jar while enjoying the farmers' market-inspired fare at this Canton hangout. Chef Kevin Cauthorne's three-course dinner menu features many meatless options including French onion soup, a fried goat cheese medallion in a crimson tomato sauce, and white wine-marinated eggplant fried in Cajun flour with a side of sautéed spinach and zucchini. The dessert menu also bolsters the ultra-local focus, featuring Dangerously Delicious Berger cookie pie and cheesecake from Sasscer's Bakery in Canton. 2300 Boston St., $25-35, 410-777-5502
Best fireplace: Regi's Bistro
Retreat from the frigid temperatures by snagging a table near the antique marble fireplace at this Federal Hill mainstay. The seasonal specialties on Regi's Restaurant Week menu only add to the cozy vibe—with lunch options like a Bangkok chicken noodle bowl or steak quesadilla, or dinner dishes including Chilean sea bass, veal osso bucco, New York strip steak, and flourless chocolate cake. 1002 Light St., $15-34, 410-539-7344