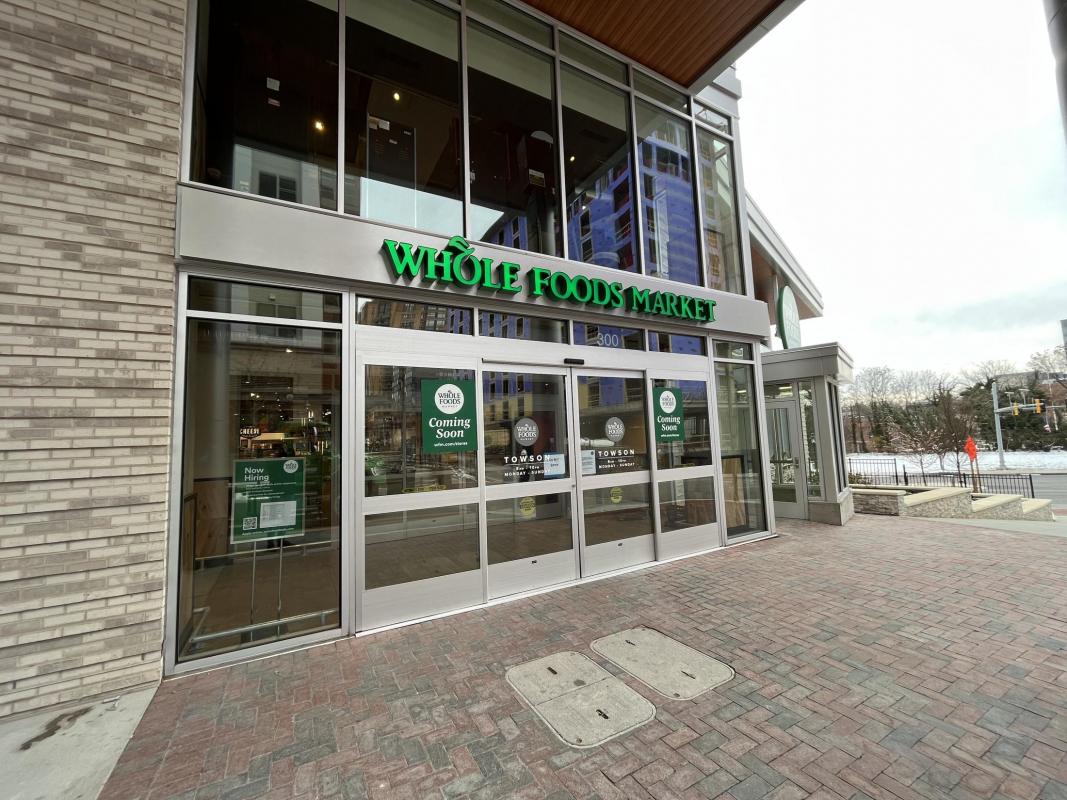 —Photography by Cody Boteler
First announced years ago, and a couple of years behind the initial schedule, the Whole Foods Market in Towson is set to open on Friday, January 14.
The nearly 60,000-square-foot grocery store will anchor Towson Row, a mixed-use development project at the intersection of York Road and Towsontown Boulevard. Nancy Hafford, executive director of the Towson Chamber of Commerce, calls it, "probably one of the biggest things that's hit us in a long time."
"They have quality products, good service, and a great reputation," she says. "And now there are a few thousand people who live within walking distance to a new one. People being able to walk there changes the dynamics in the community."
County Executive Johnny Olszewski Jr. says the project has been a long time coming: "After many years of dedicated efforts from everyone involved, the official opening of this new anchor project is yet another exciting sign that greater Towson is quickly transforming into a regional destination for people to live, work, study, shop—and eat," he says.
The Towson location will include an upstairs mezzanine with a lounge, arcade, and outdoor seating; a community room available for meetings and working groups; a full-service coffee bar; a seafood counter; prepared foods; a bakery; and more, according to the company.
Whole Foods says it wants to focus on its location in Maryland and proximity to Baltimore, in part, by offering local products.
"Our team members are excited to finally open our doors after putting so much hard work and planning into Whole Foods Market Towson," says Ashley Chaney, senior in-store and local marketing specialist. "We're looking forward to sharing our locally made products with the community and serving as a food and well-being destination for the people of Towson."
Kathleen Leverenz, the "local forager" for Whole Foods Market's Mid-Atlantic Region, says the store will have more than 1,000 homegrown products. In advance of the grand opening, we asked her to share some of the made-in-Baltimore items she's most excited about. Here's what to look out for while perusing the aisles:
Fresh Shucks from True Chesapeake Oyster Co.
Sourced straight from their farm on St. Jerome Creek in Southern Maryland, True Chesapeake offers premium sustainable oysters, while supporting the rich ecosystem of essential marine life in the Chesapeake Bay. (They're also the team behind the restaurant of the same name at Hampden's Whitehall Mill.)
Hiatus Cheesecake's Triple Love Cheesecake
Handcrafted by this B-More Kitchen-based brand—headquartered just up York Road in Govans—Hiatus Cheesecake offers a thick vanilla bean cake over a brownie crust layered with a chocolate chip cookie.
Honey Bar Soap from Hon's Honey
This Charm City-based health and beauty shop sells home and body products made with local, raw honey, which are handcrafted by women survivors. The brand's bar soap leaves skin feeling nourished and moisturized.
Sourdough Toasts from A Friendly Bread
A Friendly Bread owner Lane Levine turns his delicious sourdough into snackable toasts, which will be sold at the new store. "Their pecan cranberry flavor is perfect to pair with brie," says Leverenz.