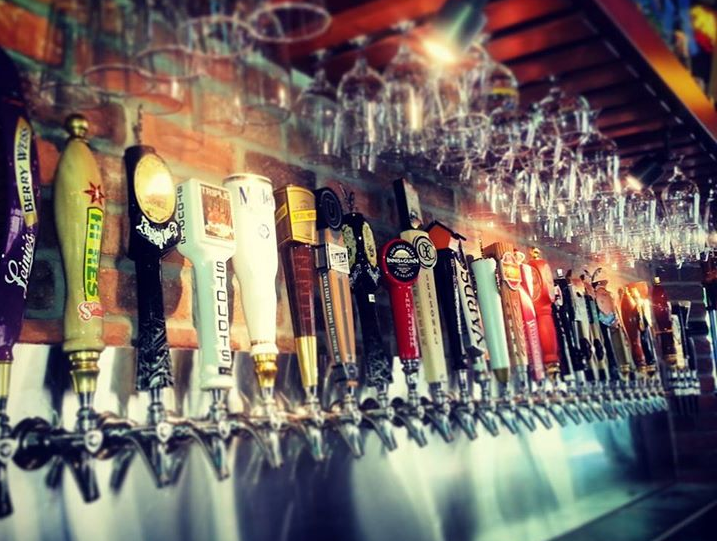 Courtesy of World of Beer
Although the Towson bar scene surely isn't lacking, a new spot headed to the area will offer more options for craft beer lovers.
Come September, World of Beer (WOB) will join the likes of Nando's Peri Peri, BJ's Brewhouse, and Bobby's Burger Palace in the rapidly evolving Towson Square on East Joppa Road. Its debut will mark the tavern's second location in Baltimore, the first being McHenry Row in South Baltimore.
"Towson is such a thriving city, but there's definitely a hole when it comes to craft beer bars," says John Stein, development partner for WOB. "There are other bars that offer craft beer but not to the level that we do."
As its name signifies, the Tampa-based franchise highlights a rotating selection of more than 550 brews from across the globe, making it a popular hangout among beer buffs.
In addition to pouring international pints—like England's Old Speckled Hen Pale Ale, Jamaica's Red Stripe Lager, and Ireland's Harp Lager—the tavern is also known for its upscale pub grub, offering eats like beer-battered onion rings, sliders, and its signature German pretzels. (Fittingly, the WOB menu recommends specific beer pairings for each dish.)
CJ Johnson, general manager of WOB at McHenry Row, says that an expanded kitchen at the Towson location will allow for more food options, and that the new bar will also introduce craft cocktails—which have never made their way onto the first location's menu.
In keeping with the brand's philosophy of partnering with local breweries, the opening lineup for WOB in Towson will feature a special cask-conditioned firkin of pumpkin ale from Heavy Seas Beer, and a custom tap tower that brews Jailbreak Brewing's German-style Feed the Monkey beer with fresh bananas.
"It's always really important that we have some type of close relationship with surrounding breweries. We have locations all over the country, but none are the exact same cookie-cutter model," Johnson says. "We want to be at the forefront of craft beer, but we can't do that if we ignore the local players."