Christopher Schafer Makes His Mark With Many Missions
Schafer discusses his nonprofit, Sharp Dressed Man, and the other causes that he supports.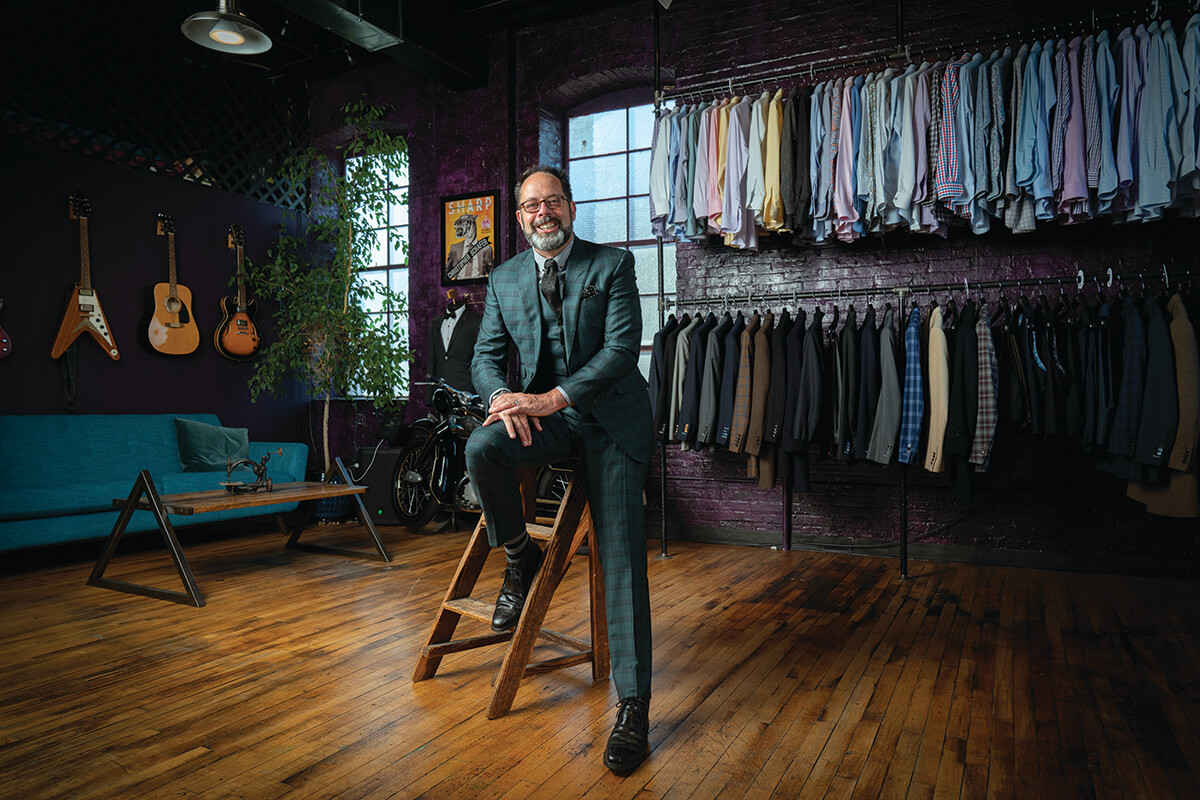 As owner of an upscale Baltimore men's tailor shop, Christopher Schafer, of Christopher Schafer Clothier, knows about creating custom clothing—especially outfits that show off each client's personal style. Trained in London, he learned the art of measuring and design, paying close attention to every detail, from the fabric to thread color.
It was in 2010 that he first opened his custom-suit shop, where Baltimore's most stylish men get their threads. But shortly after that, he hatched another, related idea for those in need.
"I had a client who brought in several bags of clothing he no longer wanted and asked if I could find a home for them," says Schafer. "After looking for a place to donate them, I realized no one was focusing just on menswear." So, he launched the nonprofit Sharp Dressed Man, which gives away suits, sport coats, ties, belts, and shoes for free.
It's a cause that's currently on both coasts: Schafer's oldest son, Seth, his business partner, now has his own shop in Santa Monica, California, where the nonprofit helps men out there, too.
"Since its inception, we have suited up about 10,000 guys in business attire for interviews and other occasions," says Schafer. "We partner with a lot of other organizations that do job readiness and then provide clients with a hand-selected recycled suit and accessories to wear. It's a real confidence booster. When you get a guy dressed properly and he looks at himself in the mirror, he sees his own potential. We believe a change of clothes changes lives."
For Schafer, helping others through Sharp Dressed Man is a mission with deeply personal meaning. "I had a battle with drugs and alcohol for 20 years, and if I hadn't changed my life, I either would have been dead or been in line asking for free soup," he says. "They say that if you want to keep it, you have to give it away. So this is how I can give it away, by helping other people with my God-given talent—what I know about clothing."
Also on his to-do list? He wants to launch an alteration shop with the proceeds going to the nonprofit. "I would also love to have a sewing school with it," he says. "It might even revive the garment industry in Baltimore."
Schafer has a few other causes on the side, too: He and his sons are avid skateboarders, and he's now working with people in the city and Baltimore County to get more skateboarding parks built. And he's very involved in getting the historic Perry Hall Mansion restored as a cultural center for the area. He's also something of a master of ceremonies. After expanding his shop, he now has a stage set up and holds events there, with some events raising funds for the cause. A drummer, Schafer sometimes performs, as well.
"Baltimore is a very artistic area," he says. "I have local artists display their works on my shop walls and invite them to the parties. I believe it gives people an opportunity to see the art. Also, I like an eclectic party, I think it makes for a much more colorful, fun event. I put people together and things happen."