Meet the New Faces of Farming in Baltimore
Through the seeds they plant, these individuals and their organizations are giving back to the community.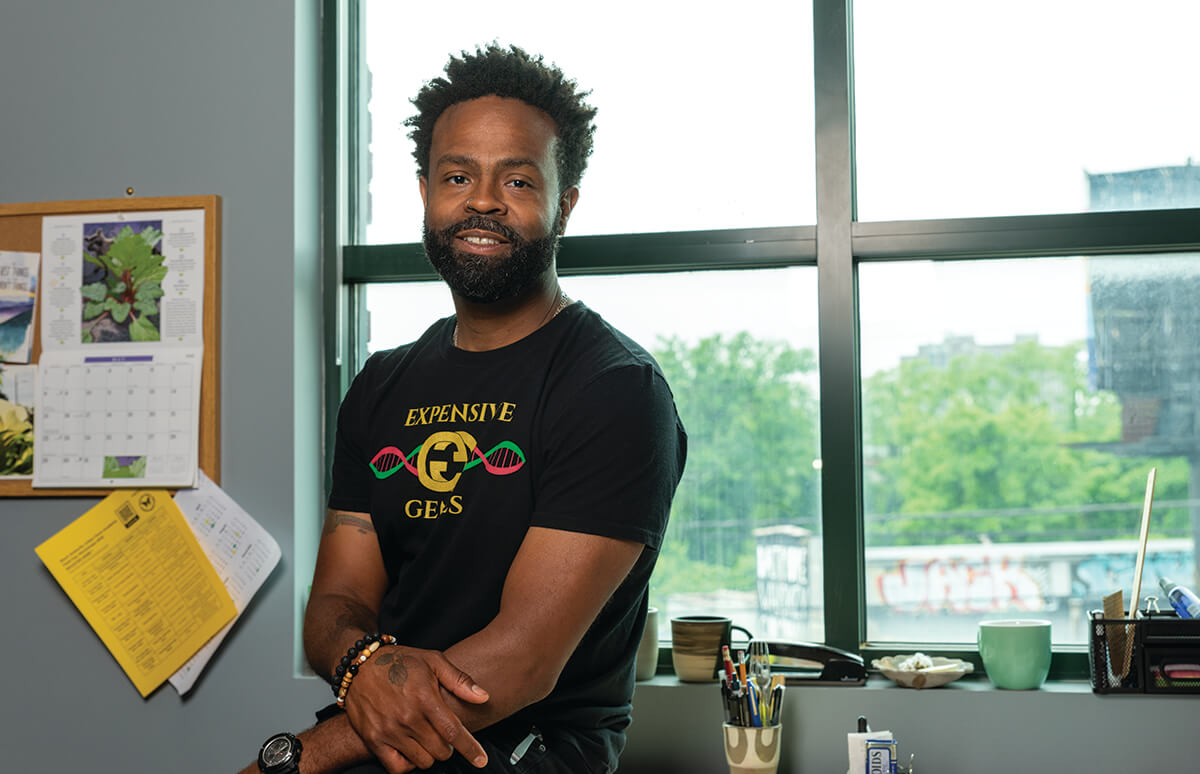 DENZEL MITCHELL JR. 
Putting the "farmer" in Farm Alliance.
Every single Friday, the extremely hard-working Denzel Mitchell Jr., co-executive director of the Farm Alliance of Baltimore, walks the land—all 6.7 acres—of the new teaching farm near the Farring-Baybrook Recreation Center, tucked between Curtis Bay and Brooklyn.
Mitchell, who has a strawberry tattoo on his right hand, is pointing out the sweet yellow onions and garlic growing in neat rows, just past the apiary, where the greenhouse and fruit orchard will eventually reside, on the Baltimore City Recreation and Parks land the alliance hopes to lease. The nonprofit, now in its 11th year, currently has 17 farm members all within city limits with one exception—Catonsville's Great Kids Farm, owned and operated by Baltimore City Public Schools. The Farm Alliance's mission is simple but impressive—to support urban farms in Charm City through resource sharing, soil testing, marketing, technical assistance, plant giveaways, networking, and a co-op booth at the Waverly Farmers Market.
When Mariya Strauss tapped Mitchell to share her executive director duties this past January—she focuses on development and advocacy; Mitchell on education and operations—it was because she wanted the organization to finally be led by a farmer.
"She also wanted it led by a person of color, preferably Black, to represent the population of the city," says Mitchell, who previously owned farms in Baltimore City and County with his wife. "It was the most beautiful and most stressful time of our life."
That deep understanding of the literal blood, sweat, and tears that goes into cultivating land helps him better "serve farmers and address their needs." The Farm Alliance's newest program—The Black Butterfly Urban Farmer Academy—is a nine-month training program focused on sustainable agriculture methods and the business of owning a farm through classroom sessions and on farm work and field days.
"We're teaching the business and practice of small-scale farming," says Mitchell. The idea behind the intensive program is to produce a new batch of innovative and creative farmers, who will (hopefully) be Farm Alliance members, too.
ATIYA WELLS
Building a basecamp for young nature lovers.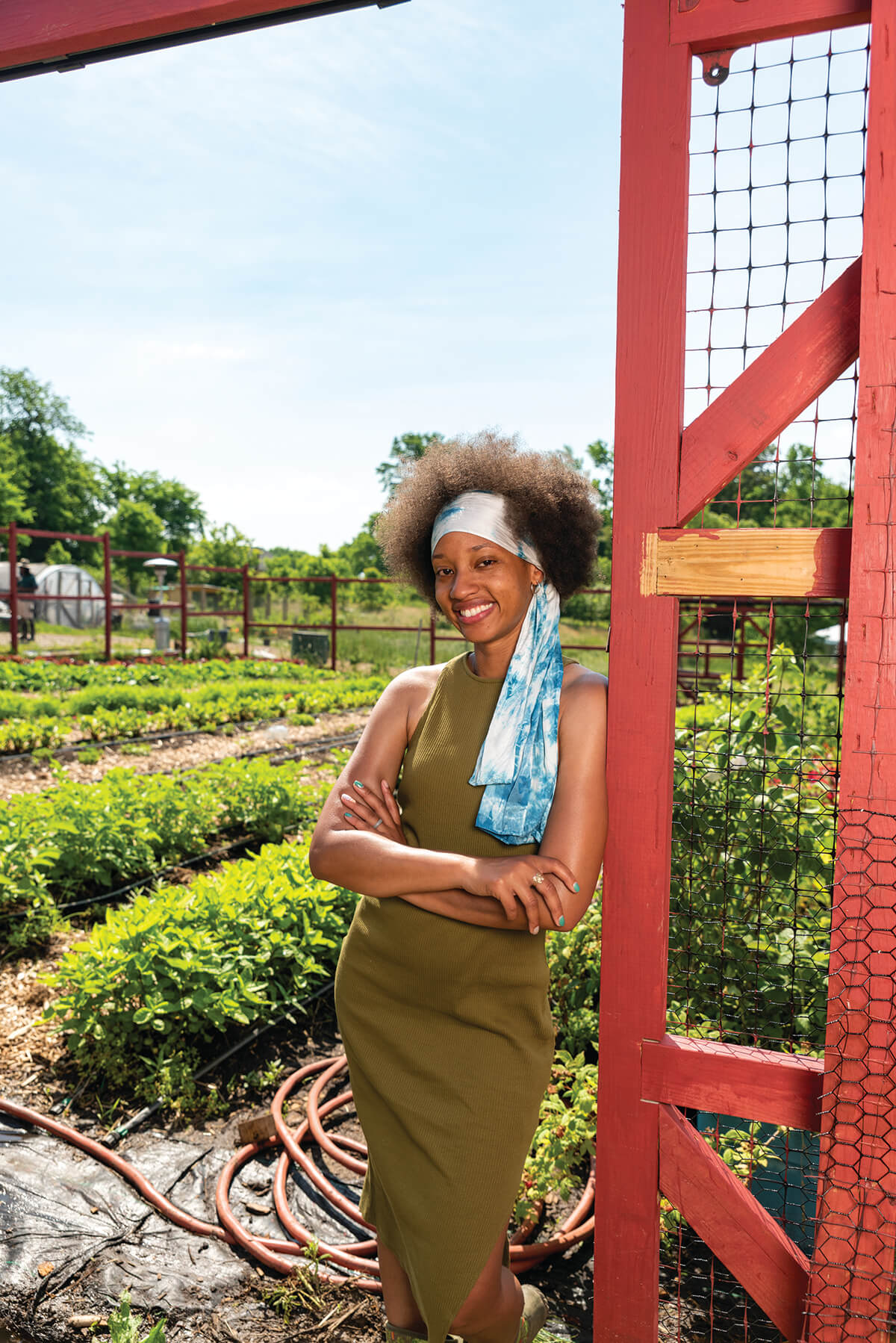 Atiya "Tia" Wells is instantly likeable. The former pediatric nurse has an easy laugh and a foul mouth. She can always be found somewhere at BLISS Meadows—BLISS stands for Baltimore Living in Sustainable Simplicity—where she is the founder of Backyard Basecamp, an initiative to connect city kids with nature through exploration, play, and other educational programming.
Wells, who grew up "in the hood of Newark, New Jersey," was not always a nature lover. The first time her now-husband, Kieron, took her on a walk in the woods she thought, "He's gonna kill me." But soon those hikes became a weekly ritual. It also helped Wells realize, "You don't really need to travel far to experience nature or to be immersed in the outdoors."
That eventually morphed into outdoor time with their children and then Wells starting the Baltimore chapter of the Free Forest School, a nonprofit that promotes unstructured outdoor play. Other parents would ask her questions and Wells realized, "If I'm going to be leading people outside, I should probably know what poison ivy actually looks like."
She signed up for nature classes and workshops and observed time and time again, "I was almost always the only Black woman." She couldn't believe it since most of the classes were "in and around Baltimore—a Black-ass city."
Wells started researching the why. "I learned a lot about environmental justice, food apartheid, and ancestral wounding or generational trauma," she says. For many Black people it simply boils down to the belief that "the outside is no place for us," says
Wells.
Around that time, Wells was exploring her own Frankford neighborhood and found what seemed to be a greenspace not far from her home on Moravia Road. It turned out the lot—which had been initially intended as a tiny homes' community for the unhoused—was just sitting empty after permitting woes.
In the three years since, thanks to the generosity of the park's owner, who donated the land to Backyard Basecamp, Wells has turned the 10-acre property into a city oasis that includes a pond full of loud frogs and trails where foxes and deer explore. There are also chickens, sheep, and goats, a garden full of leafy greens and potatoes, an eight-week summer camp, and after-school programs that have served over 800 kids.
A house that sits next-door to the property (and serendipitously happened to be empty) is now being turned into their headquarters thanks to a robust GoFundMe. The hope is the space will house an ample kitchen where Wells and her tireless staff will be able to show families how to prepare the vegetables they grow.
"Once I made the decision to fully commit to this project so many things just fell into place, almost like it was meant to happen," says Wells. The land, the generosity of the park's owner, the vacant house. "For everything to happen the way that it did—you can't make it up."
KATE JOYCE
Building resilience and job skills through farming at TALMAR Horticulture Therapy Center.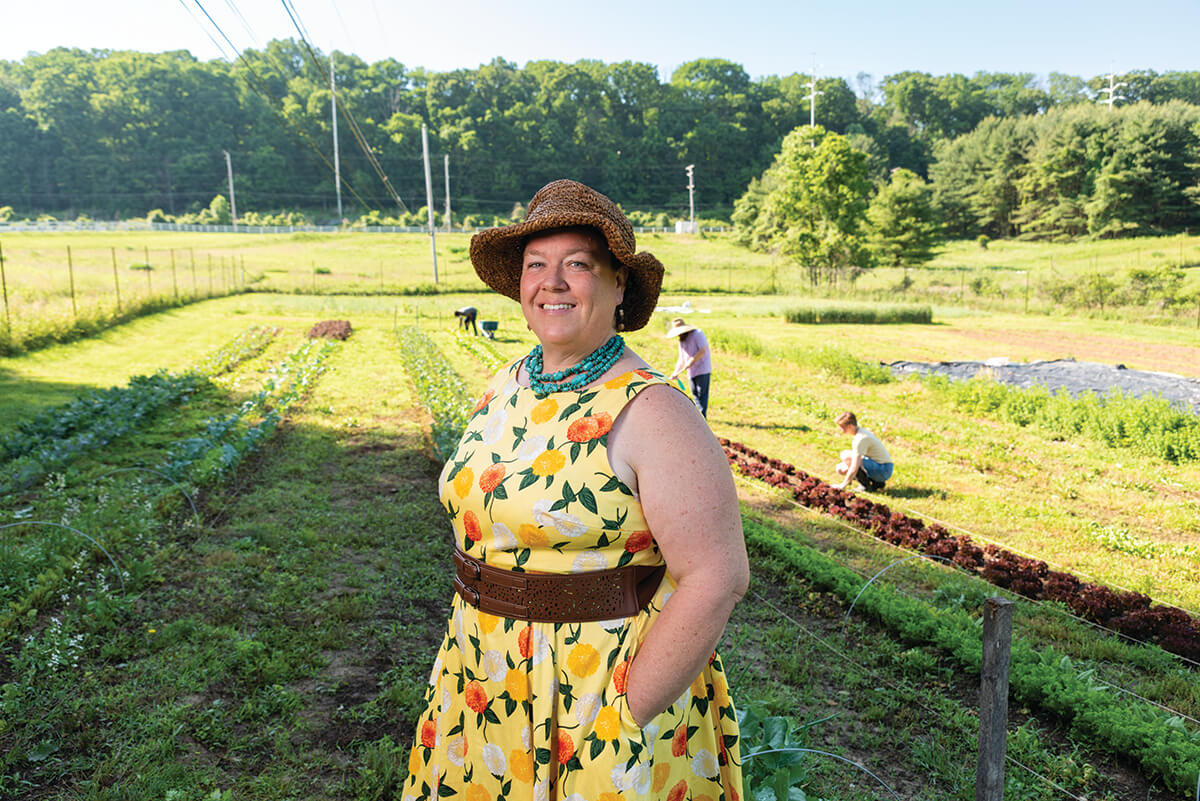 There's something magical about TALMAR Horticulture Therapy Center, nestled in Cromwell Valley Park, just a few miles from I-695. The nonprofit, helmed by Kate Joyce, is a beautiful, 10-acre farm that provides a safe space for vocational and therapeutic programming in agriculture and horticulture.
On a bright Tuesday morning, some adults with autism are readying an area for loofah and mushroom growing. "Last week they did more than we expected," says Joyce, who is the kind of person you'd want to share a beer with. (But be warned: By the end of the night, you'll likely be her biggest donor.) "No more baby chores. Today we gave them real farm work."
On another field is a group of veterans that are part of a 15-week Veterans Affairs (VA) Farming and Recovery Mental Health Services program.
"Those veterans are putting tomatoes in," explains Joyce. "In two months, they are going to be harvesting tomatoes that they grew from seeds in a greenhouse—that's spectacular."
When the program is over, they'll have spent 150 hours learning the basics of farming and that includes fieldwork, classroom time, and weekly group therapy that meets under the big oak tree.
"Everyone has their own reason for being here," explains Joyce. The only criteria are they must be eligible for services within the VA Maryland Healthcare System and be physically fit enough to partake in farm chores. There's also a gentleman who is in recovery from a stroke and uses TALMAR's adaptive tools to work the land. (There's a full-time occupational therapist on staff.)
"We have this brace he can put on over his arm so he can use the hoe and rebuild the conversation from his brain to his hand." It's often the same movements that would happen inside a rehabilitation facility but "being outside is different," says Joyce, as sunshine bounces off the picnic tables and a flock of chickens strut around nearby.
"We want to be the go-to place for accessible farming," explains Joyce, adding that no matter what someone's limitations are they can be engaged in farming. For example, the greenhouse—which is being turned into a 12-month edible food forest with banana trees, strawberry plants hanging from the ceiling, fruiting tomatoes, and vining squash—is entirely wheelchair accessible with rolling tables to make for wide passageways.
There's a quiet amazement here, says Joyce, whether you're clipping peonies to sell, weeding, tending to the bees, or drying marigolds for a natural dye.
"We use the farm as a tool and a toolbox for therapeutic programs and the crops are just an output of all of those programs," says Joyce. "Everyone is here hoping for the best for everyone else."