BLISS Meadows Enriches its Community Through Natural and Farmed Green Spaces
Abandoned Frankford lot is transformed into a place to teach the neighborhood through nature.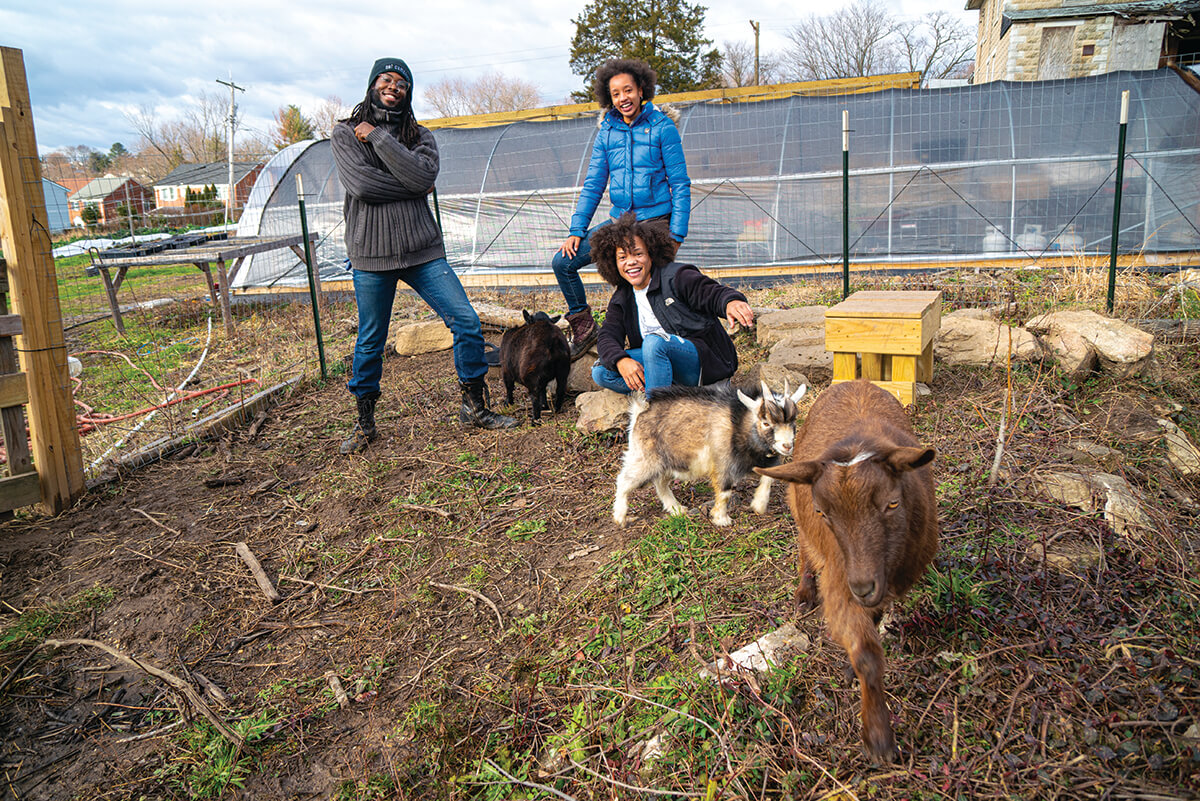 There are goats grazing in a meadow in Northeast Baltimore. There's also a coop full of chickens with names like Scarlet, Rusty, and Lemongrab. And across 10 acres that were once abandoned by the city, there are crops being planted and a natural forest being tended by dedicated stewards and volunteers. This piece of land, spread across Barbara and Parkwood Park, is BLISS Meadows.
The urban green space in Frankford is the brainchild of Atiya Wells (pictured center) who went to the lot to explore the space after noticing it on Google Maps in 2017.
Wells, a pediatric nurse, had grown up with her grandmother's garden and worked with plants at home. After reading Leah Penniman's Farming While Black, Wells was inspired to develop the space, which had been abandoned and overgrown for decades, into a place that could enrich and teach the neighborhood through nature.
"The project evolved organically," she says. "When I found the land, it was initially just to steward the forest. And then, as I was walking, I noticed that [an additional] two and a half acres were vacant as well. I thought, well, we can wrap this all together in one package and create a space for environmental education in the city."
That environmental education includes urban ecology, farming, animal husbandry, and more, all informed by the community around BLISS, which stands for Baltimore Living In Sustainable Simplicity.
Dr. Rose Brusaferro, (pictured right), the farm's environmental education programs specialist, says that it's the engagement aspect—the way they assess neighborhood needs to inform projects, from the building of outdoor classrooms to what crops they put in the ground—that has made BLISS such a success.
"I'm most proud that some things we've grown this season, we've been able to donate to people who need it the most right now," says Jordan Bethea, farm manager, (pictured left), with a portion of the farm's yield going to neighbors and a local community refrigerator. "For me, the most powerful success is delivering [food] to people who are actually going to make use of it, to pare down a small part of their grocery bill, and make sure families are fed."
The BLISS team is hoping that this space can become a model of what can be done with abandoned lots and homes in Baltimore and beyond.
"I want people to see that neighborhoods, especially predominantly Black and brown neighborhoods, have the power to change their communities for the better," says Wells, whose work garnered her a lauded fellowship with OSI Baltimore in 2020. "You are the people you've been waiting for. Just go out there and do it. If there's something that you want to change, just start. And eventually the people who you need to reach will find you."