Shelonda Stokes is Determined to Make Downtown The Best It Can Be
Since officially becoming the president of Downtown Partnership of Baltimore in 2020, Stokes has more than doubled revenues and created multiple programs supporting local business owners.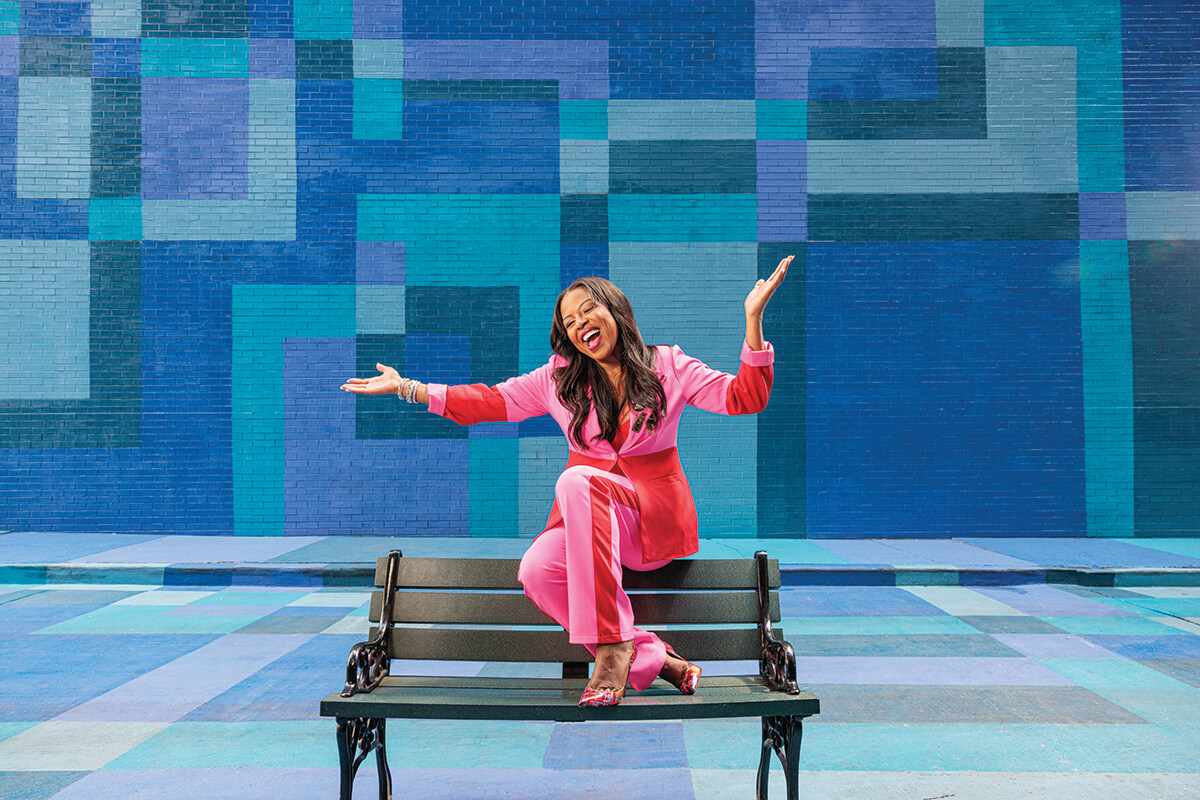 Shelonda Stokes, 51, grew up poor in Baltimore City. Her childhood was transient, as she was raised by her mom and attended three different elementary schools. Her dad died from drug activity. Life wasn't easy. But when she was 14 years old, she landed her first job, as a custodian responsible for cleaning at Harborplace.
As she worked, she admired everything downtown had to offer. And she was determined to make something of herself.
"Isn't it serendipitous?" says Stokes, today the president of Downtown Partnership of Baltimore (DPOB).
After graduating from Baltimore Polytechnic Institute, Stokes earned a degree in electrical engineering from Morgan State University and began her career at Hewlett Packard, working on a $10 million government contract. She then co-founded greiBO, a boutique advertising and communications firm, which she still co-owns today.
She was on the board of DPOB and, in 2019, she became its first minority chair. When the president announced he was leaving in January 2020, she stepped up to serve as interim president. Then COVID-19 hit. Far from wearying her on her new post, "That's when I literally fell in love with this organization," she says. During the pandemic, DPOB was an "essential" business.
In addition to keeping her staff safely working, Stokes initiated important programs like Curbside Baltimore in support of local restaurants and retailers. She put herself forward for the presidency and was selected by the board, beginning the job in June 2020.
As Stokes describes it, the mission of DPOB is to be the keepers of the downtown area—doing everything from keeping it safe and clean to providing marketing and economic development.
During her tenure, DPOB's revenues have more than doubled; the State of Maryland has agreed to relocate 12 of its agencies to Baltimore's Central Business District, which comes with a $50 million allocation; and she created the BOOST program, which stands for Black-Owned and Operated Storefront Tenancy.
BOOST helps both Black businesses as well as downtown, which has seen increased vacancy. With the program, business owners who have been in business for at least a year can apply. Those selected not only receive $50,000 that they use can toward their buildout, site improvement, operations, and lease, but are given legal advice and free training in financing, marketing, and merchandising.
The program is so successful that DPOB has been invited to speak in Vancouver at the International Downtown Association, Congressman Kweisi Mfume invited Stokes to speak about it to the National Small Business Administration, and it's been covered by Black Enterprise as well as Ebony magazines.
"My vision for downtown Baltimore is a thriving ecosystem of people, art, and culture where creativity flourishes, and diversity is celebrated. An urban center rich with amenities, businesses, theaters, restaurants, sports, and entertainment within a walkable footprint. And where every place, from streets to alleys, is transformed into galleries and meeting spaces that ignite our growing population," says Stokes. "That's where I want to live and work."