'What's Your Grief?' Founders Foster an Online Community for People Experiencing Loss
Litsa Williams and Eleanor Haley discuss their resources, misconceptions about what grief looks like, and coping with non-death losses in the wake of the pandemic.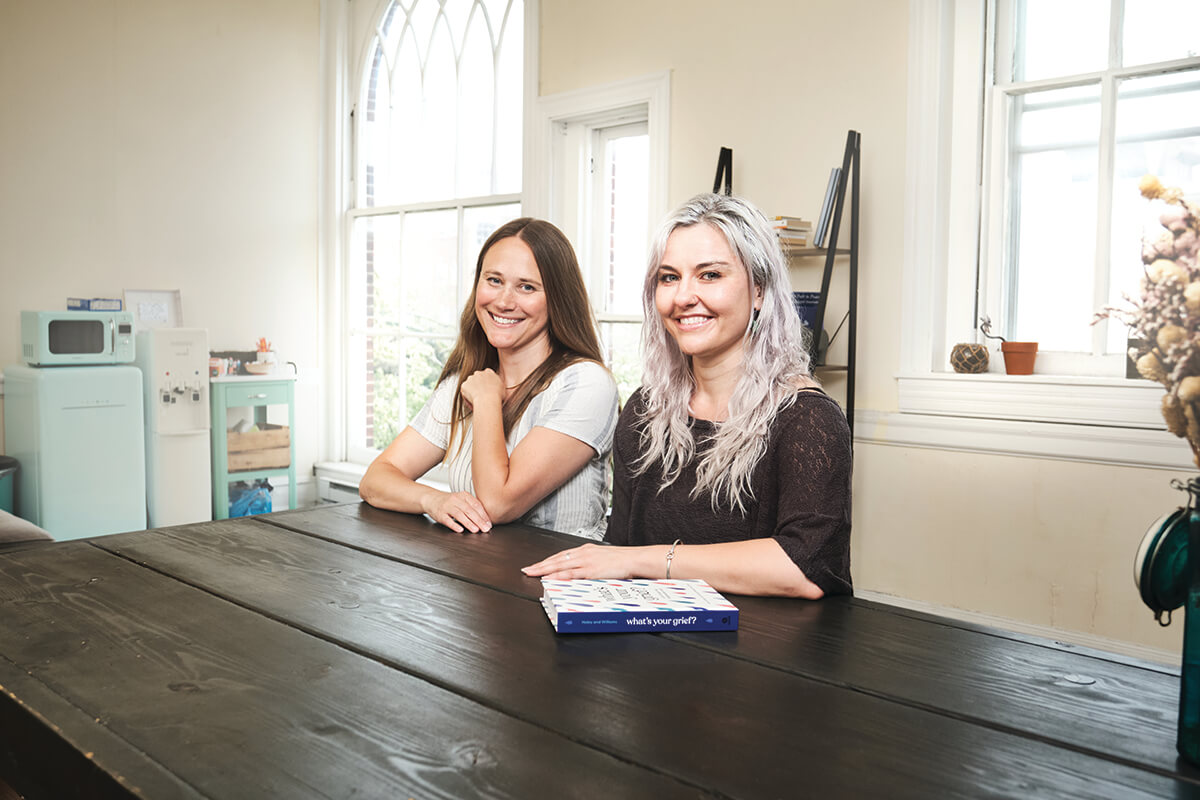 In 2012, Litsa Williams and Eleanor Haley created the website What's Your Grief?, designed to provide resources for people experiencing loss. Since then, it has grown into a supportive online community, where the founders write articles, host online courses and a podcast, and interact with people on social media. Williams and Haley released their first book, What's Your Grief? Lists to Help You Through Any Loss, in September. Here they talk about grief, COVID-19, and better understanding the universal experience of loss.
Why did you start this organization together?
Eleanor Haley: We met while working for an organization in Baltimore that supported people going through sudden and unexpected loss. We were meeting people in hospitals at probably the worst moment in many of their lives. As anybody who has been through grief and loss knows, how it looks is different for everybody. We both experienced parental loss in early adulthood. My background is in counseling psychology, and Litsa's is in social work, so we were trying to meet people's needs because we weren't finding the resources we wanted in terms of online support. So, we said, "Let's create the content that we want as professionals, and as people who have been through grief ourselves."
What was your initial goal when you started the organization?
EH: We started very humbly. It was almost just a little "hobby." We didn't have a lot of resources, but we were confident in the way we talked about grief. I don't think we ever imagined it would grow to what it is today.

Litsa Williams: When we first started, we used the tagline, "Grief support for the rest of us," because we felt like the grief support that was out there was created for a really different type of person. Neither of us, when we went through our own grief, were traditional therapy support group types of people. Grief support doesn't have to be therapy or support groups. We saw a gap and wanted to try to fill that gap in a way that feels more natural and normal. So, we said, "How can we create spaces and creative initiatives online and on social media that fill that space?"
Why is grief education important?
EH: Everybody experiences loss at some point. There are so many myths and misconceptions out there about what grief looks like, how to grieve, what's healthy and what's not healthy. Once we realize that there is no right way to grieve, there is no timeline for grief, there is no "normal" because it's all unique to the person and the loss they've experienced, it makes it easier to navigate.

LW: It's not just the general public, but also professionals who enforce these misconceptions. Just the other day on our Instagram, something came up where people were going back and forth, saying, "My doctor basically told me that I would go through the five stages of grief and that it had been two years, so the fact that I was still grieving was an indication that something was wrong with me." So, it's unfortunately also professionals who didn't get a good education, and they're still reinforcing myths about things like "grieving stages." If someone thinks they're grieving "wrong," it takes their grief and makes it so much worse.
How has grief changed since the COVID-19 pandemic?
EH: When we first started this, I assumed we would mostly write about the death of a loved one. But once the pandemic started, we realized there was a greater urgency to address all types of loss. We know that people are trying to rebuild their world after going through such a wide range of loss. There are so many dominoes that fall after what we call a secondary loss that are related to things that are not necessarily death losses.
LW: I think COVID created this space where people were experiencing non-death loss and are getting a deeper understanding that reactions to non-death losses can feel like grief. Even though death losses shaped What's Your Grief?, there are also a lot of non-death losses, such as divorce, having family members with addiction, and so on. I think that's been the main thing amplified by the pandemic.
What are your goals now?
LW: One thing that we have started to focus on more has been education for professionals [like school counselors and therapists]. Over time, we realized that professionals kept coming to us, saying that our resources were helpful. They were using the resources we were creating for people who are grieving, for themselves. We do believe a lot in the online space, but ultimately you can't reach everyone. When you find ways to reach out to professionals though, and educate professionals, you start to feel like it's going to have a more indirect response, but maybe impact even more people.
How can we help each other navigate grief and understand it better?
LW: One of the things that as a society we can do better is to just understand and normalize, that in some ways we grieve forever and that we keep connections to people who have died forever. Getting rid of the idea that people are going to move on or get over it is important. We should check in on days that are hard, like birthdays and anniversaries, forever.