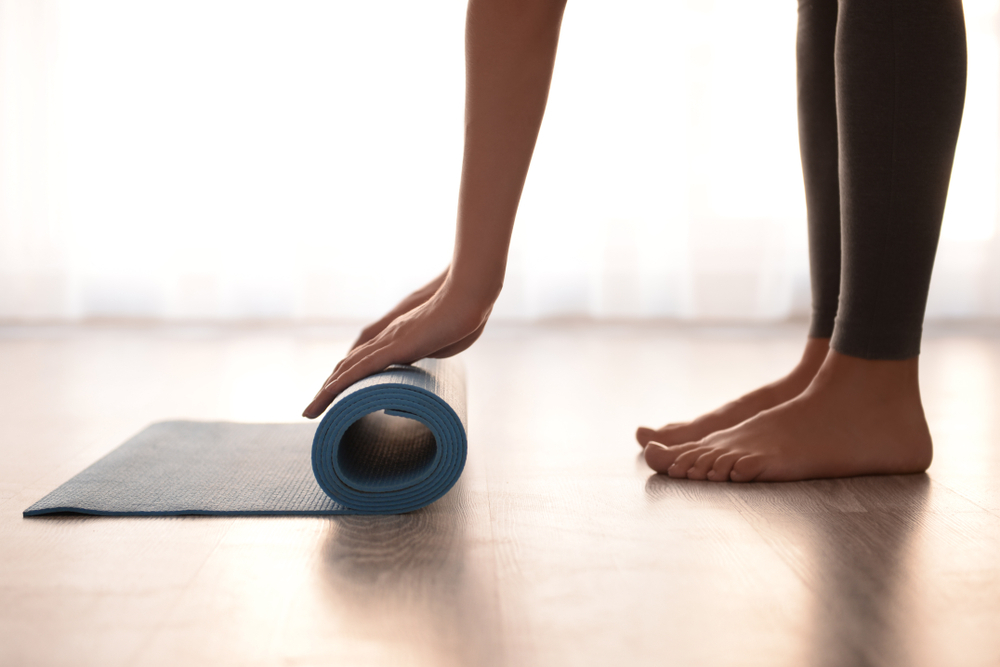 Shutterstock
We're coming up on the annual daylight saving time switch. Unlike the dreaded springtime change, in November we get to "fall back" and essentially gain an hour. If you've always wished to become a morning person, rejoice—this is the time you can use to jumpstart your morning routine.
It's been proven that getting moving as soon as you wake up can help your day be more productive, create healthy sleep patterns, and more. Everyone has their own idea of the perfect morning jolt. You want to wake up and get energized to attack the day—but how do people do it?
We talked to some of Baltimore's top fitness instructors to hear about their favorite, energizing morning routines:
Elyza Dolby of Yoga with Elyza, Movement Lab, and M. Power Yoga
Dolby starts the day with intention, both literally and figuratively. She keeps a journal under her pillow so the first thing she does in the morning—and last thing she does at night—is write. "Depending on the day, I either scribble out my dreams, gratitudes, morning pages [random thoughts] or all of the above," she says. After that, she hangs with her (adorable) pup Beamer, and makes herself a celery juice. "After celery, I sip on a warm cacao for heart-opening," she says. "Then I meditate, pull tarot and set an intention for my day ahead." Once the necessities are out of the way, she's ready for whatever craziness is to come.
Esther Collinetti of Rev Cycle Studio
Collinetti's morning actually starts the night before. "I am someone that strives on structure in order to stay in integrity with my dreams." Depending on the day, her alarms are set at different times and they are all labeled with things that inspire her. For example, 4 a.m. is labeled "One Life", 5 a.m. is "Get Out of Your Comfort Zone", 6 a.m. is "Do Epic Shit", and 7 a.m. is "Remember You're a Badass." After waking up to an amazingly inspiring alarm, she jump-starts each morning with a sweat workout—either leading a class at REV or training for her next (yes, next!) Ironman. "Sweating gets me started for the day in order to get my system roaring in a higher state of mind, body, and heat connection," she says.
Jami Crist of Rev Cycle Studio and Solid Core
Crist wakes up super early because, like many of us, she loves having a little time to herself before the day gets crazy. "I get up around 4:45 a.m., drink a glass of water to help flush out my system and I start the coffee ASAP," she says. After a quick walk with the dog, she does mediation for 5-10 minutes with some light stretching. During this time, she sets her intention or looks at her horoscope to help guide her for the day, making sure to write it down. "I feel like this helps me to start my day with new fresh energy." From there, it's on to prep time. She reviews and prepares, so that she knows exactly what needs to be tackled that day. To get in one final wake-up push, she often adds in a pre-work workout which helps her set her body up for a successful, energetic day.
Jason Williams of Charm City PT and M. Power Yoga
Williams' morning ritual keeps it simple—"Hydrate, Meditate, Caffein-ate."
KG Spencer of BeachFit Baltimore
"Life with a new baby means no two mornings are ever the same," says Spencer. That said, even seemingly mundane consistencies help this new mama keep her sanity. Every day, Spencer wakes up and immediately makes the bed. Then brushes her teeth. Then brushes her hair. "Always these three things—always in this order," she says. It may not seem like much, but she says kickstarting her mornings this way means, no matter what chaos the day inevitably brings, she at least has a tidy room, clean teeth, and brushed hair.
Maddison Rowles of FX Studios and Rev Cycle Studio
Rowles is out of bed and out the door by 4:30 a.m. Aside from her typical morning routine, she says there are two steps she can never forget—coffee and podcasts. On her hour commute to work, she fuels up with her favorite donut shop coffee blend with almond milk, a coconut Lara Bar, and her favorite dynamic podcast duo Karen Kilgariff and Georgia Hardstark in My Favorite Murder. "If you don't know about this podcast, now you do," she says. "There is no better way to get my morning started."
Marissa Walch of Yogaworks, FX Studios, and Marissa Walch YouTube
Walch and her four-legged partner, Minnie, start every morning together. "I like to sit quietly and drink my coffee with Minnie on the couch," she says. "I purposely wake up earlier than I need to to make sure I have this bit of time to be quiet, drink slowly, and share some smiles with Minnie before starting a day where I don't normally have time to sit down." She always has her workouts pre-planned and typed into a Google calendar, but she doesn't lay her clothes out like many people do. "It forces me to wake up and make decisions early in my day," she says. "It turns my brain on so I can figure out if I need yoga pants, workouts tops, etc."
Mimi Nguyen Washington of Seya Wellness
Before Nguyen gets out of bed each morning, she takes a few minutes to journal in her Five Minute Journal, and do a quick 7-10 minute guided mediation on gratitude. "The Five Minute Journal is also gratitude based," she says. "While its hard to love getting out of bed when its dark out, instead of thinking, 'I have to leave my warm bed to go to work,' I try to shift the focus to, 'I'm grateful I have a job to go to and a purpose to wake up.'" As often as possible she uses breakfast as a no-tech time, leaving her phone upstairs and enjoying breakfast without the distraction of emails, texts, or social media. "When was the last time any of us really stopped to savor the food we're tasting and the flavor in our morning coffee?"
Oksana Koval of Fitness by Oxy and BeachFit Baltimore
Oksana starts the day at 5 a.m., so there's little time to dilly-dally. She begins with an intention-setting practice accompanied by a glass of warm water with lemon. "It's important to stretch before leaving the house," she says. With a day full of classes, starting early and often ending late, she makes sure to take care of her body inside and out.
Reese Ashe of Reflex Fitness
Reese reminds us that, "No matter who you are, motivation always comes from within, so 'find your why.'" While we see gyms and instructors all over town, it's always been his goal to offer the fitness industry in Baltimore something unique, while providing for his family at the same time. When that alarm goes off every morning, he knows his job is to get others inspired and motivated. He reminds himself of his goal—and why he set it in the first place—and makes that his main focus. "Family and fitness are my why."